10 Steps to Set Up & Use Google Analytics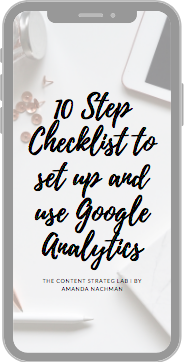 Do you know your numbers?
I don't just mean your profits, because I'm sure you're freaking out about those on a daily basis. I'm talking about your digital numbers—how many people visit your website.
If you have a website, you need to set up your Google Analytics and track your website traffic. We've all been there. Afraid that maybe this one tool is too complex. But the reality is, this tool is simple to use after a 15-minute learning curve.
Even if you've set it up but you're not sure how to optimize the experience—I'll walk you through it. You got this and I got you!
Download my FREE Google Analytics Checklist!