University of Louisiana at Lafayette–Lafayette, LA
The Vibe
Ragin' Cajun Spirit
What it Feels Like to Go Here
At the University of Louisiana at Lafayette you'll find yourself in the heart of the South. "It's a very cultural, rich campus, all different cultures coming together," junior psychology major Jessi LaSelle said. "There's always someone holding a door open for you or offering you their seat on the bus." UL Lafayette also has tons of organizations on campus for you to venture out and explore. So if you're looking to meet a college bestie you tell your grandkids about, join a student org and make friends in no time. You can even meet people in class since class sizes are small and teachers know their students. "I won't be treated as a number, I'll be a person. I can be Dimi here," sophomore secondary English education major Dimi Johnson said. At UL Lafayette, don't worry about feeling lost in a sea of faceless strangers.
Awesome Alumni
If hip-hop dominates your Spotify history, you'll love that a hip-hop singer and songwriter Frank Ocean spent awhile at the University of Louisiana at Lafayette before his musical career took off. For the history buffs and aspiring Steven Spielbergs, filmmaker Royd Anderson also hails from UL Lafayette, too. His documentaries typically focus on Louisiana's rich history that you'll feel haunting all the hallways of Lafayette. The practically perfect choreographer Marc Breaux, who worked on films such as Mary Poppins and The Sound of Music, studied dance at UL. The first female governor of Louisiana, Kathleen Blanco, also attended the University of Louisiana at Lafayette.
Where We Hang
When you walk between the oak trees at the University of Louisiana at Lafayette's campus, you'll see students hanging out on the quad or heading to a movie night at the student union. And students from every major relax in their respective department lounges with other students in their major. Greek life members gravitate toward the lodges that their fraternity or sorority provide.Off campus, students chill at restaurants like Old Tyme. On weekends, students walk eight blocks to the bars downtown; Artmosphere and Blue Moon are popular because of the live music performances. But in the fall, football is king and everyone cheers on the Ragin' Cajuns.
Q&A
1. How much are students partying?
"We do have a night life on campus, but only if that's your thing. If you're not into the big party scene with a lot of alcohol and stuff, there's a lot of opportunities on campus to go out on campus and have a good time," junior Eden Abraham said.
2. What will you get in trouble for at your school?
"The fastest and easiest way would be illegal parking or smoking on campus," senior René Boatright said.
3. How much sex are students having?
"UL is very, like very, social, like everybody's very friendly. I guess maybe a little more than some campuses, but probably depends on the person, really," junior Jessi LaSelle said.
4. What would you tell incoming freshman about your school?
"Take advantage of the opportunities, to get involved on campus, be it with various student organizations or with the intramural sports we have," sophomore Alex Leede said. "I would also tell them to check their emails."
5. What's one thing that surprised you about the UL experience?
"I would honestly have to say it would be how tight knit the community at Lafayette truly is," Johnson said. "People see you with the shirt on and say, 'Hey! You're a Ragin' Cajun! Are you taking this class or that class?"
Student Reviews
" "[What surprised me was] how different it is from what most people think a college life would be," Boatright said. "It's a much smaller campus, so it's not a, there's not that many, you don't feel like a number. It's a much smaller campus."
"You really do find your second home," LaSelle said. "For the most part, you really do feel accepted. There's always someone who is like-minded like you or who feels the same way as you. College is going to seem intimidating at first, but once you go through the motions and dig deep at UL, you'll find it's a lot more welcoming and understanding, and you'll find somewhere to fit in."
"I would say that UL provided a lot of experiences to grow and get involved, and also continue working on an education and preparing for life outside of the university," Leede said.
"I would say 5 out of 5 stars," Abraham said. "We're relatively small compared to most SEC schools, but for what students pay to go to university, it's amazing. It's active, there's so much to do. It's affordable; out of state students have told me that the cost is what caused them to drive down to Louisiana."
"I think that at UL you're able to find exactly who you are as a person," sophomore Dimi Johnson said. "There are so many opportunities here, so many opportunities to better yourself and find who you want to be in the future."
Top 3 Majors
Nursing
Engineering
Education
Top 3 Most Popular Student Organizations
1. Greek Life
If you're looking to build a strong social network, look to UL Lafayette's Greek life. "My favorite part about being in Greek life is at the end of the day when you're stressed out from a test or you might not have had a good day, you'll have somebody there," Johnson said. "It's good to walk into the AOPi house and see smiling faces that say, 'Hey, Dimi, how was your day? How are you feeling?'" Johnson said that a support system is one of the most important things you need when you go to college, and that her sorority, Alpha Omicron Pi, provides her that support system.
2. Student Government Association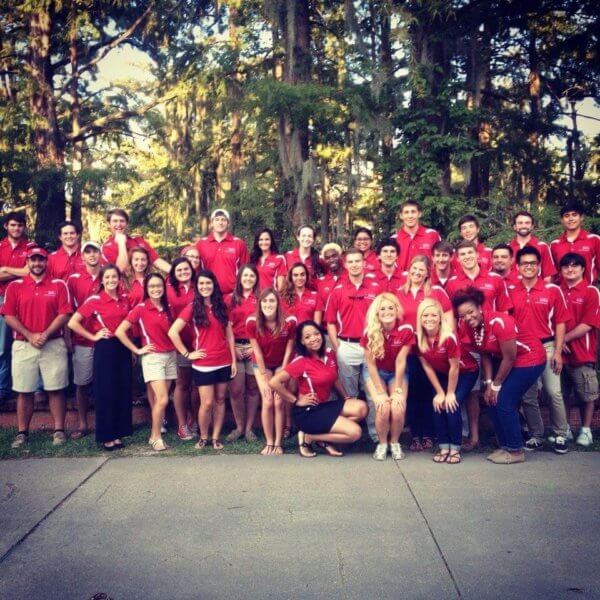 For any students already planning how they'll decorate the oval office someday, check out the Student Government Association. The SGA at UL Lafayette allows students to get involved with the executive, legislative and judicial branches of student government. "The Student Government Association is here to serve the needs of students," according to the SGA website.
3. University Program Council
If you hear the sound of a festival on campus, the University Program Council probably has a hand in it. "Any kind of like fun little event, UPC is usually behind it," Abraham said. UPC puts on movie nights, festivals and other activities for students to enjoy on campus. So grab your friends and some popcorn and settle in for a school-wide movie night.
Getting In
If Lafayette sounds like the place for you, don't sleep through your classes (even if your algebra teacher has been droning on about parabolas for weeks). But high school GPA isn't the only thing to focus on, how well you do on tests like the ACT and SAT can determine if you get to become a ragin' cajun. For in-state students, GPAs must be at least a 2.0 on a 4.0 scale, have a core GPA of 2.5 on a 4.0 scale or an ACT composite score of 23 or 1050 SAT.
Stats
Location: Lafayette, Louisiana
Tuition & Fees:
$9,380 in-state
$23,108 out-of-state
Total Cost on Campus:
With campus housing: $23,270
Living off campus: $23,855
Undergrads Enrolled: 15,870
Graduates enrolled: 3,318
Total Enrolled: 19,188
Acceptance percentage: 55%
Percent Admitted who Enroll: 53%
Percentage of Male Students: 44%
Percentage of Female Students: 56%
Percentage Receiving Financial Aid: 74%
Percentage Receiving Federal Grants: 32%
Percentage Receiving Federal Loans: 53%.