University of Iowa—Iowa City, IA
The Vibe
Big Ten Paradise
What it Feels Like to Go Here
Rumor has it that the state of Iowa is one big cornfield. This is…true, minus Iowa City, home to the University of Iowa. The killer party scene, energized sports events and varied, rigorous academics are only magnified by Iowa's beautiful campus and incomparable Hawkeye pride. There's a reason the whole state of Iowa is called the Hawkeye Nation. Students go from studious adults in a virtual uniform of black and gold during the day to party animals roaming the cobblestones of downtown Iowa City late at night. The Pentacrest at the center of campus sits on top of a grassy hill that students spend their days climbing (Iowa students have the best calves and glutes because of it). For such a large school, the campus is relatively compact. You'll always see at least 10 people you know walking to class. And even if you don't know someone, Iowa manners kick in, and you'll always get a friendly smile from a stranger.
Awesome Alumni
Iowa's awesome alumni range from NASA scientists to Olympic athletes to Grammy winners to Pulitzer Prize winners. Ashton Kutcher, TV host, actor, comedian and hottie, was a Hawk in his prime days. What am I talking about? Everyday is his is prime day. Actor Gene Wilder—that's right, the original Willy Wonka—called Iowa home before entering the Chocolate Factory. Writers Tennessee Williams, Flannery O'Connor and Mildred Benson (better known as Carolyn Keene, author of the Nancy Drew series) helped to shape were all a part of Iowa's award-winning writing programs, which landed the school a spot on the Top Colleges for Aspiring Writers.
Where We Hang
During the day, most students sunbathe on the Pentacrest, study in the Main Library or the IMU and lounge in the many coffee shops in the city. Everybody has a fave coffee shop, from the mainstream Starbucks, to the quiet, old book-scented Prairie Lights, to the hipster High Ground. Iowa City's downtown district during the day offers mouth-watering food, boutique shopping, two independent bookstores (Prairie Lights and the Haunted Bookshop), and the picturesque pedestrian mall, known as the Ped Mall. At night, the Ped Mall comes alive and reveals Iowa City's bar scene. From $1 you-call-its at Summit, $0.25 wings on Wednesdays at Brothers and $2 domestics at Airliner on Fridays, you might as well call it a college kid's heaven. Blue Moose and Union are the most popular bars for concerts, and Studio 13, Iowa City's gay bar, offers karaoke, drag shows and drink specials.
Q&A
1. How much are students partying?
"People party every day of the week with the YOLO mentality," sophomore Carter Melrose said.
2. What will you get in trouble for at your school?
"All the usual things, but also jaywalking. If you spend maybe half an hour on the Pentacrest you'll see people [jaywalking] all the time downtown," senior Duncan McNaughton said.
3. How much sex are students having?
"I think the average single student is having sex more than twice a month," sophomore Teddy Hill said.
4. What would you tell incoming freshman about your school?
"If you are open minded and ambitious, you can find a place to thrive at University of Iowa," sophomore Jordyn Lair said.
5. How much do students actually spend on school-related activities (homework, studying, etc.)?
"You should spend at least 20 hours a week on school, and probably more if you're really a good student," junior Maddie Petersen said.
Overall Experience
"I didn't know anyone when I came here, and I've met so many people, made so many good friends, made so many memories and learned so much. I feel like I'm getting the education I need to be successful, while still having an awesome college experience." — Maddie Petersen, Journalism major, Junior
"Transferring to Iowa was a major decision that I am confident was the right choice for me. It is demanding personal growth in so many different ways. I love the endless opportunities on my campus." — Jordyn Lair, Business major, sophomore
"[Freshman year] went by fast, but [it was] not my cup of tea. College is about making a lot of friends that are not even very close, and avoiding one-on-one talks in order to not get too close to them."— Carter Melrose, Business major, Sophomore
"Here, I've met the friends I hope to keep for life. I've learned a lot about what I am and what I am not. I feel coming here was one of the best decisions I've ever made in my life." — Duncan McNaughton, Psychology major, senior
"For me it was a great experience. I partied a little too hard, though. Next year I want to buckle down more and improve my GPA. Otherwise, it is my new favorite place and my new home." — Teddy Hill, English major, sophomore
Top 3 Majors
1. Business, Management, Marketing, and Related Support Services
2. Parks, Recreation, Leisure, and Fitness Studies
3. Social Sciences
Top 3 Most Popular Student Organizations
1. Dance Marathon is a philanthropic organization where students raise money for pediatric cancer research during a 24-hour dance party at the beginning of spring semester. "Anyone can join Dance Marathon here at the University of Iowa. It is one of the top Dance Marathons in the nation, which is something we're very proud of, and I think all students should participate at least once during their time here," former DM dancer and morale captain, and now Dancer relations chair, Lexi Speer said. "This organization has made me a stronger person and has inspired me to challenge myself in so many ways. It is truly the best feeling in the world seeing the impact we make on these kiddos and families."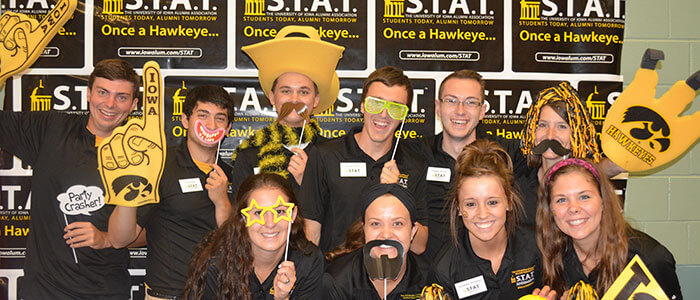 2. Students Today, Alumni Tomorrow (S.T.A.T.) aims to enrich the student experience and encourages an active alumni presence on campus. "S.T.A.T. is truly about sharing our experiences while at the University of Iowa. The organization is for anyone who is proud to be a Hawkeye and truly wants to build meaningful relationships with peers, professors, alumni and the University itself," S.T.A.T.'s vice president of membership Alejandro Ortiz said. "By joining S.T.A.T., students have the opportunity to attend our events—we connect with our alumni in various occasions and work with several nonprofits within the community in order to provide service and charity in a fun and engaging manner."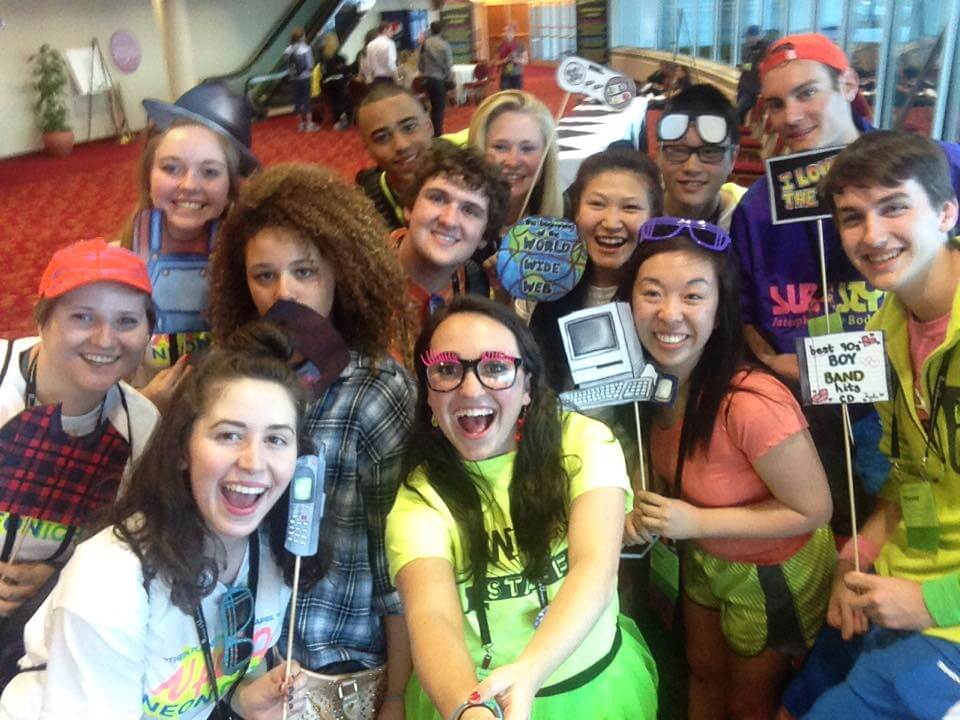 3. Iowa's Campus Activity Board (CAB) organizes social events, both daytime and late night, for Iowa students on campus. "I love being apart of CAB. It has gotten me way more involved with campus and with some great people that I wouldn't have met without it," CAB's film committee member Jackie Wedell said. This club organizes itself into various committees like comedy, film, traditions and more. "Everyone is so welcoming and excited to do their part in putting together some awesome events. Anyone can join, and they get new members every semester, so there are plenty of opportunities for others to join." Wedell said.
Getting In
The University of Iowa focuses first on your stats, as if they're reading the back of your baseball card. Iowa admissions look at test scores (the average SAT score is a 1695, and the average ACT score is 26), GPA, minimum high school requirements and the rest of the information that you include in the Common App. Iowa has a high acceptance rate, so as long as your numbers are decent, they'll draft you for their fantasy league. Direct admissions into the College of Engineering, Business, Nursing or Public Health are more difficult though. Your stats should be impeccable, and you should have a killer essay as well. Everything your parents made you do specifically for the purpose of being more appealing to colleges, like extra-curriculars and volunteering, come in handy when applying to these programs and for scholarships.
Stats
Location: Iowa City, IA
Tuition & Fees: Iowa Residents- $8,550, Non-residents- $28,638
Total Cost on Campus: Iowa Residents- $21,850, Non-residents- $41,938
Undergrads Enrolled: 23,357
Grads Enrolled: 5,688
Total Enrolled: 32,150
Acceptance percentage: 81%
Percent Admitted who Enroll: 26%
Percentage of Male Students: 49%
Percentage of Female Students: 51%
Percentage Receiving Financial Aid: 81%
Federal Grants: 19%
Percentage Receiving Federal Loans: 50%