Emory University–Atlanta, GA
The Vibe
The Harvard of the south
What It Feels Like to Go Here
Emory University offers students a chance to study at one of the top ranked private universities in the country. Emory isn't just a school for future surgeons though, it's a place for students with all career goals. If you're ready to merge your intelligence and world curiosity, and you'll find that Emory is the place for you. From the vibrant area of Druid Hills to Dooley Week, a week dedicated to Emory's unofficial skeleton mascot, students always have something to look forward to.
Awesome Alumni
As expected, Emory has produced many prominent alumni. One of those talented individuals is Keri Hilson, a popular singer and songwriter. Kristen Heglund, winner of Miss America in 2013, was also a part of the Eagle family. Those interested in being members of Congress just need to take a look at Newt Gingrich, an Emory graduate who also served as a Speaker of the House of Representatives. Lastly, out-of-this-world former astronaut Sonny Carter attended Emory University. Just goes to show that even those with interest outside of medicine can still find a nice home in Emory.
Where We Hang
Tired of watching Netflix in your dorm room all weekend? Students love spending time around Emory Point, a strip of restaurants with outdoor seating and clothing stores, such as Fabrik and American Threads. Kaldi's, a coffee shop on campus, serves as a nice place for students to grab a cup of coffee to jump start a day of classes or even study with friends. Students also hang out at Central Latino and Emory Black Student Union, areas that help to foster diversity in the Emory community. And like any other devoted student at a highly ranked school, Emory students can be seen studying with friends in the Woodruff Library.
Q&A
1. How much are students partying?
"There's a decent amount of partying, just like any other college. The wonderful part about Emory is that academics always come first, and partying is just a reward for the hard work. There's nothing out of the ordinary compared to other schools, it's just college life," said sophomore Kanaith Merhcant.
2. What will you get in trouble for at your school?
"Emory is really strict about the honor code with cheating, plagiarism and especially hazing. There is no hazing here. Furthermore, Emory is a tobacco-free and a dry campus (no alcohol) so you can get in trouble if you are found with that," freshman Albane Seguin said.
3. How much sex are students having?
"Students on campus are having as much or as little sex as they want. The atmosphere lets students make the choice for themselves as to how active they wish to be; there is no pressure to participate or not," sophomore Amanda Delgado said.
4. What would you tell incoming freshmen about your school?
"Please disregard the ratings that many individuals, who have no affiliation or contact with Emory University, have decided to post on the university's Facebook page. Being at Emory has allowed me multiple opportunities to hear from and meet many world-renowned professors or individuals in academia where I would not have been able to otherwise," junior Lisa Wan said.
5. What made you want to attend Emory?
"I wanted to attend Emory because I fell in love with the campus and, as a pre-med student, I believed there were a lot of resources available to me on campus that weren't as readily accessible in many other universities," freshman Sheena Mathai said.
Student Reviews
"There is such a contagious atmosphere filled with positivity, and I can't help but absorb the positive vibes. I have made a handful of very meaningful relationships, and that is very crucial when living in a place with quite a few stressors." — Kanaith Merchant, Sophomore Neuroscience and Behavioral Biology Major
"I am a freshman, and at the beginning of the year everyone wants to meet you. I am from Paris, France, so I did not know anyone coming here, and I always get that, 'Wow! That's cool' when I tell people where I am from. Students at Emory embrace the South hospitality, and everyone is willing to go out with you or help you in any way at any time." — Albane Seguin, Freshman
"To summarize my student experience thus far, I would like to say it has been quite eclectic. I have been able to gain a broad range of experiences in such a short amount of time. It has been strongly influenced by the liberal arts and a holistic academic model. I have been encouraged to pursue music and science as a pre-med student, and I think that is really unique." — Amanda Delgado, Sophomore Chemistry and Music Double Major
"I've really had the opportunity to make some lifelong friendships and get involved in a community that truly cares about me. I've also had the chance to interact with a lot of amazing professors and build great relationships with some professors who don't even teach classes in my major." — Sheena Mathai, Freshman Chemistry Major
"I just finished my first year at Emory, and I absolutely love it here! People are extremely social, encouraging and very helpful. So far, it's been great." — Anushka Pathak, Sophomore Economics and Political Science Double Major
Top 3 Majors
1. Business Administration and Management
2. Economics
3. Biology/ Biological Sciences
Popular Student Organizations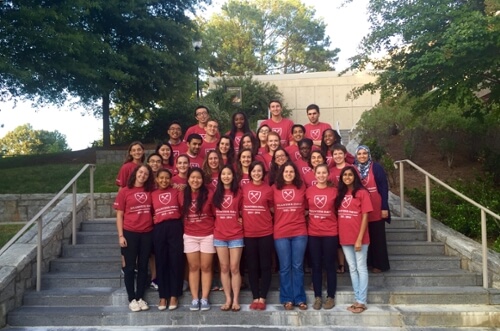 1. Volunteering shouldn't just end once you've submitted your college apps. The Volunteer Emory student organization makes sure students continue feeding their passion for helping others. Their mission is to work with others in efforts to bring about social justice work. Furthermore, there is a need to develop a deeper understanding of one's self and society through the community works. "It's a group of about 40 students who want to help take care of the administration and planning that goes into many of the volunteer opportunities available for the general student body," said sophomore John Graham. Any student thinking of getting involved can look forward to weekly service trips, special events and social justice dialogues.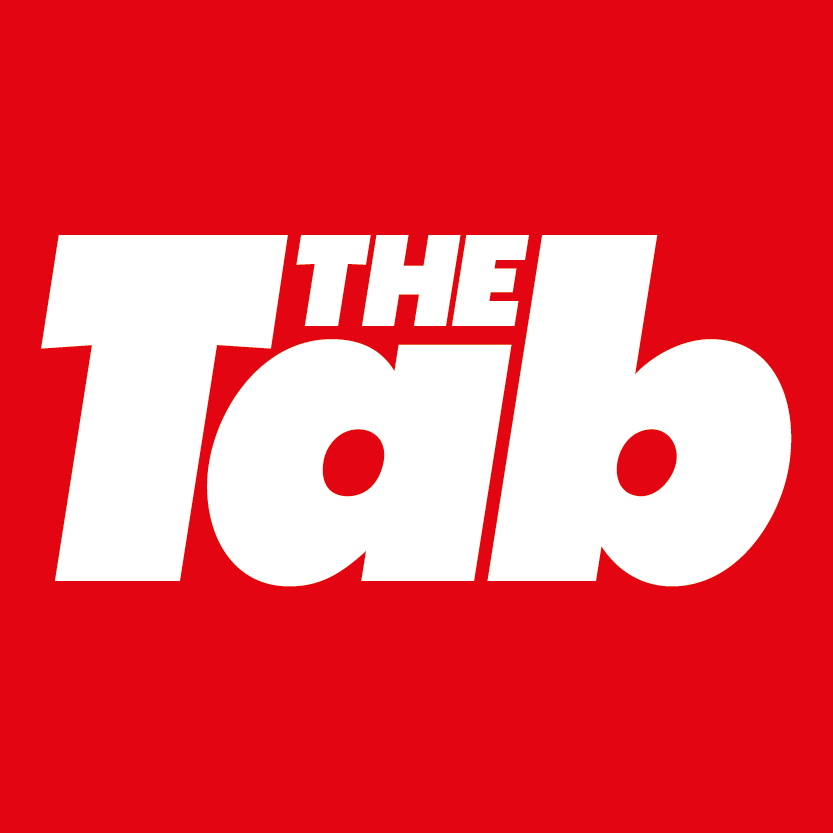 2. Although there isn't a journalism major at Emory, The Tab helps give writers their "in," to the editorial world. The Tab serves as an online campus news website. The goal for everyone is to publish stories that college kids will care about. Students can write everything from personal anecdotes of Emory students to stories about raising public awareness on feminism. "The vast majority of stories are produced by students, with a student editorial team for each sub-site," Emory Tab branch Editor-in-Chief Anushka Pathak said.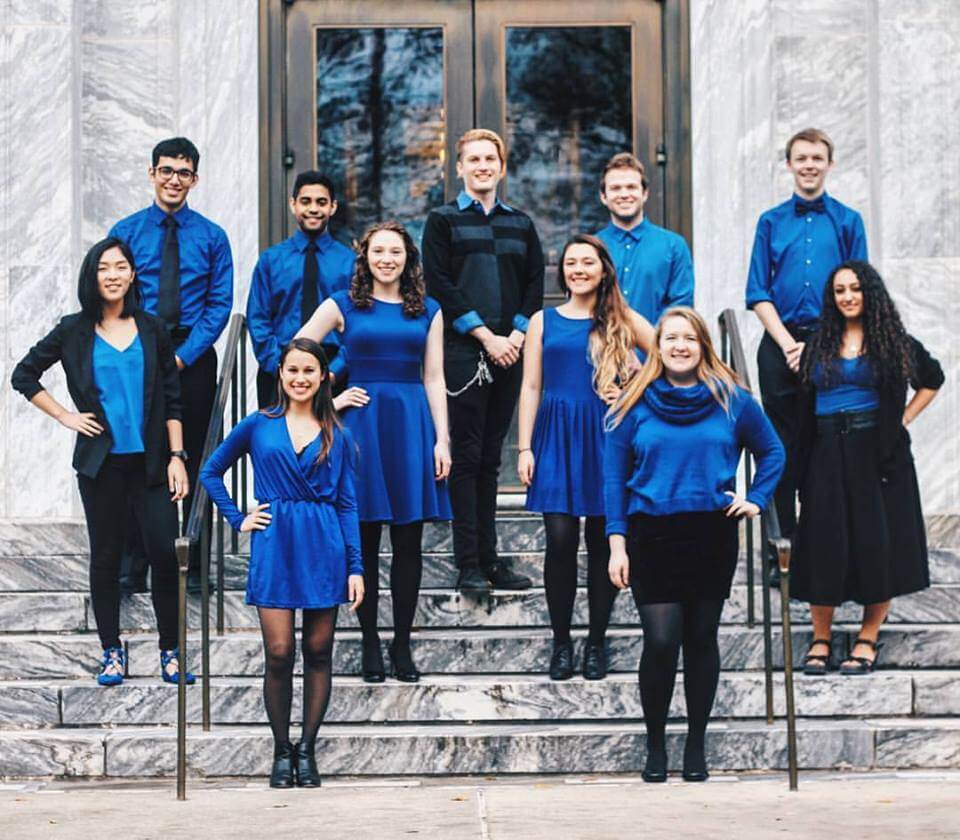 3. Tired of hiding your angel voice by singing in the shower? Become a member of Dooley Noted, one of the seven a cappella groups at Emory. The great thing about this a capella group is that it's service based. If you end up being a member, you'll perform at service events at Emory and around the Atlanta area. "The a cappella community is very supportive of one another, and we all work hard to accommodate each other…there is, of course, some friendly rivalry," senior Henry Hays said.
Getting In
Emory takes a standard holistic application approach. Students should complete the application and writing supplement section as well as send in high school transcripts and official SAT and ACT scores. Keep in mind that Emory is an early decision school so make sure to add the deadline to your calendars. Another important aspect is that you can send your application to both Emory campuses: the Atlanta campus and the Oxford campus. That way if you want, you can go to Oxford for two years before Emory or go straight into Emory if accepted.
Stats:
Location: Atlanta, GA (Druid Hills)
Tuition & Fees: $45,700 (tuition), $614 (fees)
Total Cost on Campus: $63,058 (total)
Undergrads Enrolled: 7,803
Grads Enrolled: 6,921
Total Enrolled: 14,724
Acceptance percentage: 23.6%
Percent Admitted who Enroll: 23.6%
Enrollment: 1,393
Percentage of Male Students: 58%
Percentage of Female Students: 42%
Percentage Receiving Financial Aid: 48%
Percentage Receiving Federal Grants (Pell Grants): 23 %
Percentage Receiving Federal Loans: N/A