University of San Diego – San Diego, California
Written by Zoë Knafelc
The Vibe
Changemaker Community with a Beach Flare
What it Feels Like to Go Here
Don't let all the palm trees and beautiful fountains fool you; USD strives to provide a competitive and fulfilling environment for academics. With over 40 majors and 50 minors offered including chemical engineering and peace and justice studies, the Toreros study hard all year long. Students manage to juggle both academics and going to the beach—a very rewarding lifestyle.
Awesome Alumni
Frances Townsend, former Homeland Security Advisor to President George W. Bush, attended USD in 1984. She worked against white-collared crime during the beginning of her career. Nevada U.S. State Representative Shelley Berkey, who served from 1999 to 2013, graduated in 1976 from USD law school. Remember the famous O.J. Simpson trial? (Of course you do). Robert Kardashian, most famous for his role as Simpson's attorney, as well as being the father of four very famous daughters, attended USD law school, too.
USD also has its fair share of CEOs. Lowell C. McAdams, CEO and chairman of telephone company Verizon Wireless, attended USD. The CEO of the Ultimate Fighting Championship, Lorenzo Fertitta, earned his B.A. in Business Administration at USD in 1991.
If none of those names ring a bell, Jim Parsons, a.k.a. Sheldon from the hit TV show The Big Bang Theory, walked the palm tree-adorned walkways of USD. He attended graduate school at USD in 1999 and participated in a theater partnership with the Old Globe Theater.
Where We Hang
USD students spend most of their time outside enjoying the gorgeous San Diego weather with an average of 70 degrees year round. Many students will find their favorite outdoor study area all over campus. This includes the fire pits, the hammocks outside the Student Life Pavilion (SLP) and the third level of the SLP. Want a place to lay out a blanket or start up a game of frisbee? Go to Colachis Plaza. The newly constructed plaza offers free green space for students to hang out and relax. If you like to study inside, Copley Library's "Harry Potter Room" provides a magical atmosphere while studying. The historical room invites students to explore two stories filled shelf to shelf with books.
The Greater San Diego Area provides so many things to do if you want a change of scenery. Ten minutes away from campus sits Missions Beach, a total college kid hang out. The beach spreads a fun vibe where friends can soak up the sun, eat quality food at Board and Brew or Baked Bear or catch a ride on the roller coaster at Belmont Park. Balboa Park also serves as a popular place to enjoy a day in the sun, along with museums for the many art and history lovers of USD.
Downtown San Diego offers a fun atmosphere, especially if you are over 21. A plethora of bars and hip clubs, like Bang Bang, scatter around the city. You can grab a drink and dance the night away. Love music? San Diego loves music, so students can catch great concerts at many big concert venues such as Valley View Casino Center. Major SoCal music festivals are also a short drive away, like the contemporary and electronic festival KAABOO, only a short 30 minute drive away. For those who like popular pop artists and alternative bands, take a bus for three hours and head up to Coachella.
Q&A
1. How much are students partying?
"Partying is usually pretty fun with all the fraternities that USD has. We always have a good time down at the beach or in the Gaslamp District in downtown San Diego. Or if you want extra fun, we go to San Diego State University fraternities and that's always a good time. Parties are fun and the music is good when you have a drink in your hand and you friends around," said freshman Joanna Humbert.
2. What will you get in trouble for at your school?
"I'd say I'm most likely to get in trouble for climbing buildings and exploring the parts of campus that the school doesn't really want you to go. I love working in weird places and finding my way onto rooftops," said sophomore Andrew Irwin.
3. How much sex are students having?
"I know it's definitely happening because sex is something that has become somewhat 'normal' for teenagers to do nowadays. I think it happens most often between people in relationships but it is also common for people to have casual sex with people at parties," said freshman Kaitlyn Paez.
4. What would you tell incoming freshman about your school?
"It's an amazing school. There really is a place for everyone here, and the sense of community is incomparable to any other school," said junior Monica Cooper.
5. Why did you attend USD?
"I attended USD because it has a great reputation for having a well-rounded business program and also a beautiful campus in close proximity to the beach. I was also recommended USD by many people and I am the third sibling in my family to attend USD. I am happy to say that choosing USD was one of the best decisions of my life," said freshman David Melendez.
Student Reviews
"My experience here at USD has been amazing! Not for a second did I feel alone or out of place. The sense of community inflicted upon the USD campus as a whole is the reason I continue to thrive each and every day, I couldn't imagine being anywhere else." – Jamie Schneider, Class of 2021
"The academics are challenging but the professors are always there to help. USD has small class sizes so you have a personal connection with the professors. Office hours are very helpful and peer help such as the writing center is very useful." – Samantha Avera, Class of 2021
"I was so surprised yet excited to be surrounded by incredibly kind people in San Diego. Going across the country and leaving 'southern hospitality' seemed scary, but I have met the coolest, sweetest people." – Zia Yurchuk, Class of 2021
"All the schoolwork, being responsible about doing homework and balancing everything have been the greatest challenges." – Annabelle Jefferies Class of 2021
"USD has been a very welcoming community and I can't wait for next semester." – Ryan Grazko, Class of 2021
Top 3 Majors
1. Finance
2. Business Administration
3. Communication Studies
1. Changemaker Student Committee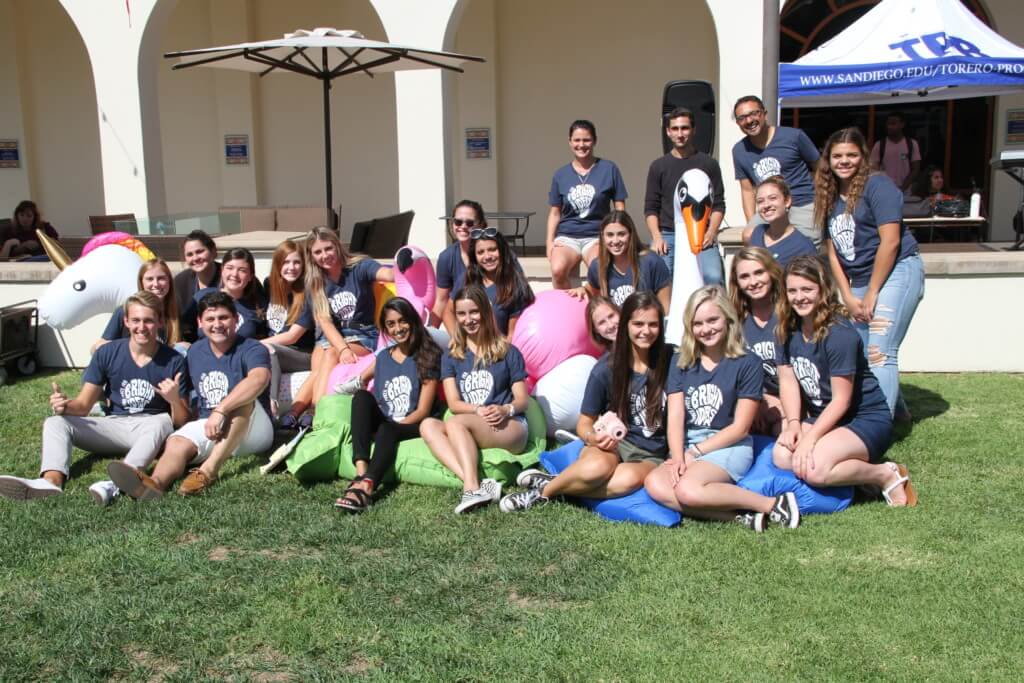 Want to make a difference in your community? Then you should check out the Changemaker Student Committee. Students in CSC share their passionate for social change and promote it throughout campus. CSC plans and create programs, initiatives and experiences for students to enjoy during a busy week of classes. Students look forward to CSC's Changemaker Block Party on Torero Way. This main street on campus shuts down and members set up booths with activities and prizes centered around making a difference. This year, the Butterfly Project shared their message about Holocaust children. Students painted ceramic butterflies to represent a child lost during the holocaust.
"I would say the Changemaker Hub has affected my outlook on social issues, innovation and sustainability both on- and off-campus in a very positive way. I am constantly inspired by the club to consider ideas I never would have thought of before, and that has actually impacted the way I think about myself and others. I love the fact that I can easily bond with the other members of the club over similar morals, like the collective determination to create a better social environment among USD students," said CSC member and freshman Claire Kuhn.
2. Torero Ambassadors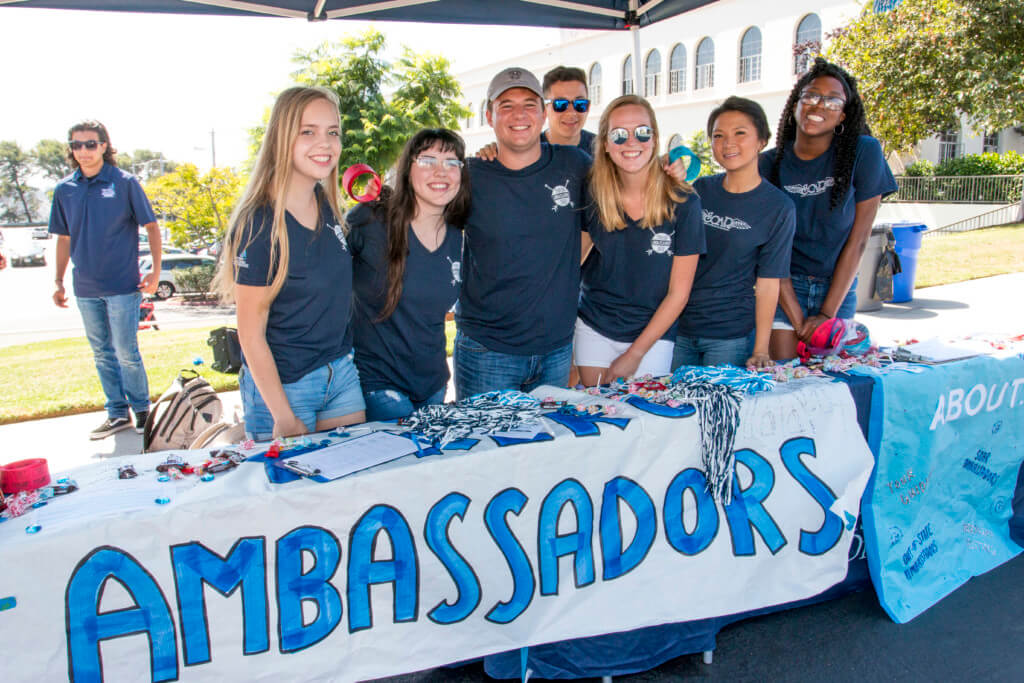 USD students often remember the Torero that helped them realize USD meant home. Many students show interest in being that shining light for another potential student. Sound like you? Becoming a Torero Ambassador might be perfect for you. Ambassadors help with open houses, student panels, campus tours and overnight hosting. Though highly competitive (hundreds of students apply every year for a spot), the position and responsibility can be cherished for a lifetime. The club offers many opportunities for leadership and networking, too.
"Torero Ambassadors is an organization dedicated to the continued success of USD and demonstrates what it means to be a Torero. Our Ambassadors are passionate, dedicated and eager to showcase the university to prospective students and their families. When working with Torero Ambassadors, I am reminded of the love I hold for USD daily," said president Danny Halloran.
3. Outdoor Adventures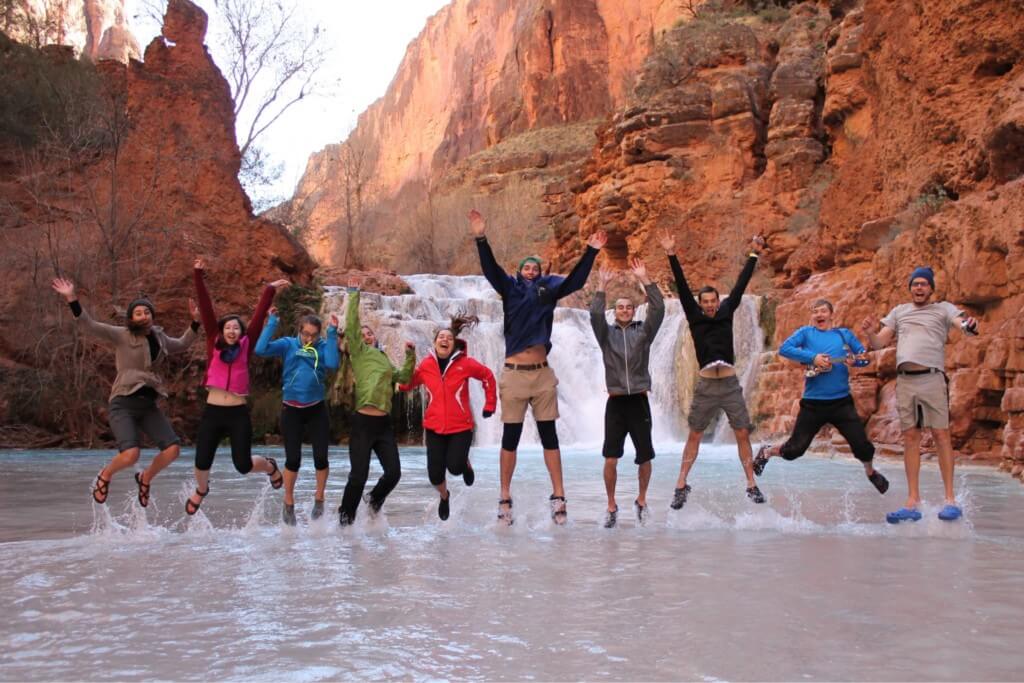 You can't ignore the ocean, mountains and desert that surround USD. These natural landscapes offer so many ways to get active around campus. Outdoor Adventures Club help students live a healthy and fun lifestyle. OA Club gives students the chance to go trekking, ranging from day trips around San Diego to week long trips to places like Arizona and Utah. If you only want to be a part-time adventurerer, OA Club also offers kayaks, water skis and surfboards to rent.
"This club provides many opportunities for students to experience the outdoors and hike or camp alongside beautiful scenery. During October, there was a couple days off for 'fall break'.Instead of making the trek back to New York, I participated in an OAtrip. We went to Zion National Park in Utah. It was one of the most amazing experiences. I was truly one with nature because we camped under the stars and cooked our own meals. The hikes we did were truly stunning and I made some lasting friendships," said USD 2012 grad Joanna Humbert.
Getting In
USD looks for students that took challenging classes in high school and made an effort to give back to the community. The University of San Diego looks for students who will thrive at the university through service. Students who involved with a lot of extracurricular activities and community service can get the upper hand in receiving acceptences. USD prides itself in being diverse, which comes from students with different talents, passions and backgrounds. Over 60 different countries are represented at USD including England, China, and South Africa. Academics play an important decicion, too. Most accepted students took college prep and AP courses throughout high school. The middle 50 percent of accepted students received a cumulative GPA of a 3.75 to a 4.19. Average ACTs were about a 27-31 and averages SATs were 1210-1350. In the essay, make sure to pick a topic you are passionate about and shows who you are. Unique students with out-of-the-box experiences are coveted, as they would make USD a more diverse community.
Stats
Location: San Diego, California
Tuition & Fees: $47,708 tuition and $12,630 room and board
Total Cost on Campus: $65,426
Undergrad's Enrolled: 5,711
Grads Enrolled: 2,480
Total Enrolled: 8,251
Acceptance percentage: 49%
Percent Admitted Who Enroll: 16%
Enrollment: 1,210
Percentage of Male Students: 46%
Percentage of Female Students: 54%
Percentage Receiving Financial Aid: 75%
Average Federal Grants Received: $21,202
Percentage Receiving Federal Loans: 41% undergraduate, 46% graduate
Want to know even more about the Torero life? Check out more info about USD.
Written by Sara Butler
Overall Experience
"I've been very impressed with the courses offered at the University of San Diego, and the professors have generally been outstanding. USD is a very vibrant community with a lot of cheerful people, sunny weather, fascinating classes and helpful professors. Also, it doesn't hurt that San Diego is one of the greatest cities in America to live in."
—Jimmy Colleran, Political Science major, Class of 2016
"If you don't seek out involvement at USD, it can be easy to fall through the cracks and harder to make friends, but there are plenty of opportunities to get involved and meet new people through clubs, sports, Greek life, etc."
—Caroline Eversman, Communication Studies and English, Class of 2016
"Greek life isn't for everyone, but thanks to my friends I have been able to participate in a number of Greek events [at USD] without being directly involved in an organization."
—Ivy Guild, Photography and Sculpture double major, Class of 2016
"It's important to find your system [at USD], from learning how to complete papers and assignments on time, finding time to spend with friends, getting a part-time job and getting enough sleep. It's a great feeling once everything falls into place and you learn how to balance your [USD] college life. A secret spot on campus is the IPJ Garden when you want to find some peace and quiet outside your busy schedule. The sunsets are great!"
—Hayley Park, Vocal Performance, Class of 2016
The Vibe: Hidden Castle of Classy Casual
Constantly confused for unofficial West Coast Ivy Leagues, USD students may face an identity crisis. However, that frustration fades with a breathtakingly beautiful campus just a few song lengths away from a bumpin' Mission Beach social life. Although less known for academic rigor, USD's small class sizes and qualified professors provide the perfect educational playground. While students might accidentally end up at USD, enrolled Toreros never want to leave.
What it Feels Like to Go Here
The University of San Diego: A place where social surf meets academic turf. Although famous for its breathtaking campus views overlooking the ocean, a buzzing social scene and rigorous academic schedule balance the beauty stereotypes. Don't be surprised when your classmate double parks a Lamborghini in front of Camino Hall before class. Image-obsessed students often match the well-groomed campus, unlike the sweatpants-wearing walk in the park college fantasy. On the social side, USD can be as Greek as you want it to be. While there are no official on-campus houses, 34 percent of students find their perfect Greek family for Instagram. But if that's not you, that's cool too. Over 175 organizations mean over 175 other opportunities to find your own campus community.
Never Have I Ever…
Q: Can I still party at a Catholic school?
A: Although USD is a private religious university, students are not isolated in dorm rooms abstaining from all scandalous activities. Greek Life and Mission Beach provide a retreat from the conservative campus, where classmates often let loose after a long day of lectures. The social sex scene is usually confined within sorority and fraternity life, so if you're looking to get some, go Greek.
Q: What about weed, brah?
A: While the Californian weed-smoking stereotype is more prominent in other neighborhoods, some USD students still indulge in the occasional hit before class.
"If you are going to smoke… know your RA. Some are cooler and more lenient than others. Jumping out of your window when an RA knocks is always a solid option (I know from experience)."
—Nick*, Political Science major, Class of 2016
Q: Is USD the cool mom?
A: Well, not usually. If you do decide to participate in a less-than-suggested activity, watch out for P-Safe sirens (Public Safety) and the golf carts (Parking Services). Expect strict parenting, high expectations and fair punishment.
Top 7 Quirks
1. Lack of Name Recognition
"99 percent of the time people mistake USD for UCSD [University of California, San Diego], SDSU [San Diego State University] or USC [University of Southern California]. It is incredibly frustrating. Half of my family probably still has no idea where I go to school and I'm a senior."
—Ivy Guild, Photography and Sculpture double major, Class of 2016
2. Ghost Weekends
"I was surprised at first at how empty the campus can be on the weekends. A lot of students drive home on the weekends because they are from the Southern California area or live off campus, so during the weekend the campus can feel pretty empty."
—Caroline Eversman, Communication Studies and English double major, Class of 2016
3. Car-ful Campus
"I had a car my freshman year through senior year. I don't recommend advertising that as a freshman, because suddenly everyone is your best friend. I think a car is necessary to get the full San Diego experience, because highways get you to every top sight and activity. Otherwise, expect to pay some hefty Uber fees."
—Ivy Guild, Photography and Sculpture double major, Class of 2016
4. Self-initiated Social Life
"The quality of your social life at USD will depend on whether or not you take advantage of the many campus organizations USD has to offer. USD has many fantastic extracurricular, Greek, spiritual and athletic organizations that will keep you busy outside of the classroom."
—Jimmy Colleran, Political Science major, Class of 2016
5. Dope Professor Relationships
"All of the professors I have had are encouraging, accessible and want their students to succeed. I feel like I know each of them on a personal level due to the small class sizes and the ability to meet with professors during their office hours."
—Caroline Eversman, Communication Studies and English double major, Class of 2016
6. Beach Backyard
"One of the greatest challenges I've experienced at USD is the difficulty involved in motivating myself to spend time in the [Copley] library when it's 80 degrees and sunny at Mission Beach."
—Jimmy Colleran, Political Science major, Class of 2016
7. Study Abroad Central
"I did tour with Choral Scholars in Italy during Intersession for 10 days during my freshman year. I will never forget singing for the Pope in Rome. Because of that experience I ended up becoming an Italian minor."
—Hayley Park, Vocal Performance major, Class of 2016
Top 3 Majors
1. Business, Management, and Marketing
2. Social Sciences
3. Communication Studies
Bragging Rights
1. No. 2 in Undergraduate Study Abroad Participation by the Institute of International Education
2. No. 18 in Best Campus Food by the Princeton Review
3. No. 89 in National Universities by U.S. News and World Report
Getting In
"The personal statement is the most important aspect […] everyone must have good test scores, grades and activities, but the essay is what really sets you apart as a unique individual and potential contribution to [the] college campus."
—Hayley Park, Vocal Performance major
University of San Diego is searching for the individual. They want to see who you are as a well-rounded person, not simply as a collection of numbers. The school wants to know who the applicant is, and what he or she can offer the university. As the old adage goes: "Ask not what USD can do for you, but what you can do for USD." While test scores and grades are important, focus your energy on your personal statement and Common App essay to introduce your personality to your potential new family.
*Name has been changed to protect privacy
Most Popular Articles About USD
1. You Know You're a USD Grad When…
2. The Ultimate Guide to USD's Athletic Programs
3. 10 Inspirational Professors at USD
4. Top 10 USD Views to Distract You from Studying
5. 10 Student Orgs that Scream Torero Pride
**Updated on January 29, 2018 to include updated information by Zoë Knafelc