Overall Experience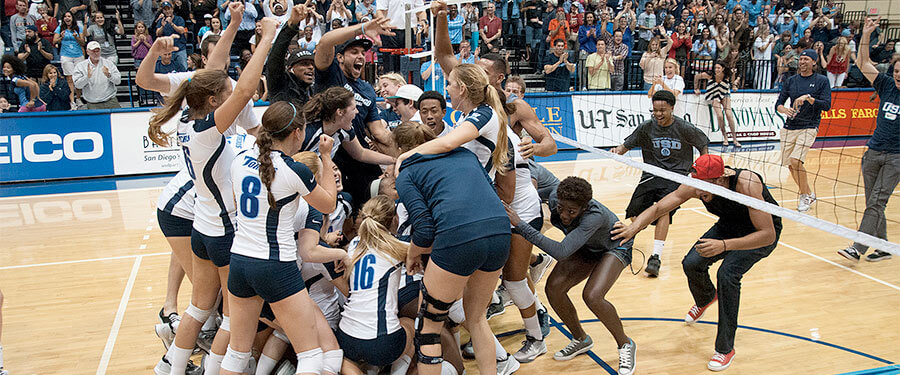 "My time as a University of San Diego student athlete has been some of the best years of my life. Being able to play in one of the highest stages in softball, playing against some of the best in the country, will be memories I will never forget. Being able to be a part of the USD athletic department has shown me what it's like to be a part of a community of people who truly love and care for each other, not just as competitors, but as people. I've made some of my best friends in this athletic program and I've made relationships that will last my whole life." – Mary Grabowski, senior, softball.
"I think playing for USD prepared me for baseball after college better than any other school would have. We played at a competitive level on a pro-like stadium with our best buds every single day. It was an amazing experience that I really miss at times. " – Kyle Holder, former USD baseball player, drafted to the Yankees in 2015
"Transferring here for softball was one of the best decisions I've ever made. At first I was nervous about coming to a school where I didn't know anyone or any teammates, but I love the school, the team and the city so much. It's fun to wear all of our sick uniforms and call ourselves Toreros." – Lauren Berriatua, junior, softball.
"It's a small school so the athletes all get to know each other and feel like one big family. The training room and weight room are always full of familiar faces. It's also fun when you go to other team's games and you know a lot of the people playing because it's so small here and they encourage that sense of family." –Brandon Perry, junior, basketball.
"The athletic department is dedicated to winning championships, but I think more importantly they are dedicated to their athletes' futures and helping them find success in future jobs." – Lauren King, junior, softball.
Student Scale

Program (total funding, facilities, sports equality): A-
Competitiveness (with teams both in and out of the WCC): A
The Vibe 
Small but competitive D1 programs.
What it Feels Like to Play Here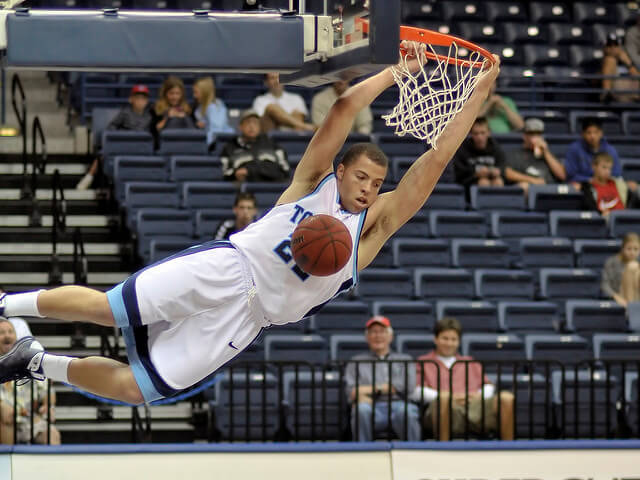 The University of San Diego is a great school to be an athlete at. There's nothing better than strolling to practice across campus with a view of the ocean and a nice sea breeze. With a strong emphasis on both academic and athletic performance, coaches really push athletes to be the best they can be. The beautiful, sunny San Diego weather means outdoor sports have perfect conditions almost all the time (and bad tan lines), while the indoor sports have state-of-the-art facilities. The Toreros compete at the Division 1 level in the West Coast Conference and have taken home several WCC championships. Athletes can be found in the training room icing sore muscles, going for seconds in the SLP cafeteria or running from practice to class. Despite their busy schedules, athletes know how to have fun and make the most out of their short time in college. Plus, who doesn't look good in navy and Columbia blue?
Cans and Can'ts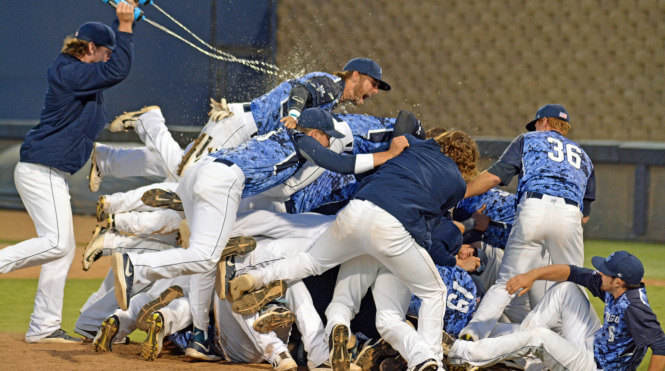 Do athletes get treated better than everyone else? While there are cool opportunities for student athletes, like  breakfasts and tutors available, athletes have to show up for class and take tests just like everyone else (and they actually have way less time to study). There is no special treatment.
Can athletes get good grades? The school has several athletes that are WCC All-American Scholar Athletes every year, and the softball team has maintained a team GPA of over 3.0 for the last four semesters.
Can athletes wear normal clothes to class? It's not a requirement that athletes show up to class in their practice shirts or team gear, but it's just a lot easier. In between rushing to get a quick snack and going to practice, changing isn't allotted much time. Yoga or track pants and a team practice shirt is usually the outfit of the day.
Top 5 Quirks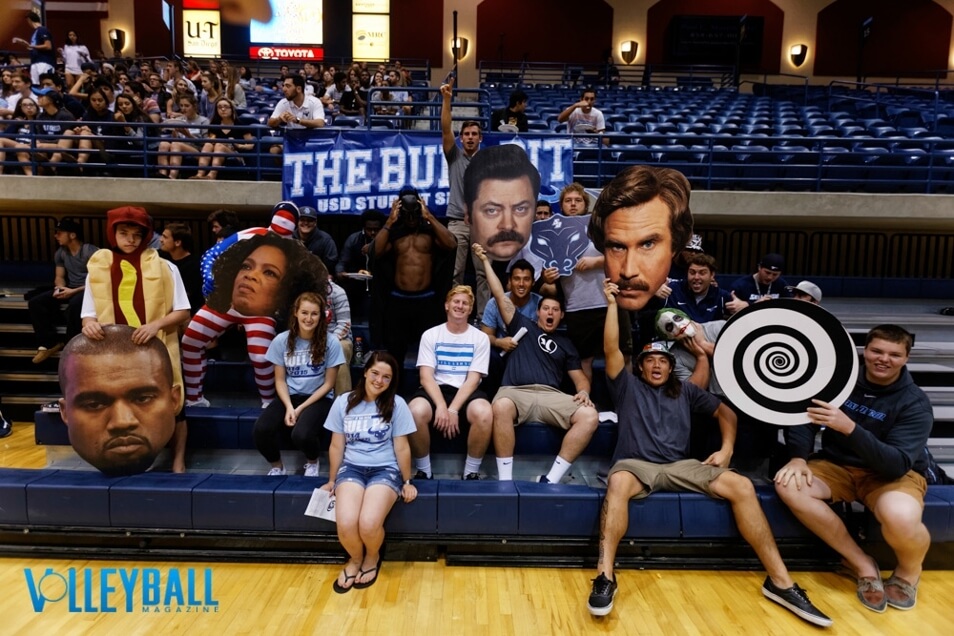 1. The Bull Pit is the USD student fan club that attends almost every sporting event covered from head to toe in Torero gear and is lead by Austin Jacobs.
2. Blown up pictures of Oprah and Jim Parsons can often be found in the stands at basketball games.
3. Running around sporting events in his matador outfit is Diego the Torero, our bull fighting mascot.
4. Athletes have a fancy banquet at the end of the year called the Celebration of Excellence where they ditch the sweaty shirts and cleats and put on dresses and heels or suits and ties.
5. The baseball locker room has a ping pong table where epic tournaments go down on the daily.
Top 3 Majors for Athletes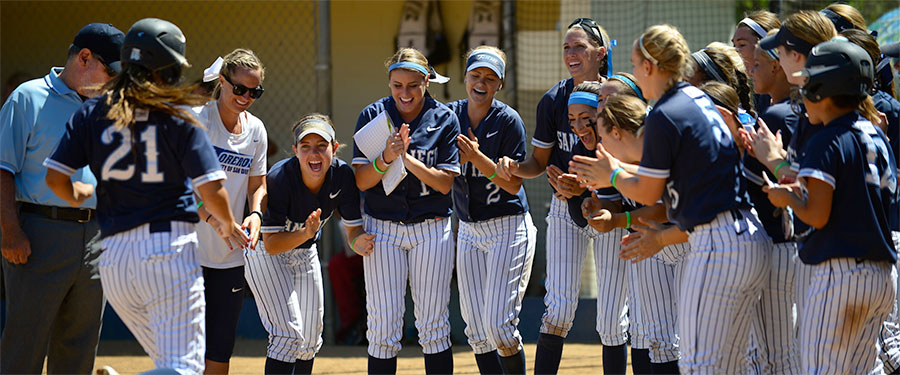 1. Business Administration
2.  Communications
3.  Psychology
Bragging Rights
1. Third baseman Kris Bryant was the second overall draft pick in the 2013 MLB draft by the Chicago Cubs and has gone on to become the starting third baseman for the Chicago Cubs. He also received the Sporting News Rookie of the Year award.
2. Johnny Dee became the Torero's all-time leading scorer in 2015 with over 1,800 career points and went on to play professional basketball oversees; he is currently playing in Poland.
3. USD's baseball team has had 38 players get drafted to the MLB since 2010 and three players in consecutive years picked in the first round.
4. The football team has won three Pioneer Football League championships in the last four years.
Getting Recruited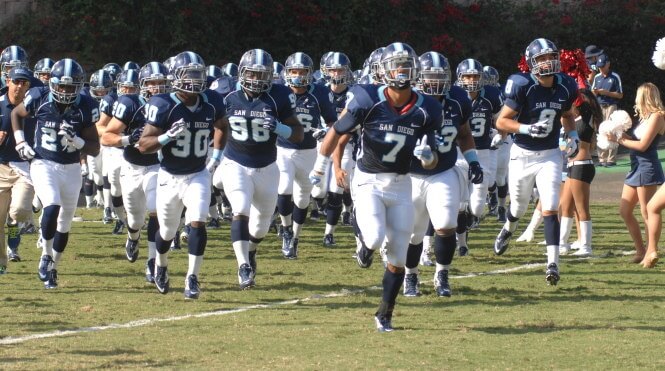 To get recruited by USD you have to show that you are ready to work hard in both sports and academics. USD athletes all have a strong sense of community and are willing to give back, so a typical recruit must display these qualities along with solid athletic abilities. Being passionate is also a key element USD coaches look for. "We always look for players that we think will contribute to the team on and off the field. Obviously we want great athletes, but who they are as a person and a student are also equally important," Cassidy Coleman, assistant softball coach and former USD softball player said. When getting recruited you have to know that it's not all fun and games. Classes are challenging, and your sports experience depends on how hard you work and the mindset you maintain.