The Vibe
Cozy Beach Town Meets Metropolitan
What It Feels Like to Go Here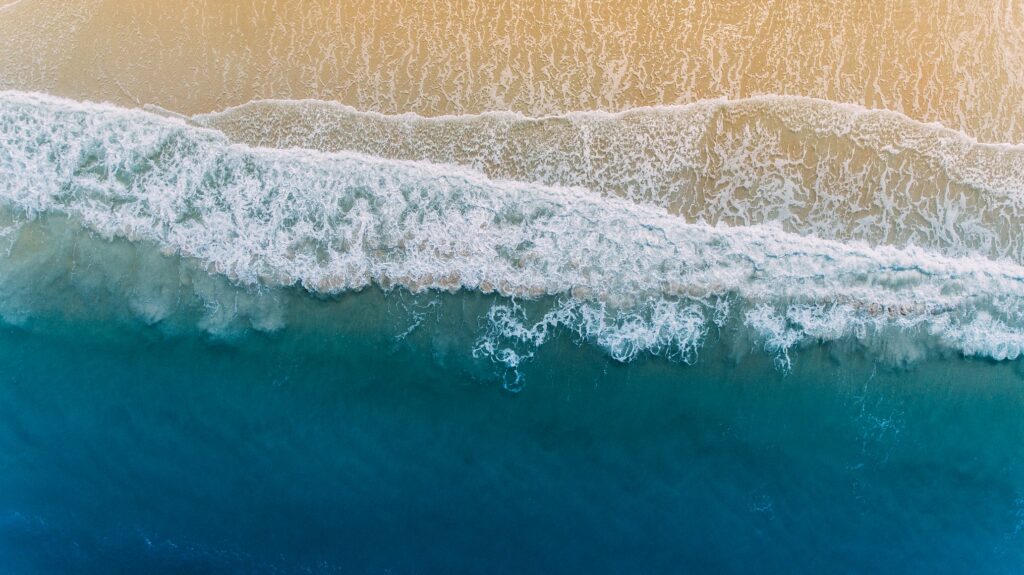 Ever heard of the Florida Man and his crazy antics? Well, the University of South Florida won't entirely live up to his insanity, but will give you the best of everything Florida has to offer. If you get tired of snow days and hope for a change, the University of South Florida happens to be located in the warmest climate in the United States. The coldest Tampa can get only stays around 30 degrees, meaning winter rain will end up as the closest thing you get to snow down here.
Holding the title as one of the most popular colleges on the west coast of Florida, the University of South Florida mixes the best of everything the state offers. The university's location places it close to downtown Tampa, which boasts an impressive riverside trail among many wildlife parks. You can often find student's having picnicking on the Channelside or walking near the Straz Center. USF's proximity to the beaches along Clearwater and St. Petersburg as well as the local restaurants and wildlife preserves satisfy the needs of everyone.
While the city doesn't compare to the size of New York or Boston, the cozy feeling of Tampa radiates onto campus. The green space of the lawns creates plenty of separation between buildings, helping remove the traditional cramping feeling big city campuses usually have. The campus actually doesn't really feel like a college campus at all due to it. It reminds me of walking through Central Park in New York City, meaning you definitely will get your ten thousand steps in per day going here. The students take the partying completely off-campus, helping to immerse themselves with locals and the many cultures of the region. This helps them focus on academics while off campus and then embrace their inner party animals at local clubs in nearby Ybor City.
The diversity of students on campus itself only carries this feeling over into daily life. Almost 50,000 international students attend USF, creating a unique atmosphere of interlinking cultures. Between that and the big debate about socks with sandals or just sandals by themselves, you will never feel bored on this campus. Students have a laid-back attitude, enjoying their classes and working hard in them while still appreciating the warm climate they find themselves in. After all, who doesn't love wearing shorts in December?
Outstanding Alumni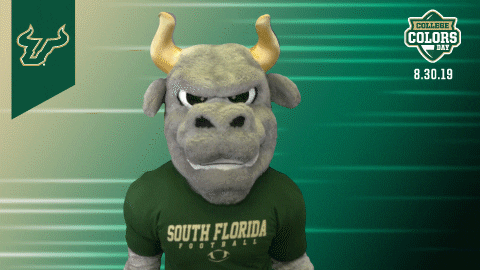 Every college claims their alumni as the best, but the diversity among the University of South Florida's alumni helps them actually hold onto that title. Not just known for his famous mustache, WWE wrestler Hulk Hogan attended the university back in the 70s before he decided to pursue wrestling full-time. Recently known for his role on Riverdale, actor Mark Consuelos originally attended the University of Notre Dame, but transferred to USF. He graduated in 1994 with a Bachelors in marketing.
Having both the brains and the beauty, Miss America 1999 Nicole Johnson attended the university and graduated with a Bachelors in English. She publicized the use of an insulin pump as she holds the title of the first Miss America with diabetes. Professional football player Kawika Mitchell played in the NFL as a linebacker for the Kansas City Chiefs, New York Giants and New Orleans Saints. He also attended the University of South Florida where he played football and earned his degree in sociology.
Where We Hang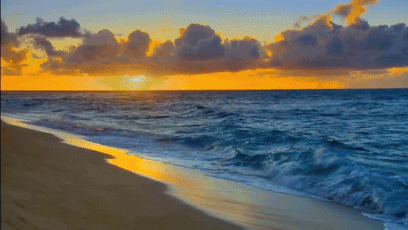 While not directly on the beach, the proximity to wonderful pristine blue waters makes the University of South Florida a ringer for any beach lover. Students can get to the famous Clearwater Beach in about 30 minutes, which makes it one of the most popular beaches for USF students in the area. Further south students have St. Pete Beach; far underrated and much quieter in ccomparison to Clearwater Beach while keeping the wonderful scenery. You can often find students paddle boarding or kayaking in the many rivers near campus as well.
Students looking for a nightclub scene absolutely love Ybor City. Boasting many nightclubs and wonderful restaurants, students split their time between here and downtown Tampa most evenings.
Athletic games, especially football, take up most of the time on a student's Friday night. That carries over to the off-season as well. The Tampa Bay Lighting serves as the resident hockey team in Tampa Bay. Their stadium, Amalie Arena, sits in downtown Tampa. You can find many students there cheering on the team during games or attending concerts when popular names like Elton John and Greta Van Fleet roll into town.
Q&A
1. How much are students partying?
"I haven't heard much about parties though I have some friends who are in some USF sororities and I haven't seen as much partying on their social media compared to other friends from other FL schools." -Lulu Downing, Class of 2023
2. What will you get in trouble for at your school?
"Possibly getting into trouble for plagiarism. I've heard some complaints from friends who live on campus about getting in trouble by having things they shouldn't have on their dorms though they usually would just have to pay a fee." -Lulu Downing, Class of 2023
3. How much sex are students having? How is safe sex encouraged on campus?
"I have no idea how much sex people are having. That's their business. The university promotes safe sex though with posters and free condoms for whoever wants them." -Hannah Thieryung, Class of 2023
4. What would you tell incoming freshmen about your school?
"I'd tell incoming freshman to enjoy themselves, take their studies seriously (while also making sure to make friends, and have fun)." -Dan Spino, Class of 2023
5. Every college student has something they love about their university. What is yours?
"My favorite thing is honestly the people. I am concentrating on my studies, but my friends make it special. Otherwise, I would just be studying and my experience would just be the same as it would at any other university." -Dan Spino, Class of 2023
5 Student Reviews
"USF has the best people! I have made so many new friends in my short time here already. The rec center is also really cool. They have free classes and the instructors are so nice. It helps me stay happy and healthy!" -Danielle Koos, Class of 2024
"I was surprised with the amount professors with Ivy League educations. I've had professors from Harvard, Oxford, and the University of Pennsylvania. I was happy to have teachers who really understand their field and are contributing new research to it." -Lulu Downing, Class of 2023
"My experience at USF has been great! The professors in the history department are so helpful throughout my time here. However, advising is super unhelpful." -Hannah Thieryung, Class of 2023
"USF is such a diverse and welcoming community. The students here are so understanding and come from all walks of life. Many of the professors here want their students to succeed while also feeling challenged and I haven't taken a class where the instructor wasn't ready to help when I needed it. You also can't beat the location! Tampa is a beautiful city and I feel so lucky that my school is here!" -Zoe Conti, Class of 2023
"USF isn't really a party school and is definitely more academically focused, which I love. There are parties at other colleges closer by that you can go to though." -Lyra Williams, Class of 2024
Top 3 Majors
Psychology
Marketing
Top 3 Most Popular Student Organizations
1. American Marketing Association (AMA)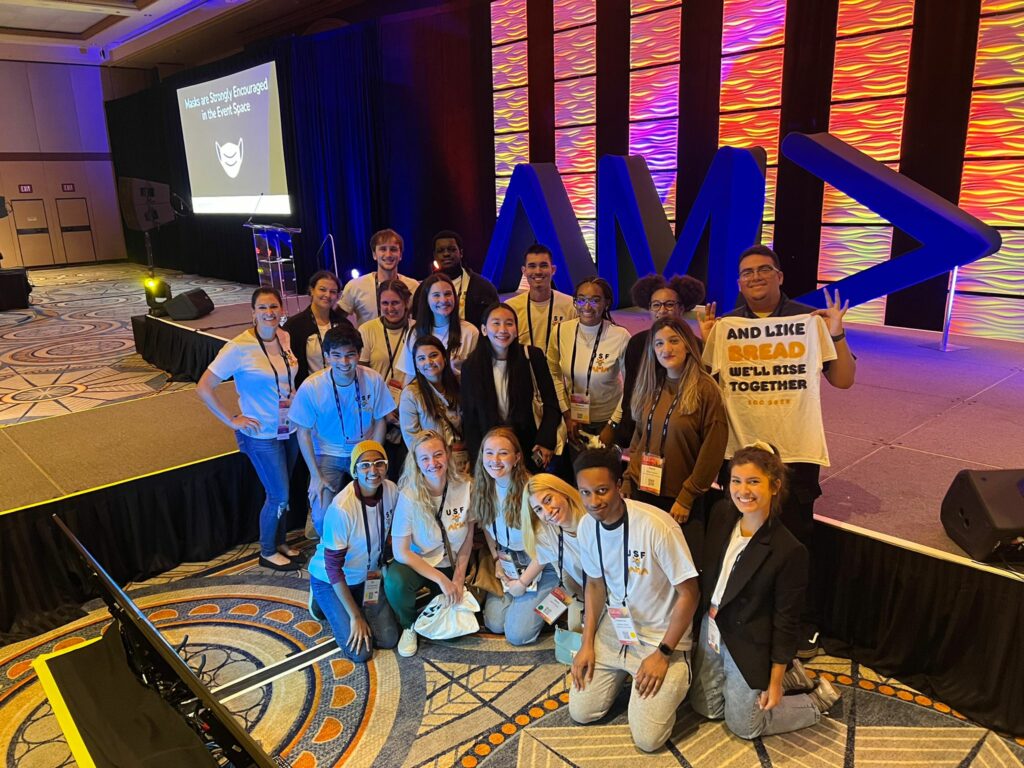 Marketing and business majors stress no more! If you hope to gather great experience before you graduate, the American Marketing Association at the University of South Florida will help you get exactly what you need. Different committees within the association function like the different aspects of a business. For example, the Fundraising/Finance team handles the organization's funds to help students gain a better understanding as to how much it costs to run an organization as well as how to properly allocate funds when needed. The Marketing team handles promotion on social media. The Social Impact team allows member the opportunity to give back to the community.
"My favorite thing about being an AMA member has probably been the amazing people I've met. It's amazing the friends you can make from networking, and the more time I spend working for AMA, the more I love the people I work with," Membership and Diversity, Equity and Inclusion (DEI) Director Sydney Haynes explained. "Everyone does their respective jobs well and I think we all work very well together. I've loved the opportunities AMA has given me to meet new people, whether that be students like me, faculty, mentors, or even potential employers."
If this interests you, you can reach out to the association through USF's BullsConnect to gather more information. In fact, you will most likely speak with Haynes herself about joining the team. A few great things can come from joining AMA. Not only will this experience look great on your resume, it can help you decide what you would like to do in regards to the marketing field after graduation. The organization also helps students network by connecting them with different businesses to better prepare them for job hunting after graduation.
2. Student Government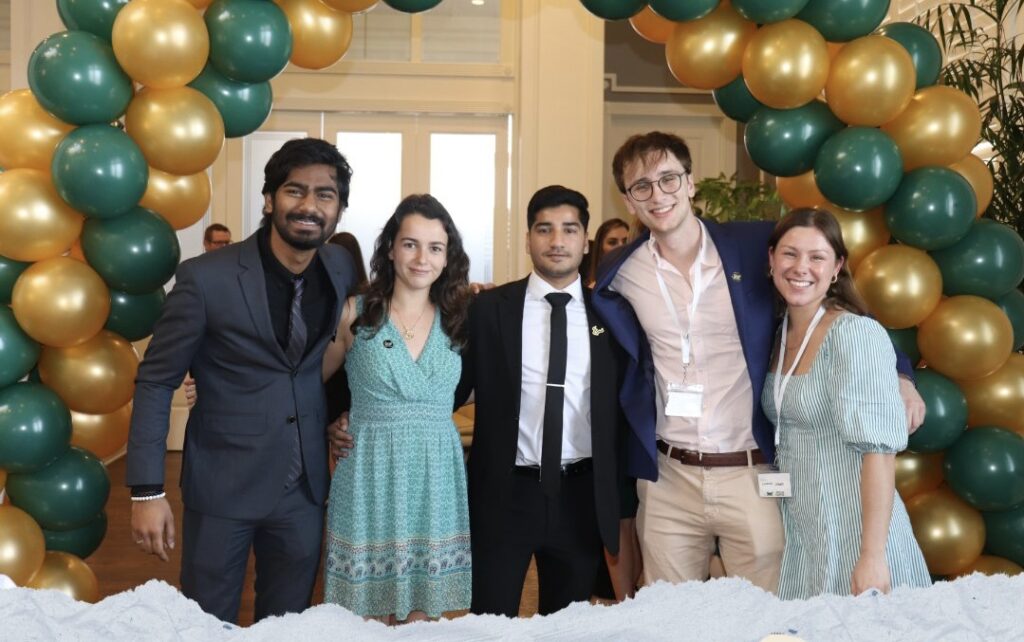 Student governments operate within every college and help prepare students to step into roles of leadership once they graduate. The University of South Florida's Student Government focuses on advocating for the student body at the university. 120 students, teachers and volunteers make up the organization on campus. Becoming a member allows a student to work on initiatives and programs that will help improve student life both on campus and in the college itself. Think of the organization as your human resources department, only on a college campus.
"One thing I love about being part of SG is that I get to experience many different fields! From creating content that's informative and engaging for the student body to participating in events where I get to interact with them, I love how different each day is," USF senior Nicole Bejaran said. "Whether it is through tabling, spending a day at the capitol or volunteering with communities across Tampa, SG is always a great opportunity to keep growing personally and professionally."
If this interests you or if you look to gain valuable leadership experience for your resume, those within the student government at USF encourage you to apply. Multiple positions in the executive, judicial and senate branches come up for election in midterm elections. If you don't get elected, you can instead participate in the street team internship program. This allows you to gain the experience of working with student government without formally becoming a member of the organization. Overall, you can't go wrong with the incredible opportunities awaiting you in USF's Student Government.
3. Rocky's Angels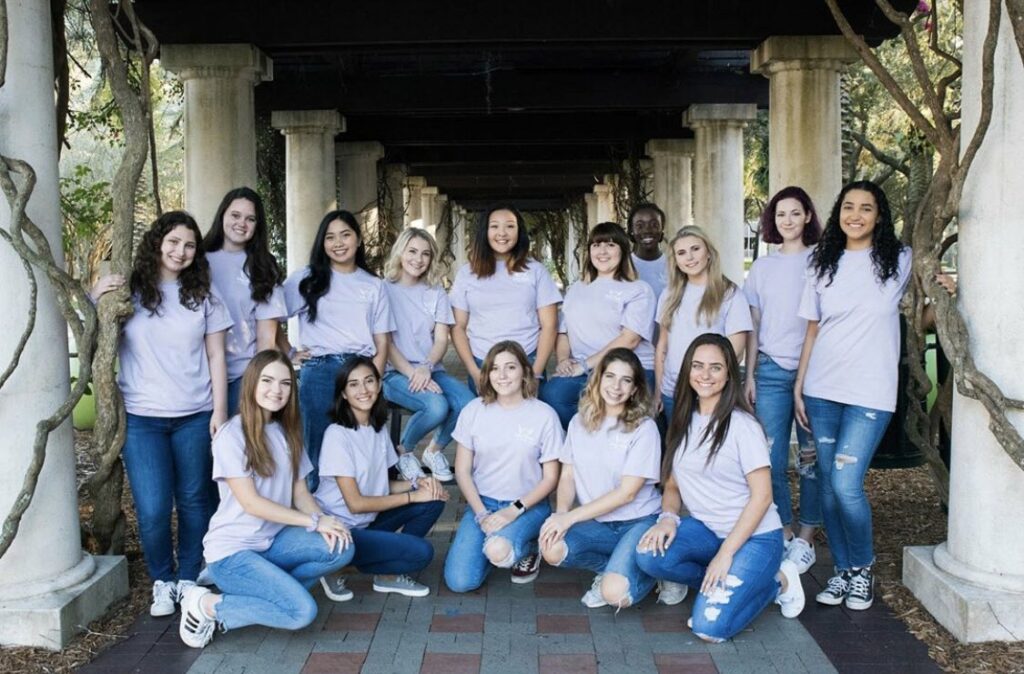 Did you hope to live out your Pitch Perfect dreams? Well, luckily enough for you, Rocky's Angels fulfills all of your acapella dreams. The group comprises entirely of female singers, proudly labelling themselves as the University of South Florida's only all-female acapella group. Their performances occur all over campus as well as at local and national events. You won't get scouted in the shower like Becca did, so you will need to keep an eye out for audition announcements on their Instagram if this does interest you.
"I love being a member because of the connections I get to build with the other members, and it truly is amazing being able to make music as a family," University of South Florida senior Jessica Serra Tur said.
Do you remember the iconic final performance at the end of the very first Pitch Perfect movie? Believe it or not, the International Championship of Collegiate A Cappella takes place each year, and Rocky's Angels participated in the competition this past year. You might've even seen their mashup performance of Taylor Swift's 'Don't Blame Me' and Hozier's 'Take Me to Church' on Tiktok. It recently went viral, spreading the joy of acapella for those who don't often get to experience it. If you hope to start living your Barden Bellas dream, I highly recommend you look into this incredible group of talented singers on Instagram or Tiktok.
Getting In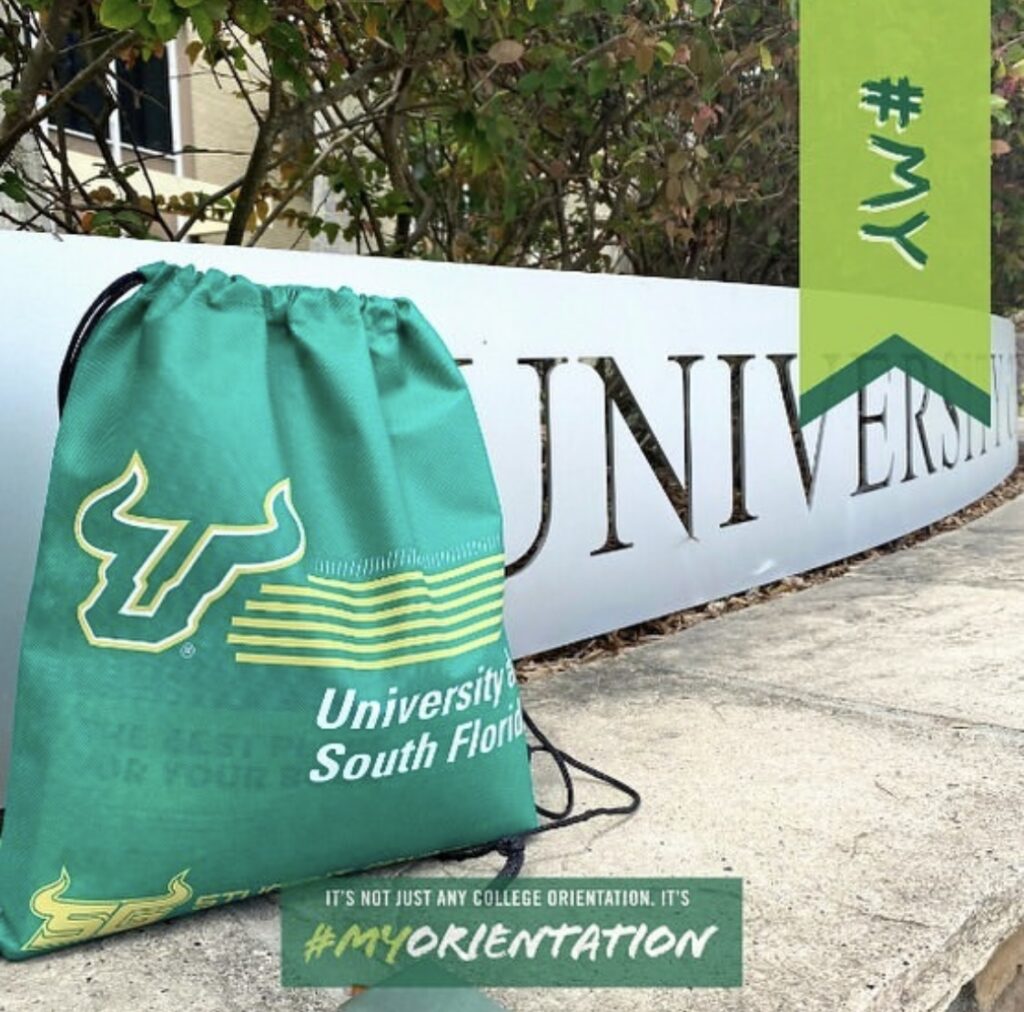 Getting into the University of South Florida won't be as hard as trying to get into an Ivy League, but the university prides themselves on the diversity of applicants and their impressive SAT and ACT scores. If you hope to apply to USF soon, focus on those as well as your extracurricular activities. Keeping your resume balanced and not overcrowded helped many students get into the college as well. Don't show every single volunteer experience you participated in since you were a kid. Colleges don't need to see that you helped with your neighbor's lemonade stand when you were seven. Instead, show relevant experience with volunteer organizations that relate to the major you intend to pursue. Doing this along with showing your good grades will impress any college admissions counselor.
"If you are a Florida resident, I definitely recommend focusing on the Bright Futures requirements when aiming for USF. I kept my GPA high, which is a requirement for Bright Futures, and made sure my test scores were good," University of South Florida senior Hannah Thieryung explained. "I also made sure I got enough volunteer hours with associations similar to that of what major I was aiming for, which boosted my resume when applying. The Bright Future requirements really helped keep my stats for applying good and helped me pay for college."
Keeping the usual requirements for any university application helps, but it is incredibly important to focus on anything that can help you stand out against your fellow applicants. For example, Thieryung worked at a local museum near her house with archivists and historical tour guides. These extracurriculars show that you truly care about putting yourself into situations where you can gather real-life experience. College in itself will push you to step into experiences out of your comfort zone. These come along as internship opportunities or taking classes that you normally wouldn't. So, focus on your grades and test scores while balancing volunteer work to help you stand out against the crowd.
Stats
Location: Tampa, Florida
Tuition and Fees: Instate: $6,410 Out-of-State: $17,324
Total Cost on Campus: Instate: $23,866 Out-of-State: $34,780
Undergrads Enrolled: 36,948 as of Fall 2022
Grads Enrolled: 11,114 as of Fall 2022
Total Enrolled: 49,766 as of Fall 2022
Acceptance Percentage: 49%
Percent Admitted who Enroll: 72%
Enrollment: 30.1%
Percentage of Male Students: 42.4%
Percentage of Female Students: 57.6%
Percentage Receiving Financial Aid: 51% of first-year students
Percentage Receiving Federal Grants: 67%
Percentage Receiving Federal Loans: 31%
---