The Vibe
Practical with a Wild Side
What it Feels Like to Go Here
Most students just starting at UNM will probably struggle with the initial obstacle of not being able to find that picture-perfect cohesive circle of people they can identify with. That being said, with a little effort to attend regular club meetings and make an appearance at sports events, the unique and diverse side of UNM will start to show itself. Soon, you'll learn that every UNM student has a fascinating backstory you would have never expected. So, while you may not jump straight into a Pitch Perfect friend group, start attending the incredible theater and music performances at Popejoy Hall, or get involved in the active student government, and you'll surely uncover your own group of likeminded students.
With nearly three quarters of UNM students receiving financial aid, and 71% commuting to school from 10 miles or more away, UNM can be the practical choice. But don't let the amount of grad students fluttering in and out make you think that UNM doesn't offer the staples of the undergraduate college experience. With crowds of Lobos fans that rock the "Pit", the iconic UNM stadium and over 20 active Greek Life societies, UNM leaves little to be desired. The key is to jump into the vibrant UNM community early on. It won't take long until you know every word of the "Fight Song," the Lobo's anthem at every sports event.
Awesome Alumni
UNM alumni encompass a wide range of familiar figures, from wrestling champions to Hollywood screenwriters. In the literature department is Rudolfo Anaya, the novelist whose most famous work is Bless Me, Ultima, now considered the foundational novel of Chicano literature. Famous UNM alumni in the arts also include many film stars, producers and directors, like Penny Marshall from the 70's hit TV show Laverne & Shirley. You might remember her from the family classic A League of Their Own. UNM's sports enthusiasm also pays off, as evidenced by the alumni in professional sports such as Brian Urlacher, former linebacker for the Chicago Bears, and WWE's very own Eddie Guerrero. And why stop there? Many alumni also succeed in local or national politics, like everyone's favorite lackluster libertarian Gary Johnson, who made quite a splash with independents during the 2016 election.
Where We Hang
UNM offers its own unique network of student hang-out spots and community centers. The great thing about the location near the center of Albuquerque is that students have the option to either stick to locations inside the university's borders or venture out into the city. Within campus, there's always people congregated inside the traditional adobe-style building of Zimmerman Library. If you're not looking to hide between the stacks, you can take a sunny walk over to the Duck Pond. This rare body of water surrounded by groves of trees is the perfect sanctuary in the middle of the desert.
After you've got a little sun, take a turn down to Central and you can't miss the barn-shaped restaurant Frontier, a Southwestern twist on a diner, and a UNM student all-time favorite. "You'll run into someone you know almost any time of the day. I think they're open almost 24/7. I really like to get the chile rellenos. The sweet roll is to die for," said senior Musical Performance major, Sam Connan. If you'd rather venture farther outside campus into Breaking Bad's birthplace, try Nob Hill, just east of campus. It's one of the trendiest new neighborhoods in the city, with plenty of antique shops, a thriving night scene, and Route-66-meets-the-70's architecture made to fulfill all your Instagram picture taking needs.
Q&A
1. What advice would you give a freshman starting at UNM?
"Put yourself in situations where you can make friends. So even though you might be more comfortable doing homework in your dorm, go to the library instead. When you put yourself in public situations, it's way easier to make friends than if you're secluding yourself in your room," said senior Business major, Eric White.
2. What's the most difficult part of UNM life?
"Honestly the crime. I know it's something that people don't want to hear, but UNM has one of the highest if not the highest rate for car theft on a college campus. There are messages from the school all the time about shootings, robberies, and suspicious activity," said senior Criminology major, Bianca Gonzalez.
3. Best UNM Life Hack?
"Make friends with or find a roommate who also works for housing on campus, because they know all the little secrets about literally everything and can help you out in everything from finding a job to what buildings are best to live in," said sophomore Creative Writing major Carter Williams.
4. What about partying?
"It wants to be a party school, but it's not. I'm sure there are people getting drunk every weekend, but there weren't many venues to do anything like that. After a certain time of night, it's not really safe to go out," said Connan.
5. What's the best way to get in trouble at UNM?
"Believing you can get to campus with 5 minutes to spare and still find parking," said senior Political Science major Lia Stefanovich.
Student Reviews
"It's a fun campus, but a small one." – Leo Munoz, alumni.
"Student Life at UNM is great. There is something for everyone. They have events like Red Rally, movies at our on-campus movie theater, free food, silent discos and so much more! We also live in a beautiful state where there is plenty of outdoor adventures and cultures to see and take part in." – Gonzalez.
"I'd say it's nice if you find the right pockets but generally people keep to themselves. There's a big student population here and a lot are commuters, so people don't interact too much until they're in small groups." – White
"No matter how enticing it is don't skip classes. Also, being familiar with the campus can be super helpful whether it's looking for resources or quiet places to study." – Rachel Cuomo, sophomore Environmental Science major
"The food at 'La Po', the main dining hall, is awful. Never touch that salad bar." – Connan
Top Majors
1. Business
2. Psychology
3. Biology
Top Student Organizations
1. Student Government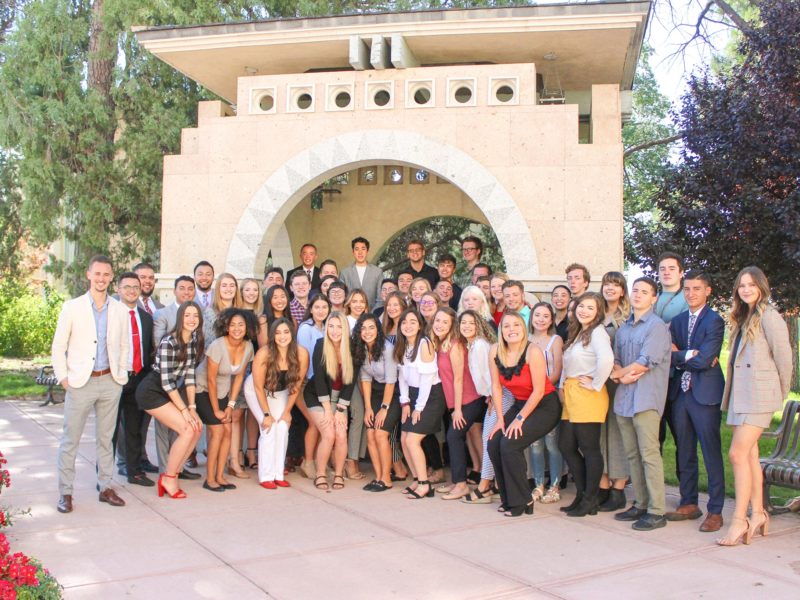 UNM takes its student government seriously. ASUNM, the Associated Students of the University of New Mexico, is made up of eight different agencies with over 60 student jobs and over 40 student representatives. They're responsible for countless student events every year, including political talks, mariachi concerts and free film showings at the ASUNM Southwest Film Center. ASUNM also runs a media board responsible for putting out campus publications such as Conceptions Southwest and the New Mexico Daily Lobo.
2. Club Soccer
All of the Lobo teams are iconic to UNM student life, but club soccer has its own unique story. When UNM made the decision to end the men's soccer team in the Fall of 2018, UNM students weren't having any of it. A group of soccer enthusiasts led by Alex Hernandez singlehandedly organized a club team to play against nearby teams. From there, they won up to $300,000 in funding from the administration to dedicate to their sport. The club has remained a top student organization ever since; the UNM community treating its games as social events.
3. El Centro de la Raza
El Centro de la Raza is an organization created to promote and support Latinx students at UNM. "It's mostly focused on assisting students find student aid," said Munoz. It's responsible for events like study sessions, free HIV testing and chats over bocadillos (a Spanish-style sandwich). It also gives Hispanic students the opportunity to hold a separate graduation ceremony that recognizes their families' cultural traditions. El Centro also links to multiple services to help students with academics and career planning. If you're feeling overwhelmed with schoolwork or job scouting, stop by and check out the opportunities for career fellowships, research programs, and more.
Getting In
Many UNM students rate their experience applying to the school as relatively stress-free. If you're from New Mexico, good news: getting in is much easier if you're a local. But even if you're not, don't fret—the school has plenty of resources to help you prepare the perfect application. "I would tell someone trying to get into UNM to take advantage of alumni and staff if they have any questions about the process," said Stefanovich. The application deadlines are rolling, so make sure you figure out beforehand which due date you're aiming for. If you're insecure about grades or test scores, just focus on demonstrating that you're especially enthusiastic about your planned field of study.
Stats
Location: Albuquerque, NM
Tuition & Fees: $7,556 for residents, $23,292 for nonresidents
Total Cost on Campus: $22,912 for residents, $38,648 for nonresidents
Undergrads Enrolled: 16,170
Grads Enrolled: 3,720
Total Enrolled: 22,792
Acceptance Percentage: 57.8%
Percent Admitted Who Enroll: 41.91%
Enrollment: 22,792
Percentage of Male Students: 43.7%
Percentage of Female Students: 56.2%
Percentage Receiving Financial Aid: 74.2%
Percentage Receiving Federal Grants: 30.2%
Percentage Receiving Federal Loans: 31.2%