The University of Alabama—Tuscaloosa, Alabama
The Vibe
Classic Southern Football School
What it Feels Like to Go Here
The University of Alabama boasts the ultimate college experience. For a student looking for a huge university with Greek life and one of the best college football teams in the nation, the hype is real at 'Bama. Love football and want to be a part of a Greek home? Tailgating on gamedays starts at the famous Sorority and Fraternity Row, then students head to Buffalo Phil's for a bite before going to the game in the huge Bryant-Denny Stadium. Aside from football and Greek life, Bama's 1000+ acre campus encompasses gorgeous plush green scenery amid massive brick buildings and great history, seen through the President's Mansion and the Alabama Museum of Natural history. With an abundance of clubs and organizations open to all students, the warm weather and southern charm will make you want to come on down and Roll Tide in Tuscaloosa.
Awesome Alumni
Famous alumni include Christopher Woodrow, film producer and financier, best known for his films Birdman starring Oscar nominated Michael Keaton and the horror film Green Inferno. Timothy Leary, graduated in 1943, and later became a renowned psychologist and controversial LSD researcher. Beyond that, Kathryn Stockett, a New York Times bestselling author of The Help, graduated with an English and Creative Writing degree. The Help spent over 100 weeks on the New York Times bestseller list and became a hit film, with its release in 2011. Finally, Dominique Canty played women's college basketball at the University of Alabama. She then went on to play professional basketball in the WNBA, for the Detroit Shock and later the Houston Comets. These brilliant alumni showcase only a preview of the impact students at the University of Alabama can make in their post-grad lives.
Where We Hang
The University of Alabama holds a ton of spots where students come to relax, hang with friends, party or catch live music. On weekdays, students chill on the Woods Quad in between classes and catch a bite with friends at Buffalo Phil's for delicious wings or Jim N Nick's Bar-B-Q for some old fashioned southern BBQ. Later on, students head out for a night on the town to bars like Gallete's and Houndstooth. For students who love music, the Tuscaloosa Amphitheater has live shows throughout the school year. Situated outdoors, this venue houses diverse music from Dave Matthews Band to rappers like Wiz Khalifa. Tuscaloosa truly offers a variety of awesome hangout spots throughout the days of the week for students to take a break from the studying.
Q&A
1. How much are students partying?
"You can honestly go out every night if you wanted to, like t-shirt Tuesdays, Wine Wednesdays and so on. There's something going on all the time," said freshman Alyssa Rein.
2. What will you get in trouble for at your school?
"Honestly, you have to be an idiot to get in trouble, they're pretty easy going. You get in huge trouble for drugs," said freshman MacKenzie Conroy.
3. How much sex are students having?
"Everyone is having sex with everyone," said freshman Ciara Jennings.
4. What would you tell incoming freshmen about your school?
"Because I'm from the Northeast, I'd have to say that people are much friendlier down here. I think it's the Southern charm that I never really experienced up north. If you're looking for a chill college environment filled with great, down to earth people, choose Alabama," said senior Iggy LaMana.
5. What does a typical day look like at Bama?
"A typical day means waking up for class, grabbing that much need Starbucks and heading off to lectures or labs. When classes are over, you get some Chik-Fil-A for dinner with your girlfriends, then decide if you guys should go out that night to party," said junior Gabby Davis.
Overall Experience
"One thing that surprised me is how seriously people take Greek life and Alabama football."– Ciara Jennings, Class of 2020
"My greatest challenge has been trying to balance school and Greek life."– Sophia Greco, Class of 2020
"My favorite memories would have to come from game days spent visiting the frats for tailgates with my sorority sisters and then heading to the big games to watch us win big!"– Skylar Seitz, Class of 2020
"My in-class experience was basically just a bunch of big lectures. The only way to get close to a professor was by visiting office hours, otherwise, you're a little fish in a big sea."– John Flood, Class of 2017
"Most people think of Bama as just a typical Southern school, but it's so much more. It's friends who become like your family, clubs and volunteering opportunities that shape you into the best version of yourself, and wild days and nights you'll look back on for the rest of your life."– Cassi Galante, Class of 2020
Top 3 Majors
1. Business Administration and Management
2. Accounting
3. Nursing
Top 3 Most Popular Student Organizations
1. The Crimson White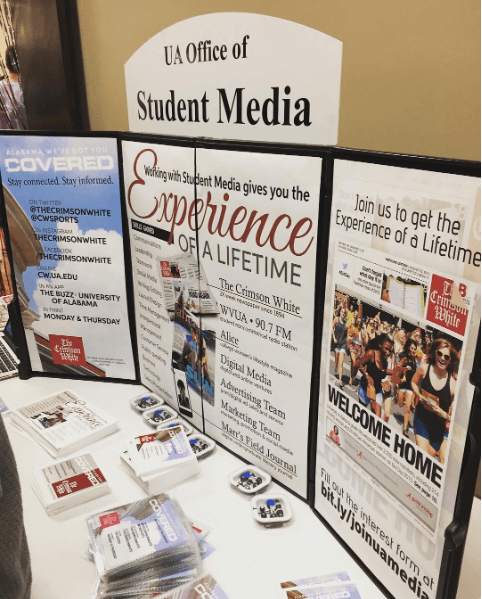 Creativity and news casting are big parts of University of Alabama's student newspaper, The Crimson White. Students interested in writing, as a break or supplement to their major, should check out this organization. "The Crimson White has helped teach me how to manage time, between friends, school and learning how to be a journalist. It has given me tools to excel in my classes, because I understand better what the professors expect in stories," said junior Cody Estremma, Sports Editor.
2. Students Without Borders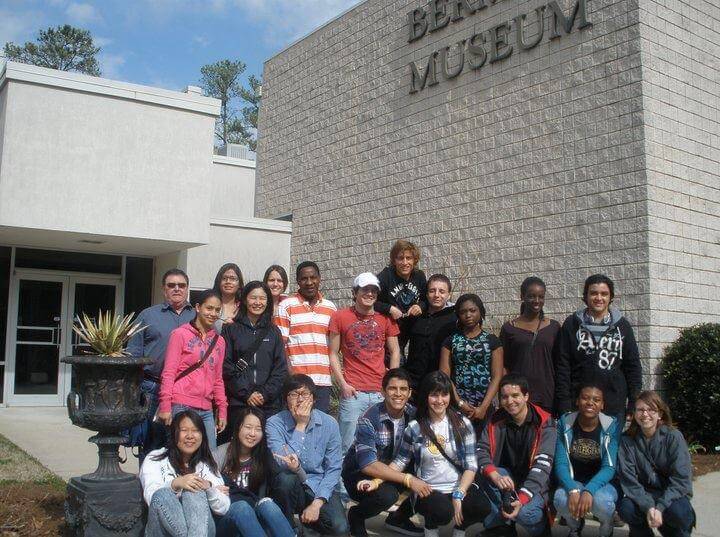 Want to make a difference? Students Without Borders works and encourages students to interact with other nations, something every student should learn. "Being a part of Alabama Students without Borders has been an integral part of my college experience. It has given me the opportunity to practice my Spanish, but also to help others learn English. Helping these people is one of the most rewarding things I have ever experienced. I am an instructor for one of the classes, which as taught me so much about myself and about the students," said Vice President Nicole Renshaw. Students who want to change the world through the power of language and communication should definitely join. Just imagine the awesome skills and stories you'll leave with.
3. Men's Club Water Polo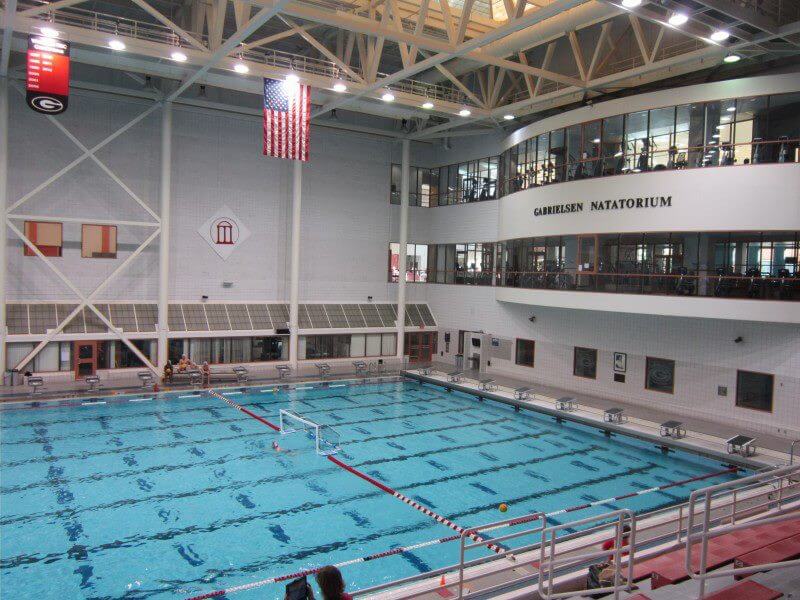 For those looking to invest some time into sports without all the stress of a Division 1 team, Club Water Polo serves as a great choice. "Most of the time students tend to stay in their focus area, but Water Polo really enables me to branch out to a much broader selection of Alabama, all while doing a great, fun sport and representing the Crimson Tide! Being a part of any organization that allows you to beat Auburn (twice last season) is a great way to embrace the Alabama Spirit," said Forrest Martin, President of Men's Club Water Polo. Being a part of an athletic club can help students interact and develop friendships while staying healthy and fit. No more freshmen 15, that's for sure.
Getting In
This school places a large emphasis on grades. Start hitting the books if you're interested in attending Bama because average ACT scores range between 26 and 30. The university has very high requirements for test scores, so take this admission requirement seriously. Grades are super important in determining acceptance as a 3.0 GPA (typically a B or B+ student) should be successful in his/her chances of acceptance at the University of Alabama. Finally, extracurriculars are considered but are not a strong determining factor in the admissions process. In other words? Spend more time taking notes in class and less time snapchatting your friends.
Stats
Location: Tuscaloosa, AL
Tuition & Fees: $11,270 (in-state), $27,750 (out of state)
Total Cost on Campus: $24,320 (in-state), $40,800 (out of state)
Undergrads Enrolled: 31,958
Grads Enrolled: 5140
Total Enrolled: 37,098
Acceptance percentage: 51%
Percent Admitted who Enroll: 37%
Enrollment: 37,098
Percentage of Male Students: 44%
Percentage of Female Students: 56%
Percentage Receiving Financial Aid: 53%
Percentage Receiving Federal Grants: 76%
Percentage Receiving Federal Loans: 45%