Tulane University–New Orleans, Louisiana
[toc]
The Vibe
Laissez les bon temps rouler! (Let the good times roll!)
What it Feels Like to Go Here
When you step onto campus at Tulane University your freshman year, plan to get lost in the waves–the Green Wave, that is. Grow comfortable with seeing beads hanging from the trees and balconies near campus because the party truly never stops. With brass band tunes as your own personal background music, you'll feel ready to explore every nook and cranny of the French Quarter. But it's not just all fun and games here at Tulane. Prepare to buckle down and bury your face in the books when the time comes. Tulane students care about their academics and exist as some of the most driven students you'll ever find. From finals to festivals, Tulane students fully invest in the lifestyle of the Big Easy.
Awesome Alumni
Tulane University has delivered professionals and notable individuals in a variety of fields. Tulane alum are what some would even call famous. Talk show host Jerry Springer and Doug Ellin, creator of the HBO's Entourage, both rode the Green Wave back in their day. David Filo went from Tulanian to Tech Star as one of the co-founders of Yahoo! And, from one green team to the next, New York Jets running back Matt Forte played for seven years on Tulane's football team before going pro.
Where We Hang
Eat, drink, jam, celebrate and repeat. Tulanians embrace New Orleans and spend a lot of their time diving into the local scene. Fried Chicken Fest, Po'Boy Fest, BUKU Music + Art Project, Mardi Gras and the New Orleans Jazz and Heritage Festival name just a few of the epic annual events that students attend. On any typical day, though–assuming the weather is nice–students flood to The Boot, the campus bar. There's no bad grade an after-class beer can't make you feel better about. But for some keg-kills, potlucks and, most of all, simple chill time, students head down to The Fly (a grassy park area on the Mississippi River). You're guaranteed to never feel bored at Tulane University.
Q&A
1. How much are students partying?
"[Tulane University is] not just a party school, it's a party school in a party city. That's not to say you can't find some peace and quiet, but you're always going to want to be ready for whatever festivity is next here or else you're probably going to face some serious FOMO," sophomore Natalie Joserfberg said.
2. What will you get in trouble for at your school?
"Sometimes it really feels like there are no rules at Tulane and in New Orleans, but that doesn't mean you should be careless. I'd say, at least within the school, definitely watch out for cheating," junior Noa Sklar said.
3. How much sex are students having?
"There's definitely a casual hook up culture. Students like to have fun, you know? But a lot of people are also looking for relationships as well," sophomore Max Schnitzer said.
4. What would you tell incoming freshman about your school?
"Honestly, I would tell them it's the best place in the world. Being in New Orleans for four years of college is unlike anything else. I even love it so much I'm staying another year," senior Julie Parisi said.
5. What is one of the biggest challenges at Tulane University?
"I would say one of the biggest challenges at Tulane is having the self-discipline to sit yourself down and get work done when there are so many festivals and events constantly happening around," junior Sam Isaac said.
Student Reviews
"At first it was a little tough adjusting to college life, but then I really settled in. I love the size of Tulane because it doesn't feel constricting, but at the same time you feel like you know most people."–Max Lippman, political science major, Class of 2017
"I never thought that I would ever be sad for summer to start until I started school at Tulane. It's my favorite place to be not only because of the friends that I've made, but also because the environment is so welcoming. I'm able to balance having a great time while also getting a great education."–Olivia Johnson, English major, Class of 2019
"I didn't start off at Tulane, but I'm so happy I'm here now. Transferring to Tulane was the best decision of my life. Spending three years in New Orleans has been amazing. It is a decision I look back on everyday and am so happy I made."–Corey Bloomberg, art major, Class of 2017
"Tulane is the perfect balance of fun and academics. The great teaching staff and facilities provide every opportunity for students to succeed, and there is always something fun to do around campus."–Jacob Adler, business, marketing and econ major, Class of 2019
"Tulane has all academics, different clubs and great things that other schools have, but the most unique is the student body. When my brother went here he was able to bring my family's non-profit to Tulane. Through tank tops and parties he appealed to the Tulane study body and successfully held a benefit concert, and one in seven Tulane students came. The outpouring of student support was incredible from a bunch so-called 'apathetic' college students."–Julia Kramer-Golinkoff, public health major, Class of 2017
Top 3 Majors
1. Marketing
2. Biological and Biomedical Sciences
3. Psychology
Most Popular Student Organizations
Tulane University Campus Programming brings the most lit events to campus. We're talking concerts, big speakers and comedians like Vanessa Bayer, Mark Ruffalo and more. TUCP also organizes trivia nights, movie nights and other events that always provide tons of free food and other giveaways. "I really like being a part of TUCP because it has so many different levels. Being on TUCP has taught me how to manage budgets and committees, and how to properly deal with administration," TUCP member Liz Donhauser said. There are seven different programming committees who plan their own events within TUCP: Tulane After Dark (TAD), Comedy, Concerts, Direction, Cinema, Recreation and Lagniappe.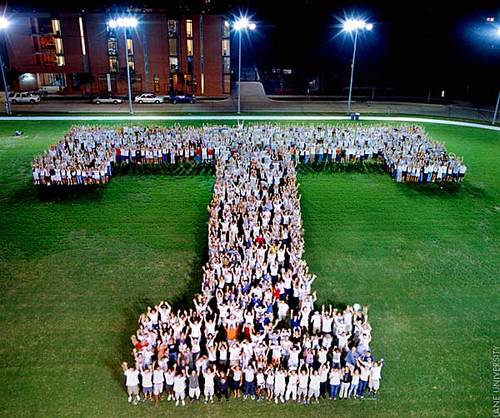 So you want to get involved and make your voice heard at Tulane University? Try Undergraduate Student Government. "I like being on USG because it keeps me engaged on what's happening at Tulane and has helped me get a better understanding of student life. Being on student government has allowed me to become more interested in and involved with different aspects of Tulane life I wouldn't have even known about otherwise," senior Libby Aldridge said. USG doesn't just provide an outlet for students who want a future in government or politics. This organization serves as a fun and important club that lets students meet other students who feel passionate about what takes place in every corner of campus.
The After-School Newcomb Tutoring Program pairs local elementary and middle school students with Tulane students to work on reading, writing and other basic school subjects. Tulane university emphasizes involvement in the local New Orleans community and ANT provides a perfect outlet. "It's just generally a super refreshing organization to be a part of because you can tell that the students look up to their tutors so much, and I feel like we have at least a little bit of impact on their lives as role models," senior, and ANT co-president, Danya Elbendary said. "It's also really cool to watch everyone get comfortable as the semester progresses because at first the kids are shy, but then their personalities start to shine through, and they're all really funny and interesting." Not only is ANT ideal for students who crave to create a lasting influence in New Orleans, but you also get the chance to hang out with the sweetest kids.
Getting In
Tulane University cares a lot about passion. Whether you have passion towards public service, towards a sport or extracurricular, admissions wants to see you jump into student life and life in New Orleans. Down in NOLA, community may be one of the most important values. Admissions also look for academic success. Admission stats have shown that Tulane University is becoming more and more selective as applicant numbers increase. If you're trying to get into TU, you need a well-rounded application with decent test scores, extracurricular activities and a lot of personality.
Stats
Location: New Orleans, LA
Tuition & Fees: $51,010
Total Cost on Campus: $67,114
Undergrads Enrolled: 8,452
Grads Enrolled: 5,129
Total Enrolled: 13,581
Acceptance percentage: 30%
Percent Admitted who Enroll: 22%
Enrollment: 1,800
Percentage of Male Students: 43%
Percentage of Female Students: 57%
Percentage Receiving Financial Aid: 78%
Percentage Receiving Federal Grants: 13%
Percentage Receiving Federal Loans: 42%