Smith College—Northampton, MA
The Vibe
A Feminist's Paradise
What it Feels Like to Go Here
The biggest of the Seven Sister schools, Smith College combines small, earthy-crunchy liberal arts school vibes with the expansive network of a prestigious, resourceful university. "Smithies" are known for being passionate and dedicated and it only takes a couple minutes on campus to figure out why. Whether it's in class, in their student orgs, in their house or just in their free time, Smithies always put in 110 percent and have a blast doing it. Smith does a pretty good job of embodying the ideal work-life-balance people always talk about. Well, fine, maybe there's just a little bit more emphasis on work, but nobody's perfect, okay?
Before you move into your new room in the Quad, make sure to double check that you have all the Smith College essentials. Don't forget your flannel shirt, mom jeans or Bean Boots. Go ahead and stick that "pro-choice" button on your backpack because, you know, why not? If you were really committed to blending in, you'd cut your hair really short and pierce your septum, but you could probably push that one off for a little bit (probably).
Awesome Alumni
Smith has been shaping strong, capable women since its establishment in 1871. A good handful of said women have, in turn, shaped the world we all live in today. Gloria Steinem, the social activist and feminist icon known for her time spent undercover as a Playboy Bunny, graduated from Smith in 1956. A Cushing House veteran, Steinem's the reason students in Cushing can be spotted wearing bunny ears at Convocation. The famous poet Sylvia Plath, class of 1955, graduated with high honors before going on to write the literary classic The Bell Jar. Julia Child graduated in 1934 as a history major and went on to become one of the most well-known chefs in America. That's right, if Julia Child herself can handle four years of dining hall food, you can, too. Every fall, Smith celebrates Julia Child Day—a student favorite—by serving Child's recipes in the dining halls. Oddly enough, Piper Kerman, author of Orange is the New Black: My Year in a Women's Prison, graduated from Smith in 1992. Smith has fostered a wide range of students and has helped them do what they can to make an impact in all arenas.
Where We Hang
From the outside (and, honestly, the inside too), Northampton seems like your run-of-the-mill small college town: a tiny collection of various shops surrounded by miles of absolutely nothing. But this could not be more wrong. First of all, the food and drink options in Northampton will make your head spin. Whether you find yourself craving a vanilla latté or a heaping plate of fried rice, the restaurants and cafés of NoHo will satisfy your needs. The most popular place would definitely be Woodstar Café, a family-owned coffee shop known for their amazing bagel sandwiches, an extensive selection of treats (shout out to all the vegan and gluten-free options!) and, of course, the classic café vanilla with a dollop of whipped cream. Ice cream? You have to go to Herrell's. With over 200 housemade flavors (and a free medium sundae on your birthday), Herrell's takes the cake in the dessert department.
Once you've had your fill of treats, stop by Faces, a gift shop that carries pretty much everything; clothes, accessories, cards, toys, homeware, decor, bath and body and more. Finally, if you need to get off campus, take the B43 bus to the Hampshire Mall to catch a movie, rollerblade, bowl or go-cart. Northampton might be small, but Smith students don't see it that way—to them, everything they could need can be found right at their fingertips.
Q&A
1. How much are students partying?
"Smith is different because there aren't a lot of typical 'college parties.' Parties are seldom, and you have to know the right people. A lot of students who want to really party go to one of the co-ed schools, but there are some parties in the co-op houses, the apartments and in off-campus apartments. Also usually clubs like sports teams and a cappella groups have parties and if you know someone in those groups then you can go." – Emma Claire Gibson, Class of 2018
2. What will you get in trouble for at your school?
"You can almost get away with anything. You can climb on lamp-posts, streak the quad, jump in the pond, throw a party in your room, drink in your room. However, if you are seen with alcohol (and I mean visibly seen with a bottle of tequila walking through the common room), or throwing a party that can be heard from three floors below (blasting 'Despacito' so all 77 residents can hear), the chances of getting caught exponentially increase 10 fold. But, as long as no one can see you…or hear you…or smell you…and no one gets hurt (this is the important one), you can basically find a loophole." – Maya Salvio, Class of 2018
3. How much sex are students having? How is safe sex encouraged on campus?
"Smith doesn't have a huge party culture (read: no party culture), and many Smith students go through a college experience void of the one-night, party-hookup culture often present one's undergrad experience. Especially for LGBTQ students who would like to meet other queer Smith students on campus, this creates an isolating atmosphere. Many students leave the Smith campus on the weekends to try to meet people from other, larger schools in the area. Other students turn to apps like Tinder or Her to meet partners outside of the Smith bubble. Yet still, on campus there seems to be a dislike of these apps: I've seen many people swipe through all other Smith students immediately, saying 'oh no, I can't match with a Smithie.' Perhaps it's the small student body size, or the close-knit nature of the community, but Smithies seem perpetually scared to express their attraction for other Smithies—even when the rare party does roll around." – Katherine Keenan, Class of 2019
4. What would you tell incoming freshman about your school?
"I want them to know that it took me a solid two years before I felt comfortable and happy here, but now I wouldn't trade it for the world. Building a community takes way more time than I expected it would." – Hannah Royce Davis, Class of 2020
5. How academically competitive is your school?
"The academic environment at Smith can be competitive at times, especially before exams. Most students probably got good grades during high school, so I think some Smithies put too much emphasis on the letter grade. That being said, I usually find the class atmosphere to be collaborative and supportive." – Mizuki Stone, Class of 2020
Student Reviews
"Smith has a surprising amount of money if you know where to look. I've had countless travel and conference opportunities because of Smith funding that was made available to me, and I've never missed out on anything because I haven't been able to afford it." – Rachel Huggett, Class of 2020
"My biggest challenge transitioning to Smith was based on the fact that Smith students have a lot of privileges, especially related to money. I wasn't ready to face the social inequalities of our country. Quickly I had to learn that some people have a lot more money than I do, and often they are unaware of the income disparities that exist in the U.S. This can be very hurtful, especially because a lot of people bond and make friends through money-spending activities, like going downtown, traveling during spring break, etc. Connecting with other low income and first-generation students has definitely made my Smith experience much better." – Marcela Rodrigues, Class of 2020
"The thing I love about Smith is all of the traditions! Whether it's Mountain Day or Friday afternoon tea, it's so cool to think about the fact that Smithies have been doing these things for decades, and that I get to be a part of that history. Also, the day off from classes doesn't hurt either!" – Tricia Tolles, Class of 2020
"Navigating Smith housing can be a little challenging at times. Let's be real, academic buildings look like houses, houses look like academic buildings! But the fact that there are over 25 houses and 15 dining halls on campus is super cool! Each one has its own community and it's a goal of mine to visit every house before I graduate!" – Emily Olmos Govea, Class of 2019
Top 3 Majors
1. Research and Experimental Psychology
2. Economics
3. Political Science and Government
Top 3 Student Organizations
1. Outing Club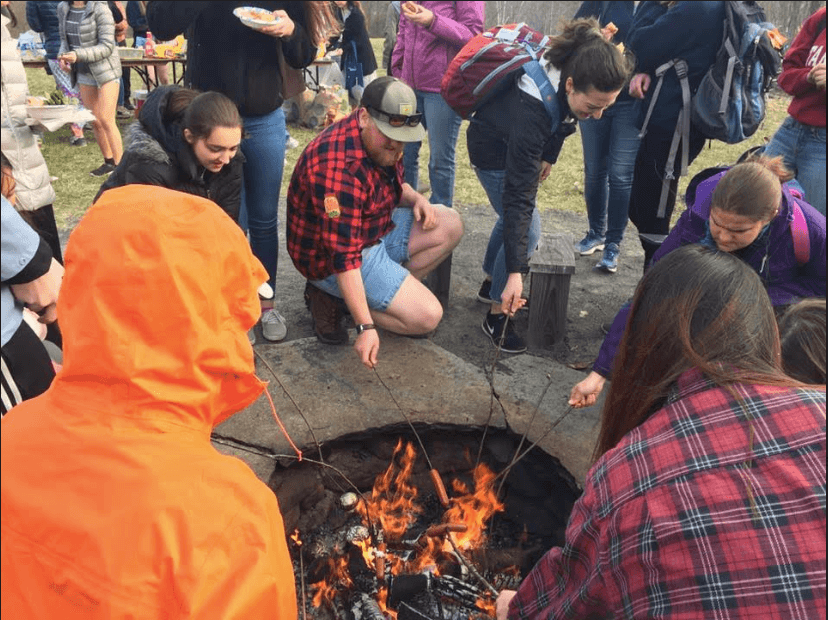 Living in the Pioneer Valley and not exploring the nature around you would be, quite frankly, sacrilegious. Whether you hike Mount Holyoke or bike the Norwottuck Rail Trail, being able to get off campus as a Smithie can be a lifesaver—that is, of course, if you can find the time and energy and the right place to go… cue the Outing Club. "To me, Outing Club is more than just a way to go on local hikes, bike rides, and camping trips, it's a community of friends coming together simply to go out and have fun!" said Olivia Cooper, co-president of the org. "It always amazes me the passion and commitment members give to the club—for example, last year we held our first annual Concinnity Fest, an arts and nature festival at Smith's MacLeish Field Station, featuring student art exhibits, nature walks, live music, and a toasty campfire. It was a big event… still with only two months from conception to completion, the strength of our club allowed us to pull it off!" Accessible, fun, dedicated, welcoming—the Outing Club is a staple of the Smith community.
2. A Cappella
What college would be complete without an abundance of a cappella music? Well, Smith is no exception; with five different groups (six if you count "Crapapella" for people who can't sing), you can hardly ever go one weekend without being invited to some sort of a cappella jam. And the students who are actually in the a cappella groups love what they do—and what they do is way more than just singing. "Participating in a cappella has been a crucial part of my college experience. Through joining Groove, I have developed friendships, performed popular music from all over the world, connected with alumni, and had amazing opportunities to travel with the group," said Natalie LaBossier, Business Manager of Groove A Cappella. "It's also a lot of fun and a great stress reliever. Smith is lucky to have many a cappella groups; so many students have the opportunity to participate and join a group that suits their interests." Even though Pitch Perfect may not be 100 percent accurate, they definitely get one thing right—college runs on a cappella.
3. Celebrations
One fall night every year, Smithies gather on the quad to celebrate all the different types of love. Celebrations dates back several years when homophobic chalk writings were found in the quad one morning. Smithies watch as their fellow students perform all kinds of art (dance, song, poetry, etc) with their houses or orgs and just take a moment to appreciate all the love that surrounds us. "Celebrations serves as an evening where Smithies can join together to celebrate and acknowledge the importance that love plays in our lives and relationships," said Molly Abner, president of the Celebrations Committee. "Being able to participate in and help plan this event is an immense privilege; to be trusted to provide and create a space where all are welcome to come just as they are and appreciate love is something not to be taken for granted." Celebrations is easily one of Smith's most beloved traditions so, naturally, being on the planning committee holds some significance.
Getting In
Since Smith College doesn't require an application fee or standardized test scores, the application feels pretty accessible. They always have one required supplemental essay, but the offered prompt tends to spark meaningful responses. Past prompts include, "If you could star in any movie, what movie would you pick and why?" and "Recount a time that really made you laugh." While most colleges seem to have a specific agenda when it comes to the questions they include on their applications, Smith makes it clear that they just want you to have fun and be yourself. Smith may be an academically prestigious school, but the aspects of your application that show off your personality, passions and background will upstage everything else.
Stats
Location: Northampton, MA
Tuition & Fees: Tuition $52,120 / Room & Board $17,520 / Activities Fee $284 / Health Insurance $2368
Total Cost on Campus: $72,292
Undergrads Enrolled: 2521
Grads Enrolled: 397
Total Enrolled: 2918
Acceptance percentage: 31.9%
Percent Admitted who Enroll: 36.9%
Percentage of Male Students: 0%
Percentage of Female Students: 100%
Percentage Receiving Financial Aid: 61%
Percentage Receiving Federal Grants: 22%
Percentage Receiving Federal Loans: 51.6%