GRINNELL COLLEGE—Grinnell, IA
THE VIBE
Eclectically passionate and opinionated
WHAT IT FEELS LIKE TO GO HERE
If you think going to school in Iowa would bore you to tears, think again. In a cute Midwestern town dubbed "the jewel of the prairie," you'll find this green, tree-dotted campus surrounded by rolling hills. "As long as you are respecting others at Grinnell, you can do what you want—a principle we call 'self-gov,'" said fourth year John Ackman. "Random stuff is always going on across campus so you could even find yourself falling into something super fun on accident, like walking through the science building and ending up in the middle of a Nerf battle," third year Marie Spychala said. If you crave Greek Life and a big sports vibe, you won't find it here. But if you want strong academics and your interests range all over the map, Grinnell's the place to dive into them all.
AWESOME ALUMNI
Think no one famous would go to school in a cornfield? You'd be wrong. Some who stand out include jazz musician and composer Herbie Hancock. Intel co-founder Robert Noyce didn't just go to Grinnell, he grew up right in town. If you love bagels, the fact that Bruegger's Bagels founder and alum Brue Nordahl might interest you. Beyond that, Grinnell's famous aren't just movie stars and musicians—bet you'd never guess John Garag, the leader of the Sudan people's Liberation Army and the former vice president of Sudan no less, graduated from Grinnell. Grinnellians seriously go places.
WHERE WE HANG
When you work as much as Grinnell students , you've got to find places to do it that make you feel like you still have a social life. You'll find Mac Field dotted with clusters of students when it's warm out. In the winter, Spencer Grille in the student center is always buzzing. Off campus, hotspots include Bob's Underground Café and the local coffee shop Saint's Rest. On weekend nights the themed dance parties at Harris are the place to be. Students flock to the cross-dressing Mary B. James dance and the Winter Waltz, but nothing works better as a stress reliever than jumping around to Beyonce and 80s pop.
Q&A
1. How much are students partying?
"It depends on which students you are talking to. It seems like there is a fairly pervasive partying culture in Grinnell, but there is an overarching emphasis on 'you do you.' There are also all kinds of different parties, so it may seem particularly wild one night, and very tame another," said third year Katie Parrish.
2. What will you get in trouble for at your school?
"Grinnell, like any other school, takes academic honesty really seriously—that was something they told us right off the bat," said fourth year Annika Peterson.
3. How much sex are students having?
"Like any college there's a hook-up culture surrounding sex, there are students who are intimate in longer term relationships, and then there are students who aren't really having sex," said fourth year Alex Schmiechen.
4. What would you tell incoming freshman about your school?
"Don't stick to classes in your potential or decided major. One of my favorite parts of Grinnell's curriculum is the lack of gen-ed requirements. It makes it so much easier to branch out into random subjects you never thought you'd study. Maybe they'll make you change your mind about your major or maybe they won't, but either way it's a great chance to broaden your mind," said third year Marie Spychala.
5. What do students get really passionate about?
"Students at Grinnell are very passionate about social justice issues. There are multiple student groups on campus which are working towards a variety of goals, like improved diversity, political protests, and organizing events around recent issues like Standing Rock, Black Lives Matter and sexual assault on college campuses," said fourth year Megan Treichel.
OVERALL EXPERIENCE
"One of my favorite traditions is called 'puppies and pancakes' which is an event that happens the Sunday night before finals week. Local firefighters and other volunteers come to campus and make the students pancakes, put out board games, and bring their dogs for people to pet. It's a great way to relax and socialize before the hard week ahead." – Alex Schmiechen, Class of 2017
"What stands out to me most looking back, is the people. Everyone here is here for all the right reasons, from their work-ethic in classes to their dedication in extracurriculars. This definitely makes for a lot of extremes where some nights, people are up pulling all-nighters but they also know how to have a good time and pursue things outside of academics. If you have a passion, you can generally find a bunch of people that feel the same way no matter how odd it might be." – Will Xu, Class of 2016
"My biggest challenge being at Grinnell has mostly manifested in my fourth year, in that I am kind of sick of being in small town Iowa. The school definitely helps remedy this by having wonderful off campus study programs, but since I was in Grinnell all summer doing research, I have found that I can't wait to graduate and experience some new surroundings." – Megan Treichel, Class of 2017
"I've loved being on the Swim and Dive team. I've made some really great friends—I always have people to back me up, whether that's going out with me to parties, helping me with homework or supporting me in my athletics and other extracurriculars." – Katie Parrish, Class of 2018
"Mentored Advanced Projects are one of the best academic opportunities Grinnell has to offer. For students passionate interested in their area of expertise, you can arrange a one-on-one or two-on-one semester class or Summer class where you study a specific and advanced area of interest. Students and professors can create a MAP in almost all disciplines. I have completed three music composition MAPs during my time at Grinnell which are invaluable to my current portfolio." – Daniel Delay, Class of 2017
TOP 3 MAJORS
1. Economics
2. Political Science
3. Biology
Top 3 MOST POPULAR STUDENT ORGANIZATIONS
1. Nerf @ Noyce
Armed with multicolored blasters, participants sprint around the giant science building peppering each other with Nerf pellets. Nerf at Noyce as an outlet for those who aren't into the partying scene drew fourth year Gregory Garcia to the org. "We are a substance-free event and typically people come when they don't want to party or get drunk. I decided to become a moderator because I wanted to keep having a safe space for these sub-free folks," Garcia said. Once a semester the org hosts a campus-wide game of Humans vs. Zombies. So if you see ever see a student with a Nerf blaster tucked under their arm, you'll know why.
2. Equestrian Team
At the barn just a short walk from campus, students shape what their riding experience with group lessons, one on one, in the arena or on trails. Students can even participate in beginning or advanced Drill Team. When not riding, the club holds horse-themed movie nights (Spirit, anyone?) and even brings ponies to campus for community outreach. "A few of us from the club taught a mini-course on grooming and leading horses to public school kids using the mini-ponies to let the kids practice," second year Maggie Loery said. Third year Natalie Seger said, "Going to the barn each week is integral to my mental health. The rigor of the academics here can get really monotonous and isolating. At the barn, I'm surrounded by horses and horse people and that makes everything worthwhile."
3. Contra Dance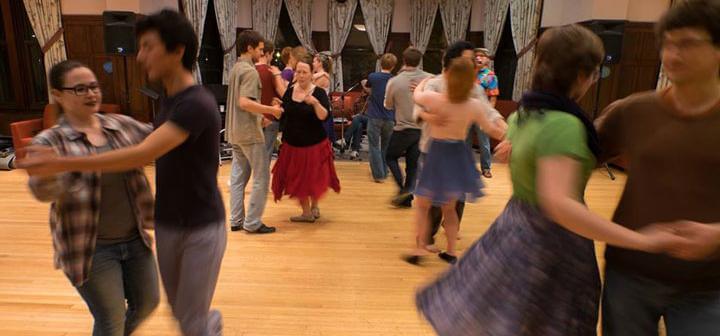 Contra somehow manages to successfully mash together English country dancing, swing and square dancing with a modern twist. Started by fourth year Sarah Trop in only 2015, the club rapidly expanded to weekly contra dance workshops and big semester dances that bring in callers and bands from out-of-state. "These big dances are immensely popular because of the unique opportunity they offer to dance to live music with no experience necessary. A lot of dance forms aren't as beginner-friendly as contra is. The contra community on our campus is incredibly close and welcoming," said Trop and fourth year Julia Hart.
GETTING IN
You've got to be on top of your schoolwork to get into Grinnell. A solid GPA and standardized test scores are key, but they definitely don't make up the whole picture. Fourth year Alex French said, "It sounds a little odd, but I think passion made my application stand out. One major thing I think all Grinnellians have in common is that they get fired up about things they're interested in, whatever those things may be." Grinnell is rigorous but not cutthroat. So if you put your effort into what you love and show it, you'll find yourself in a pretty good place.
STATS
Location: Grinnell, Iowa
Tuition & Fees: 48,758
Total Cost on Campus: 60,738
Undergrads Enrolled: 1,705
Grads Enrolled: 0
Total Enrolled: 1,705
Acceptance percentage: 18%
Percent Admitted who Enroll: 28%
Enrollment: 442
Percentage of Male Students: 45%
Percentage of Female Students: 55%
Percentage Receiving Financial Aid: 90%
Percentage Receiving Federal Grants: 20% (for Pell Grants)