Imagine you wake up and look out your dorm window to see the snow-capped Rocky Mountains in the distance. Meanwhile, on the West Coast a student wakes up hearing waves peacefully crash on the beach. We'd all like to think our school sits atop the rest, but what makes a school beautiful? Does beauty stem from the humidity-free summers and piles of fluffy snow? Or is it the sandy shoreline close by? With vacation-worthy locations, stunning atmospheres, flawless weather and jaw dropping architecture, these 10 campuses possess a beauty as awe-inspiring as the seven wonders of the world.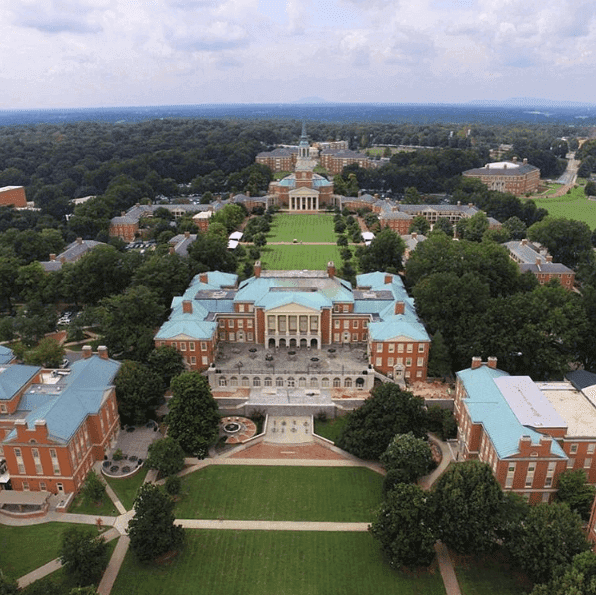 Wake Forest University doesn't shy from magnificence. In North Carolina's historical district, many of Wake Forest's buildings reflect the major southern architectural influences. Tall spires jutting from buildings peek high above the tree line. The Wait Chapel looks like the fairy tale church every princess gets married in (before the dragon arrives, obviously). The green lawn in front of Wait Chapel, AKA The Quad, brings students together to chill after a long day of class. Unlike its Appalachian State neighbors, Wake Forest gets very mild weather all year, so students can strip down their layers for "Shag on the Mag," an night full of dancing and food that kicks off Wake Forest's weeklong Springfest event.
With a classic Southern look straight out of a magazine, it almost feels like a waste that the Z. Smith Reynolds Library is just that. With gorgeous landscaping surrounding it and columns, you'll never balk at the thought of heading there for a last minute study session.
9. Furman University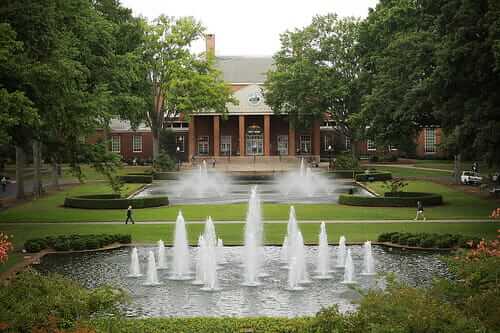 Clear your iPhone before you head over to Furman University for all those insta-worthy pics. The James B. Duke Library features a gorgeous lawn that will make your jaw drop. Beautiful Oak trees populate the area around the crystal clear Furman Lake, creating a scene right out of a Van Gogh painting. With soft snowfall weather in the winter and mild springs where pink tulips sprout up across campus, students always know what to expect when they step outside. The 750-acre campus runs through the woods of Greenville, South Carolina, giving students the opportunity to appreciate nature in peace. Or they can escape the day-to-day hustle of class in the the Asian-influenced gardens on campus. The peaceful lake and mossy trees give you a chance to clear your mind from exams, along with the Place of Peace, a Buddhist temple sent from Japan in 2008. Namaste.
Sick of studying in the library or your shoebox sized apartment? Hit up the Rose Garden, which features a lovely gazebo like structure, making this a popular place for weddings as well. Sit inside the gazebo and take in the beauty, feeling your stress and anxiety just melt away as you enjoy all that campus has to offer.
8. Appalachian State University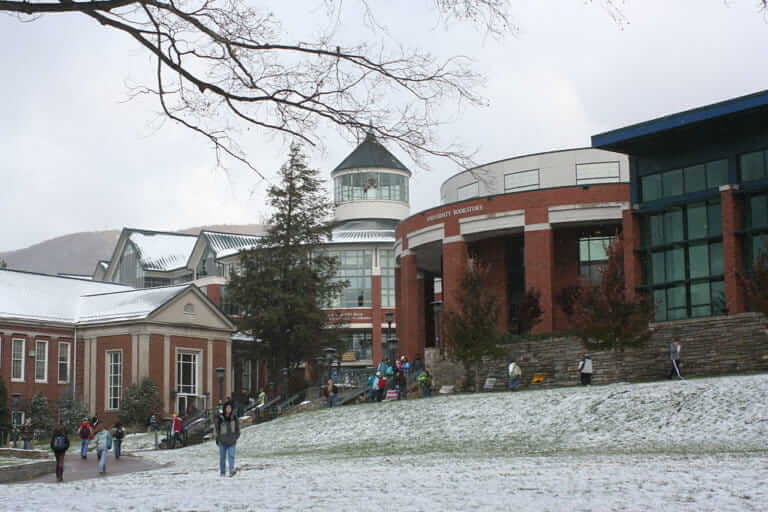 Can you imagine waking up every morning and seeing a mountain range right outside your window? Appalachian State Mountaineers experience that every day. Located in the Blue Ridge Mountains of North Carolina, App State sits high above the rest of the world at 3,330 ft. The winter snowfall sets a scene you'd find on a Norman Rockwell postcard saying, "Wish you were here!" White blankets cover the rolling hills, giving students a chance to grab whatever makeshift sled (cue the dining hall trays) and slide down the slope. App State's winter carries deep into spring, with temperatures anywhere around 40-60 degrees in May. But on the warmer days in the sunshine students take on woodsy adventures like hikes, mountain biking, rock climbing and other activities we wish we could enjoy at a sea level school.
Besides the outdoors-y vibe at App State, this school also boasts Sanford Mall, AKA their quad. Yep, they even have a unique name for it. A cross between a holiday card and one of those cool modern buildings you only see in The Sims, the buildings that make up Sanford Mall undoubtedly add nothing but beauty to campus.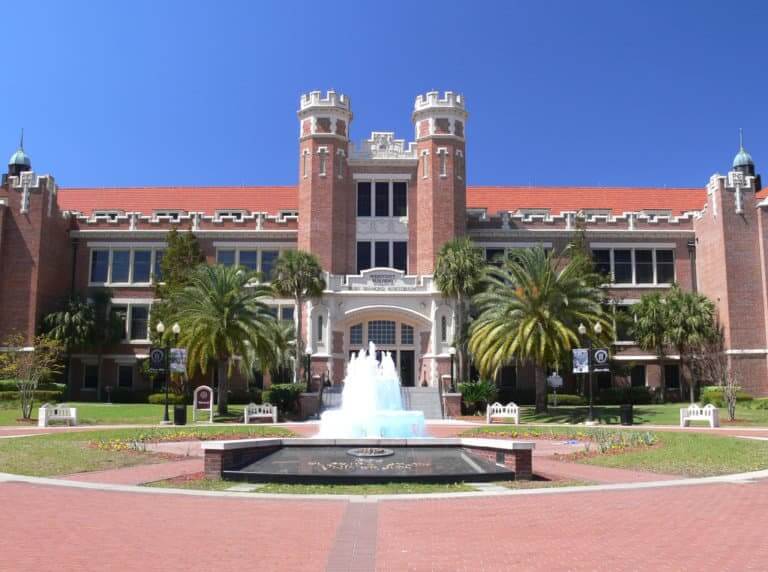 Florida State students love their football, but they love their campus even more. With southern style architecture and upbeat student life, Florida State University sits in Florida's capital, Tallahassee.  "We have been inspired by the texture and color and fragrance of native plants and by the bold colors and textures of subtropical plants," said assistant Director of Grounds & Landscape Operations David Mac Manus. Game of Thrones fans, FSU's campus makes you feel like you're walking through King's Landing. Castle-like orange brick buildings sprawl the campus, including the famous Doak Campbell Stadium. "There's all these huge fantastic buildings at FSU, but my favorite spot is the little Zen garden between the Allen Music Library and the Westcott Fountain. I could sit there for hours on end just soaking in the everyday beauty that is Florida State," said FSU junior Megan Brownell. Thanks to Florida's beautiful weather, students congregate throughout Landis Green to catch some rays year-round.
Curious about how FSU looks so clean and beautiful year round? "Believe me it is contagious, you will see faculty, staff, students and even visitors helping…and then we add a little old time pressure washing magic once a year to the walks which give the campus a fresh outlook for the new class and families," said Director of Grounds and Landscape Operations Robert Scott Sisson. "There is the general maintenance team, waste disposal, irrigation, planting, mechanics shop, turf, amenities and tree.  While each team has a set of specific tasks that they perform, everyone works in concert with each other," said associate Director of Grounds and Landscape Operations Anton Sonkin. Looking for more places to soak up the beautiful campus? Check out Westcott Fountain, with a long-standing tradition of dunking your friends in on their 21st birthday.
6. West Point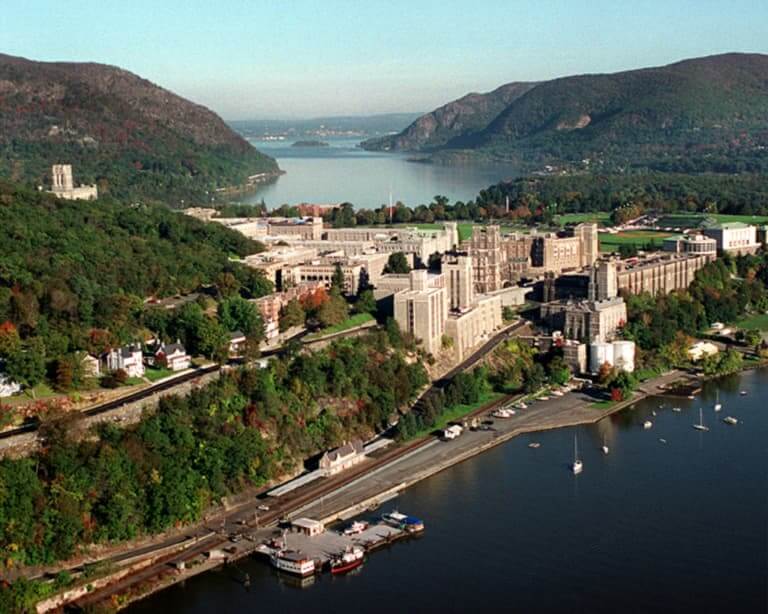 West Point students dedicate their lives and studies to their country—so they deserve nothing short of a beautiful campus as their home for four years. Formally known as The United States Military Academy, West Point sits about 40 miles north of New York. Dark brick, neo-Gothic style buildings help create the feel of a giant military castle that sits upon the historic Hudson River. The architecture, namely The West Point Cadet Chapel and Washington Hall, forms with one another to create a huge, impenetrable wall along the hills, with the Hudson on the opposite side. Winters at West Point don't even compare. Cadets walk around their winter wonderland campus, seeing everything from buildings and walkways to branches and bricks blanketed in snow.
West Point's Jefferson Hall looks almost too pretty to be a library. Its sides are more reminiscent of a castle, making it so that you'll want to spend all your time admiring its beauty instead of cramming for midterms. It'll honestly remind you of medieval times with its imposing yet regal appearance.
5. University of Colorado-Boulder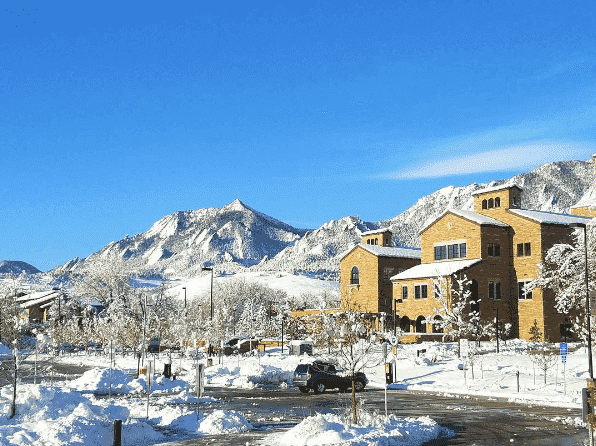 Where else can you attend your morning biology lecture and hop on skis right after? Colorado-Boulder sits along the majestic Rocky Mountain Range. The majority of the campus buildings take on a collegiate gothic style, with large-scale buildings that resemble Wayne Manor in The Dark Knight Rises. Red tile multi-leveled roofs adorn buildings scattered across campus. Colorado-Boulder's Insta-worthy view of the snow-covered mountain range set it apart from all other schools. Finding yourself daydreaming in the middle of class gets a whole lot easier when you get to stare out at the range all day and picture yourself skiing instead of learning about the human anatomy. Time to blow up your friend's Instagram with pictures of you snowboarding while pushing the boundaries of Newton's Laws. #SnowDayEveryDay.
Imagine a picturesque holiday card. Now, picture yourself living in one. Each winter, students at UC Boulder get to experience that thanks to Old Main's (dating back to 1876) gorgeous Gothic architecture that's just lovely against some snow. Don't know what I mean? Just Google it.
4. Stanford University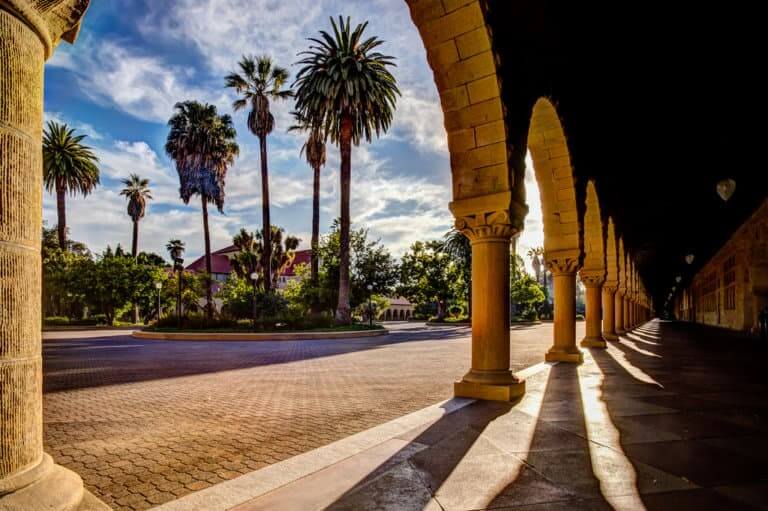 A high-ranked school deserves a beautiful campus to accompany their accolades. In the San Francisco Bay area, earthquakes wreak havoc. Unfortunately, the infamous 1906 and 1989 San Francisco earthquakes destroyed the majority of the original campus, forcing the university to rebuild twice. The new campus now stands out with Spanish colonial-style buildings, creating a uniquely welcoming atmosphere. The buildings boast high-arched doorways and soft-red colored bricks. Hoover Tower, inspired by the cathedral tower of Salamanca, stands in the center of campus, guiding home both lost freshmen during syllabus week and intoxicated seniors after a long night of partying. "I love Stanford's campus because the weather is beautiful year round. My favorite spot to study would be on the grass by the engineering quad. It's the perfect place for a quick cram session before exams," said Stanford University senior Jennifer Pulido. Thanks to California's year-round 70-degree weather, you'll never worry about bundling up for an incoming snow-pocalypse.
No campus is complete without a quad, however. Stanford's Main Quad doubles as the oldest part of campus, and consists of a row of beautiful red roofed buildings. Students will up the sun or finish their reading here. Against the setting sun with palm trees framing the gates, you'll probably never stop taking pictures.
3. Pepperdine University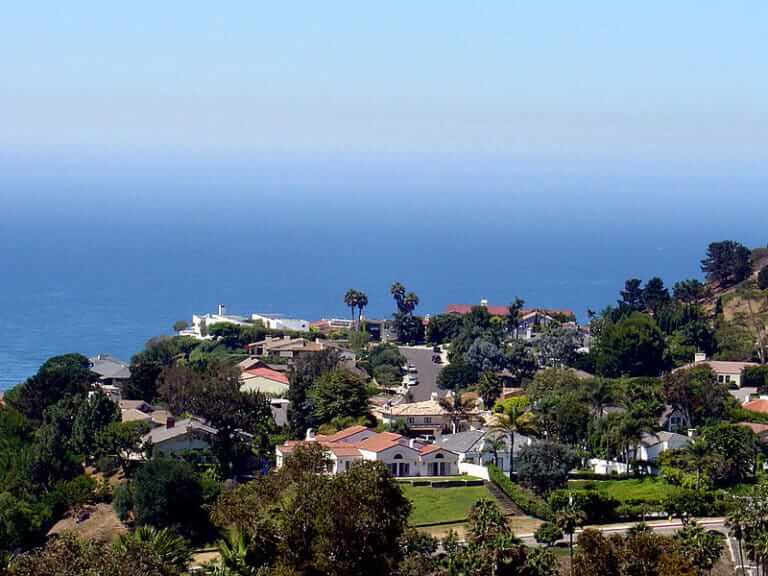 Remember the iconic beach campus in Zoey 101? The filming took place at Pepperdine University. Studying for finals on the Pacific beach sounds like an intangible dream to most of us, but Pepperdine students live this reality. And with Cali's coastal weather, every day is a beach day. "My campus is filled with diversity, not only in the landscape—we have the view of looking up to a hilltop and mountain view or looking down at the beautiful Pacific Ocean," said Pepperdine University freshman Hayley Duren. Even dorm life exceeds expectations, offering students a view of the blue ocean outside their bedroom window. Many buildings on campus feature Mediterranean style architecture to fit the ocean paradise atmosphere. Pepperdine students have every right to brag about their school.
Something else unique about Pepperdine? Instead of that usual gothic look that most campuses have, Payson library rocks a unique look that honestly reminds me of an outdoor mall. They're currently renovating the inside until August 2017, but can you just imagine how much more beautiful it'll look?

Secluded deep in Indiana near Lake Michigan sits Notre Dame. The 1,250-acre campus divides the "Old Campus," which holds the grounds for the flawless Basilica of the Sacred Heart, the on-campus chapel. With the huge bell tower, 44 stained glass windows and incredible murals sprawling the church, the Basilica pretty much deserves its own spot on the list. The "New Campus" features newer buildings like the Notre Dame Stadium. The Main Building at Notre Dame sits underneath the famous golden dome, which inspired Notre Dame's gold football helmets. "Notre Dame has a unique campus in that it's small, close to nature and designed for pedestrians," said Notre Dame junior Dimitri Wolff. The winters do bring heavy snowfall, but that means sledding on snow days for the Fighting Irish.
Ever heard of "Touchdown Jesus?" If that doesn't sound unique enough, I don't know what is. It's basically a mural that overlooks a beautiful pool, making for some great Insta pics on a sunny day. With one look, you'll feel nothing but pure awe.
1. Princeton University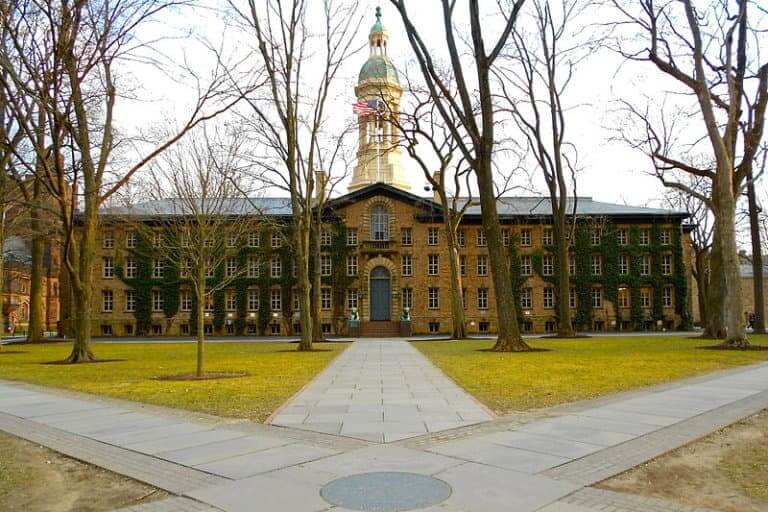 Harry Potter fans: If you thought you'd never get the chance to attend Hogwarts, you need to check out Princeton ASAP. Princeton's picturesque landscaping and iconic "Gray Stone" buildings create a magical atmosphere in this castle-like New Jersey campus. One of the oldest campuses in the U.S., Princeton hosts the great Nassau Hall, built in 1754. Nassau Hall gets a spot on every Princeton postcard, surrounded by a forest of oak and birch trees intertwining with one another. "Despite how nerdy this sounds, one of my favorite spots on campus is the sixth floor reading room in Firestone Library. The view from the room spans a majority of up-campus, while the room itself is beautiful with its chandelier light fixtures and open space. Similarly, it seats about 6-10 people, making it the perfect spot to be productive while being able to talk with friends when the work isn't going so well," said Princeton University senior Erica Nori. I wouldn't be surprised if Harry Potter himself decides to transfer here.
Besides Harry Potter approved buildings, Princeton boasts Maclean Hall. The residence hall dates back to 1756 and has a role in American history, since even George Washington himself lived there during the Revolutionary War. Maclean Hall looks more colonial as opposed to Hogwarts-esque, so if you've ever wanted to embrace your country's history, hit up Maclean STAT.
The most beautiful college campuses mean tons of pictures. Here's how to up your Insta game. 
4. Cute Tees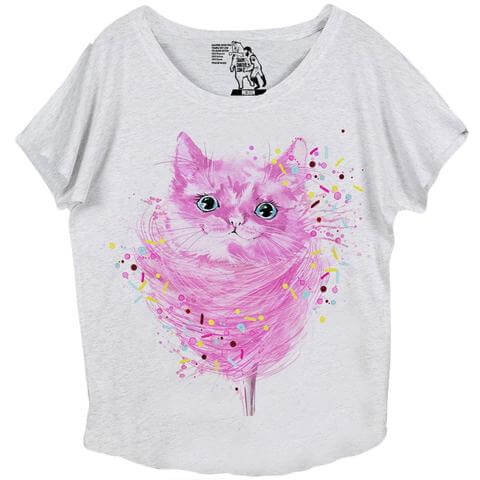 *Updated on November 18, 2016 by Valerie Siu to include updated information on all the schools as well as Amazon products.