WHITMAN COLLEGE–WALLA WALLA, WA
[toc]
THE VIBE
Relaxed, friendly, passionate
WHAT IT FEELS LIKE TO GO HERE
As students pour onto campus in the fall, the small town of Walla Walla, Washington, is brought back to life. Students fill the lawns with blankets and guitars, slacklines go up on the trees and a sense of accomplishment floats through the air as diverse, yet like-minded individuals come together. Whitman College exemplifies rarity considering it's a top-ranked college in the United States despite its enrollment of only about 1,500 undergrads. These low numbers create tight-knit vibes that state schools can't match. When students get accepted to Whitman, they get adopted into a family that carries them through the most important four years of their lives.
WHERE WE HANG
Weekdays are as good as any for students at Whitman. Whether tossing a Frisbee on the quad, hiking into the Blue Mountains or studying at Coffee Perk, Whitties find ways to stay busy. Walla Walla's downtown is quaint and lovable, servicing the area with a number of restaurants and boutiques, and the hills overlooking the valley hide a handful of beautiful trails. Because of its Pacific Northwest location, Whitman attracts outdoor enthusiasts and hipsters that will stop at nothing to find a good time.
AWESOME ALUMNI
Since the early 20th century, Whitman graduates have ventured into the world to accomplish incredible things. Government officials like Ryan Crocker, U.S. Ambassador to Iraq and Afghanistan, and William O. Douglas, former Supreme Court Associate Justice, prove that Whitman graduates are capable of serving our country as administrators. In addition to political careers, Whitman prepares artistic folks for real-world careers in entertainment. Numerous actors and actresses, such as the OG Batman Adam West, not only graduated from Whitman, but the drummer of Train, Drew Shoals, attended Whitman before stepping into the national spotlight. As far as more "practical" career paths go, Whitman sent off multiple businessmen who worked their way to the top. Ralph Cordiner served as CEO of General Electric, Andrew Snyder is VP of Sales for Yahoo! and John Stanton is a board member for Microsoft.
Q&A
1. How much are students partying?
"There's not a whole lot of excessive weeknight type things. Of course some people are doing that, but I'd say things tend to stick to the weekends. Weekend nights can definitely get pretty wild, but our Greek system has a habit of starting parties pretty early so weirdly enough things tend to die out around midnight," said sophomore Sarah Vesneske.
2. What will you get in trouble for at your school?
"Marijuana and open containers of alcohol aren't allowed on campus. That being said, because we aren't a state school, we don't have to enforce alcohol in private spaces if it's being used responsibly and not impacting other students, so I suppose it's less strict than some schools in that sense," said recent grad Luke Hampton.
3. How much sex are students having?
"The hookup scene at Whitman is a mix of one-night stands, ongoing friends with benefits and actual relationships. There are many who aren't involved at all and few who practice abstinence, but hooking up is a very present thing at Whitman," junior Keith Nussbaum said.
4. What would you tell incoming freshmen about your school?
"Go on adventures, be open to new experiences and don't stress yourself out too much in the classroom. You are brilliant, you were chosen to be here and you have something wonderful to offer to the community," said junior Liz Chenok.
5. What is the diversity like at Whitman?
"Whitman College may seem quite homogenous in terms of diversity on the surface, but it is in fact quite a diverse place, particularly when it comes to socio-economic and intellectual diversity. Despite what it appears, Whitman is not nearly as much of a white, PNW prep-school once one delves a little deeper," junior Greg Steigerwald said.
OVERALL EXPERIENCE
"Because it's a small school and the classes are small, you really get discussion-based questions and build awesome relationships with your faculty. It's not surprising at a frat party to hear people discussing feminism or philosophy or quantum physics, which is really cool because students find ways to apply their study to their social life and their social life to their study. It's a hub of brilliant, laid-back, beautiful people!" – Liz Chenok, Class of 2018
"I've really enjoyed Whitman and I think that it offers an experience that out of the thousands of schools in the country only a few can really come close to, particularly if you are interested in the outdoors." – Greg Steigerwald, Class of 2018
"I came into Whitman not knowing anyone who would be going to the same school as me. Coming from a really small town where I had gone to school with the same kids since preschool, I expected my friendships at college to feel much weaker than the ones at home with people I'd known for so long. I was so surprised to find how quickly I got to know people and how open to new strong friendships everyone at Whitman was." – Sarah Vesneske, Class of 2019
"People at Whitman are among the most genuine people that I've ever met. They truly care about the people in their lives and so much love can be found at Whitman. Whitman is the place that many people never want to leave." – Keith Nussbaum, Class of 2018
"Whitman was a wonderful experience for me overall. The academics were definitely good but I am far more grateful for the meaningful connections and friendships with people that I've made. I was astounded by how much Whitman felt like home to me. I feel like I learned as much or more from residence life and friendships than academics." – Luke Hampton, Class of 2016
TOP 3 MAJORS
1. Biology
2. English
3. Economics
POPULAR STUDENT ORGANIZATIONS
1. Whitman's extensive intramural sports program involves more than 70 percent of the student body, offering nine sports throughout the school year. The organization hosts all sports from football to table tennis to volleyball to dodgeball. Run by students, Whitman's IM program promotes community on campus. Junior Greg Steigerwald heavily involves himself in IM sports. "The intramural experience is incredibly friendly, is a great way to make new friends and fits the needs and wants of the students," he said. "Overall, I would say that it is extremely beneficial to helping Whitman students become more in tune with their campus."
2. Though Whitman's enrollment is much lower than most colleges, the school doesn't lack fraternity and sorority involvement. Ranked by Best College Reviews as the 13th best college for Greek life, Whitman manages to involve more than 40 percent of the students in one of its eight Greek organizations. Greek life on campus allows students to meet new people and form lifelong friendships. "My sorority, Kappa Kappa Gamma, has been my rock since coming to school. The girls involved have always been people I can count on and people I can trust completely," sophomore Sarah Vesneske said.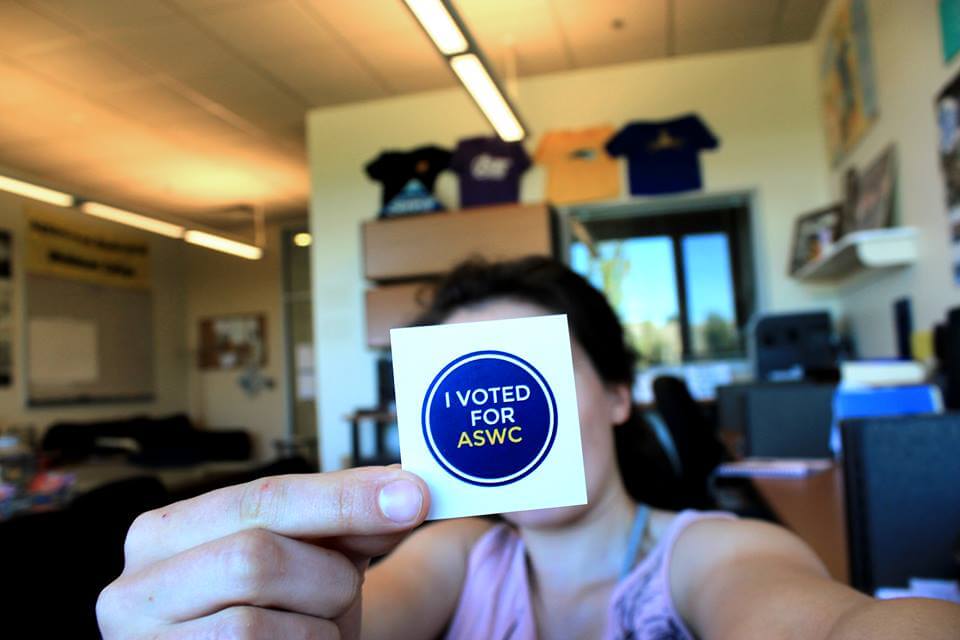 3. Associated Students of Whitman College (ASWC) is technically the largest student organization on campus because the entire student body is automatically a member! With a cabinet, senate and a number of committees, ASWC represents the people of Whitman by communicating with administration and putting on social events and town hall forums for the campus. Junior Keith Nussbaum particularly enjoys the mini-concerts that the organization plans throughout the year. "ASWC has been trying really hard to connect with students and it pays off well," he said.
GETTING IN
Whitman College prides itself in being selective, attracting a variety of promising students from across the world. While no test score or coursework is required to apply, the admissions office looks for students that go above and beyond in high school. GPAs for the middle 50 percent of admitted students range from 3.67-3.97, proving a good track record goes a long way when making admission decisions. Each year is different, but Whitman claims they tend to follow a trend of accepting close to half of applicants.
STATS
Location: Walla Walla, WA
Tuition & Fees: $47,490
Total Cost on Campus: $61,172
Undergrad Students Enrolled: 1,470
Graduate Students Enrolled: N/A
Total Enrolled: 1,470
Acceptance Percentage: 43%
Percent Admitted Who Enroll: 22%
Percentage of Male Students: 42%
Percentage of Female Students: 58%
Percentage Receiving Financial Aid: 91%
Percentage Receiving Federal Grants: 18%
Percentage Receiving Federal Loans: 35%