University of Kentucky—Lexington, KY
The Vibe
A diverse home-like school
What it Feels Like to Go Here
The University of Kentucky marks a special place located in the heart of the state of Kentucky that represents the old ways and modern technology coming together. Students, faculty and staff come from all across the globe, to collaborate and operate together. It has an air of formality, while also appearing quite informal—it isn't unusual to see a group of students in pajamas walking to class with a student in a nice suit among them. On a Saturday you will find thousands of students in Commonwealth stadium cheering on the cats, while many others you can find in Willy T library studying and doing homework. UK emits such a vibrant feeling to campus, no matter what you're doing or who you are.
Awesome Alumni
Like most major universities, UK has quite remarkable alumni who remain loyal advocates of the school. From Mitch McConnell, a high-risen senator often in the news promoting numerous bills, to Wendell Berry, a wonderfully talented writer, who has gone on to sell hundreds of his books, such as Given and Window Poems, UK's alumni brings glory back to Kentucky. Actress and UK alumna Ashley Judd seen in Double Jeopardy and Divergent can often be found in Rupp Arena cheering on the cats. From Willy Cauley-Stein to Karl-Anthony Towns to DeMarcus Cousins, UK also has an abundance of famous basketball players who started their career at UK and have played for the NBA. Who knows? Maybe someday you'll find your name alongside these famous ones.
Where We Hang
You'll find hot spots all over the city of Lexington for UK students to hang out, spend time and just have fun. Close by Tolly Ho, you'll enjoy a place famous for its burgers. They even provide a bell to ring in "Ho Virgins" who are experiencing the place for the first time. You can walk to a few great bars close to campus to go have a beer and let off some steam like Best Friend Bar and Tin Roof. Downtown Lexington sometimes provides weekly concerts that you can walk to from campus. The city hosts a wide score of musicians and bands, mostly local groups like The Riverbends, Crew Man Group and Deserted Islands. Local bars and restaurants open up their patio seating creating a perfect venue to watch the show.
Q & A
1. How much are students partying?
"I do tend to get a lot of party invitations during the school year. People move in together and stuff and make perfect places to throw a good party. I've even seen a TA from one of my classes at a party, it was an awesome experience," junior John Lewis said.
2. What will you get in trouble for at your school?
"You have to be careful about plagiarizing, because you will be caught!" junior Meaghan Willis said.
3. How much sex are students having?
"People have sex in the dorms all the time. It gets old real fast," graduate student Nolan Anderson said.
4. What would you tell incoming freshman about this school?
"One thing I would tell incoming freshmen is: Be prepared to work your ass off. Things are not going to be handed to you like in high school or with your parents. You have to earn what you get," senior Nolan Gramm said.
5. How can students get involved on-campus?
"I joined intramural two hand touch flag ball when I first came to UK. We would play weekly games and they were always so fun. Some people took it more seriously than others, but the majority of people were just there to have some fun and get some exercise," junior Ryan Hayden said.
Overall Experience
"UK has become my favorite place to be. There is so much going on and I just love it." – Jackson Millay, Class of 2019.
"It took awhile for me to feel comfortable here, but UK is definitely where I belong." – Anna Payne, Class of 2020.
"UK has given me so much, and I am shining here. There are so many different ways to succeed." – Haley Buchanan, Class of 2018.
"I considered so many different schools, but I'm so glad I chose UK." – Michael Vaughn, Class of 2018.
"I'm so glad to be a wildcat. I am making my legacy." – Jenny Wilson, Class of 2018.
Top 3 Majors
1. Biology
2. Nursing
3. Marketing
Top 3 Most Popular Student Organizations
1. Basketball
With a rich background, UK basketball is one of the most attractive features of the school. Fans pack the house from all across the globe, which can feel both hectic and stimulating. But it feels great to look around the wide room and see rows of blue shirts. You truly feel like part of the big blue nation. We have had multiple championship wins, a record number of final fours and the record number for the most players who go on to play for the NBA. Senior Eddie Ruth said, "Supporting UK basketball has been a privilege and such a rewarding experience."
2. Greek Life
With organizations such as Delta Delta Delta and Alpha Pi, the University of Kentucky offers a wide variety of possible Greek Life groups. They provide service and time to the university and the community. From fundraising events for charities to restaurant nights, Greek Life impacts the campus at such a high level. While you'll certainly see many partygoers among them, you'll find some truly dedicated and amazing people. Senior Luke Grant said, "My frat brothers are my closest friends, and doing things like Dance Blue has impacted me so much. I will never forget my time here."
3. Major Clubs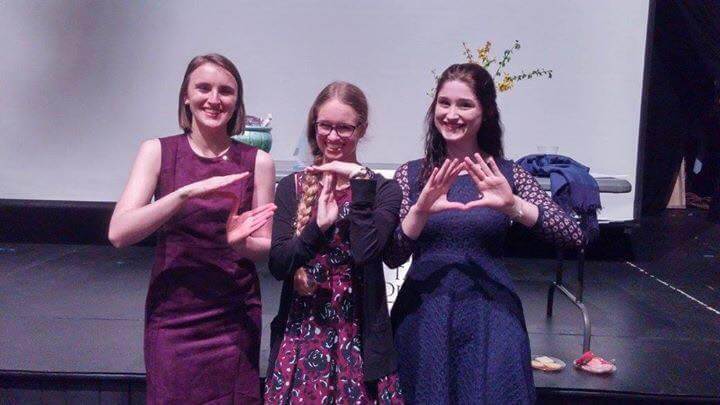 UK offers many different organizations and honor societies for the majority of majors offered at the university. "Joining Sigma Tau Delta, the English Honor Society, has completely changed my college experience," senior English major Megan Marcum said. "It made me feel at home within my major department." These groups seek to connect major students to the real world, and build upon their academic careers. Students can attend multiple group fairs, usually in the beginning of the semester, to discover the different organizations on campus.
Getting In
UK admissions wants to see diversity and community service in an applying student. They definitely look for applicants with a good attitude about life and other people. They are also looking for strong academic records, along with extracurricular involvement. To get in, you'll need to be a well-rounded and thoughtful individual. Don't believe it? The minimum GPA of a 1.5 in high school is required, as well as an ACT score of at least 17. Better start hitting those books if you want to call yourself a Wildcat someday.
Stats
Location: Lexington KY
Tuition and Fees: In state $5,000 per semester. Out of state, upwards of $7,000 per semester.
Total Cost on Campus: around $45,000
Undergrads Enrolled: 27,000 students
Grads Enrolled: 2,000 to 3,000 students
Total Enrolled: 30,000 students
Acceptance percentage: 66%
Percent Admitted Who Enroll: 79%
Percentage of Male Students: 44%
Percentage of Female students: 56%
Percentage Receiving Financial Aid: 68%
Percentage Receiving Federal Grants: 57%
Percentage Receiving Federal Loans: 87%