University of British Columbia—Vancouver, Canada
The Vibe
A Nature Lover's Dream
What It Feels Like to Go Here
A laid-back West Coast vibe envelopes University of British Columbia. Good luck finding a similarly relaxed and accepting university atmosphere. Thunderbirds can even visit Wreck Beach, a nude beach on campus (no joke). With gorgeous mountains like Grouse and Cypress a half an hour from campus, students often hit the hiking trails or try their hand at skiing or snowboarding. Students can drive to Whistler, one of North America's best ski spots because of its terrain variety and challenging ski runs, in just two hours. Whistler even hosted the 2010 Winter Olympics.
In true Pacific Northwest fashion, students clad in plaid, Northface fleece jackets and other mountain chic gear congregate in UBC's Student Union Building. On nice days students flock to the Rose Garden, a campus hotspot offering a rainbow of colored roses and beautiful views of the Pacific Ocean. Revel in the precious PNW sunshine while overlooking the North Shore Mountains.
Representing students from 162 different countries, UBC prides itself on diversity. UBC shows its emphasis on inclusivity through campus programs like student equity ambassadors, parasport games and disability awareness workshops. You'll grow dizzy at the club fair trying to figure out which of the many clubs to join, from yoga to the Tea Club to engineering design. With an active Greek Life on campus, those seeking some nighttime excitement can always track down a party. However, many Thunderbirds prefer a quieter lifestyle soaking up Vancouver's jaw-dropping nature scene by hiking, rock climbing and kayaking to nearby islands.
Awesome Alumni
UBC has its fair share of noteworthy alumni. Once you walk across the graduation stage all dressed up in gold and blue to get your diploma you'll join the ranks of world renowned politicians, Hollywood stars and astronauts. Current Prime Minister Justin Trudeau (AKA everyone's favorite heartthrob politician) graduated from UBC in 1998 with a Bachelor of Education. Kim Campbell, Canada's 19th and first female Prime Mister, received her Bachelor of Arts in 1969. She then completed her Bachelor of Laws here in 1983. Talk about UBC pumping out PMs.
Does it get any cooler than space travel? Icelandic-Canadian astronaut Bjarni Tryggason earned his Bachelor of Applied Science in Engineering Physics at UBC in 1972. Shortly after, he blasted off to outer space on the STS-85 mission of 1997.
If you've ever watched Bilbo Baggins' chaotic journey across Middle-earth in The Hobbit you might recall Tauriel, a woodland elf. Tauriel is played by Bachelor of Arts in International Relations recipient Evangeline Lilly. On your next trip across the Atlantic, give a nod to Robert Mundell. This 1953 UBC grad received a Nobel Laureate in Economics. He later helped create the Euro.
Where We Hang
Thunderbirds actually have to try to be bored. UBC in itself offers as many activities, hotspots and events as a small city. Living in the midst of vibrant Vancouver adds a bonus. Feel like hitting happy hour after your English Lit exam? Swing by on-campus bars The Pit or the Gallery 2.0 for an I-Adulted-For-A-Whole-Day reward. Hop on the bus to downtown Vancouver to check out other nightlife hotspots. Popular picks include Koerner's Pub for Taco Tuesday, The Bimini Public House (the closest to campus), Celebrities and the Venue. Looking for some good grub? Don't miss the Eatery, a new age sushi restaurant students rave about. "restaurant with black lighting and unique and tasty sushi rolls," sophomore Liam Sklar said.
If you'd rather stay in and Netflix all night, UBC throws other fun events year-round. Embrace the cold during the Polar Bear Swim at Wreck Beach or pick up an oar at The Day of the Longboat, the world's largest voyageur canoe race. Unwind with yoga in the campus' Japanese Garden or take a stroll on one of the many beaches around campus. Grab a couple friends and hit the Grouse Grind, a 2.9-kilometer trek colloquially called "Mother Nature's Stairmaster." The panoramic views of Vancouver make the burn worth it. If you're more of a "long walks along the beach" type, head to the Stanley Park Seawall trail for unforgettable views of the sea.
Music and sports lovers couldn't pick a better college. Show your school spirit at one of the Thunderbirds' sporting events. Want a bigger sports setting? Wander over to Vancouver for a Canucks or Whitecaps game. Big music artists perform at Rogers Arena, conveniently close to campus. "Last semester I went to see Kanye and in September [2017] I went to see Mac Demarco. I know people who have probably been to ten concerts in the span of a year," UBC sophomore Lawrence Ge said.
Often dream of seeing your favorite celeb walking across campus? It might happen. "UBC is a very popular location for filming. Just a couple of months ago Dwayne 'The Rock' Johnson was filming here and wandered out to meet students," senior Nicole Clark said.
Q&A
1. How much are students partying?
"A lot of people like to party in many different parties here. There are frats, house parties, school organized parties, raves, clubs, and we even have two on campus pubs," Sklar said.
2. What will you get in trouble for at your school?
"It's quite often that students of UBC will see emails, Facebook posts or posters around the school that promote diversity and acceptance … any kind of insensitivity towards a group of people will be a definite way to get a black mark on your name. A specific example of this that I've seen in recent years is insensitivity towards the LGBT community … UBC spoke out and ensured that its students knew of the school's guidelines for sensitivity and diversity," junior Kevin Choi said.
3. How much sex are students having?
"Sex seems pretty frequent on campus. Safe sex is definitely promoted. You can't go a few minutes without seeing a safe sex poster or banner at UBC," sophomore Christopher Hakim said.
4. What would you tell incoming freshmen about your school?
"I would tell an incoming first year that UBC has so much to offer as long as they are willing to apply themselves. With such a large student population, I felt that UBC demanded self-sufficiency immediately upon arrival but I quickly learned that people at this school are so willing to help when you exercise the means to attain the support you need. Always be headstrong and vouch for yourself," sophomore Skylar Zakarin said.
5. What's the quirkiest or most unique part of UBC?
"The campus is definitely the most unique thing about the university. It seems like you can be in any environment that you want. If you like the forest, there's an area with tall forest trees that give the vibe of being in one. At the west end of campus, you have a beach. At the center, you have a large green field that adds a beautiful ambiance to UBC. Then when you think you're at the end of campus you realize that you have only experienced half of it," freshman Natalie Armendariz said.
5 Student Reviews
"My experience at UBC has been rich. Filled with so many interesting courses and memories I'll cherish forever. I'd say my most valuable time has been spent socializing with countless students of all different backgrounds whom I've met in various ways around classes, clubs, hobbies and residence life." – Stuart Clarke, Class of 2019
"Dorm life during my first year was pretty fun and hectic, though it could get pretty overwhelming at times. After that, things get very relaxed and chill. UBC has a bunch of great facilities for studying or just chilling with friends. The campus itself is absolutely beautiful and almost Zen-like, which really helps to calm the mind during very stressful situations…Coming from the dense city background of Hong Kong where I'm also five minutes away from a giant shopping complex, I don't think I can ever get used to the big campus life of UBC." – Lawrence Ge, Class of 2020
"UBC has been amazing. The workload is quite heavy which depends on your faculty, but it's very fun. I actually feel like I learned a lot inside and outside of the classroom." – Billy Yan, Class of 2021
"I attend Sauder School of Business and have been happily overwhelmed with the amount of support and resources. I know what I would like to major in, but even if I didn't I know the career counselors would be happy to guide me in making the right choice." – Megan Praat, Class of 2020
"I am really enjoying this beautiful campus and its beautiful people. I've also met some of the friendliest people and some of my best friends here. Other than social life, academic life is rather intense. When midterms and finals hit, they hit hard. It's key that we find a balance between the two." – Maxwell Huang, Class of 2020
Top 3 Majors
1. Arts
2. Science
3. Commerce
Top 3 Most Popular Student Organizations
1. Blank Vinyl Project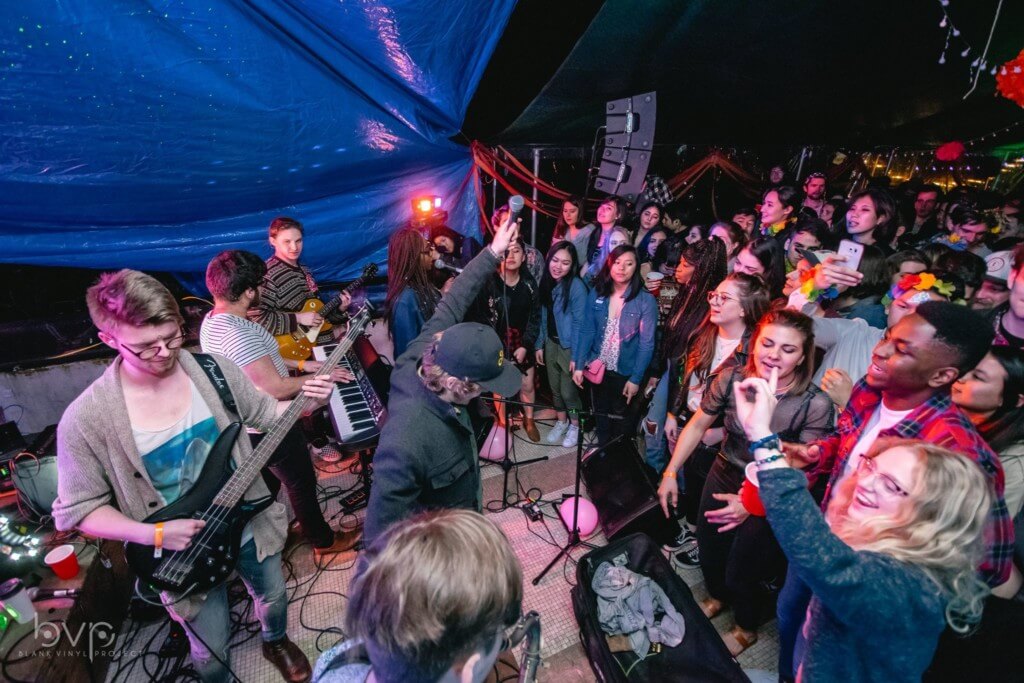 This student-run music organization brings music lovers at UBC together. Founded in 2011 by a group of music-loving sophomores, BVP gives student musicians a safe place to practice their art. Club events include coffee shop concerts and a Band Search at the Red Bull Offices. The club's feature event is Goosehunt, a student-run music festival. BVP hosts bi-weekly events like open mics and member socials. BVP provides a network for students to build their own bands. Members have access to fully-equipped rehearsal space and free recording and media services. BVP also connects members to local gigs. "BVP has introduced me to an open-minded environment where I can share my passion for music without the political agendas that seem to complicate many creative associations these days. That's what I love about this club. It's driven purely by a genuine love for the music," BVP President Riki Beazley said.
2. Chinese Varsity Club
With more than 1200 members, UBC's Chinese Varsity Club ranks as one of the largest social groups on campus. CVC has had an active presence in UBC student life since 1930. The club connects students with similar interests. Members go to sports games, party and hang out around the city together. Every month, CVC throws a few events for students and community members. Recent events include a talent show, a dance party at Vancouver's Twelvewest lounge, and a photoshoot day for students looking to up their IG game. "CVC is a family and having that community on campus has made my university experience so much richer. I have learned so much about organizing and leadership working with some amazing people and I have gained friendships for life. I've been able to travel around the world and meet up with CVC people in China, Hong Kong, Indonesia, Taiwan and Korea," CVC President David How said.
3. Sailing Club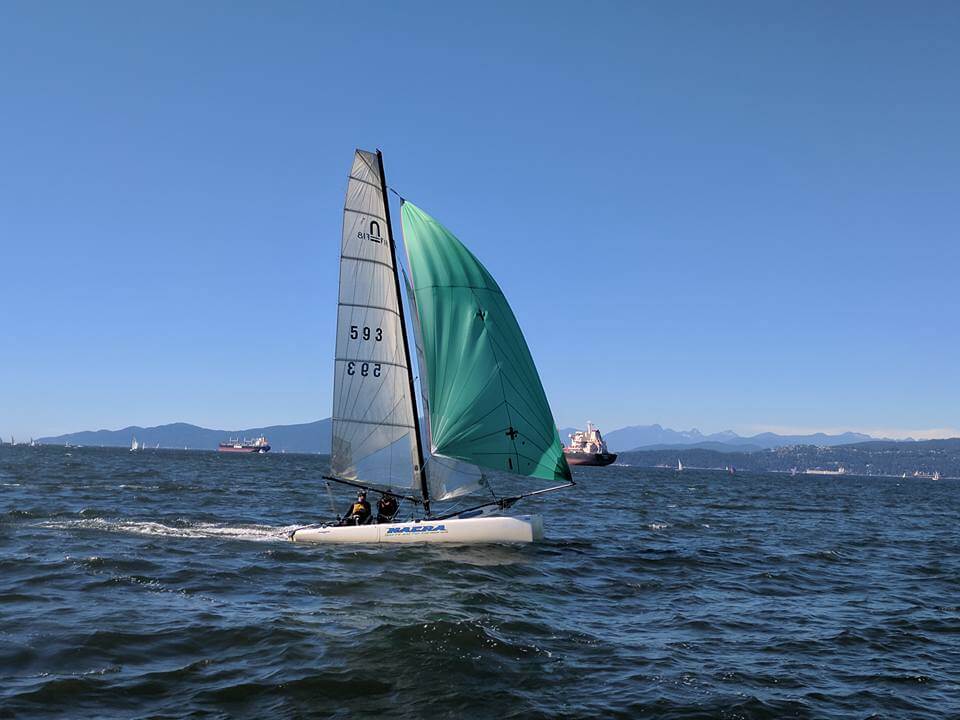 The UBC Sailing club has been around for more than 50 years and allows students to participate in all sorts of watersports like sailing, windsurfing, and kayaking year-round. Practice takes place at Jericho Sailing Center right off UBC's campus. Thunderbirds can test their skills in the Pacific on all different types of sailboats. Members also have socials at local pubs, beach parties and sailing races. The UBC Sailing Team operates under the Sailing Club. It allows students to compete internationally. "The sense of community is huge and it's always easy to meet people with similar interests and partake in events held by the club such as barbecues and parties…My favorite part is racing against other schools in our district and putting time into helping our team move forward and become more competitive," UBC Sailing Team member Jonah Cadieux-Johnson, a junior, said.
Getting In
The University of British Columbia often ranks among the world's top 40 universities. This makes admission very competitive. UBC wants its Thunderbirds diverse AF. The student body consists of students from 162 different countries like Azerbaijan and Sri Lanka. Set yourself apart in your application. The admissions team considers student's personal essay responses alongside grades. Showing off your personality in your Personal Profile might give you a leg up against competitors with a higher GPA.
"You really want to build on your personal profile. What sets you apart from everyone else other than good grades – whether that be volunteering, leadership, jobs, experiences, what makes you up as a person. It's hard building up your personal profile right out of high school when you're 17 or 18 but unfortunately there's a lot of pressure and competition on our generation," senior Brea Bentley said.
Stats
Location: Vancouver, British Columbia, Canada (there is a second campus in Okanagan)
Tuition & Fees: Canadian students is $6,971 Canadian ($5,585 USD) and International students is $42,383 Canadian ($33,957 USD)
Total Cost on Campus: $14,824.28 Canadian ($11,876 USD)
Undergrads Enrolled: 52,464
Grads Enrolled: 10,459
Total Enrolled: 62,923
Acceptance percentage: 52.4%
Percent Admitted who Enroll: 31.7%
Enrollment:13,470 in 2016-2017
Percentage of Male Students: 45%
Percentage of Female Students: 55%