Simpson College—Indianola, Iowa
[toc]
The Vibe
Tight Knit Family
What it Feels Like to Go Here
To describe Simpson College as a second home for its students seems like a bit of an understatement for all who have made lasting memories in the small town of Indianola (with only about 15,000 people). The inviting faculty and atmosphere that comes with a small campus makes it nearly impossible to leave after four years without professorial connections or a group of friends that redefines the meaning of "squad goals." While knowing nearly everyone on campus may seem like a nightmare to some people, it actually has its advantages. Do you ever have those mornings when you wake up at 7:58 for your 8 a.m. and only have time to shove a stick of gum in your mouth and run to class? No need to worry about your fuzzy pajama pants and oversized sweatshirt as you sprint to your building—some may even cheer you on as you sprint past them because snooze buttons cease to exist here. The dedicated team of professors invest countless hours in their students' success in and outside of the classroom; if you miss a class, you get an email from your teacher concerned about your absence and ready to help you roll out of bed and into the world.
Awesome Alumni
Thousands of people have attended Simpson College, later moving on to impact the world in various fields and styles that can be seen throughout the past century. Some of these notable alumni include Kip Janvrin, Kate Shelley, Paul Rolland and James C. Hickman. While some of these names may not ring bells initially, each of their accomplishments have been substantial in the community and even globally. Kip Janvrin, a track and field athlete, competed in the 2000 Olympics and now has an event called the Kip Janvrin Open at Simpson College in honor of his athletic achievements. Known for her heroism on the railroad, Kate Shelley is the first woman to have a bridge named after them, located in Boone County, Iowa. With a talent for the violin, Paul Rolland amazed the nation with his accomplishments as a famous violinist and teacher across the country. Finally, James C. Hickman reached international acclaim for his contributions to actuarial education and the profession.
Where We Hang
In such a small town, students tend to get a bit creative with their free time on campus. Of course, the occasional bar like Mojo's attracts students for the nights to destress and hang out with friends off of campus. But with such a tight community, campus events pull in quite the crowd. The Stand Around event at the beginning of the year for incoming freshmen quickly became a major hit with new students and veterans of the campus. Like any other freshmen ice breaker, the event overflows with sweaty palms, shy newcomers and the desperate need to find friends before sun down. Gradually these anxieties melt away with free ice cream from Outside Scoop, a DJ, face paint and a photo booth. Mix that all together and you've got a student gathering that provides a fun atmosphere for those attending to become even closer with their peers. Expect countless memories to be made at Stand Around as well as other CAB (Campus Activity Board) events that are held on campus throughout the school year.
Q&A
1. How much are students partying?
"Significantly less than last year. Overall Simpson is not a very big party school and I would say about 25 percent party regularly while the other 75 percent never or rarely party on campus," said junior actuarial science and economics/finance major Jake Stoulil.
2. What will you get in trouble for at school?
"The thing that I see most is getting in trouble for having alcohol in a dry building, like a dorm on campus. It's fairly common but the consequence, depending on what exactly they find, you don't get in too much trouble, maybe just a $50 fine," said junior human services major Grace Haney.
3. How much sex are students having? How is safe sex encouraged on campus?
"It's definitely happening throughout campus, but there isn't a lot that they're doing to acknowledge it or encourage safe sex. There's a free bowl of condoms in the nurse's office that sometimes people go to, but it's not advertised regularly," Haney said.
4. What would you tell incoming freshman about your school?
"Get involved right off the bat. Join anything your schedule will allow. It's okay to not know your major right away but it's important to be thinking about and while you're deciding, join more and more organizations," said recent graduate Brooklyn Hunter.
5. What has been one takeaway from your college experience thus far?
"There is literally anything to keep you busy. I was a shy person but I buried her in order to experience more. I took a bold approach and it was uncomfortable but it worked out great. Also, I cannot stress time management enough. Time management and mental health is the hardest part of college," Hunter said.
Student Reviews
"Simpson surprised me by acting like a much bigger school than it is. It honestly surprised me by feeling just like home. There's so much history and beautiful little details hidden throughout making you feel comfortable – like a part of the family."–Emma Schlenker, Public Relations Major and Political Science Minor, Class of 2019
"My greatest challenge in pursuing my degree has been the workload that accompanies it. This being said, I have been surprised by the willingness of professors to help their students throughout the semester and after I leave their classroom."–Jake Stoulil, Actuarial Science and Economics/Finance Double Major with a Political Science and Computer Information Systems Double Minor, Class of 2020
"The ability to sit down and have hour-long conversations with a professor is not a luxury that a lot of college students experience, and I find comfort in knowing, now as an alumni, that I can email any of them and ask them questions if I have them."–Brooklyn Hunter, Elementary Education Major, Class of 2018
"Socially, there is the occasional fun event on campus, but Simpson is not well known for its nightlife for good reason. It's because there hardly is any."–Ben Harrison, Biology Major, Class of 2020
"Personally, I've had a hard time learning when to step back in my involvement on campus. There are so many great opportunities and groups doing great work on Simpson's Campus that it is oftentimes easy to become too overcommitted too quickly."–Lewis Cox, Religion and Psychology Double Major, Class of 2020
Top 3 Majors
1. Business/Commerce
2. Criminal Justice/Safety Studies
3. Psychology
Top 3 Most Popular Student Organizations
1. Debate Team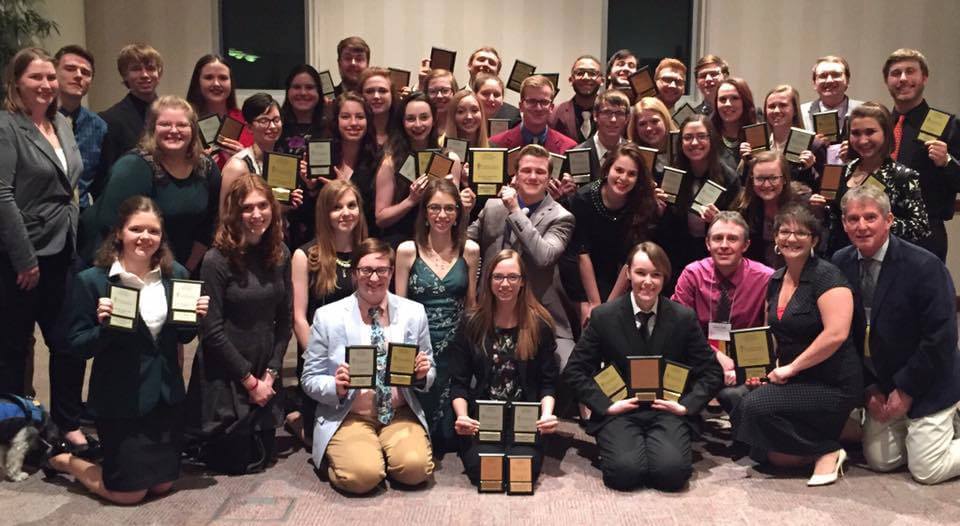 This competitive group of students attend multiple events throughout the semester that consist of intricate and calculated discussions concerning major issues. Group meetings consist of a 30-minute dive into upcoming tournaments and updates for the entire group. Later, they jump into event practice discussing strategies and particular points that need to be discussed during the competition. "I would encourage everyone to join the team. Many people don't like public speaking and, as an introvert myself, this event has helped me with my speaking and critical thinking skills," said junior Jake Stoulil.
2. Rotaract Club
Affiliated with Rotary International, the Simpson chapter encourages the students on campus to give back to the community through community service and volunteer work. Their monthly meetings consist of discussing upcoming service opportunities, a short project and pizza. Who doesn't love giving back to the community with a slice of free pizza in their hand? "The service world is a great community of people and there's always a need for volunteers. Rotaract can take as much or as little time as the volunteer is willing to put in so anyone can, and should, attend meetings," said senior Madison Behney.
3. Religious Life Community
As a student-led organization, this group takes initiative to spread their faith to those on campus through various traditions and programs throughout the year. Your hearts (and stomachs) will overflow with joy after their weekly gathering of the community meal followed by a campus worship service known as LIFT (Living in Fellowship Together). The positive and inviting programs are laid back and carefree as they take some much needed time to destress from homework. "I don't know if there really is such a thing as a regular meeting for us. I would encourage anyone to join who is wondering how their faith interacts with the world around them," said junior Lewis Cox.
Getting In
Even as a private college, the admission process for Simpson College has only a few requirements that vary from a bigger university admission process. Some of these requirements include a counselor recommendation form completed by your current high school counselor as well as a portion of writing submitted along with your ACT scores. Unlike other private campuses, students will not need to have taken the SAT to apply—cue the sigh of relief. Looking past the official admission process, feelings of uncertainty regarding tuition price tend to occur. "Don't let the big scary number prevent you from applying. Simpson really does their best to bring tuition to an affordable price with all kinds of financial aid and scholarships that suit your background," said junior Grace Haney.
Stats
Location: Indianola, IA
Tuition & Fees: $38,412 (2017-18)
Total Cost on Campus: $45,626 (2017-18)
Undergrads Enrolled: 1,608
Total Enrolled: 1,608
Acceptance Percentage: 85%
Percent Admitted Who Enroll: 35%
Enrollment: 2,035
Percentage of Male Students: 44%
Percentage of Female Students: 56%
Percentage of Receiving Financial Aid: 100%
Percentage Receiving Federal Grants: 32%
Percentage Receiving Federal Loans: 78%