Imagine going to the university founded to fulfill our first President's dying wish. Imagine going to the university with the fire station that was called when President Taft got stuck in his bathtub. Imagine going to the university with a brass hippopotamus statue prominently featured on campus, which was given to the school by former university president Steven Trachtenburg, who got drunk one night and ordered the hippo as an anniversary present for his wife, who immediately ordered him to get it out of her house. Does such a university exist? Oh you bet it does, my friend, and it's named after the original POTUS.
Overall Experience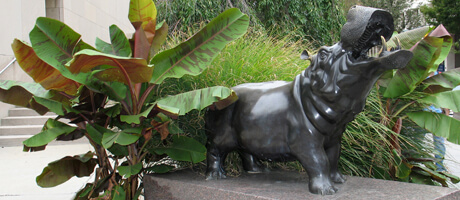 "When I first visited I had already gotten in so I wasn't really worried about being convinced into liking George Washington University, but everyone was so happy around me and that was a really great first day. And that hasn't changed. Every day I walk around and everyone is smiling and happy, and even when I'm in a bad mood it just makes things easier."—Daisy Getz, Psychology major, Class of 2019
"I love GW. I've been involved in student organizations that I love and I've found the most supportive work environment I could imagine. The proximity to internships lets me find things I was really interested in throughout college."—Sunaina Perera, International Affairs major, Class of 2016
"I like that you're not really trapped in the confines of a campus; we are right in the middle of the city so you can walk two blocks off campus and find something to do."—Amber Singh, Political Science major, Class of 2017
"I was very overwhelmed at first because I wasn't used to being in such close proximity with so many different people coming from all over. It was refreshing and surprising in a very good way because I come from a super small town where everyone has been there for generations. So coming to GW is exactly what I always wanted."—Romy Stancofski, Psychology major, Class of 2018
"I was surprised by DC. I'm a New York City girl so coming to DC, I thought I'd live here for four years then peace the f**k out. But it's so cool here. It's not just a city, it's a town. I never feel unsafe here, even late at night because it's still a campus and there are so many people around."—Adriana Marino, Biology major, Pre-Med track, Class of 2019
Student Scale
Academics: B+
Social life: A-
Stats
Location: Washington, D.C.
Tuition and Fees: $75,585
Undergraduate population: 12,546
Acceptance rate: 41%
Graduation rate: 79%
Percentage of female students: 61%
Percentage of male students: 39%
Grads Enrolled: ~10,000
Total Enrolled: 25,613
Percentage Receiving Financial Aid: 47%
Percentage Receiving Federal Grants: 65%
The Vibe: Type A's Welcome, Suits Mandatory

Seriously, invest in a blazer and you'll feel right at home walking around Foggy Bottom. We're a haven for nerds, go-getters and strong handshakes.
What it Feels Like to Go Here
Welcome to George Washington University, the most non-college-campus campus you've ever seen. We're really just a handful of buildings scattered from F to K street in the heart of DC. And because justifying walking through an average city street wearing pajamas and flip flops is difficult, everyone comes to class looking like they're on their way to a job interview. It's a magical place where you can say things like, "Ooh, I should grab Chipotle on the way to my internship on Capitol Hill…" and "Hey I just picked up a 30 rack of Rolling Rock, wanna come over and watch the State of the Union address?" without sounding ridiculous.
Never Have I Ever…
Q: How much are the students partying?
There's a little something for everyone when it comes to GW night life. Greek life plays a big role in the party scene on campus—you can look out your window any Friday night and watch the packs of freshmen troop up and down the row of fraternity townhouses on 22nd street. But again, anybody can have a niche at GW. My first college party was a cast party for student theater. Once you find your tribe, you'll have something to do every weekend, rest assured.
"Freshmen party a lot I think but once people mature they slow down, but I think a lot of people are resistant to growing up and are really reckless even as seniors but the party scene is not too big here," said junior Nick Zmudzinski.
Q: What will you get in trouble for at your school?
Drugz, people. Some of you may have heard about DC's fairly recent decision to decriminalize marijuana. People 21 and older can own and smoke marijuana as long as they're in their own homes. Sounds awesome right? Except that new law does not apply to colleges because they're federal institutions. GW is still a strictly "Hugs Not Drugs" zone.
"The number one thing is drugs or booze on campus—especially since we have to live on campus for so long it makes it way more likely for students to get caught in their rooms with that sort of stuff as compared to other universities where students aren't constantly under the thumb of their police," said junior Samantha Lemieux.
Q: How much sex are students having?
GW isn't famous for its students' sex lives, but that doesn't mean they don't exist. When you put a lot of Type A people on a campus together, you get a work-hard-play-hard vibe that leads to a fun, fast-paced hookup culture. When those people are also politically savvy and progressive, you get a healthy sex-positive hookup culture on top of that.
Q: Why did you pick GW?
"I picked GW because I honestly just had that feeling you hear about in books or movies when I stepped on to the campus, it was like a gut feeling that this campus and this city just felt like home. On a more rational level, it had the programs I needed and is in one of the best cities for an opportunity I might want, and I could tell that I would be able to get involved in whatever on campus activity I wanted to," said Lemieux.
Q: What would you tell incoming freshmen about your school?
"I come from a small town in the Midwest so when I came to a school in city like D.C., I really didn't know what I was getting into. I was really surprised to see how actually diverse the school really is. Most of my friends come from different backgrounds and I think you only really get that at a school like GW," said junior Abbey Monsour.
Q: What is one thing you'll miss after you graduate?
"I miss being surrounded by so many engaged and politically active people. I've found that my friends from home, even those that went to college are not always in touch with what's going on politically at the depth and breadth of a lot of GW students," said 2017 graduate Jack Jomarron.
Overall Experience
"[GW is] intimidating because of how successful its students are and how capable many are, both academically/professionally and socially. My experience has been nothing like what I thought it would be and I am SO thankful for that because GW has really forced me outside of my comfort zones for better and made me a more capable person in handling real life situations." –Samantha Lemieux, Class of 2019
"One thing I wasn't expecting and that really challenged me was some of the intro classes. I was an honors kid in high school and math and science always came easy to me but when I was put in a huge lecture hall I was really overwhelmed. I really struggled with those big classes. It took me a while but I learned how to reach out to professors and TAs for help and find friends in the class who I could study with and bounce ideas off of. Overall I love going to school at GW. My classes have given me the tools to achieve at my internships and have definitely become a better journalist." – Abbey Monsour, Class of 2019
"I would say GW has definitely changed my view of the world. I have met people from all over and learned a ton about culture and lifestyle. I don't think I was expecting GW to be as diverse as it is. I'm the daughter of Venezuelan immigrants who grew up in a primarily white town in the tiny state of Connecticut so it was definitely a shock for me to come to such a busy city full of people from countries I had only read about." – Diana Nunez, Class of 2019.
"Adjusting to a new lifestyle has been my greatest challenge. Being an only child, I was never used to living with a lot of people. Freshman year, I lived with three other girls and I had to learn to share my space, which was difficult." – Camila Mesa, class of 2022
"Time management was tricky for me because there are a lot of things to juggle in college. There are a lot more things to juggle and competing interests. You'll have too many good things and have to cancel on others." – Patrick Burland, class of 2022
"Time management was hard for me because we are very busy as GW students. We have this higher expectation to be out in the city, getting a job and capitalizing on the opportunities that DC has to provide for us, while also going to a school of high academic caliber and being expected to succeed and manage our coursework. I forget what my priorities are at times just because of the excitement here." – Hannah Brown, class of 2022
Top 5 Quirks
1. Most Likely to Host a Taping of The Colbert Report Featuring Barack Obama (yeah, that actually happened)
2. Most Likely to Offer Art Classes at the Actual Corcoran Gallery of Art
3. Least Likely to Ever Lose a Football Game
4. Best at Being Literally Six Blocks from the White House
5. Worst at Having a Conversation without Hearing "Yeah, it's just like back when I interned on the Hill…"
TOP 3 MOST POPULAR STUDENT ORGANIZATIONS
1. College Democrats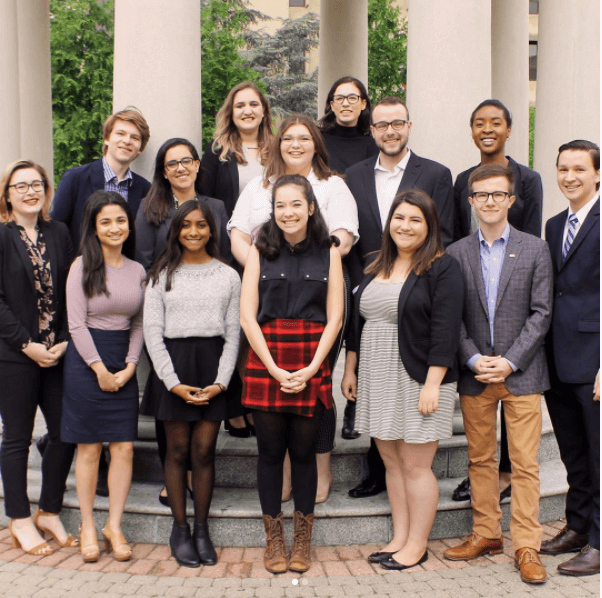 As one of most politically active campuses in the nation, GW students fight for what they believe in. College Democrats is the largest student org on campus. "I arrived on campus freshman year, I wanted to figure out a way to merge my passion for helping others and elevating progressive causes," said Jazmin Kay, president of College Democrats. "I saw joining and becoming an active member of College Democrats as the best way to do this and have not turned back ever since." Consider joining if you want to learn more about political activism through your peers and make change at the University and in the District along the way. "My experience as a member of College Democrats has truly been the highlight of my college experience," said Kay.
2. GW Hatchet
Independent of the University, GW Hatchet is the on-campus newspaper that takes pride in reporting the truth of campus life, budgeting of the University, latest D.C. news and beyond. "The Hatchet has provided me with the best journalism experience in college that I could ask for. Working alongside some of the most talented student journalist has inspired me to report on issues and events affecting our community," said Justine Coleman, editor at the GW Hatchet. This organization is a teaching publication, meaning that if you aren't a hard-hitting journalist as a freshman, it's not a problem. The Hatchet is a collaborative environment that encourages you to learn from your peers.
3. Colonial Inauguration Leaders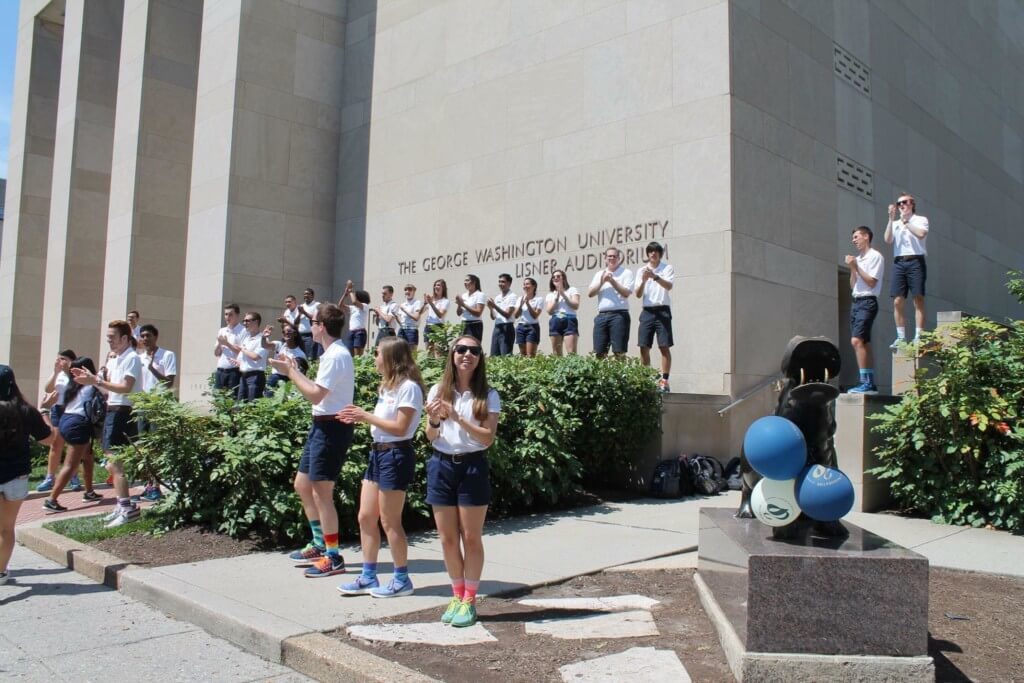 You should apply for Colonial Inauguration, GW's freshman orientation program, if you want to get to know the incoming freshman while bonding with GW students in the process. Whether you enjoyed orientation or not, apply to be a leader to help freshman students integrate into GW culture. "After high school and before starting at GW, I had taken a gap year. At CI, I felt awkward among the incoming students fresh from high school. I didn't know how I would find a home at GW, and I had trouble visualizing it at CI. I wanted to apply to staff CI to connect with students who might have felt out of place or awkward, students who might not understand how they could fit in at GW," said Jacob Smith, senior and former CI leader.
Top Majors
International Affairs
Political Science
Political Communications
Business/Economics
Bragging Rights
1. Ranked #57 nationally by the U.S. News
2. Ranked #11 in "Best International Business Schools" by U.S. News
3. Notable alumni including Kerry Washington, Anousheh Ansari and Jacqueline Bouvier Kennedy Onassis
Getting In
GW is liberal-arts-tastic, so they're looking for well-rounded students who will dive into everything DC has to offer. Let your GPA and test scores speak for themselves and play up your extracurriculars, past jobs and volunteer work. Don't let the political vibe fool you—admissions will still like you if you didn't intern over the summer at a senator's office. Talk about what interests you. GW likes to hear about stuff that makes you passionate. It's an expensive school, but it offers a lot of financial aid. Get to work on those scholarship apps, and we'll see you here soon.
Just like any university, GW admissions searches for a "well-rounded" student: Someone who has at least a 1800 on the menacing SAT with a 3.8 GPA while participating in an extracurricular activity that you are passionate about. All of those attributes describe a strong applicant applying to any college, but passion is the optimal attribute of GW applicants. Students at GW have a passion for politics, journalism, international affairs, traveling and basically anything. This school cultivates vocal leaders in politics and GW admissions officers look for students that have a strong point of view in something. If you want to change the world by becoming a Supreme Court justice in the LGBT community, or if you want to start an earth-friendly fashion line, you belong at GW because you are passionate to fix a problem in our world.
Awesome Alumni
From politicians and journalists to first ladies and actresses, many notable alumni graduated from GW. Chuck Todd and Dana Bash, two broadcast journalist personalities, often return to campus to lecture students in the School of Media and Public Affairs about the current journalism industry. Kerry Washington, more commonly known as Olivia Pope from ABC's show Scandal, walked the engraved bricks of U-Yard in the late 90s. Jacqueline Kennedy Onassis left such a mark on this campus that she has a residence hall named after her, granted it sits next to the constant stream of sirens from its neighbor, the GW Hospital. Finally, Colin Powell, a former United States National Security Officer spent some of his time in the nation's capital reading textbooks at GW.
Contributions from Jessica Jordano and Caroline Crook