College of Willam and Mary—Williamsburg, VA
THE VIBE
History filled with a passionate Tribe.
WHAT IT'S LIKE TO GO HERE
Surrounded by tradition, the College of William and Mary is a moderately sized school full of passionate, driven and caring people. Red brick buildings surrounding luscious greenery makes you aware that you're stepping into the second-oldest institution of higher education in the United States. You'll find a laid-back atmosphere with ambitious students ready to take on the world. Get ready to work hard because it's academically driven. With that, there's a sense of community, along with a safe and welcoming environment.
AWESOME ALUMNI
W&M produced some notable alumni, including three U.S. presidents. That's right, former leaders of the free world Thomas Jefferson, James Monroe and John Tyler all graduated from this college. Someone else from the political arena graduated as well, and that's none other than Jon Stewart. The comedian, actor and The Daily Show host from 1999 until 2015 received his diploma in psychology. Beyond that, five time Oscar nominee and winner of three Tony awards and an Emmy, Glenn Close graduated in 1974 after double majoring in theater and anthropology. Her most famous work includes Fatal Attraction, the live action 101 Dalmatians and Hamlet. This set of alumni have gone off and done incredible things, proving that you can too.
WHERE WE HANG
Conveniently located between Charlottesville and Washington, D.C., this college has a beautiful campus that brings in the outdoorsy students as well as the artsy ones. Since Williamsburg is a part of the Historic Triangle, you can enjoy museums like the Mariner and Virginia Living as well as the Historic James River plantations. Looking for something a little more upbeat? While nightlife doesn't reign supreme like other college campuses, students do enjoy Dog Street Pub. For the adrenaline junkies, the close by Busch Gardens awaits when you need a weekend of roller coasters and beer. No matter what type of student you are, whether it's hitting up the clubs or riding down roller coasters, W&M offers a little something for everybody.
Q & A
1. How much are students partying?
"I'd just say that students party hard, whether it's a frat party or at the bars, and then most often pull it back and spend hours in the library the next week," said recent grad Mona Noori-Moghaddam.
2. What do W&M students get in trouble for?
"The first answer that came to mind was, 'Nothing, I think?' Every now and then a party on campus might get shut down for being too loud, but other than that I really can't think of anything involving a student getting reprimanded for something in the two years I have attended William and Mary," said junior Megan A.
3. What is the hookup culture like at W&M?
"[Students are] very private. Most students also aren't into PDA, only holding hands while walking across campus, having picnics on the Sunken Gardens or giving each other a quick kiss before heading separate ways. However, a pretty funny account that has recently popped up on Instagram is @snakesofwm, which is just screenshots of people's funny attempt to hook up texts," said senior Emily G.
4. What would you tell incoming students about W&M?
"Don't forget to have fun. People tend to go pretty hard academically that they forget to have fun," said recent grad Ralph Geilker.
5. What's the one thing that you found surprising about your school?
"The culture. When prompted to disclose my reason for choosing William & Mary I always share my love for the community of students, staff and faculty. I am often smiling at strangers on tours at William & Mary, and around campus," said sophomore Alicia Draper.
Overall Experience
"It's phenomenal academically. The professors are amazing, I'm still in contact with some of my professor now four years later, they're very accessible and always excited to talk. It's small and traditional but in the end it's rewarding." – Ralph Geilker, Class of 2015
"I [won't] lie and say there were no hardships but I didn't graduate thinking 'I should have picked somewhere else' or ;I hated it.' I know it's a difficult school but the amount of stress the students put on themselves is not healthy. I also feel like the administration is starting to get better on some things but they still have a lot of room to grow especially with mental health services. The relationships and atmosphere between people here isn't something that can be replicated and that's probably what I love the most about the College." – Mona Noori-Moghaddam, Class of 2017
"One thing that ties all the students at the College together is that everyone is bursting with passion for what they do, whether it's their major, their job, or the weird club they joined on a whim freshman year. All that passion can mean things get high-pressure and competitive at times, but it also means that everyone you meet has an incredibly interesting story and perspective to share that's different from yours. While the campus is beautiful and the academics are undeniably top notch, the best thing about attending the College is the student body." – Emily Chaumont, Class of 2018
"My overall review of the school is actually a mixed one! Everyone is super passionate about what he or she does, whether it be education, civil rights, or sex education—and that is a great environment to discover your own passions in because you can find a variety of mentors and you can easily find people to connect with. However, William & Mary is not the most diverse school, both in student body and faculty, which has caused a few problems. Overall, I love William & Mary and think it is a great school, and I do not see myself fitting in anywhere else." – Emily G., Class of 2018
"I love being a student at the College of William and Mary. When I first chose to attend the College, it was because I was looking for a great, academically rigorous university and I fell in love with the exposed brick and historical charm of the College. Every professor I've had has challenged me to work harder and to confront information in new ways. The other thing I've come to love at the College is how passionate and involved every student is. I have loved being surrounded by people who care about such a diverse, interesting set of topics and who pursue their passions at such a high level. I can't see myself attending any other school." – Sarah Smith, Class of 2019
TOP 3 MAJORS
1. Business Administration and Management
2. Political Science and Government
3. Liberal Arts and Humanities
TOP 3 MOST POPULAR STUDENT ORGANIZATIONS
1. Improv Club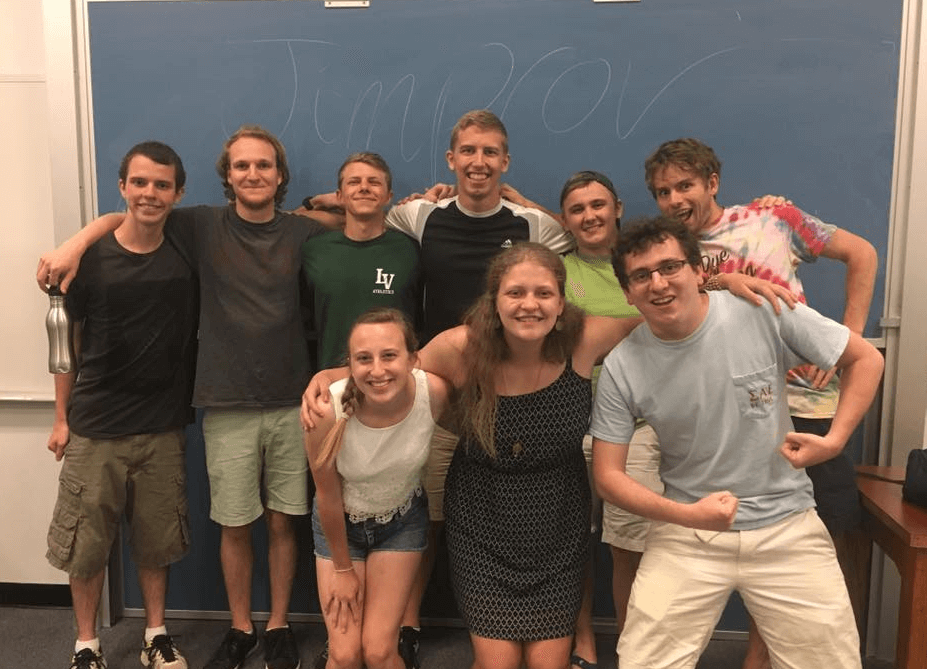 Founded in 1986, this is the oldest student-run performing arts group on W&M's campus. Each week students perform both short-form and long-form improvisational comedy as well as play improv games and improvise varying general skits. "We welcome newcomers one and all regardless of if you have experience prior or not, and we love to have people try us out," said junior Megan A. "It's been a nice way to unwind and get in some hilarity and fun amidst some fairly challenging courses and a pretty busy schedule, and the people in it are some of the best I've met during my time here. The atmosphere of the group is fairly relaxed and focused on having fun together."
2. Knot Your Granny's Yarn Club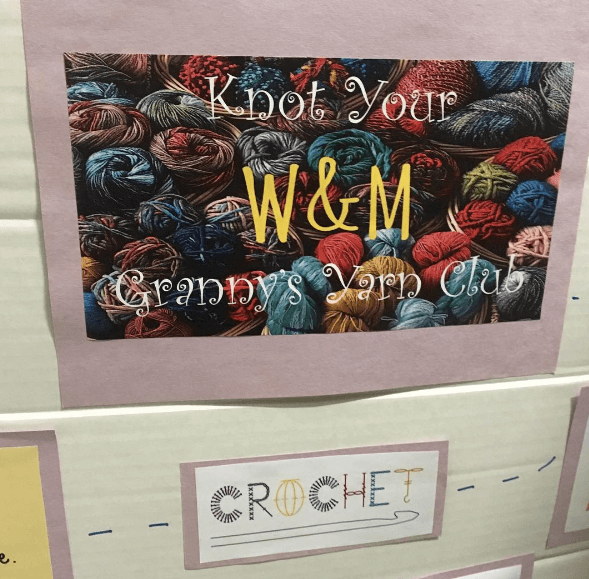 This one of a kind club promotes the art of crocheting and knitting and encouraging members to either learn or perfect their skills. It serves as a stress relief outlook while also serves as a community service opportunity. The completed projects get sent to local, national and international charities, such as Binky Control, an organization that helps neglected, abused and foster children. "It is important that while we have the hectic life of school, jobs, and other extracurricular activities to take a moment to ourselves to relax and create something that will help others," Co-President Sabrina Mayor said. "There were times when we crocheted while watching movies—we called it 'Yarnival'—[it's] a wonderful time to enjoy the company with the members who have ended up becoming my friends."
3. Smart Woman Securities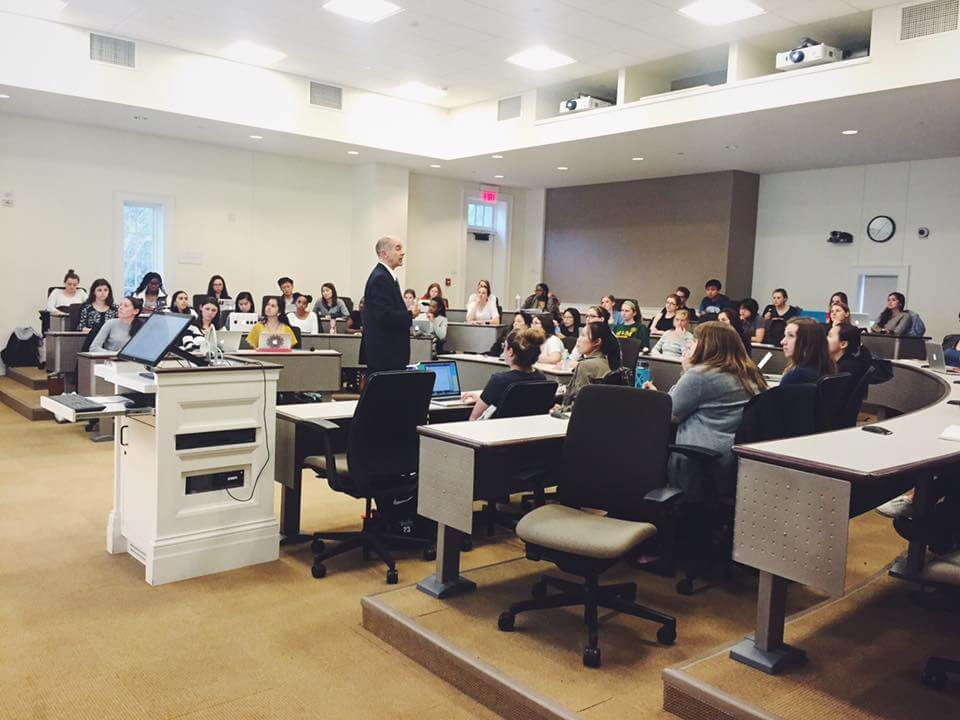 This not-for-profit organization focuses on educating collegiate women in finance and investing. You can only find this organization at 22 other universities and colleges in the United States including Wellesley, Yale and Harvard. They hold a 10-week seminar where the students learn about practical and hands-on experience in the investing world. "Our organization's goal is to promote financial literacy among young women of the College through guest speaker presentations & weekly seminars on topics such as credit card options, opening a savings account, etc.," Chief Financial Officer assistant Alicia Draper said. "[Smart Women Securities] has allowed me to get involved in the business school early, and network with older girls who genuinely want to help me achieve my long-term goals."
GETTING IN
Wondering about your chances of becoming one of the 5,153 accepted into the College of William and Mary? Having strong academics for this competitive school is important. Above average AP, SAT and ACT scores provide an added bonus to your application. Accepted students have a GPA average of about 4.19. Along with a high GPA, the college also takes a look at extracurriculars, so make sure to get involved during those high school years and stay involved. For both transfer and students applying straight from high school, it's advised that you spend time and effort getting recommendations and writing essays that will put yourself above the rest.
STATS
Location: Williamsburg, Virginia
Tuition & Fees: $13,978
Total Cost on Campus: $33,630
Undergrads Enrolled: 6,214
Grads Enrolled: 2,183
Total Enrolled: 8,617
Acceptance percentage: 37%
Percent Admitted who Enroll: 29%
Enrollment: 1,518
Percentage of Male Students: 51.9%
Percentage of Female Students: 56.5%
Percentage Receiving Financial Aid: 35%
Percentage Receiving Federal Grants: 10%
Percentage Receiving Federal Loans: 26%