Clemson University— Clemson, South Carolina
The Vibe
Small Southern town with big city opportunities
What it Feels Like to Go Here
Clemson exemplifies a typical Southern school, but with an academic focus. Break out your cowboy boots and brace yourself for orange-clad football fanatics. Tailgates and football games provide the center of student life but are also acutely family-oriented. Parents of students will transport full-blown grill sets to fill the masses with greasy hamburgers. The alumni network proves unbeatable because of these traditions, so get your LinkedIn ready to go.
On top of football games, Clemson students know how to relieve stress. With parties on Thursday through Sunday nights and bars lining downtown, expect a good time whether or not you get involved in Greek life. However, while students prioritize fun, their grades will always come first. The academics will surprise you, challenge you and consume you. Students will often tell you they were shocked by how rigorous the course load feels. So finding a balance between partying and studying will propel your career at Clemson. Overall, Clemson epitomizes all things Southern, including the style. An average girl will go from a cute orange sundress and pearls to an oversized t-shirt in a minute flat.
Awesome Alumni
Every afternoon, aspiring doctors, politicians, actors and celebrities flood Clemson's halls. These students go on to become leaders in their field, and make up an incredible alumni network. Nikki Haley graduated from Clemson with a B.S. in Accounting. She served in the South Carolina House of Representatives before being elected as the first female and first Indian-American governor of South Carolina. Haley is currently the United States ambassador to the United Nations under President Donald Trump.
Lucas Glover, another notable alumni, graduated in 2001 with a Bachelor's in Speech Communication. After receiving local fame for his golfing exploits while at Clemson, Glover turned professional. He went on to win the Gila River Classic in 2003 which earned him a promotion to the PGA Tour. Glover won his first PGA Tour in 2005 then went on to win the 2009 U.S. Open.
You'll also find Clemson graduates in pop culture. For instance, Shawn Weatherly majored in nursing, and in 1980, she won the titles of Miss USA and Miss Universe. Later, she starred as Cadet Karen Adams in the film Police Academy 3: Back in Training and as Jill Riley in the TV series Baywatch.
Lastly, Nancy O'Dell graduated summa cum laude with a Bachelor's in Marketing in 1990 after winning the 1987 Miss South Carolina pageant and competing in the 1988 Miss America pageant. She is currently the co-anchor of Entertainment Tonight and received an Honorary Doctorate of Humanities from Clemson in 2013.
Where We Hang
When students stop studying on Bowman field or hanging out in dining halls, they take advantage of the surrounding areas to blow off steam. With Atlanta and Charlotte a short drive away, Clemson gives you a small town vibe with big city opportunities. Catch a country concert in downtown Greenville or head to Gaffney's Outlets for shopping. On campus, the seats of the amphitheater and the area surrounding the reflection pond is definitely the most popular outdoor hangout. It overlooks the library bridge, one of the most prominent architectural features and what will pop up if you Google Clemson.
Generally, you will find students outside. Y Beach, a lake turned beach on campus, gets stuffed to max capacity by students taking a study break and getting some much needed sunshine. Recently, students have been hanging out at the Core, the newest dining hall on campus. The couch areas provide a comfy, casual setting with food only a few steps away. Schiletter represents a more standard dining hall, meant for eating or watching TV. Downtown, you have to go to Tiger Town Tavern, otherwise known as "Triple T." The drink deals change on the hour, but you have to stay for $6 Champagne.
Q&A
1. How much are students partying?
"In my personal experience, people party a lot, but it kind of depends on the person. Some of my friends go out four nights a week, but I only go out two nights. People usually go to frat parties and bars downtown," said freshman business major Dresden Moll.
2. What will you get in trouble for at your school?
"A lot of people get MIPs. If you decide to go downtown and happen to have a fake ID, a lot of people get them taken in a heartbeat. Campus police and City of Clemson police are super strict about alcohol," said freshman finance major Mike Caramello.
3. How much sex are students having?
"I would say probably 80 percent of [the] population are having sex. If people say they 'hooked up' at a party, it means sex," said freshman engineering major Noah Konsek.
4. What would you tell incoming freshman about your school?
"It feels like home. It's a pretty prestigious school, you're gonna have to work. It's not gonna be easy, but it's the place to be," said freshman engineering major Will Bettis.
5. Have you ever regretted going to Clemson?
"Not really. It's a bigger school with a small town feel which I like. I've only regretted the work. It's the hardest school in South Carolina, so hard work is inevitable," said freshman general engineering major Angus Roper.
Overall Experience
"I know a lot of people here, so it's fun, but classes are super hard. The workload is kind of insane. It's a little far from a big city to do fun stuff in, but football games are amazing." – Callie Bradshaw, Class of 2021.
"Clemson has been fun. It's definitely been a learning experience. It's very different from New York, where I'm from. New York is completely different. The weather is much warmer here, and it's not as fast-paced. It's more relaxed." – Chris Cox, Class of 2021.
"People down here are so welcoming and want you to feel at home. Even just on move in day, everyone is giving a helping hand. They want you to feel a part of things right away. I'm from New Jersey, so it's pretty hard being far from home. The hardest thing is definitely being away from my parents." – Alex Lis, Class of 2021.
"I enjoy the academic side and there's a lot of opportunities outside of school. You can do sports, clubs and Greek life. I think it's better than a private school because you get to broaden your horizons." – Cameron Ives, Class of 2020.
"I've honestly never been happier in my life. It's the people. The cultural differences and the different types of people I've met have definitely made it worthwhile." – Tannauz Rouhani, Class of 2021.
Top 3 Majors
1. Business Administration and Management
2. Biology
3. Marketing
Top 3 Most Popular Student Organizations
1. Catholic Student Association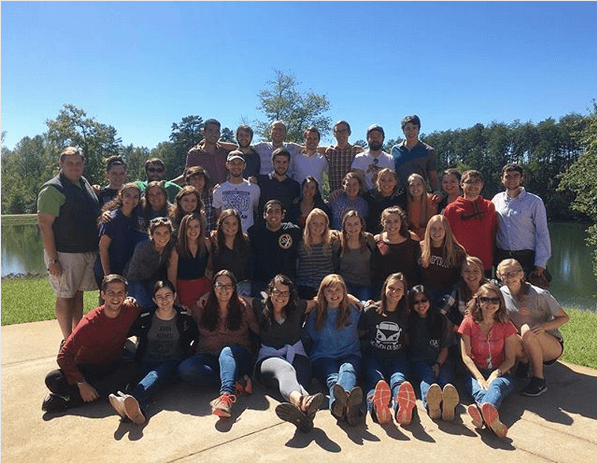 One thing you can count on when visiting the South is the ubiquity of religion. Southerners are not afraid to display and express their faith in every aspect of their lives. The Catholic Student Association serves as an outlet for Catholic students to meet and discuss their faith. Freshman nursing major Caroline Jansen said, "[CSA] has brought me closer to my faith and given me something to do with my free time at Clemson."
2. Central Spirit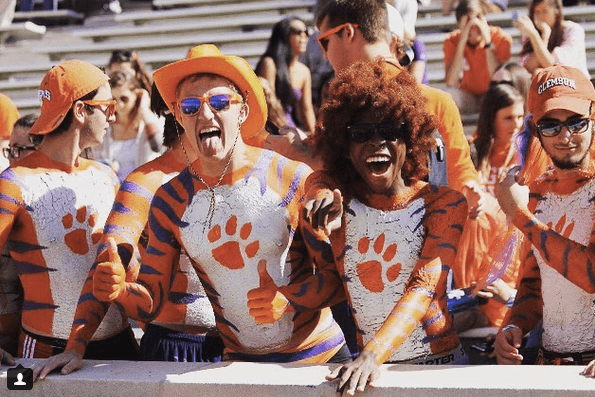 Central Spirit is essentially the hype squad of Clemson. They support Clemson athletics and uphold the school's traditions. You can find them at literally every sporting event in existence screaming at you to get on your feet. "[Central Spirit] has given me a family and group to be a part of on campus as well as some of my very best friends. It is always a fun and lively time whether we're at an intense football game, a freezing soccer game or painting windows downtown," said President Elizabeth Marks.
3. Fellowship of Christian Athletes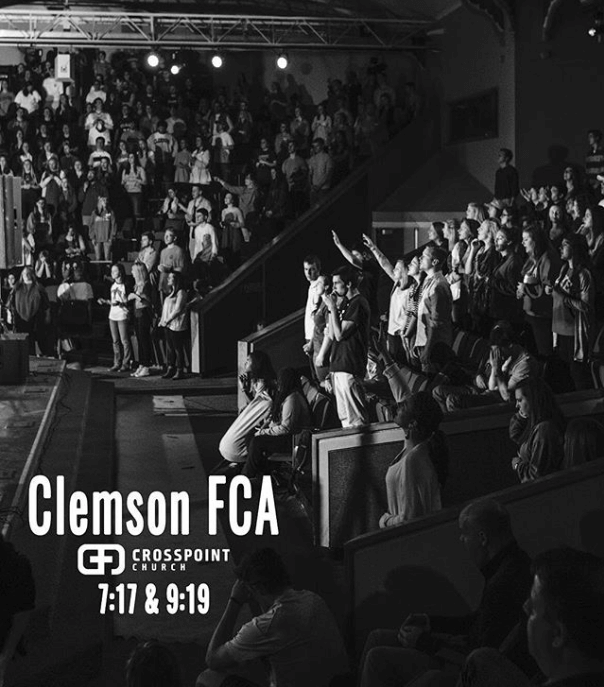 Remember when I emphasized the role of religion in the South? FCA is another chance for student to reach out to fellow students in the name of Jesus through campus mission teams. Junior Psychology major Rachel Demas said, "FCA became way more than a school club, it's my community and it's my number one priority outside of academics. It radiates positivity and encouragement and it's truly created a culture of love and kindness at Clemson."
Getting In
A good GPA and SAT score is only the first step toward getting accepted at a prestigious school. They prioritize students with strong creative, athletic and academic skills. Getting involved in extra-curricular activities and exhibiting a passion for a particular field or industry starting freshman year will make your application more interesting. The admissions office will notice if you joined all six of your clubs at the beginning of senior year. Clemson also looks for students with rigorous exploits in community service and an interest in bettering the world. Beyond that, recently, Clemson has reached international notoriety. According to an article published on The State, last year, Clemson welcomed 400 international graduate students, and their undergraduate class included students from Canada, China, Denmark, France, the Netherlands, Spain and the United Kingdom. Now you're competing against the world. Good luck, kid.
Stats
Location: Clemson, South Carolina
Tuition & Fees: $13,418 in state, $1,290 fees, $9,144 room & board, $1,308 books
Total Cost on Campus: $25,160
Undergrads Enrolled: 15,379
Grads Enrolled: 3,994
Total Enrolled: 19,373
Acceptance percentage: 58%
Percent Admitted who Enroll: 31%
Enrollment: 3,016
Percentage of Male Students: 55%
Percentage of Female Students: 45%
Percentage Receiving Financial Aid: 92%
Percentage Receiving Federal Grants: 21%
Percentage Receiving Federal Loans: 42%