Case Western Reserve University-Cleveland, OH
The Vibe
Diverse, academic private school in the city
What It Feels Like to Go Here
"Cleveland isn't your typical 'college town,' but it's great to have the option to go downtown and escape campus life," said junior Mary Katherine Miller. This small school on the shores of Lake Erie holds a unique appeal for the academically ambitious who flock to it. Students find themselves exploring the city's museums, Little Italy and cheering for the Cavs all in one weekend. "I love the fact that the campus is in a city but it still has a campus feel to it and is competitive but friendly as well," said sophomore Emily Molinich. "It is very up and coming and my friends and I are finding new places to go all the time." Cleveland often becomes the object of scorn as the "mistake on the lake," but residents and students have adopted and embraced the nickname as another source of pride in their school.
Awesome Alumni
With Case's brainy reputation, it comes as no surprise that many of the alumni found fame and fortune in the science and tech industries. Paul Buchheit (Class of 1998) created Gmail as Google employee #23. Buchheit also proposed the company's "Don't be evil" mantra. However, the Spartans find a home in the arts as well. Peg Murray (Class of 1945) took the Broadway stage in 17 shows, earning a Tony Award for her performance as Fraulein Kost in Cabaret. Suffragist attorney and federal judge Florence Ellinwood Allen (Class of 1908) broke barriers in law for women. The National Women's Hall of Fame in Seneca Falls inducted her in 2005.
Where We Hang
Case Western students need a place to hang and study, and that's why they head to the Peter B. Lewis Building. "PBL is a pretty cool place to hang out at Case, as it has lots of study rooms and all of the classrooms are open to study in if there isn't a class," said sophomore Abby McCoy. "There are really comfy chairs in the student lounges there." Once the dreaded study hours pass, students want to spend time exploring or relaxing. "My favorite place in Cleveland I have been so far is Ohio City, which is a cute market town. I discover new parts every time I go," said Molinich. For those with a sweet tooth, head down to Little Italy for Presti's or Corbo's. Although no one enjoys the required parallel parking, the fresh-made cannoli justifies repeat visits. Or if you just want a change of scenery, the Cleveland Botanical Gardens or the Cleveland Museum of Art become the perfect study spot after a quick stroll from campus.
Q&A
1. How much are students partying?
"There are parties if you know where to find them, but Case isn't a party school," said sophomore Abby McCoy. "You're more likely to find students hanging out with a close group of friends in their room instead of at raging parties."
2. What will you get in trouble for at your school?
"As long as you don't blatantly disregard the rules you'll be fine," said McCoy. But beware of Cleveland's crossing guards, "Crossing the street after the crossing guard tells you to stop will get you a whistle blown at you and probably make you late for class," said sophomore Angela Rui.
3. How much sex are students having?
"Sex is a pretty open subject and no one gets judged for having it or not," said McCoy.
4. What would you tell incoming freshman about your school?
"Choose friends that you can have fun with of course, but also make sure that have your back," said Molinich. "Choose friends that want to get involved at the school with and that you can study with."
"Don't take on more than you can chew," said McCoy. "Freshmen year is stressful enough without being in five clubs with 18 credit hours. Take it slow, there will be plenty of time to try everything later."
5. Can you describe some interesting quirks or traditions associated with CWRU?
"Before starting at CWRU, I had no idea what it was known for other than academics," said Miller. "The traditions that I hear about most are the Hudson Relays and different events, such as the Thwing Study Over and Springfest." These events allow even the most studious engineers-in-training to cast aside their MatLab and kick back for a few hours with free food and performances.
Overall Experience
"Your life there is what you make of it. It is a very studious place and there will be weekends where you are stuck inside studying. The social life at Case isn't lacking like many people say it is, but it's easy to focus on academics and still have a good time." – Emily Molinich, sophomore
"My college experience has been great. I've met tons of amazing people and grown a lot since starting college. I was surprised by how much people are willing to help you—students, professors, everyone." –Mary Katherine Miller, junior
"My experience at Case has been a really good one so far. Mostly because of how motivated the student body is and also the great friends I have made. Not only are they great possible connections for social networking, but also life long friends I can rely on. I can confidently say that the people and environment of Case is what makes it such a great school." – Vishal Patel, sophomore
"I feel that the diversity at Case is a lot stronger than most campuses, which is one of my favorite aspects of the school. I came from a town with very little diversity, so I really love being able to meet new people from all different backstories." – Maddie Hart, sophomore
"I would say that Case is definitely a place where people care more about E-Sports than real sports," said Patel. "Football games are a ghost town." But when the games end the stadium gains new appeal. "Go down to the football field, lay down and watch the sky. I always had a few friends who would do that on the weekends." – Abby McCoy, sophomore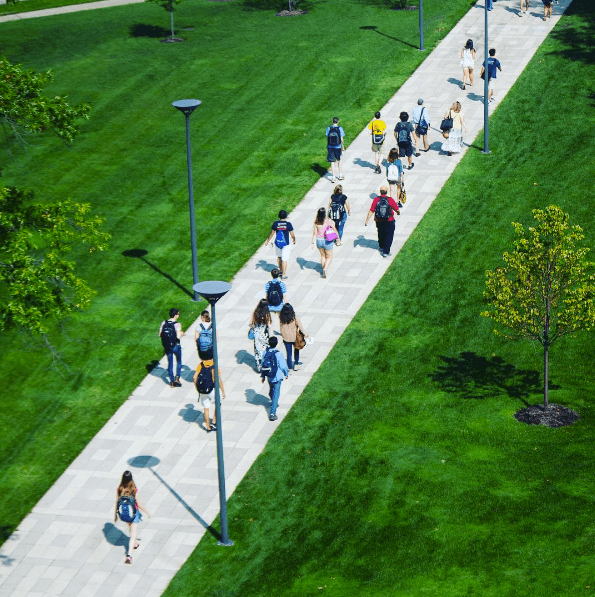 Top 3 Majors
1. Bioengineering and Biomedical Engineering
2. Biological Sciences
3. Mechanical Engineering
Getting In
Highly selective CWRU accepts only 38.3 percent of applicants. The application process requires two teacher recommendation letters, a school report including a counselor's recommendation, a high school transcript and SAT or ACT scores. Once admitted, most students stay, as the school has a 93 percent freshmen retention rate.
Stats
Location: Cleveland, Ohio
School Type: Private
Year founded: 1826
Student-Faculty Ratio: 11:1
92% of 2015 grads working, in school or pursuing other goals
$55,000-$59,999 median starting salary for recent CWRU grads
98% of undergraduates participating in hands-on learning (internships, co-ops, clinicals etc.)