The Vibe
Small, crunchy, social justice community
What it Feels Like to Go Here
The fact that the campus covers less than a few square miles combined with the tiny student body makes it so when walking around you usually know about 75 percent of the people you see on the path. You'll have professors who are truly passionate about what they teach—I had an environmental science professor who cried at least once a week in class because he cared so much about his students and his discipline.
If you know nothing about social justice now but go into the experience with an open mind, you will come out of freshman year far more woke than most of your friends from home. Getting involved with any sort of club or organization that does tangible, impactful social justice work is as simple as stopping by a meeting to ask how you can get involved.
Did you know girls outnumber guys? Beyond that, you'll find an incredibly warm and welcoming LGBTQ community as well. Homophobia at a frat party wouldn't be tolerated, which makes Brandeis pretty unique. Overall Brandeis has a very sex positive community— I personally ate more than three cupcakes decorated with frosting vaginas while I was there.
Important note: Brandeis brands themselves as not having any sort of Greek life on campus and does not formally recognize Greek organizations. But if you consider yourself a social person and like to go out at least once per weekend, Greek life will make its way into your experience. "Joining Greek life has helped me access a really close knit community of friends who are involved in everything on campus. It can be tough for some students to come to college with no set community of friends and joining SDT really made my experience as a freshman more fun," said junior Emilia Feldman. You'll find less than 11 Greek organizations total, and a few of them are Jewish organizations such as Alpha Epsilon Pi and Sigma Delta Tau.
Awesome Alumni
Did you know that the co-creators of practically everyone's favorite, Friends, David Crane and Marta Kauffman, met at Brandeis as undergrads? Noted civil rights and gender equality activist and scholar Angela Davis also calls Brandeis her alma mater since receiving her BA in French. As if that's not impressive enough, Broadway and television actress Debra Messing, earned her B.A. in Theater in 1990. Also, bestselling author of novels like The Time Keeper and The 5 Types of People You'll Meet in Heaven Mitch Albom earned his B.A. from Brandeis.
Where We Hang
Brandeis' prime location (only nine miles outside of Boston) and beautiful campus means that students have a choice of what to do both on and off campus. On campus, the Shapiro Campus Center (AKA the SCC) never feels empty, even in the early hours of the morning. And tucked away in the historic Brandeis castle (which currently undergoes renovations), the student-run coffee house Cholmondeley's, called "Chums" by students hosts student performances and concerts. This includes groups like Joan Baez, the J. Geiles Band and Tracy Chapman.
Many students take advantage of Boston, which sits right at their fingertips. Harvard Square has the best study spots, such as their bookstore and Starbucks, while Mass Ave in Boston gives students a place to shop and entertain themselves. "Moody Street in Waltham is great. (Lizzy's Ice-Cream is my favorite!) The campus also runs shuttles to Mass Ave, Comm Ave and Cambridge, so a lot of students get into Boston regularly," senior Lexi Ouellette said. "Also, the House of Blues has a lot of good, college-geared shows, but Brandeis brings performers for events like Spring Fest. T-Pain came last year, along with Metro Boomin and the Internet, which I'm excited for."
If you're planning on going out during the week a lot in college, you might want to consider another school—Sunday night through Thursday night people hang out in the library. But on Friday and Saturday nights you can usually find two to three frat parties happening in frat basements off campus. People involved with Theatre and Improv have the most dorm kickbacks, so if you're interested in making a smaller group of friends then auditioning for a production such as the Vagina Monologues might be for you.
Q&A
1. How much are students partying?
"Some people party quite a bit, and go out every day of the weekend, other people prefer to stay in, but I would say most people go to a party every once in a while," senior Gabby Potter said.
2. What will you get in trouble for at your school?
"Other than universal academic integrity rules, students are forbidden to smoke inside of residential halls or any building. Students are not even allowed to bring the smell onto campus because that is enough evidence to write them up to the Residential Advisor in which disciplinary action can take place," senior Christian Nunez said.
3. How much sex are students having?
"I'd say it's 50/50. There are people who hook up of course, and others who are in long-term relationships and others who aren't interested in that kind of thing," Ouellette said.
4. What would you tell incoming freshmen about your school?
"I would want people to know that [the administration may not always have your back], and I would want them to know that the best part of this school is the way many people have other people's backs and want to help them. I would want them to know that it's okay to reach out for help," said Potter.
5. Who's your favorite professor?
"I thoroughly enjoyed the legal studies classes I've taken with Daniel Breen (LGLS professor). He creates engaging, thought-provoking lectures on a variety of legal precedents and strives to help students succeed in his academic sections in ways that challenge us morally, not just academically," said Ouellette.
Overall Experience
"From what I see: Brandeis is a very close school with many open-minded people. Because it is so small, I will typically see the same people every day, which can be either a joy, or a curse. They are always open to new ideas, although Brandeisans have more 'bark' than 'bite' when it comes to their opinions and ideas. It can either be the best time of your life, or the worst: It will depend on your attitude towards it." – Josh Wine, Class of 2018
"Brandeis is a small community of generally like-minded individuals, gathered under the premise of social justice and seeking 'truth unto its innermost parts.' The academics are rigorous, there are more clubs than one person could imagine joining. With all that Brandeis offers, however, there feels like there are hesitations to engage with the unfamiliar and the uncomfortable. We're looking to grow brave, engaged spaces where folks can experience, learn and grow." – Lexi Ouellette, Class of 2018
"Brandeis is the type of place where everyone holds the door open for each other, and whether or not you're interested in your friends activities or majors you still go to events to support your friend and try to learn more about their interests simply to show them how much you care." – Emily Bisno, Class of 2019
"I have met the most amazing, kind, life-changing people in the world at Brandeis. I have learned more about myself and grown as a human being because of these people, because of my classes and professors, and because of the activist communities I've been a part of. Administration makes life incredibly difficult for students at Brandeis; they call themselves a social justice institution but isn't willing to help people thrive at school. Students are the heart of the school, and I'm so appreciative of all the labor and energy students put into helping other students and making this school a better place for all." – Gabby Potter, Class of 2018
"My experience has been rather interesting. I come from the city of Providence in the small state of Rhode Island. While attending Brandeis I have learned much about social issues and what causes impoverished communities to remain poor. The school has helped me understand where I come from and the obstacles my family and I has had to face." – Christian Nunez, Class of 2018.
Top 3 Majors
1. Biology/Biological Sciences
2. Economics
3. Business/Commerce
Top 3 Most Popular Student Organizations
1. A Cappella
"There are an overwhelming amount of a cappella groups on campus," said Ben Astrachan, a member of Brandeis's most popular all-male a cappella group, appropriately named VoiceMale. A cappella shows happen seasonally and make a fun place to meet up with friends before going out for the night. A lot of people go to them, so you'll definitely run into people you might have lost touch with at these. Auditioning for an a cappella group helps a lot of people on campus find their place as they tend to be pretty tight-knit. After all, we've all seen Pitch Perfect.
2. Theater/improve groups
Brandeis has a thriving theater community, made up of six different troupes that make up the Undergraduate Theater Collective. Each of the troupes specializes in something different—some are straight plays, and others, like Tympanium Euphorium, specializes in musical theater. "I think one thing that is unique about the theater community at Brandeis, and the Undergraduate Theater Collective in particular is the fact that it is completely student run," said senior Sarai Warsoff, 2016 president of Tympanium Euphorium. "On a campus that is all about social justice and being involved in what you are passionate about, the students themselves have created their own space to do just that through theater. Tymp is special in that we do musical theater, but beyond that the UTC functions true to its title, as a collective to the student body, and I think that's remarkable."
3. Spectrum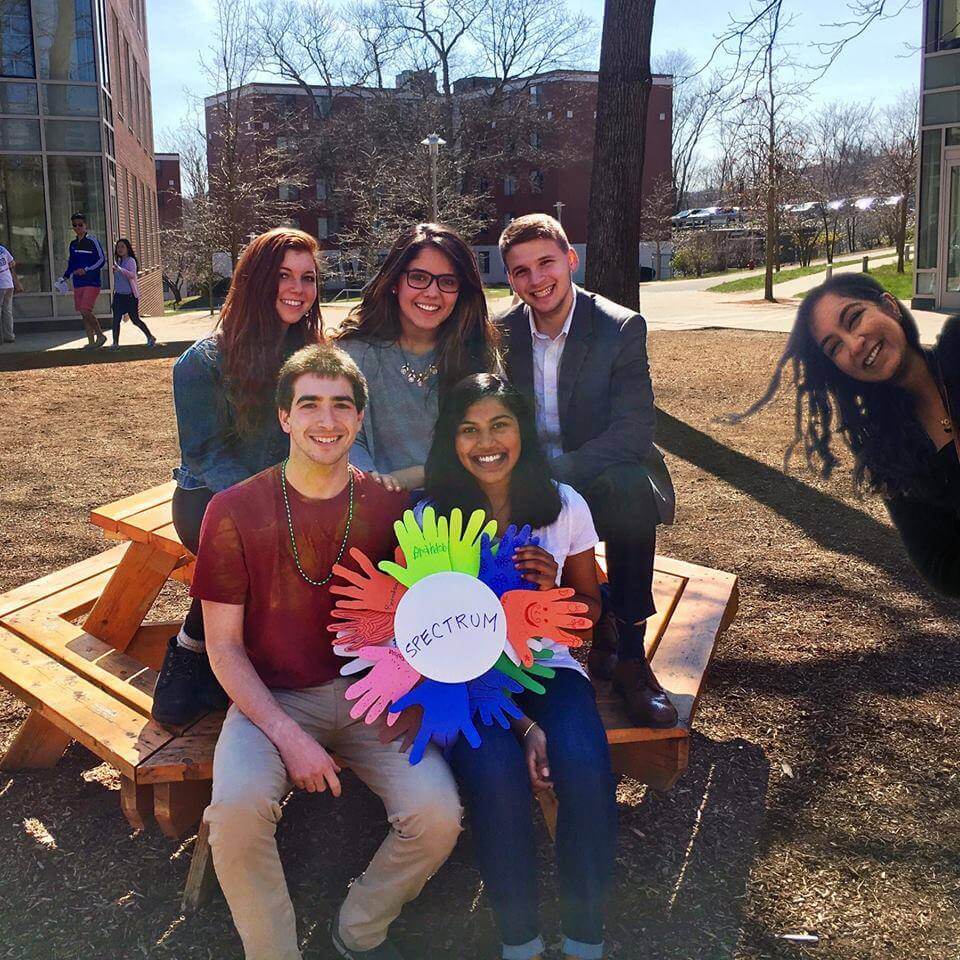 "Spectrum is a disability awareness group that works to build relationships and connections between the families of children with disabilities and Brandeis students. Through dance, movement, songs, games and other social and recreational activities, Brandeis students form close bonds with the children and their families while reaching out to the whole Brandeis community and the Waltham community," wrote Spectrum coordinator Madie Lefkowitz. Spectrum gets the whole community involved in their activism through events such as "Spread the Word to End the Word," where it brings in speakers to talk about the negative effects of using the R-word in daily conversation.
Getting In
Brandeis has high standards for their applicants as a selective school, but they care about the overall person behind the numbers. While your grades should be stellar with top-notch clubs and activities, the admissions office encourages students to participate in admissions interviews. They don't require them, but officers do want to see how an applicant will fit in at Brandeis' community-oriented school. They don't just focus on the kind of grades you'll receive. "Personal narrative is important here, students who bring something new to the table will be listened to," said Nunez. Admissions officers look for students who participated in tons of activities such as club members, volunteers and overall passionate people, who will positively contribute to the campus' community feel and social justice activism.
Stats
Location: Waltham, MA
Tuition & Fees: $49,586
Total Cost on Campus: $14,224
Undergrads Enrolled: 3,729
Grads Enrolled: 2,216
Total Enrolled: 5,945
Acceptance percentage: 35.2%
Percent Admitted Who Enroll: 24%
Enrollment: 5,945
Percentage of Male Students: 42.9%
Percentage of Female Students: 57.1%
Percentage Receiving Financial Aid: 52.5%
Percentage Receiving Federal Grants: 23%
Percentage Receiving Federal Loans: 55%