Virginia Polytechnic Institute and State University – Blacksburg, VA
The Vibe
Friendly, Football and Food
What it Feels Like to Go Here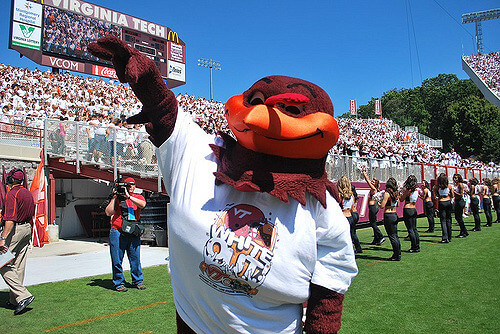 Imagine a combination of southern hospitality and Friday Night Lights football—that pretty much sums up Virginia Tech. Located in Blacksburg, Virginia, Tech's rural campus may sometimes feel isolated from the rest of the world. Tailgates become a day's endeavor—girls deck out in sundresses and cowgirl boots while guys wake up at the crack of dawn to start filling up their red solo cups with beer at frats. Football games include the whole community and they get wild. The entire stadium, covered in maroon and orange, jump up and down to the song "Enter Sandman" by Metallica as the players enter the field. The Ohio State Game was so powerful this past season, it came up as a level three earthquake on the Richter Scale.
Best of all, though, is the food. Students at Tech actually look forward to their meals, which isn't the case on most college campuses. "I do not look forward to going home…just because I love the food here so much. If I go home…there's not going to be anything at home that I'll want to eat," said freshman Joe Veirs. Most students own more VT gear than normal clothes and feel proud of their school, as many students are second, third or fourth generation Hokies. At Tech, you feel like you belong—the campus becomes your home and the community becomes your family.
Awesome Alumni
Virginia Tech's alumni ranks include people anywhere from sports ranks to TV stars. As starting quarterback, Michael Vick led the VT football team to an undefeated season in 2000 until they lost the championship to Florida State University. Vick moved on to the NFL; he played with the Atlanta Falcons and Philadelphia Eagles. Another VT alumnus football star includes DeAngelo Hall, who also played on the Atlanta Falcons and the Washington Redskins. Over in basketball, NBA superstar Stephen Curry's father Dell Curry attended and played basketball and baseball for Virginia Tech. Though not as well-known as his son, Dell did make it to the NBA. Aside from all the sports stars, VT's broadcast journalism program graduated one of the most recognized faces on American television today. Hoda Kotb, Kathie Lee Gifford's parter-in-crime on Today, graduated from Virginia Tech and moved on to work with CBS before landing her famous gig in New York City. Needless to say, VT's alumni look pretty star-studded.
Where We Hang
Most students make their best memories right on campus. During the week students typically hangout in the dorms. When it's nice out, Hokies will chill on the "Drillfield," which divides the academic and residential quads of campus. On the quad, you'll see students tan, do homework, play soccer, promote organizations or enjoy the beautiful day. At night, partying revolves around fraternities or clubs, located in the frat houses or the satellite houses. Another common hotspot for underclassmen is a Mexican restaurant called El Rods, where students enjoy the famous Jumbo Texas, a not so average margarita that comes in a giant salt rimmed fish bowl and offers seven different flavors ranging from lime to mango . Students can also walk to Downtown Blacksburg, which offers tons of restaurants like Jimmy Johns and Mello Mushroom, as well as cute boutiques. For off campus fun, students will plan hiking trips on the various trails or go to the Cascades, a beautiful waterfall just a short drive away. There's also a spot called the "Duck Pond." According to myth, if you take someone there on a first date, you'll live happily ever after.
Q&A
1. How much are students partying?
"There's a balance, some go too hard and some just aren't about it," said freshman Matt Severence.
"I'd say it's a mix, it's not like you have to join a fraternity…if you want something to do every single day of the week, you have to join one, unless you're just going to run out of so much money at the bars. But…a lot of people find things to do on the weekends that have nothing to do with drinking and stuff. There are just different things like…there's usually always…a show going on or something like that. But the party scene…it is like a majority fraternities, but there's also a nice bar life," freshman Josh Merryman said.
"Tech isn't really known as a bar school, at all…so it's pretty much all frats if you're under 21. But I think once you're over 21 you usually go to the bars downtown, but for us it's just completely frat parties, maybe like some athletic teams will have a party every once in a while," freshman Cassidy Deerin said.
2. What will you get in trouble for at your school?
"There's…quiet hours so like after 10 or 11 during weekdays and 12…on weekends…if you're too loud, if you're screaming or like blaring music they'll come up to you. Depending on the RA they might give you a CR right there…a CR is…[A CR is] called a conduct referral, so you can also get it obviously for like drinking in the dorms…just like the standard stuff like drugs in your dorm…My buddy actually got suspended because they were dealing weed in the dorms. Depending on the RA, because they obviously know… they were in your shoes last year, some…will just knock like, 'You got to keep it down, I don't want to have to come in,' [and] others will open up," freshman Joe Veirs said.
3. How much sex are students having?
"It is a big part of student life…From what I see [it's] mostly freshman…during the week there isn't as much [sex] as I thought there would have been coming into college. But the weekends it happens a lot…obviously this differs from student to student," Merryman said.
4. What would you tell incoming freshman about your school?
"I've totally sold them on the food, it really is so much more important than you realize…and I've told them that everyone is just really happy to be here. People are very willing to make friends, even the staff. I think everyone is just always in such a good mood all the time here…and I think that's such a good environment to be around," Deerin said.
5. Is the food actually the best in the nation?
"Yes…we make our own crepes, we can have steak everyday [and] we have an ice cream parlor," freshman Chris DeMaio said.
Student Reviews
1. "It's not always sunny down here, but when it's sunny it's just perfect…You'll see everyone on the field, playing soccer or Frisbee or something. It's really nice. I love it." — Joe Veirs, freshman
2. "I feel like I'm here with basically my family and that's it. Unless you want to travel like an hour or so away you have to have your fun stuff and make your memories at Tech. It's not like you can go to D.C. or some city or something like that…It just feels right, it feels like you belong here." — Josh Merryman, freshman
3. "For me, personally, I'm the 26th family member to go to Tech. [There's] just a lot of tradition I think in general. We're [a]…respectful school and very resilient which I just adore. You know every single person here has so much respect for the school and…everybody here is very prideful to be a Hokie and everyone seems to love it…There's just such a broad alumni base which is amazing and I think everybody is just so proud to be part of it, it's just a totally different culture." — Cassidy Deerin, freshman
4. "On average, do not come here if you want good dorm living your freshman year, but there's a lot of really nice options off campus."— Merryman
5. "What I dislike is definitely that it's so isolated…I think just for me growing up so close to D.C., and literally being fifteen to twenty minutes away from four different malls in every direction, was almost like a blessing and curse for me because I was so much more urbanized than I thought I was…Here it's just very, very different…I wish it was a little bit more urban." — Deerin

Top 3 Majors
1. General Engineering
2. Business/Marketing
3. Family and Consumer Sciences
Popular Student Organizations
1. Greek Life
Greek life is a pretty big aspect of Tech: Almost 4,500 students get involved which makes up 20 percent of the student body. Other than the parties and socials, Greek life at Tech focuses on community service and development as well as leadership and growth within its members. "Through Greek life, I'm involved so much more in college; socially, philanthropically…and even career wise. To go along with the rich brotherhood I am apart of, it has made me an all around more involved individual," said freshman Josh Merryman. "I'm doing so much more than I ever thought I would and I'm having a blast doing it."
2. The Big Event
The Big Event is a community service project run by the student body as a way to give back to the surrounding community of Blacksburg, Virginia. Around 9,000 students participate in about 1,200 different service projects. "This is our way, as students, to say 'thank you' to the families and homeowners in this area for graciously allowing thousands of college students into their home town for nine months of the year," Co-Director of The Big Event and junior Abbey Brainard said. "It's such a positive feeling to be apart of this organization, and definitely one of my favorite parts of being a Hokie."
3. Relay for Life
With 6,000 participants, Relay for Life at Virginia Tech is the largest in the country. This year alone, they raised $568,200 for the fight against cancer. The 12-hour event takes place on the Drillfield. "The most rewarding part of participating in Relay was seeing how many people came out to the event because it showed just how large of an effect Relay has…watching the survivor lap was especially heartwarming and inspiring because we could see those who have fought their battle or are still fighting have a lot of hope and will not give up," said freshman Alyssa Gilman.
Getting In
Instead of using the standard Common App college essay, Tech uses its own application consisting of five short-answer questions. One asks, "What makes you a Hokie?" which one student answered, "I look really good in maroon and orange." This helps Tech get to know you better as a person; they want to know why you think you belong at Tech and how you will represent their school. Even though GPA and SAT scores are important, Tech focuses more on your individuality, reflected in your extracurricular activities, involvement in the community and your responses to their short answer questions. "I definitely think that's what they look for: How you will help the community [and] how you will get involved," said freshman Joe Veirs.
Stats
Location: Blacksburg, Virginia
Tuition & Fees: In-state: $12,485; Out-of-state: $29,129
Total Cost on Campus: In-state: $20,711; Out-of-state: $37,355
Undergraduate Students Enrolled: 25,382
Graduate Students Enrolled: on campus: 6,792
Total Enrolled: 32,663
Acceptance percentage: 73%
Percent Admitted who Enroll: 38.7%
Percentage of Male Students: 57.1%
Percentage of Female Students: 42.9%
Percentage Receiving Financial Aid: 64%
Percentage Receiving Federal Grants: 46%
Percentage Receiving Federal Loans: 40%