University of Rochester—Rochester, NY
The Vibe
Compact, competitive community
What it Feels Like to Go Here
With only 707 acres, it only takes about 15 minutes to walk from one end of the campus to the next. The University of Rochester is a small school, both in size of students and of campus, but that doesn't mean you get the same breaks in academics and extracurriculars as you do with walking and knowing everyone's name. Students attend Rochester for their rigorous academics. "I would say it's a very competitive and stressful atmosphere. People are generally really stressed out in general at the school," Rochester senior Juliana Shanahan said. While academics might get students stressed out and seem competitive, the students themselves are known to be very kind and helpful to each other. The size of the school also makes it seem like a welcoming school because you get to know each other quicker. "So U of R is a pretty small school in terms of undergrad population, so walking around campus it's easy to see familiar faces and run into your friends," Rochester senior Lily Guo said.
Awesome Alumni
Famous alumni here include astronauts, Pulitzer and Noble Prize winners, scientists and researchers. Apple's senior vice president and chief software technology officer Avie Tevanian graduated here in 1983, before he met Jobs and started at Apple in 1997. Rochester even has historical connections, with the author of the original Pledge of Allegiance Francis Bellamy graduating in 1876. For some more recognizable names, American opera singer Renée Fleming, who is famous all around the world for her soprano voice, earned her Masters at Rochester in 1983. Actor Robert Foster graduated from U of R back in 1964, known for his appearances in The Descendants, Olympus Has Fallen and Me, Myself & Irene, and had reoccurring characters on Heroes, Last Man Standing and Twin Peaks. Actress Debra Jo Rupp also graduated a while ago, in 1974, but she still gets recognized today for her roles as Kitty Forman on That '70s Show and Alice Knight-Buffay in Friends.
Where We Hang
The University of Rochester dominates the town of Rochester, so students tend to stay near campus most of the time. If they do leave, it's usually to eat at the landmark Nick Tahou's Hots, where you earn the title of true Rochesteran when you try the famous "garbage plate." For nightlife low-key English pub The Old Toad hosts trivia nights that students frequent.
Students often run into each other at Wegmans, a 24-hour grocery store near campus that everyone uses from everyday groceries to late night munchies. For other late-night snacks, students hit up the elusive Uncle Dicky's food cart, which only appears at the fraternity quad on campus on Saturday nights, usually between midnight and 4 a.m.
"The Starbucks is really popular and the library. Honestly most people spend at least five days a week there. Off campus, this place called Javas. A super hip cool coffee shop downtown and lots of art and eccentric things on the wall. Not much to do in the city of Rochester honestly," Shanahan said.
Another popular place on campus, according to Rochester junior John Cole, is the Paul J, Burgett Intercultural Center, which includes the Language Center.
"It's the one-stop-shop and safe space for all students, particularly students of color or other students underrepresented in some way in the college setting. It provides conversational hours in all languages, has language textbooks available for use, lots of publications on social justice, race, LGBTQIA+ issues and much more for students to use," Cole said.
Q&A
1. How much are students partying?
"There are party's maybe every other weekend if you can find them. Otherwise you have to be in Greek life if you want to party," Guo said.
2. How is the school spirit?
"Average school spirit since our athletics are pretty bad," Rochester freshman Vlad Cazacu.
3. What are students wearing on campus?
"People wear a lot of Vineyard Vine—preppy—for the most part," Shanahan said.
4. What would you tell incoming freshman about your school?
"I would say be open-minded. There's going to be a lot of people from different backgrounds and experiences than you. It may be hard to adjust at first, but there's people there who do care. Putting yourself out there- both academically and socially- will get you where you want to be. Don't shy away from opportunities to socialize with others," Shanahan said.
5. How big is Greek life?
"It's very lax, much more so than south Greek life. Not so important but def the only form of social life we have on campus," Guo said.
Student Reviews
"Something that surprised me when I first started was how crazy smart everyone was. So many people were high achieving geniuses…People don't party nearly as much as at other schools, mostly just on weekend and at frat houses. Studies def come first for most people. It's a very small school, so if you hook up with anyone you end up seeing them the next day at class. My friends are amazing though so I don't wanna give [Rochester] too bad of a rep," Shanahan said.
"I am in Greek Life so my viewpoints are probably very different from someone who isn't but Greek life makes up 30% of the population, but it often feels bigger because we're also involved in other student organizations. We study aloooot, like our weekends are typically spent studying and when we're not studying we're at meetings for student clubs," Guo said.
"U of R, as said by the staff that has some experience with other universities, is a pretty stressful environment. The average student is doing at least a major and a minor and has a part-time job. You can feel a lot of pressure to do more than you do and you can easily hear people that are already doing a lot saying that they feel they are losing time. As of right now, there is a lot of anger and frustration over what's going on with the administration lately…There are parties every Thursday to Saturday and a lot of people go. As I mentioned, the stress level is high and there is a lot of studying and undergraduate research, ranking very high nationally," Cazacu said.
"Well Rochester climate is super chill. There isn't really much social pressure to party, although you do have a lot of people that go out to the frat quad, but it's usually the same people that go out every weekend so you eventually get tired of seeing the same crowd every weekend. Most students don't struggle much with having to balance their academic life and partying. As a major research institution, at least from my experience, I've never encountered the trite college kid who parties every day, doesn't study, etc. Most people tend to balance it out pretty well. I don' think we're so competitive. Most people keep to themselves and no one's really out to sabotage anyone like some schools," Obiya said.
"I love attending the University of Rochester because of how diverse and intersectional the student body is. Around 1/3 of our undergraduate students are international, which means on a campus of roughly 6,000, there are about 2,000 people from all over the world. I love being able to hear three different languages while waiting in line for coffee, or having the opportunity to practice my Mandarin Chinese firsthand outside of the classroom… I have loved my first three years here. The number of opportunities that the school provides you, no matter your passion, is unparalleled. This is the kind of institution that motivates all students to succeed academically, but more importantly pursue their individual passions. The resounding feeling amongst the student body, both domestic and international, is that Rochester is a place where they don't feel homesick. It is a place where they feel at home, and a member of a community. That's my sentiment as well," Cole said.
Top 3 Majors
1. Engineering
2. Biological and Biomedical Sciences
3. Psychology
3 Popular Student Organizations
1. Thestrals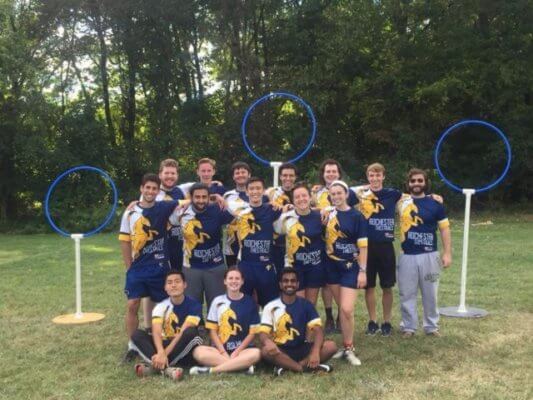 Based off the high-flying magical game in the world of Harry Potter, Quidditch has quickly swept across college campuses, and University of Rochester hopped on their brooms to join. The Thestrals started in 2010 and have fun practicing weekly, as well as competing in tournaments with colleges across the nation. "I didn't do many team sports in high school, and I thought the type of people who would also sign up for quidditch would be people I'm comfortable around. I tend to get a little shy in group settings but such a kind and inclusive group of people was a great way to help me break out of that shell in college," said Rochester Freshman Jayson Calvi. Most recently, the Thestrals won the Northeast Collegiate Division title this past fall. "I've involved myself in clubs of pretty much all shapes and sizes since coming to UofR, but I've never found a place where I can push myself to my limits while being supported both physically and socially as well as on the quidditch team," said Rochester senior Samantha Dinga. As for Rochester freshman Clara Kjelsburg, the Thestrals were about proving a point. "My Dad told me that I wouldn't find a club weirder than Juggling Club. I wanted to prove him wrong," Kjelsburg said.
2. Trebellious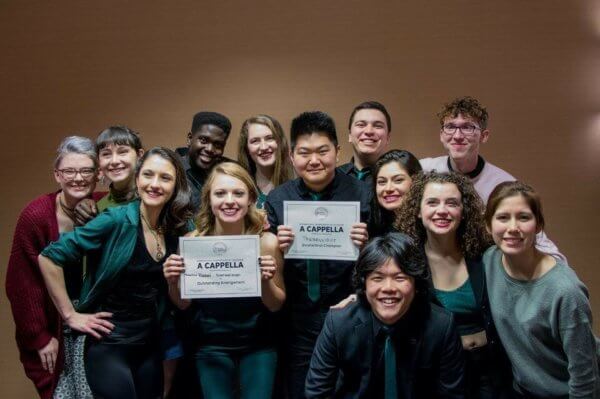 A cappella is a big thing on campus, and Trebellious only represents one talented sliver of the musical groups on campus. The student-run and directed co-ed group plays a lot of gigs on- and off-campus, as well as weekly workshops for any Rochester students who want to try a capella. Most recently the group took first place in the 2017 International Championship of Collegiate A Cappella (ICCA) competition. "It's a ton of fun. All groups are audition only, but Trebellious also has a workshop group that's open to anyone on campus that wants to participate. We meet for one hour a week and perform three songs in the semester show. It's super inviting and generally just a good atmosphere. All of the groups like to mingle together too, and we make a lot of friends between groups, and we usually go to everyone's semester shows as support," said University of Rochester sophomore Hannah Barnhart. If you want to live out any Pitch Perfect dreams, this is the group.
3. Black Student Union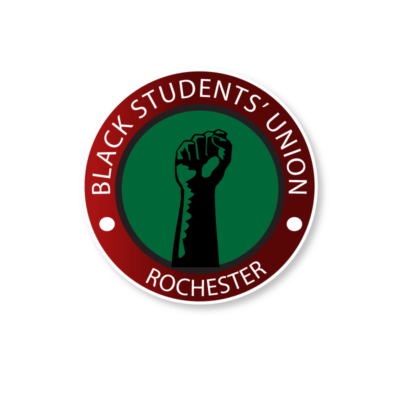 Established only 18 years after the school opened, U of R's BSU is one of their oldest clubs. The club is not exclusively for students of color, but open to everyone, in hopes of uniting cultures. They maintain a welcoming forum for students to express their views in a safe place. According to their mission statement, it is also important that they "foster the recognition of the educational and cultural needs of Black students at the University." Obiya, a BSU member, said clubs like BSU is a good way for students to get involved and feel connected to each other. "BSU is a great way for minority students at PWI's [predominately white institutions] to find a community where they can express themselves and learn from each other," Obiya said.
Getting In
Admission Coach David Richard has some unique advice on how to get in to the University of Rochester. "Being human, actually having fears and stresses, that is going to make you a better applicant and a more likable person in general. I see a lot of students are at the top of their class, a 4.0 and are really kicking butt, but they're perfectionist, they're wound very tight, and they have a lot of trouble every admitting a fault or a stress or a shortcoming. So everyone that interacts with them is affected by this angst," Richard said. "My advice is to focus on the process, do the best you can, but be comfortable with failure. People who really break through to entirely new levels are people who are comfortable with failure and show that they learn from failure. They show they know that success is a iterative process and if you're not failing, well you're not trying hard enough."
Like previously mentioned, Rochester students seek out clubs and ways to stay active on campus. University of Rochester seeks more of those motivated and involved students. Being a good match also means AP/IB classes look really good on a resume to match the academic rigor that University of Rochester provides. Lastly, be sure to demonstrate knowledge of the school. Rochester is unique and showing you know and care about the school will go a long way.
Stats
Location: Rochester, New York
Tuition & Fees: $51,090 per year (without housing) and about $896 in fees
Total Cost on Campus: Room and board at $15,324 a year
Undergrads Enrolled: 6,170
Grads Enrolled: 3,446
Total Enrolled: 11,126
Acceptance percentage: 34%
Percentage of Male Students: 50%
Percentage of Female Students: 50%
Percentage Receiving Financial Aid: 51%
Percentage Receiving Federal Grants: Unknown
Percentage Receiving Federal Loans: Unknown