St. John's University—Queens, NY
[toc]
The Vibe
Ball is life
What it Feels Like to Go Here
You can't be a true Johnny if you don't get hype about school sports. An apocalypse will come soon if a day comes when students aren't repping their red and white on campus—especially on game day. Aside from the sports scene, Johnnies love getting involved all while finding a good balance between studying and partying hard. St. John's can be a fairly selective institution, especially for certain programs. All St. John's students are required to take a course called Discover New York which gives them the opportunity to engage with the city and make it their home. Students dedicate themselves both to their work and their teams, and find that St. John's is the best place for both.
Awesome Alumni
The most notable graduates from St. John's University are—you guessed it—athletes. The school's athletics department has produced a lot of recognizable faces from their basketball court and baseball field. Lou Carnesecca, the basketball arena's namesake, is true St. John's royalty. A graduate from the 1950 class, Carnesecca went on to coach the St. John's basketball team for 24 seasons, making the post-season each one of those years. Ron Artest, more commonly known as Metta World Peace, led the 1999 St. John's team to the Elite Eight of the NCAA tournament. D'Angelo Harrison made his mark in Carnesecca Arena as a star guard when he led the Red Storm to the 2015 NCAA tournament as a senior. He holds the record for three pointers made in a career at St. John's. Stepping away from basketball, Joe Panik brought his talent from the St. John's baseball field to the majors. He was drafted by the San Francisco Giants in 2011 and won a championship with the team in 2014.
Where We Hang
Apart from on-campus sporting events, SJU students make their way to Citi Field to watch off-campus sports—AKA the Mets. With the stadium located in Queens, students only need to drive 10 minutes away from campus. Additionally, St. John's is only a short subway ride from Manhattan, where students can catch a concert or basketball game at The Garden. Closer to campus, students go local hotspots to unwind after a long week of classes. "There is a great pizza place by campus as well as a popular sports bar where many students like to hang out. Bell Blvd. is also a common area for students to go out over the weekends," said senior Jess Flynn. St. John's also has lots of surrounding bars that students like. "Students usually hang out at either Traditions or Parsons, two popular bars that are near the campus," said senior Lawrence Portuese.
Q&A
1. How much are students partying?
"I think it depends on whether you dorm or commute—St. John's has a huge commuting student body. From my experience, people who dorm tend to party more than students who commute, but I had friends who were out pretty much every weekend at parties or bars except for midterms/finals week," said alumna Marisa Kolanovic.
2. What will you get in trouble for at your school?
"You can get in trouble for having alcohol in your dorm room, as well as drinking in your dorm room, smoking in your dorm room, or staying past 3 a.m. in someone else's dorm room," said senior Lawrence Portuese.
3. What would you tell incoming freshman about your school?
"My advice to incoming freshman would be to stay on top of things and not take no for an answer. If your advisor tells you that you can't take a minor, get a second opinion from someone else. You will never have another opportunity to be a college student. Take advantage of the clubs/organizations on campus and don't be afraid to try new things," said senior John Bravo.
4. How much are students hooking up?
"The sign-in rule definitely made things more difficult, but in my experience with myself and my friends, people were only sleeping with people that they were dating or talking to and interested in," said former St. John's student Julia Quadrino.
5. How would you describe student enthusiasm towards the school's sports teams?
"Our school is very enthusiastic in regards to our sports teams. Our men's basketball team tends to draw the biggest student crowds, and our baseball team is also doing extremely well this season," explained junior Jess Flynn.
Student Reviews
"As a senior looking back on my time at this school I feel grateful for the opportunities this school has afforded me…The career fairs sponsored by the School of Risk Management put me in touch with the company that I interned and will be beginning my journey as a full-time actuary at starting in August. I will miss the friends that I've made and the opportunity to learn something new at every turn." – John Bravo, Actuary, Class of 2017
"I had a great experience at St. John's. I learned a lot about myself and what I will be doing in the future. I also gained a lot of great friends along the way." – Lawrence Portuese, Actuary, Class of 2017
"Honestly, I was pretty unsure about St. John's when I first started there, but in the end I had a very positive experience. I wish I had been more open-minded about it from the very start because I know there were a lot of opportunities I missed out on. Looking back, though, St. John's has so much to offer students and I'm very thankful for my experience at St. John's University." – Marisa Kolanovic, Speech Pathology, Class of 2016
"For those who are only interested in a job, sure SJU will provide ample opportunity to 'get a job'. But I've come to realize that college is so much more than that. It should not be a monotone pursuit of a job, but rather a formative part of your life. I got involved, and fell in head over heels. The results have meet and surpassed every expectation that I had, and have no doubt prepared me for a 'job' but also made me a better person, and have given me things that other people do not have, namely perspective and a truly unique story to tell." – Yougnand Paul, Accounting, Class of 2018
"Overall, I have had a very good experience at St. John's. Your college experience is what you make of it. When I was having a difficult time with class schedules and commuting, I decided to change my class times to avoid rush hour as much as possible, and I benefitted tremendously." – Jess Flynn, Finance, Class of 2018
Top 3 Majors
1. Business
2. Management
3. Marketing
Top 3 Most Popular Student Organizations
1. Redzone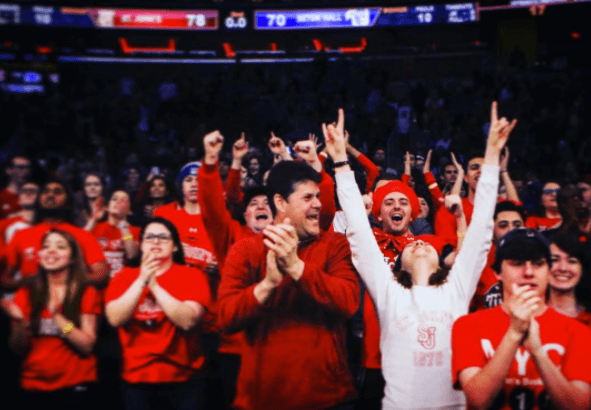 The student section at St. John's is one of the rowdiest student sections in the Big East. Redzone is the number one function of the School Spirit Committee of Student Government. They organize "storm shuttles" to bring the noise to away games. "There is nothing better than a full student section standing and chanting together, helping lead our team to victory," said Redzone President Brendan Eugene.
2. Pep Band
If you go to a school full of sports enthusiasts, you need a fantastic pep band. The band keeps students excited and entertained during games, playing popular songs that the crowd can recognize. "Pep band is a cool opportunity to be involved in St. John's athletics without actually playing a sport," said Marisa Kolanovic.
3. Haraya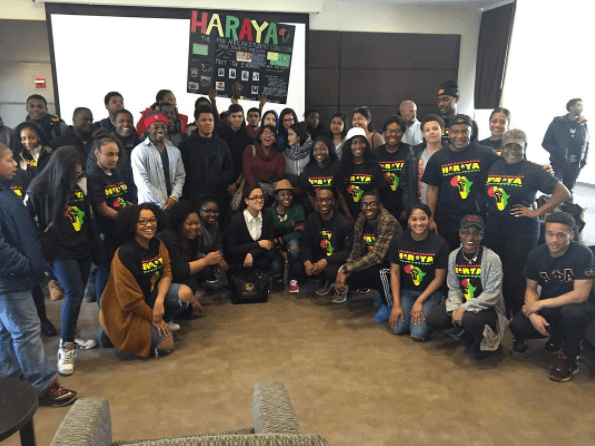 Haraya is the Black Student Union at St. John's. This extremely popular organization strives to be a voice for all students of color on campus. "Haraya brings together people of different cultural backgrounds and upbringings, with the same end goal of creating an uplifting community," said Haraya secretary Alexis LiDonde. Haraya is a Swahili word that translates to pride, dignity and freedom.
Getting In
St John's looks for students who find their passion in multiple areas. When applying, express these passions in your essay. Showcasing how you will apply those passions both in the classroom and in campus organizations will benefit you throughout the application process. As far as academics go, the average SAT score of accepted students is an 1800 for math and critical reading, and the mean composite ACT score is 25. St. John's admissions accepts for an average GPA of 3.5.
Stats
Location: Queens, New York
Tuition & Fees: $38,680
Total Cost on Campus: $57,429
Undergrads Enrolled: 16,210
Grads Enrolled: 4,235
Total Enrolled: 20,445
Acceptance percentage: 78
Percent Admitted who Enroll: 18.05%
Enrollment: 3,253
Percentage of Male Students: 43%
Percentage of Female Students: 57%
Number Receiving Financial Aid: 8,466
Percentage Receiving Federal Grants: 43%
Percentage Receiving Federal Loans: 95%