Kenyon College—Gambier, OH
The Vibe
A hipster's dream come true
What it Feels Like to Go Here
Walk down that famous Middle Path and you'll immediately feel like you're going to Hogwarts in the middle of rural Ohio. Kenyon's idyllic campus is ideal for sitting outside and getting in your latest Shakespeare or Karl Marx reading. The Kenyon College campus even made our ranking for most beautiful campuses.
Kenyon College hosts the prestigious literary magazine The Kenyon Review, so it's no surprise that English and creative writing are a large fabric of Kenyon. You'll see many spots spread around the campus that'll allow you to sit and craft your latest short story, poem or great American novel. The student faculty ratio is 10:1, so students build close relationships with their professors. Consider spotting a student philosophizing with his professor at the nearest coffee shop or on the Middle Path the norm.
Awesome Alumni
Anyone who dreams of becoming the next J.K. Rowling or New York Times bestselling author should consider calling Kenyon home for undergrad. Some of Kenyon's famous authors include Young Adult author and Nerdfighter John Green (ever heard of a little book named the Fault of Our Stars?), YA author Ransom Riggs (anyone watch the recent Tim Burton blockbuster Miss Peregrine's Home for Peculiar Children?) and nonfiction writer Laura Hillenbrand (Angelina Jolie directed her WWII biography, Unbroken, about hero Louis Zamperini). It also calls hilarious actress Allison Janney from West Wing, actor Josh Radner from How I Meet Your Mother and Hollywood legend Paul Newman alumni.
Where We Hang
Peirce Dining Hall, where students work and meet up with friends, is the Hogwarts version of the Great Hall. Gund Commons and Gund Gallery are other great hang-outs, especially during the spring when it's acceptable to relax on the grass with a blanket or casually play Frisbee with friends. If you head into the very small town of Gambier, you'll find students chatting over a cup of coffee at Wiggins Coffee. The Kenyon Athletic Center (KAC) is the gym college students dream about for days. Students also inhabit the Gambier Deli, Peirce Pub and the VI.
Q&A
1. How much are students partying?
"I can't speak for everyone, but from what I know and experience most people go out on Friday and Saturday. Some people go out on Wednesdays, but that confuses me. I'm not a big partier honestly, but a lot of parties happen at frats and sororities, mostly cause they have the space for it. They tend to be pretty inclusive, so you don't really have to worry about getting in to a party," said freshman Gabrielle Ivanier.
2. What do Kenyon students get in trouble for?
"We have very strict fire codes in a lot of the older dorms because we've actually had some of our historic dorms burn down in the past. I would say that most students get cited for some fire code issue at least once whether it be for having a tapestry that covers too much wall space or a candle is found in their room," said sophomore Jenna Bouquot.
3. What's the hookup culture like at Kenyon?
"From what I've seen, the college has everything from free contraceptives and dental dams in the women's center (Crozier House) to sexual misconduct advisors who are there if anyone wants to talk about any unpleasant sexual situations, even just for a painful first time. The school takes consent very seriously and almost everyone does here as well and that bleeds into the hookup culture," said freshman Kristen Edgeworth.
4. What would you tell incoming students about Kenyon?
"Get involved, but don't succumb to the pressure of getting involved in everything. It's important to partake in extracurricular activities that you enjoy, but at the same time it's easy to fall into the mindset of 'I'm not doing enough, everyone else is doing more than me, I need to do more.' I promise, you're probably doing plenty. Don't overcommit. Balance is key," said sophomore Hannah Anain.
5. What's your favorite thing about Kenyon?
"My favorite part of Kenyon has to be the sense of community here. It's such a small campus and placed in such a little village that everybody (students and professors) gets to know each other so well, which I love! It really contributes to a huge sense of belonging that I couldn't find anywhere else," said freshman Jessica Lane.
Overall Experience
"I love being a Kenyon student. This being said, I've found that Kenyon isn't so wonderful simply because it's easy. If you really dive into all this school has to offer you in terms of academics, making friends with interesting people from all walks of life and campus organizing for social progress on the Hill, you'll certainly find yourself growing and changing in a beautiful way. The average student here is under a good amount of stress. However, it's that stress that pushes you to achieve all you can achieve, and grow in ways that you couldn't imagine before coming here." – George Costanzo, Class of 2019
"My experience at Kenyon so far has been incredibly transformative. Academically, I've come to a place that values personal growth over competition, which has made me a more confident and inquisitive student. Socially, I've been able to meet so many wonderfully, unique, interesting people, all with diverse perspectives. There can be a lot of social pressures on such a small campus (you spend a lot of time having to be 'on'), but the friend I've made and experiences I've had are so worth it." – Bess Amelia Yeager, Class of 2020
"Being undecided is a little overwhelming at times, since there are so many options and not nearly enough time to try them all, but I think that's the fun of it. At Kenyon, I'm free to try nearly anything I'd like, and the reasonable distribution requirements make it guilt free. It's magical."– Chloe Hannah-Drullard, Class of 2020
"As a senior at Kenyon, a small, isolated private college amidst the rolling hills and cornfields of Ohio, I have learned how easy it is for students to ignore reality outside of this bubble…This year, however, I realized the deep importance of making time and embracing the discomfort of speaking out. After the election, anyone walking down Middle Path could feel the disbelief and grief that engulfed the campus…While classes remain a priority, more students are trying to make time to get directly involved in the fight for environmental and social justice."– Emma Schurink, Class of 2017
"The Kenyon experience was actually like I wanted my high school experience to be. I was accepted and liked and I made friends quickly, and we did fun things together. I know that sounds like a silly thing, but I moved around a lot in high school so I never really had those basic wonderful experiences, inside jokes and sense of community. Kenyon always felt magical to me. I still think of it as home. I met my best friend there." – Emma Sage, former Class of 2020
Top 3 Majors
1. English Language and Literature, General
2. Economics, General
3. Psychology
Top 3 Most Popular Student Organizations
1. Her Campus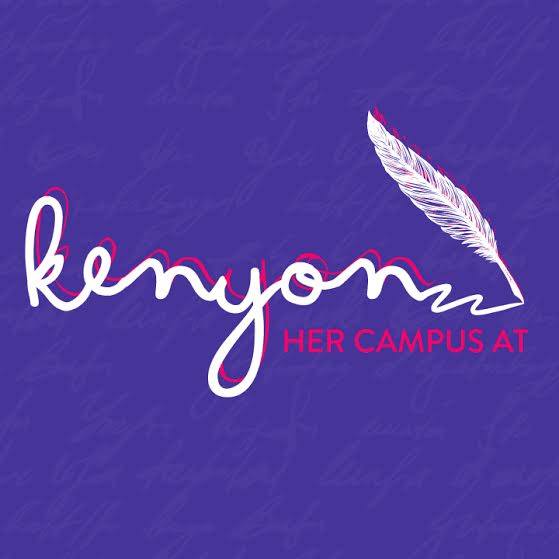 Written by female college journalists, this internationally recognized blogger network publishes everything from features to entertainment to news. "I love being surrounded by other women writers…and I love the freedom of being able to write whatever I'd like and knowing it will be published and read," sophomore Hannah Anain said. "All-girls publications like Her Campus are excellent platforms for young women to have their voices be heard, no matter what they are saying."
2. Indigenous Nations at Kenyon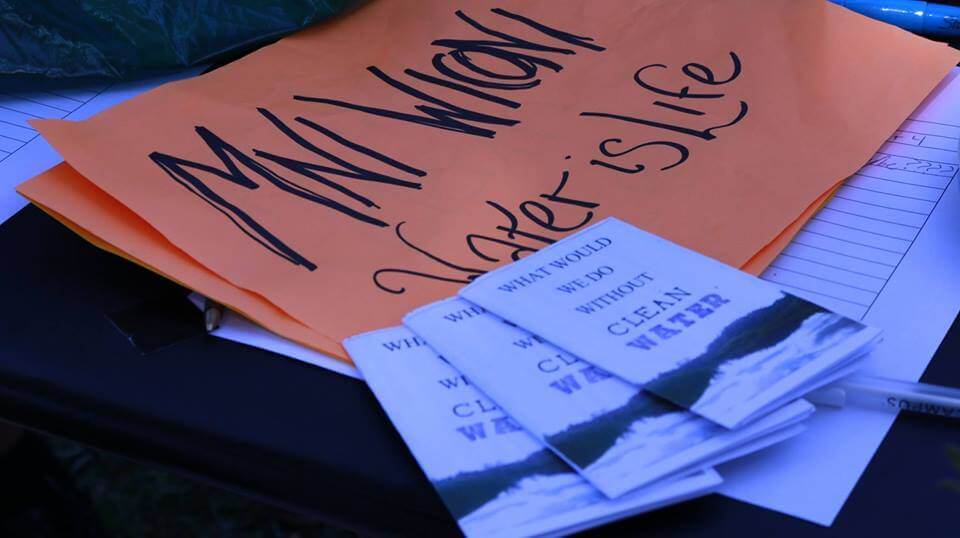 Many organizations, like INK, participate in social activism, even if the campus located in the rural Midwest. With the NoDAPL protests at Standing Rock, this organization, along with the Environmental Campus Organization (ECO) is gaining recognition on its work to support indigenous communities. "Five students and I spent a week in October at the Oceti Sakowin camp in North Dakota, participating in direct actions, helping in the kitchen and learning from the people at the heart of the movement," senior Emma Schurink said. "Back on campus, we were reminded of the isolation and privilege we experience on the hill. INK and ECO shared what we had seen and experience with the campus and continued to raise awareness."
3. A Cappella
Kenyon has 10 a cappella groups that represent different spectrums of music, from pop to jazz to classical. "I would describe the a cappella culture at Kenyon as a supportive environment of people making music and learning from each other," said senior Deborah Malamud, Co-President of Chasers. "I love being part of an a cappella group because it allows me to sing and be engaged in music education (through creating arrangements and teaching/learning them) in a social setting. It feels good to work towards something with a group."
Getting In
An interest in the liberal arts is pretty much required. You need strong reading and writing skills, even if you decide to major in the sciences. Kenyon's curriculum and reputation revolves around writing (even in a chemistry class), so you must be a strong writer and a critical, creative thinker. Expect the admissions team to hold your essays in a high regard (though it's not the most important factor). For standardized tests, Kenyon wants either the SAT (with a 1230-1420 range) or ACT (with a 28-32 range). A Kenyon alum in your area will also most probably reach out to you for an interview, which can only help your application. Overall, the admissions team takes a personal approach to the application process, focused on intimately learning about each applicant.
Stats
Location: Gambier, Ohio
Tuition and Fees: $49,220 tuition, $12,130 room and board, $1,980 student fees
Total Cost on Campus: $63,330
Undergrads Enrolled: 1,650
Grads Enrolled: 0
Total Enrolled: 1,650
Acceptance Percentage: 25%
Percent Admitted Who Enroll: 27%
Enrollment: 1,650
Percentage of Male Students: 45%
Percentage of Female Students: 55%
Percentage Receiving Financial Aid: 55%
Percentage Receiving Federal Grants: 8%
Percentage Receiving Federal Loans: 29%