Haverford College—Haverford, PA
Also written by Tanjeen Twinkle
The Vibe
Rigorous study meets chill fairytale campus
What it Feels Like to Go Here
Walk on glossy grass, brush your hand past pink tulips, then sit under the sun and take in the campus' beauty for hours. Haverford College boasts a healthy learning environment with a tight-knit student community that will help you succeed. Forget about overly-competitive schools. You longed for peers with a good balance of hardworking yet caring qualities and you got it the moment you enrolled at HC. The description sounds like a fairytale, and it feels just like that to HC students. Explore this small but studious college that makes you think its landscape must have leaped off the page of a children's book.
Haverfordians come willing and prepared to meet new friends their freshman year. The dorms match up like-minded students from the very beginning. Customs, a.k.a. groups that stay together throughout freshman year, live in a designated dorm hall and participate in activities and discussions to foster a sense of community. Seventy percent of students at Haverford have single rooms. If you opt for a roommate, HC relies on a questionnaire to find your best-fit partner. That dreaded freshman year roommate you've heard about won't ever creep into your life. Though the option stands for students to live outside of campus, almost 100 percent of students live on campus at Haverford, and that shows more than anything the accommodations suit college students' craziest needs.
Awesome Alumni
In its many years, Haverford has turned out a whole host of famous alumni. Dave McAlister Barry, class of '69, wrote a nationally syndicated humor column for The Miami Herald for 22 years and won a Pulitzer Prize for it. Mark Hudis, class of '90, went on to write for a variety of TV shows like Cybill, That '70s Show, Nurse Jackie and True Blood. Other alumni followed a more star-studded track, including George Segal, who became an actor after graduating in 1966. Segal starred in films like Where's Poppa?, Blume in Love, California Split and Who's Afraid of Virginia Woolf? The last earned him a Golden Globe nomination in 1967 for Best Supporting Actor. Haverford's noteworthy alumni trend even stretches back to the early 1900s. Biblical scholar, Quaker historian and writer Henry Joel Cadbury accepted the 1947 Nobel Peace Prize as a representative of the Religious Society of Friends. He also founded the American Friends Service Committee.
Reach out to HC alumni at any time for much-needed advice or just to get to know them. HC alumni stay connected to the school long after graduation. Simply visit their Facebook page to see what they're up to or get a glimpse of where you might go in the future.
Where We Hang
This liberal arts school will never feel tiny or tucked away. The students always find plenty to do both around campus and off it. HC sits on the very edge of suburbia, looking off into the sea of lights that make up Philadelphia. Freshman Claire Cai said, "There's the wonderful towns of Ardmore and Haverford where students visit for food, shopping or just hanging out with friends. Restaurants such as Maids and Poke Ono are quite popular." Ardmore and Haverford both claim the same beauty as HC's college grounds, with shops offering everything you could want. Go to Haverford Square with all its cute boutiques one day and end up at Suburban Square for events like the Ardmore Rotary 5K Walk and Run the next.
Plenty of spots to visit exist on the HC campus as well. "Lunt Café is a student-run cafe that serves snacks and drinks like paninis, milkshakes, nachos … It is a great place to de-stress (they have some fun games like Jenga), talk to other students and listen to good vibes coming from the cafe's speakers," senior Marco Ferro said. Stop by for a supportive atmosphere reflecting the nature of HC students.
Q&A
1. How much are students partying?
"Students at Haverford are pretty focused on their academics and long-term goals. However, there are plenty of students who go out Thursday–Sunday. There are a lot of colleges nearby, so the bar scene is pretty exciting on the mainline. While I would say academics are the primary goal, students also know how to enjoy themselves," senior Michael Schwarze said.
2. What will you get in trouble for at your school?
"We have an honor code that consists of two parts: the Social Honor Code and the Academic Honor Code … It is a huge part of the fabric of our community, which is built on values of trust, concern and respect," freshman Jesse Friedson said.
3. How much sex are students having? How is safe sex encouraged on campus?
"The Women's Center had a whole sex positivity month and there are free condoms everywhere, both in the dorms and in the center itself … This is unofficial but one of my CPs (upperclassmen who live in the hall with us and lead customs) did a 'how to use a condom' tutorial," Friedson said.
4. What would you tell incoming freshman about your school?
"I would want them to know they are welcome here and that I look forward to having them in our community," junior Ceci Silberstein said.
5. What is it like to attend Haverford as an international student?
"My first contact with Haverford was through International Student Orientation … There were students from everywhere around the world, some more jet-lagged than others, with one thing in common: We were excited to start a new experience together," Ferro said.
Student Reviews
"As a varsity athlete on the women's fencing team, I found that my teammates are incredibly supportive. We constantly look out for each other and encourage each other to excel (in practice and out of practice), much like how Haverford students on a whole do. I guess in summary, my experience so far has been very nurturing and supportive." – Claire Cai, Class of 2021
"Haverford has been extremely welcoming, both because of the spirit of the community as a whole and our Customs program." – Jesse Friedson, Class of 2021
"I've really appreciated the intentionality of community building. I was a little scared of how friendly people were at first because I didn't know how to make sense of it. But what I learned really quickly was people just really, genuinely want you to feel welcome and to help you understand how things work at Haverford and how to be a good citizen of the school." — Ceci Silberstein, Class of 2019
"My whole life, I have gone to international schools and have been in class from everywhere around the world. I wanted to find a similar environment also for college. After the first day and the [International Student Orientation] meeting…I already had the feeling I was in a place that could be a good fit for me." – Marco Ferro, Class of 2018
"Haverford is amazing! When I first came to campus I was immediately drawn to its beauty. The campus is an Arboretum with more than 200 different species of plants and hundreds of acres of trees. For a school with a relatively small student body, it has an incredible amount of open space. It is beautiful in the dead of winter and during the hottest summer months." — Emily Rose, Class of 2020
Top 3 Majors
1. Biology
2. Economics
3. English
Top 3 Most Popular Student Organizations
1. Fords Against Boredom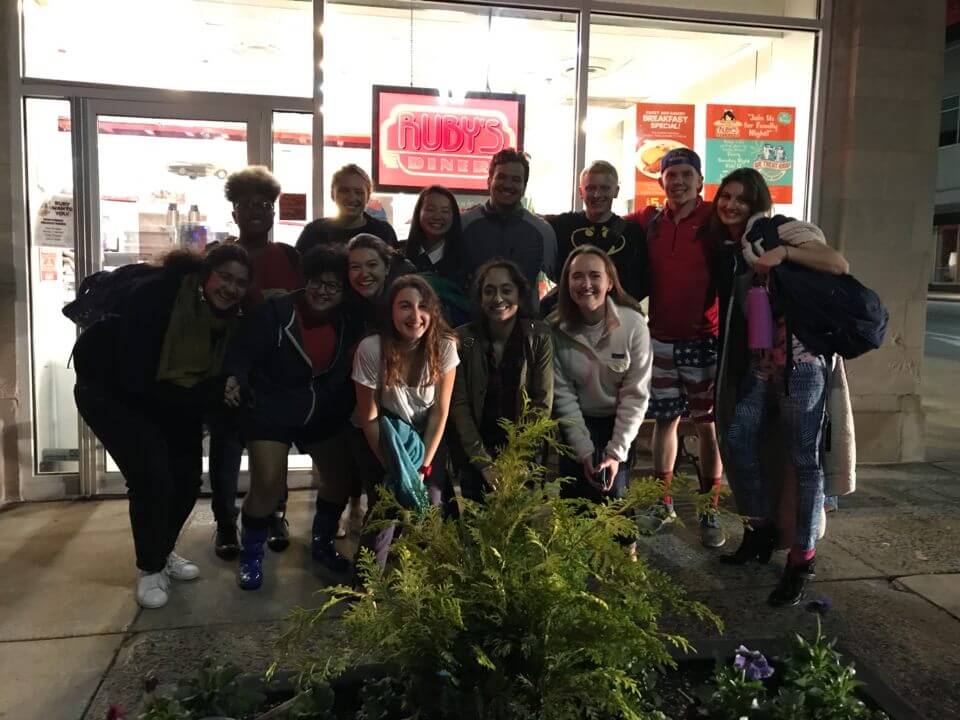 Meet new people and participate in awesome activities easily with the help of Fords Against Boredom (FAB). Fifty percent student networking club and 50 percent a space to relax and have a ton of fun, this club offers a unique experience. Select from a new event every week to get together with other 'Fords and try new activities. "[FAB] plans a lot of really cool activities. Most recently [this includes] Go Karting and Laser Tag. They also did Ben & Jerry's Bingo and Midnight Breakfast during finals week," Friedson said. Don't let the pressure of studying 24/7 get the better of you. Join your fellow 'Fords and get ready to have an amazing time.
2. Federation of United Concert Series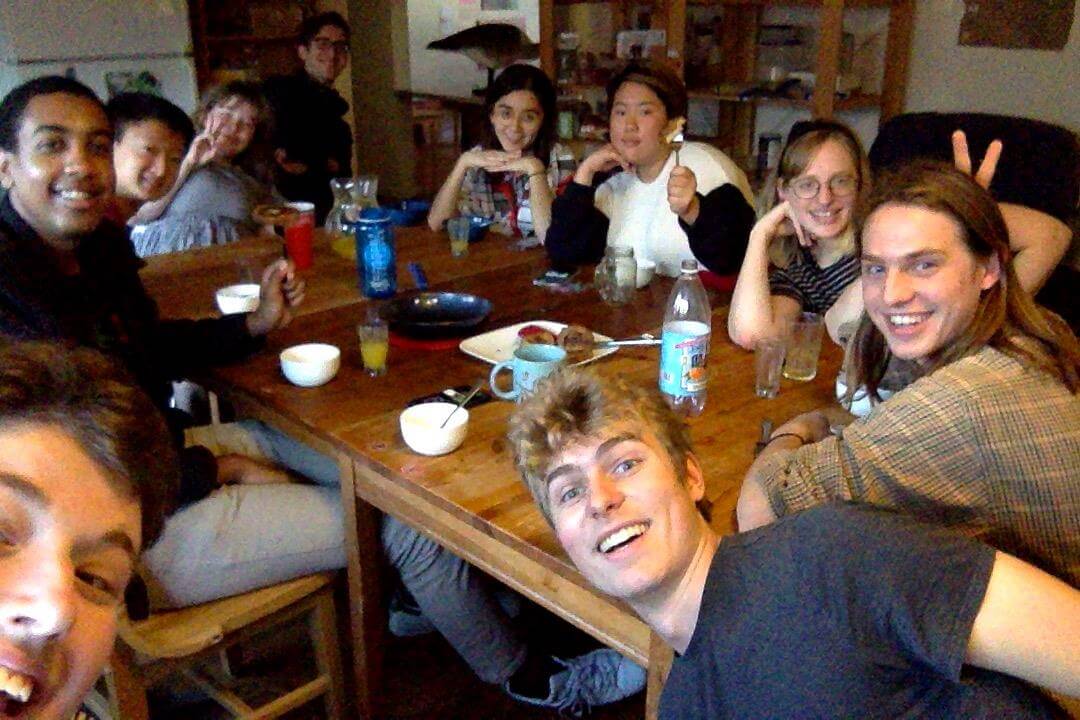 You won't want to miss any of the exciting occasions going on in the HC music community. The Federation of United Concert Series (FUCS) specializes in setting up concerts for students. Go see that underground musician you've been obsessing over for years in the Lunt Basement with its brightly-colored stage. Or, take a chance on a lesser-known artist and find a new favorite. "Recently, the popular singer-songwriter Mitski was at our sister school," Cai said. Find plenty of fun events by scrolling through the FUCS Facebook page to see the itinerary.
3. Haverford Mock Trial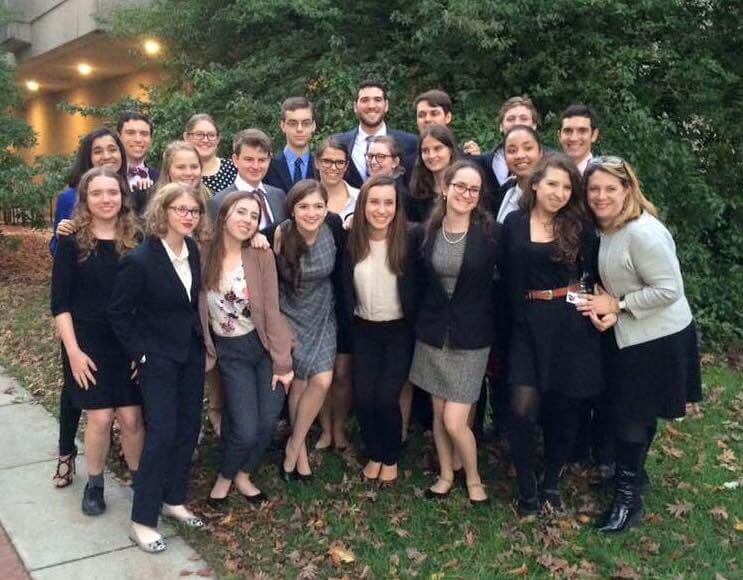 Have you felt that passion coursing through you while participating in debates or discussing cases going on in the news? Check out Haverford Mock Trial for a place to test out those skills. Jump into the program and learn how cases go through the court system. The club meets three times a week for two hours during the fall and every day for about three hours in the spring. "[The time commitment], however, should not discourage anyone from trying out. We have numerous steps to the tryout process to mimic the actual time commitment. It also allows students to see if the kinds of activities we do are enjoyable for them," Co-President Jordan McGuffee said. Signing up will help you understand exactly what happens in the judiciary system. It'll make your How to Get Away With Murder binge sessions even more interesting.
Getting In
HC expects students to have high standardized test scores. Your ACT or SAT scores should clock in around 32 or 2130, respectively. If you want to hold that acceptance envelope in your palms, shoot for a GPA of at least 3.73 (unweighted). HC accepts early decision applications. The overall application deadline falls on January 15. Once accepted, students have access to classes in TriCo (HC, Bryn Mawr College and Swarthmore College) and the University of Pennsylvania. This lets you build on your knowledge without course curriculum limitations.
That said, the campus community feels far from competitive. "My high school was cruelly competitive, so I remember how worked up everyone got over each other's grades. Meanwhile, Haverford's encouraging environment results in genuine academic learning and deep trust among students and between students and their professors," Cai said. No one wants to feel like their friends rush to beat them all the time. Even the most competitive athlete needs a break every now and then. At Haverford, you get the perfect balance between academic challenge and encouraging environment you need to thrive.
Stats
Location: Haverford, Pennsylvania
Tuition and Fees: $52,754
Total Cost on Campus: $71, 374
Undergrads Enrolled: 1,233
Grads Enrolled: N/A
Total Enrolled: 1,268
Acceptance percentage: 21% (2016)
Percent Admitted Who Enroll: 41%
Enrollment: 1,290 (2016)
Percentage of Male Students: 48%
Percentage of Female Students: 52%
Percentage Receiving Financial Aid: 50%
Percentage Receiving Federal Grants: 49%
Percentage Receiving Federal Loans: 29%