Flagler College-St. Augustine, Florida
The Vibe
Small Community in a Historic City
What it Feels Like to Go Here
Flagler College feels like a small community in the middle of a larger historic city. You'll see a lot of familiar faces and get to know your way around in no time due to the relatively small campus. Since the average class size amounts to just 18 students you'll get ample opportunity to interact with professors and classmates. Greek Life and partying isn't a huge part of the culture at Flagler, but that doesn't mean you can't socialize and make friends in other ways. You'll appreciate the beauty of the campus's foliage and architecture each day as you walk to class. You can't walk more than a block in downtown St. Augustine without finding yourself at a historic site. However, you may get a little annoyed when large groups of tourists get in your way while you try to get some Cheerio's in the dining hall before your 8:30 a.m. class. Nevertheless, you'll love it, especially in the winter when sparkling white lights cover the entire landscape.
Awesome Alumni
Flagler College doesn't boast many massively recognizable names due to its small size, but that doesn't mean that they haven't hosted difference makers. If you're into the arts you may recognize the names of Linda Evans, a science fiction author, or Ariana Madix, a Hollywood actress. If sports seems more in your lane you might know Scott Lagasse Jr. the NASCAR driver or Marco Warren, a soccer player. These names are among the many alumni who went on to succeed following their stay at Flagler.
Where We Hang
A myriad of different places to hang out at Flagler await you depending on what you like to do. You'll find students at Ringhaver Student Center at any hour of the day playing table-tennis or pool in the game room, getting lunch, or chatting on comfy bean bag chairs between classes. If you like nature, then you'll fall in love with the beautiful outdoor spots. Some favorites include local beaches, springs, as well as Anastasia State Park. Downtown St. Augustine boasts an endless number of local restaurants, coffee shops (check out The Kookaburra!), bars and stores to explore with friends. The St. Augustine Amphitheater hosts amazing concerts from popular acts like Vampire Weekend and Tame Impala just minutes away from campus. Grab some friends to catch a show for a memorable night out.
Q&A
How much are students partying?
"There is a decent amount of night life at Flagler, but it's definitely more fun when you're an upperclassman and can go to the bars downtown," Flagler junior Zach Alfaro said.
What will get you into trouble at your school?
"Flagler is a dry campus so you will get in trouble if you have anything on you, or if you're on campus while intoxicated. Other than the normal college rules like be a good person, don't say stupid things online, Flagler was really laid back on their concern with student behavior," Former Flagler student Chelsea Downes said.
How is safe sex encouraged on campus?
"Flagler administration seems very puritan…Even simply staying in the opposite sex's dorm past 2 am, no matter the reason, could result in formal disciplining through the administration office if the RA was strict enough…these kinds of environments mean that school-sponsored advice and messages about safe sex do not happen outside of the health office," UF senior Caleb Olds said.
What would you tell incoming freshman about your school?
"'Freshman Flagler' and 'Upperclassman Flagler' is not the same school. I came into my first year with an AA, so I jumped right into upper-level classes. I tried an intro business course. The moment the professor asked for our phones and proceeded to treat us like middle schoolers (which, to be fair, some people needed) I dropped the course immediately. Every positive experience I had at Flagler was in an upper-level course bolstered by incredible professors and likeminded students and the few beginner courses I took pushed my patience to the limit. I personally believe the weakness of their first two years is the reason why the school has such an abysmal retention rate. Flagler is truly an amazing school if you connect with the right department and can push through to courses you enjoy. Oh and if at all possible — choose Ponce! The rest of the dorms are lackluster and wandering the halls of a Gilded Age hotel is actually magical," Former Flagler student Brittany Schell said.
What's Your Favorite and Least Favorite thing about Living in St. Augustine?
"My favorite and least favorite thing about living in Saint Augustine go hand in hand with one another. The history of this city is impressive. Everywhere you go downtown there are books and crannies filled with significance. There is nowhere else I have ever been that is quite the same. That being said, I hate the tourists. I despise the trolleys. I especially loathe the horse-drawn carriages. It's only because of my own frustrations, not because of anything they are doing wrong. Sometimes I wish I could have Saint Augustine focus on the locals more," Flagler senior Katelyn Zimmerman said.
5 Student Reviews
"My pre-COVID experience at Flagler was wonderful. The buildings and atmosphere never grow old, and as a history major I knew I was in the right place. I learned to use power tools, studied German history with a visiting professor from Germany and got to explore all the off-limits parts of campus in the name of historic preservation. COVID got in the way of other exciting opportunities, but for those that seek them out, Flagler has its fair share of unique experiences. I don't think I would spend four years there, but for a transfer student looking to complete their degree in an atypical spot, Flagler is perfect. The lack of advising help for transfer students and the fact that the dining hall isn't open all day (cue lots of awkward moments trying to find somewhere to eat at 1PM because D-Hall closed) were my biggest surprises, but otherwise my time there was better than anticipated." -Brittany Schell, History Major, Class of 2020
"Flagler has been a fun school to go to because of its location. There is a lot of stuff to do outside like going hiking, fishing, swimming and surfing. I would say it met my expectations." –Zach Alfaro, Accounting Major, Class of 2023
"I think my experience at Flagler was 'fine,' but if you forced me to choose, I would say that it was a negative experience. Most of my professors were very good and seemed to care about our learning. On the other hand, I had a lot of issues with the registrar and then the school refused to tell me if it had disciplined a staff member that sexually harassed me. At this point, I decided to transfer to UF." -Caleb Olds, Sociology Major, UF Class of 2022
"Overall, I had an alright experience. For my domain specifically, I was expecting to have much more interaction with the local Deaf community (there is a Deaf/blind school nearby) but this happened way less frequently than I wanted. Granted, this was during Covid, but even before the shutdown, there were not many opportunities. Additionally, I was surprised at some of the problems/controversies I found out about while attending the college…I think there are some amazing faculty and staff at Flagler, but I can't say that administration made my experience any better. Especially because they decided to cancel fall graduation ceremonies without asking student input and didn't even acknowledge their fall graduating class." -Chelsea Downes, Deaf Education/Elementary Education Major, Class of 2021
"My experience at Flagler has been everything that I wanted it to be. The community of this college is so unique in the way that Flagler truly strives to enlighten their students. What surprised me the most is how much I would grow to be genuinely passionate about the subjects that I studied. Many of my fellow students reacted this way too. I think it's because of the environment made here that makes pursuing wisdom and knowledge so engaging." -Katelyn Zimmerman, Philosophy and Religion Major, Class of 2022
---
Top 5 Majors
1. Business Administration
2. Psychology
3. Education
4. Criminology
5. Communication
Student Organization Spotlights
Pride Alliance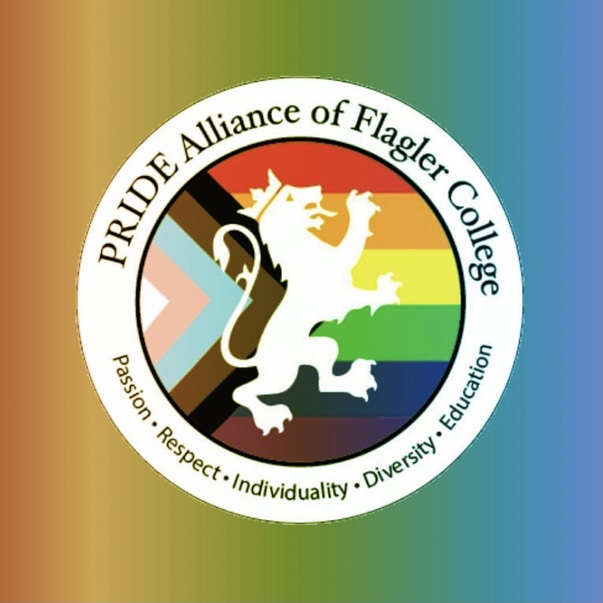 People passionate about raising awareness and supporting the LGBTQ+ community should definitely check out PRIDE Alliance. According to their website, the PRIDE Alliance "works to promote issues in an inviting and welcoming environment for all students on campus. The Flagler Pride Alliance acts as a student resource for LGBTQ+ issues and educates the students and staff of Flagler College on the lives of LGBTQ+ students in an effort to create acceptance."
"I was Vice President of PRIDE Alliance, which is similar to a GSA (or LGBT+ club). We did so much to change the atmosphere on campus, such as hosting the first Drag show and having to turn people away because so many people showed up. We've raised money for local LGBT+ organizations, spread awareness on campus, and we also advocated for students who were discriminated against for being LGBT+," Downes said.
PRIDE Alliance is doing the crucial work of helping society become more aware and accepting, one campus at a time. If you're looking to make a difference and support a cause bigger than yourself, then this makes for the perfect organization. Don't just sit around, go check out their social media for more info!
Philosophy and Religion Symposium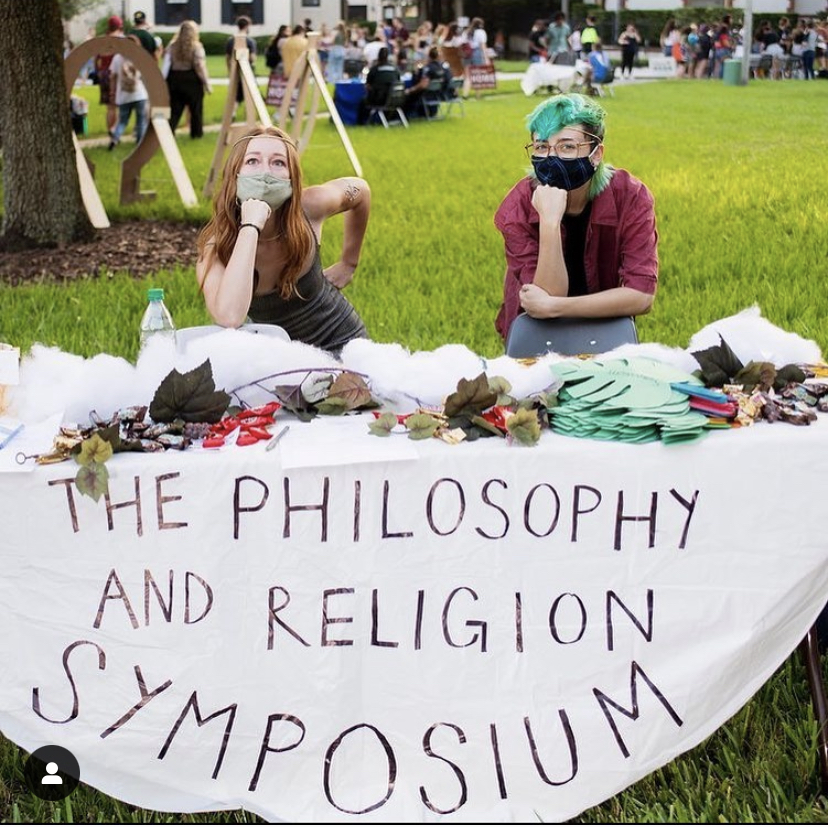 If you hate small talk and want to partake in interesting conversations right away, then the Philosophy and Religion Symposium is perfect for you. Those late night thoughts keeping you up? Share that existential crisis with some other deep thinkers. We all believe different things but we can't expect to grow unless we listen to one another.
"The Philosophy and Religion Symposium is an easy and fun way to learn more about these sometimes-intense subjects. We gather together as equals to discuss our own personal beliefs and logic in hopes that it may make some of us consider perspectives that we hadn't before…we invite anyone from any walk of life to come and share their views with us as long as those thoughts are respectful," Zimmerman said.
Students can expect in depth conversations stemming from classic philosophical questions like the famous trolley problem. Ever wanted to partake in discussions of shows like Black Mirror and Twilight Zone? Now's your chance. Contemplate and explore the gray areas in justice and morality. This club marks the perfect starting point for conversations like this.
The Flagler Surf Team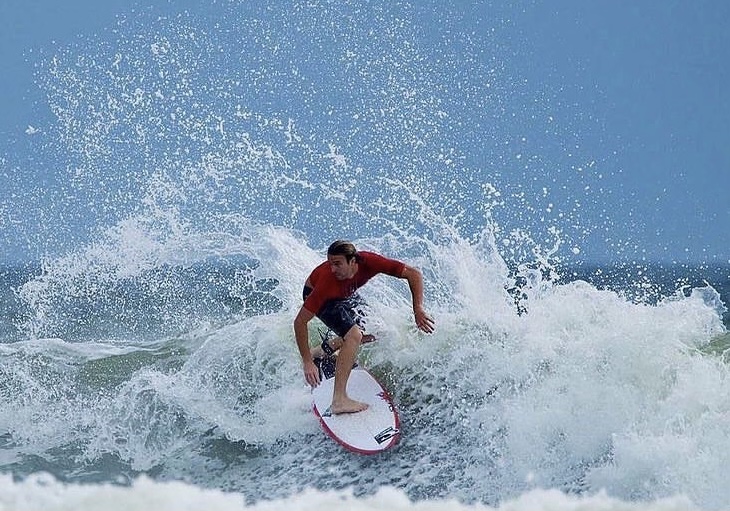 Some people are drawn to Flagler for its Florida warmth and proximity to the beach. The Flagler Surf Team fits perfectly for people who want to make friends and enjoy the beach lifestyle. Why not soak up the sun after a straining study session? Master the waves while you master your courses.
"The Flagler Surf Team is a group of relatively experienced surfers. We compete in competitions against other schools nationally as individuals and as a team," Alfaro said.
If you're looking to have fun and take your surf game to the next level, then the Flagler Surf Team is the perfect opportunity. Stop admiring from the shore and take that first step in the water. Once you start there's no going back.
Getting In
While the admissions process for most schools seems shrouded in mystery, we know a few things for sure about getting into Flagler. First, the average student admitted has a high school GPA of 3.46, an SAT of 1123 and an ACT of 23. However, Flagler does not require you to submit your test scores if you don't think they reflect your academic ability. They recommend not submitting your test score if your GPA lies at or above 3.5 and your SAT is lower than 1100. Second, Flagler's acceptance rate is about 56%. This rate ranks higher than a lot of schools, but far from a guarantee. Of course, sports, work experience and other extracurriculars always make an application more attractive, but we don't know for sure how much weight each of these carry in the decision-making process.
---
---
Stats
Location: St. Augustine, Florida
Tuition: $11,455 per semester (2022-2023)
Total Cost of Tuition, Room, Board, and Fees: $18,675 (2022-2023)
Undergrads Enrolled: 2,366 on Main Campus
Grads Enrolled: 11 Students in Flagler's Only Grad Program, Deaf Education
Total Enrolled: 2,645 including Flagler's Tallahassee Campus and other programs
Acceptance percentage: 56.4% (2022)
Percent Admitted who Enroll: 27.5%
Enrollment: 767
Percentage of Male Students: 33% of Undergrads on Main Campus
Percentage of Female Students: 67% of Undergrads on Main Campus
Percentage Receiving Financial Aid: 91% (2019)
Percentage Receiving Federal Grants: 91% (2019)
Percentage Receiving Federal Loans: 56 (2019)