Duke University—Durham, North Carolina
The Vibe
Spirit, social and stress—all in that order.
What It Feels Like to Go Here
After a year in Durham, you'll feel like a brand-new person. You'll hold treasured memories with motivated, passionate students at the UNC game, sing along to Sean Kingston during campus concerts and debate policy in class. The balance of school work and social life is central, as it is in any university. "It amazes me how Duke students can study really hard and also party frequently," said senior Sena Park. However, Park also emphasizes that there's no pressure to party and that it depends on the student. The environment promotes students to create their own niche, so students quickly adjust and make their friend groups.
There's also the tradition of tenting before the UNC vs. Duke basketball game. Students wait in the designated area for up to two months, rotating with their friends to ensure they keep their precious spots. Students burn benches after tenting for weeks and weeks in the cold, and they celebrate around the fires when they win. Who doesn't want to join in on school spirit like that?
Awesome Alumni
From the CEOs of Etsy, Melinda Gates and astronauts, to Mike Posner and Kyrie Irving, Duke overflows with exceptional alumni. Melinda Gates became the face of public service with her work for the disadvantaged, was Time's Person of the Year in 2005 and received the Medal of Freedom from President Obama in 2016. As a senior, Mike Posner signed with a major label record, kept up his music and toured on the weekends in anticipation of his major LP. He would later become the worldwide superstar. Kyrie Irving played basketball for Duke, and today he's Lebron James's go-to during tight games. You've probably seen him the last three consecutive years in the NBA Finals. From business and space to music and basketball, any student in any field can become an exceptional alumna at Duke.
Where We Hang
On campus students hang everywhere. The freshmen live out in East Campus and people hang out in the dorm common rooms. In West Campus, you'll find people in the Bryan Center Plaza. It serves as the hub, with Duke Stores, the Post Office, Duke Barbers (to get that college hair cut) and the Center for Multicultural Affairs.
You can find upperclassmen eating and lounging in comfy beanbag chairs in Duke's main eatery: West Union, otherwise known as the Brodhead Center. A gorgeous glass structure, it contains eight eating locations for students to munch at in between classes. For instance, if you like Indian or East Asian food, try Sitar or Ginger & Soy. Or, if you just took a tough exam, then head to Skillet AKA the king of comfort food on campus. If you weren't jealous already, Duke has a food delivery system for those lazy students who need some food before their latest Grey's Anatomy binge sesh. "Merchants-on-Points lets restaurants in the area deliver to students on campus using the currency of the dining plan, Food Points," said sophomore Joy Kim. Need I say more?
And if you describe yourself as a party person, then you'll have loads of options. On weekends, students usually crowd bars and nightclubs like Devine's or Shooters. Shooters, a Duke staple, features a western theme, a cage and bars to dance on and Duke basketball players. Expect to sweat through your clothes while partying at Shooters more than you would in spin class.
Q&A
1. How much are students partying?
"You'll see that students study pretty hard throughout the week, even if they still try to fit in dinner or chilling with friends. It's really what you make of it, but my freshmen year I partied three times a week and felt pretty balanced. The next year, I cut it way down because of my academics and out-of- school commitments," said a senior at Duke.
2. What will you get in trouble for at your school?
"In general, the dorms are more strict than apartments or off-campus living. People who live in Greek life's housing don't have much restriction. Oh, and don't cheat, obviously," said senior Sena Park.
3. How much sex are students having?
"It's definitely different for everybody. If you're going out every weekend, you know there's somebody trying to close. Some people are all about hook-up culture, some aren't. Frequently enough is how I would characterize it," said sophomore George Thompson.
4. What would you tell incoming freshmen about your school?
"Duke has its ups and downs, like anywhere. Are there things that I don't particularly like about Duke? Yes. But have I become a stronger person because of it? Also yes. And I couldn't have done it without the people I've met at Duke, as it almost always seems to come down to the amazing friends Duke provides," said recent graduate Annie Tang.
5. What do you love the most about Duke students?
"They are passionate—and I mean that in all senses of the word. I have friends who have such amazing academic passions, from working on Medicare policy in North California to building robots as an engineer. They are passionate about non-academic things as well—I have one friend who's a certified mixologists, and my summer roommate who's sitting across from me right now has been learning to walk on her hands (kind of random I know)," said junior Michelle Li.
Overall Experience
"Duke can be summed up in five words: Passionate, energetic, challenging, intense and unique. A lot of Duke students may not know what their major is yet or what they want to do in the future but they are definitely ambitious. Being a part of the Duke community is never boring." – Jamie Karl, Class of 2018
"It's really hard to condense all the aspects of my personal Duke journey into one highlight, but I realize that the common denominator for all my most treasured memories is the people I experience them with. These are people you'd only find at Duke." – Grace Feng, Class of 2018
"The student body is largely from high social economic status, which means that there can often be a sense of…elitism within the students. This idea of effortless perfection often permeates the campus." – Eric Davidson, Class of 2019
"I can't pretend to be surprised that it's academically rigorous here, but I have to remind myself a lot that Duke's academic culture is not the norm. I'm only at the halfway point of my Duke career, but I'm sad that it's already going by so fast." – Sena Park, Class of 2018
5. "On paper, yes, Duke is filled with a lot of the country's smartest students, but you really don't realize it until you start talking to people here. Even among my friends, I am continually surprised and proud to know such driven and passionate people." – Leah Yao, Class of 2018
Top 3 Majors
1. Public Policy/Economics
2. Computer Science
3. Pre-Med Path (Neuroscience)
Top 3 Student Organizations
1. Selective Living Groups (SLGs)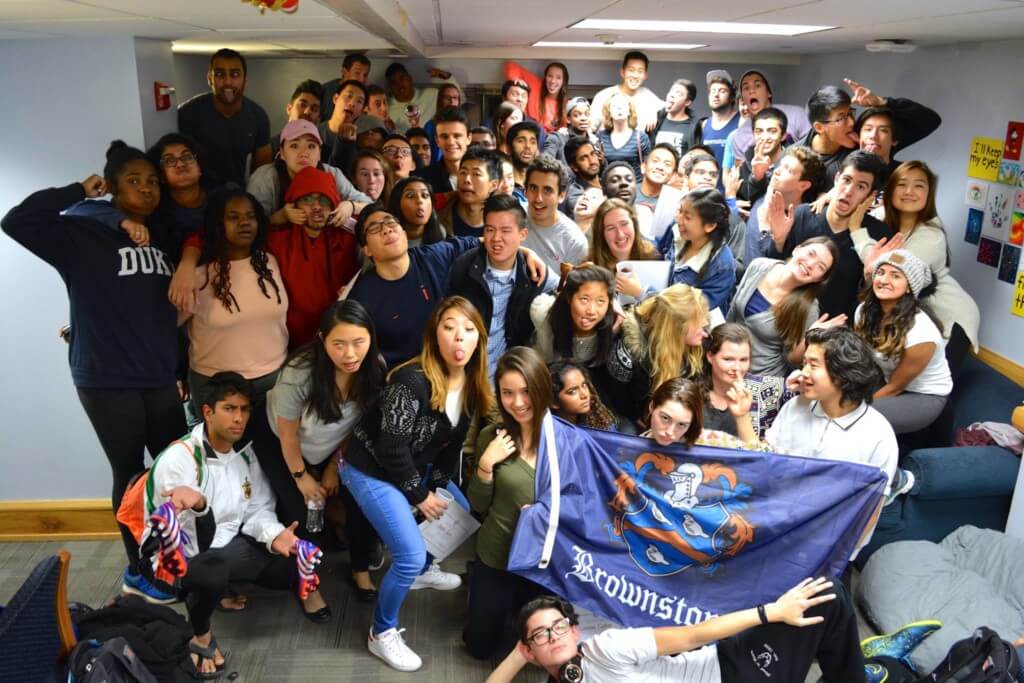 Students choose to become members of a selective living group (SLG) unique to Duke and an alternative to Greek Life. Students still go through the rush process, just like with Greek life, and live with the members of the group. "The rush process to me seemed less superficial. It happens over a period of three weeks with parties and sober events, and I really met a lot of people," said junior Michelle Li. "And at the time of joining I felt closer to many individuals at my SLG versus my Greek organization because of the differences in the rush process." Even better? SLG's are co-ed and some revolve around themes such as arts or social-justice. This creates different dynamics for parties around campus, where groups tend to invite their respective groups.
2. Defining Movement (DefMo)
Duke's multicultural dance group provides a cultural and inclusive environment for its members. Students practice three days a week, which brings together this wildly energetic family and creates a passionate experience. Why not try something new and unique instead of only aiming for typical college clubs? "Passions are discovered when a person decides to do that one thing they always never thought they could. To audition for a theatre play. To try out for the debate team. To take an Arabic class. Exploring new groups and places leads to a discovery," said publicity chair Ozi Boms. The group strives for a unique, creative approach to dance and their music tells a story. DefMo also host annual showcases with cultural dances, such as Jabulani, a celebration of African cultural heritage.
3. All of the Above (AOTA)
Students perform in this annual theatrical production group comprised of monologues written, performed, and directed by Duke women about Duke life. Its mission, to provide an anonymous platform for Duke women to be heard, allows a unique space for women's voices. "It's an annual opportunity to empathize and engage with the women that surround us at school. Students can find and immerse themselves in their passions for feminism, storytelling, acting, producing & directing and creating connections through this show," said AOTA Director Lizzy Pott. Their passion generates hard-work towards a shared goal—an incredible space to celebrate women.
Getting In
Admissions counselors love passionate students committed to their interests. "Commit yourself in high school to something that makes you stand out. Don't be in everything—no matter how committed you are to all of it," advised incoming freshman Eugene Kim, whose sister is a senior at Duke. "Remember that students create the dynamic at Duke. The dynamic can only be achieved with a diverse, intriguing group of students. So, become an intriguing candidate." Because of Duke's high prestige, academics are important as well. SAT scores for Trinity College of Arts & Sciences have a range of 2100-2380 (old SAT) and 1400-1590 (new SAT). The average GPA, weighted, is over a 4.0, with some reported averages of 4.17 weighted. I would recommend any student in the top 10 percent to apply, create a great application and hope to get in.
Stats
Location: Durham, North Carolina
Tuition & Fees: $53,744 for tuition, $14, 438 for room & board
*Tuition is the same for in-state and out-of-state students
Total Cost on Campus: $72,720
Undergraduates Enrolled: 6,639
Graduates Enrolled: 9,345
Total Enrolled: 15,984
Acceptance Percentage: 9%
Percent Admitted who Enroll: 49.25%
Percentage of Male Students: 3385 undergraduate
Percentage of Female Students: 3254 undergraduate
Percentage Receiving Financial Aid: 43% with 100% of need met
Percentage Receiving Federal Grants: N/A
Percentage Receiving Federal Loans: N/A