The Vibe
Homey, private liberal arts school.
What it Feels Like to Go Here
Welcome to Amherst College. Not to be confused with the University of Massachusetts Amherst— a relatively close campus with a relatively similar name— Amherst College is a liberal arts school full of lush greens paired with glistening snow come winter. It even has that Hogwarts-esque dorm feeling that Potterheads have reminisced about since age 11. Afraid of the constantly changing staircase and massive labyrinth hallways a big university has to offer? Amherst is a rural campus roughly covering 1,000 acres. Everything lies within walking distance. You could walk across the quad to grab some toast and make it to a lecture hall without breaking a sweat.
Amherst College has no Greek life whatsoever. But what they lack in alpha and omegas, they definitely fill up with student orgs. Or if sports are more your social ticket, get ready for NCAA III games. The great thing about a small campus like Amherst means the multitude of clubs where you can almost always find your niche. You'll probably find several clubs focusing on the same thing, but each with a different vibe and a smattering of different people.
Awesome Alumni
This school opened in 1821, more than enough time for many cool alum to walk its halls. Sung-Joo Kim (class of 1981) was recently chosen by Queen Elizabeth II as an honorary officer to the Order of the British Empire. She runs a fashion empire, Sungioo group, and is also the president of the Korean Red Cross, the first woman to receive this honor. Talk about a trendsetter. Next, Michael Beach Nichols (class of 2002) created Welcome to Leith, a documentary on racism and white supremacy that turned more than a little controversy once shown at Sundance.
Aspiring writers may want to pay attention—alum Lauren Groff (class of 2001) has published three novels: The Monsters of Templeton, Arcadia and Fates and Furies. Beyond that, Jeff Cody (class of 1977) received the 2016 Rome Prize, given to scholars and artists so that he can work leisurely in a villa in Rome. He leads trainings to help architects and city planners be more conscientious of conservation and the urban environment. And you should recognize Calvin Coolidge (class of 1895), AKA the 30th president of the U.S.
Where We Hang
Take a quick three-hour trip to the Big Apple. Or a a leisurely six and a half hours to Niagara Falls. Amherst College is close enough to America's hotspots of information and fast-paced cities, but far away enough to relax.
More than a day in February, everyone passes through the Valentine Quad to get anywhere else. "We have a name for when you get sucked into the vortex of hanging out there too long: Val-sitting… Nothing happens that doesn't somehow originate in Val," said junior Jonah Davis. Also head to the First-Year Quad or the Main Quadrangle, AKA the center of the school's campus. Or hit up one of Amherst's resource centers for a friendly welcome. "I'm particular for the queer resource center because I spend more time there but all the centers are amazing," said sophomore Claire Cho. America values free speech and individuality and non-discrimination— why not choose a campus that wholly supports those values?
Q&A
1. How much are students partying?
"People really do study hard during the weekdays and go hard on the weekends," said Cho.
2. What will you get in trouble for at your school?
"You'd get in trouble for probably having a loud party in your room. First years aren't technically allowed to have alcohol so that's the biggest possibility I would say," said Cho.
3. If not Greek life, how do you socialize?
"A lot of club sports teams are very popular, especially Club Frisbee and Soccer from what I can tell," said Davis. "I'm on the Men's Club Soccer team for next semester, so I'm a little biased. All the sports teams for that matter are where most things happen outside of academia."
4. Why do you love Amherst College?
"I chose Amherst because of the affordability. As a low-income, first-generation student, Amherst's financial aid far exceeded any expectation I could have imagined. I also chose Amherst because of the academics, primarily the open curriculum—I have no idea how I could manage without it," said Davis.
5. What makes Amherst College unique?
"It's pretty quiet around campus. The administration tore down the party dorms, known as the 'Socials' , last year, so there aren't many parties. I guess the college is like the town—it's quaint," said junior David Shin.
Overall Experience
"I transferred here last semester, and I chose it then because of the reputation, the academic rigor and the amount of resources available for students. I'd say the atmosphere is pretty laid back on the surface, but fairly competitive under the surface. We've also got a pretty sporty campus. Very liberal as well." – Matt Walsh, Class of 2019
"Amherst seems to really value diversity so about racial, economic, intellectuality. And the curriculum lets you explore many different interests. The atmosphere seemed really open and friendly to new people. It seemed like everyone was genuinely interested in what us first years were planning on doing." – Andrew Swenson, Class of 2021
"I really wanted a liberal arts college that was small and focused on student-faculty relationships, I knew a few people going already and it had the best financial aid package! I would describe the vibe on campus as pretty chill! You can definitely seek out whatever level of social scene you're comfortable with as long as you make the effort too." – Claire Cho, Class of 2020
"If you love the pursuit of knowledge, there's no other way than the open curriculum and classes that are usually no more than 20 students. I would say the atmosphere is one of conscientiousness. Everyone here is determined to succeed, but not in a cutthroat way. You know everyone is supposed to be here and that definitely shows through the classroom discussions and even just sitting with friends in your dorm. The environment is challenging—classmates, friends, and particularly professors, challenge you in the most enriching way possible. You really get a vibe that this is a tight-knit community; there's a very positive, intellectual vibe. The life of the mind matters here." – Jonah Davis, Class of 2019
"The college doesn't do the best job of creating spaces to hang out on campus, but I'd say if you're going to run into your friends, it'd be at one of our libraries. Amherst is small — I've made tons of relationships with other students and professors that I wouldn't have been able to at a larger school. It would have been a lot harder at the very least." – David Shin, Class of 2019
Top 3 Majors
1. Economics
2. Mathematics
3. English Language and Literature
Top 3 Most Popular Student Organizations
1. A Cappella
Groups include the hilarious Zumbyes, the all-women Bluestockings and the all-male Route 9. "DQ is Amherst's only co-ed, secular a capella group," said junior Stadtler Thompson. "The group consists of anywhere from 12-16 members, a[nd] we have a repertoire as diverse as our musician's interests, as we sing popular contemporary hits, old jazz standards, Disney songs and anything in between." Pitch Perfect gives students unrealistic expectations for singing in college, but Amherst College pleasantly delivers on that happy note.
2. Amherst Political Union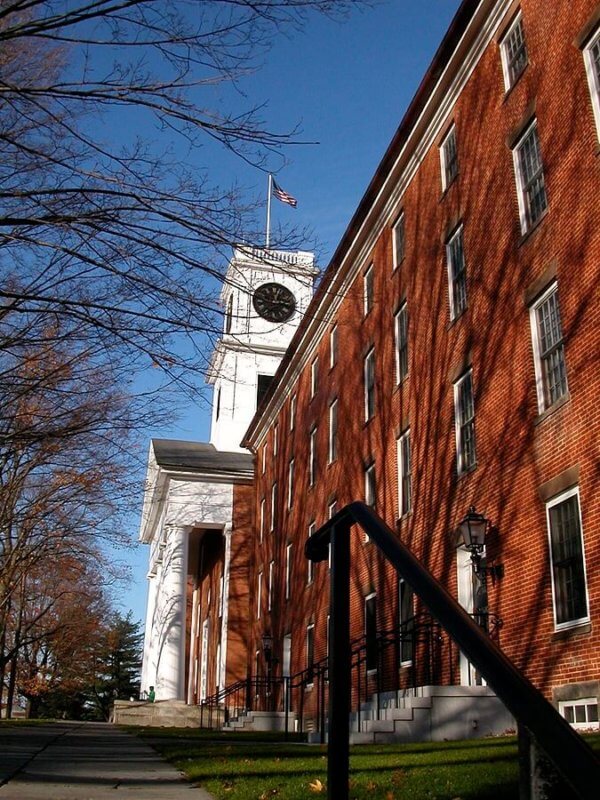 In a world where politics takes the forefront of headlines and spins off late-night parody shows of its follies comes an inevitable discourse. "I'd say [one of] the most popular clubs is the Amherst Political Union," said Walsh. The Amherst Political Union (APU) strives to increase student awareness of governmental going-ons and aims to combat the political apathy that comes with a lack of political efficacy. Thriving since 1939, this group is trying to keep students woke.
3. Club Frisbee
Back during the Civil Rights Movement in 1965, Amherst started playing frisbee. Ultimate frisbee. "Most students join the Ultimate Frisbee teams at one point," said Shin. Their men's team goes by Army of Darkness (AOD), with their B team holding the affectionate name of Bubba Ho-Tep. All students of varying athletic ability are encouraged to join, just be wary of the competitive nature of the sport of the flying plastic disc: In 2013 AOD placed 3rd at the Division III College Championships and in 2017 they yet again qualified for Nationals.
Getting In
Amherst College takes a good, long look at your GPA, application essay, miscellaneous standardized test scores and extracurriculars… like most other colleges or universities. You'll need to take the SAT or the ACT, and a majority of freshmen scores averages in the top percentiles. Unfortunately, Advanced Placement credit is not accepted towards the Amherst degree. You may be exempted from taking introductory level courses, but the only good thing for AP is the experience of taking college-level courses in a high school setting.
STATS
Location: Amherst, Massachusetts
Tuition & Fees: $54,310 in-state; $54,310 out-of-state
Total Cost on Campus: $71,900
Undergrads Enrolled: 1,849
Grads Enrolled: N/A 0
Total Enrolled: 1,849
Acceptance percentage: 14%
Percent Admitted who Enroll: 40.57%
Enrollment: 471
Percentage of Male Students: 50%
Percentage of Female Students: 50%
Percentage Receiving Financial Aid: 100% of need met
Percentage Receiving Federal Grants: 55%
Percentage Receiving Federal Loans: 13%
Percentage in Student Employment: 45%