The University of Pennsylvania—Philadelphia, PA
The Vibe
A Classic School In The City
What It Feels Like To Go Here
Feel free to forge your unique path at the University of Pennsylvania. Senior Marissa Priceman said, "Like any place, it's what you make of it. You can choose to be friends with scenery people, or you can be in a more relaxed setting." Students looking for adventure can easily head to Philly for some college night life or to check out the Philadelphia Zoo and tour the city. However, if you crave a more traditional college experience, campus life won't disappoint. If you didn't attend at least one football game, did you really go to Penn? The active school spirit throughout the university draws all students into the college community, so if you're full of it, break out that blue face paint. You can also find any balance you'd like between the city and campus life.
Awesome Alumni
UPenn's famous business school, Wharton, once taught our new POTUS, Donald J. Trump. Other noteworthy graduates include Noam Chonsky (coined "the father of modern linguistics"), John Legend, Steve Jobs and Denzel Washington. Philly holds a lot of history and UPenn only adds to it. Many of these names have not only shaped their perspective fields, but have yielded great influence in the world and our society. Whether it be performing arts, economics, business or linguistics, UPenn alumni form an impressive group—and continue to do groundbreaking work.
Where We Hang
You won't find people just spending their afternoon in the Quadrangle with their friends—there's so much to do around Philly. "A lot of people I know don't really just 'chill' with their friends; there's always a goal—'Let's get drunk and go to the zoo,' 'let's BYO this downtown,' 'Let's go see the president of Taiwan speak,' etc.," said junior Dylan Reim. Big city life means big city plans. That's exactly what the students at U Penn do. But you can also find students attending athletic activities throughout the weekend. What Ivy would it be without some healthy competition?
Q&A
1. How much are students partying?
"I'm not sure that I would call it a party school in the same way that you call [the University of Florida] a party school, but we certainly go out… It's very cyclical and is dependent upon what time of the semester it is," said Priceman.
2. What will you get in trouble for at your school?
"Probably rowdy house parties getting shut down is the most common offense. In addition, Greek organizations regularly get in trouble for not following the official rules regarding alcohol or hazing and sometimes get put on probation," said junior Lucy Bartel.
3. How much sex are students having?
"I think Penn students have a fair amount of sex—more than it seemed my friends were having at [New York University]—but having sex seems to be low-key here," said Reim.
4. What would you tell incoming freshman about your school?
"I'm lucky enough to work through the creative writing program and the admissions department, so I have my spiel down pat. But I'd say above all, I emphasize that the Penn experience, like that of all colleges, truly is what you make it. I also emphasize that in college GPA matters less—classes taken and experiences had matter more," said senior Peter Berge.
5. What does a typical Friday on campus look like?
"Fridays for me are not unlike other weekdays. I am on a sports team, so I have two practices on Friday (morning and afternoon), and I have morning practice or a competition on Saturday," said junior Lauren Murski.
Student Reviews
"[My experience at U Penn was] absolutely transformative. I grew in many ways that I didn't expect to. I had a change of heart on a lot of different topics and issues. It was also very humbling to go from feeling smart and at the top in high school to feeling so stupid. I met so many amazing people who have had a huge influence in my life—I don't think they even realize it." – Isabella Gong, Class of 2016
"Philly is a great city and Penn is a great campus—everyone is so dedicated and involved and it is a really great feeling to be surrounded by that. The only other thing I would add is that the vibe of the student body is very pre-professional… This can be overwhelming, but at the same time, it is a very realistic and sensible mentality in my opinion." – Lucy Bartel, Class of 2018
"Not everyone has an incredible internship lined up for the summer, not everyone is getting 4.0s, not everyone has the most incredible social life. Penn is hard, Penn is fun and Penn has so much to offer to students who are willing to open their eyes to new ideas and experiences." – Lauren Murski, Class of 2018
"Students very much make their own culture and run with their own messages in the context of being Penn students. The culture is malleable in that way." – Dylan Reim, Class of 2018
"I definitely feel that I'm emerging from Penn feeling well prepared for whatever the future holds, though I do think that—like many universities—the administration is more concerned about its image than its students in some respect." – Peter Berge, Class of 2017
Top 3 Majors
1. Finance
2. Registered Nursing/Registered Nurse
3. Economics
Top 3 Most Popular Student Organizations
1. Performing Art Troupes/Clubs
If you're not majoring in the arts, you can still let your talent shine across campus. There are a number of Performing Arts student organizations and clubs on campus including a cappella groups and acting troupes. "I auditioned for and joined a light opera/musical theatre company called Penn Singers, the Rodin Opera Scenes group and have performed with the Theatre Arts Council shows," said Bartel.
2. Greek Life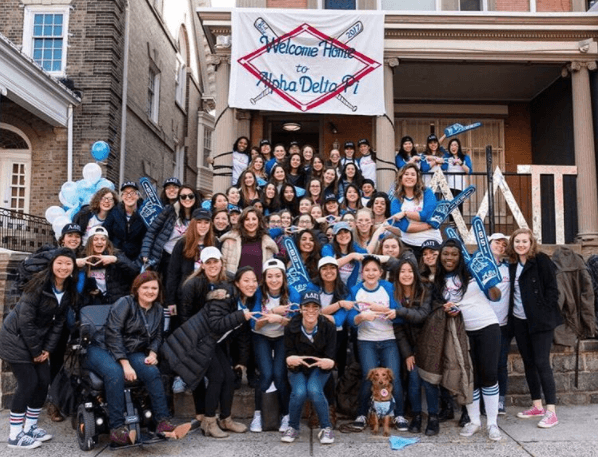 Wanna make some friends away from your circle? Join one of U Penn's social frats. Really wanna dedicate time to community service? Find a frat that puts their funds and focus towards that! "Yeah! I'm a member of Phi Kappa Psi (colloquially: Phi Psi), a standard Penn social fraternity, Penn's student news organization. I wanted to get into the social scene and make up for lost time. Joining a fraternity seemed to be the best way to do that," said Reim.
3. Religious Organizations
Regardless of what faith you identify with, student organizations are made for students, by students—there's no criteria for joining. "I started an organization with several other students called the Progressive Jewish Alliance. Basically, it's pretty tough for progressive jewish students everywhere right now and we wanted to create a space for Jewish and non-Jewish students that would accommodate progressive values and encourage activism," said Priceman.
Getting In
With a 9.4 percent acceptance rate this past year, the school's reputation precedes itself. The process? Pretty typical. You can apply to the University of Pennsylvania through Common App. "[Applying was] a crapshoot," said recent graduate Isabella Gong. "I got in off the waitlist and I think it's because I wrote this crazy 'Letter of Continued Interest' where I made so many references to quaker-related things (like the oats guy and I had a quaker parrot as a pet) and signed, 'The Quaker Quirk.' I know… pretty eccentric, but I'd like to think it helped." UPenn offers opportunities to be different through their supplementary options, so use that to your advantage.
Stats
Location: Philadelphia, Pennsylvania
Tuition & Fees: $51,464
Total Cost on Campus: $65,000
Undergrads Enrolled: 10,468
Grads Enrolled: 11,890
Total Enrolled: 24,960
Acceptance percentage: 9.4%
Percent Admitted Who Enroll: 62.5%
Percentage of Male Students: 49.2%
Percentage of Female Students: 50.8%
Percentage Receiving Financial Aid: 50%
Percentage Receiving Federal Grants: 50%
Percentage Receiving Federal Loans: 17%