The University of Notre Dame-South Bend, IN
The Vibe
A Catholic Prep's Dream
What it Feels Like to Go Here
The University of Notre Dame's reputation includes excelling in all aspects of the college experience, and it's not just being arrogant; it actually does. From academics to athletics to volunteering, Notre Dame doesn't half-ass anything. In order to get into ND you need to display brains and a solid work ethic on your app, driving all students to succeed, even if it doesn't seem like it looking at Feve on a Thursday night. Athletically, the football team's in a league of its own—literally. They're actually not in a conference. Not to mention the school's small size allows every student to go to every home game if they want to… and trust me, you do. Even if you don't like football, game day turns into the biggest party on campus. Beyond athletics, Notre Dame encapsulates the "work hard, play hard" idea. Greek life doesn't exist at ND, but even without Delta Kappa Whatever-The-Hell students still know how to party, whether it be in the dorms or at Feve, Salsa's or Finny's. Most students leave with friends made in the unique dorm community that essentially replaces Greek life. 29 dorms spread across campus each practice their own traditions and reputations, which you're randomly assigned to freshman year. If you take advantage of ND, you'll have something better than "the college experience." You'll have the Fighting Irish experience. Thanks to networking and loyal alumni, being a part of the Fighting Irish means being part of a nation-wide community that exists long after you graduate.
Awesome Alumni
Naturally, a school with this kind of elite athletic program produces hundreds of athletes that go on to professional leagues, like superstar quarterback Joe Montana. Some other star alumni include the ever-so-classic TV personality Regis Philbin and the man who gives girls way too high expectations for dating, author Nicholas Sparks. Not to mention T-Swift's own brother, Austin Swift, recently graduated from ND. Notre Dame also includes its fair share of politicians in its alumni ranks, like Condoleezza Rice. One legend, former President of the University Father Hesburgh, passed away in 2015 but left a legacy of giving back and fighting for civil rights that makes Notre Dame proud to have been his home.
Where We Hang
Notre Dame may not be located in the most exciting college town, but students still find things to do. Student into the nightlife scene can be found at Salsa's on Wednesdays or Feve on Thursdays. Upperclassman tend to frequent other bars, like Finny's, CJ's or Brothers. During football season, home game Saturdays are one huge party. Besides going out, various student organizations and dorms on campus put on enough events to keep students entertained. Some notable ones include Bookstore Basketball, the Keenan Revue, SUB concerts and Fisher Regatta, though honestly the list never ends. In terms of dining out, there's really no need to at ND. Since most students stay on campus through their junior year, North and South Dining Hall become the most common place to eat, and most kids seem pretty satisfied with the buffet-style food service."I'm thankful for the Panini presses at South Dining Hall," said freshman chemistry major Bridget Maroney. The ongoing debate about which one dining hall is better will forever divide campus.
Q&A
1. How much are students partying?
"I would say there are two pretty separate groups: people that got out and people that absolutely don't go out. The big nights are Thursday, Friday, Saturday, but also Wednesday for some people. People here tend to say 'work hard play hard,' so I would say it's a party school if you want it to be." –Lauren, sophomore
2. What will you get in trouble for at your school?
"Drinking and parietals are the two big things that people get in trouble for."—Riley, sophomore
3. How much sex are students having?
"I get sexiled about twice each week, but I'm pretty sure they don't make it past second base"—Tony, freshman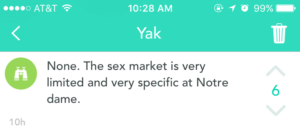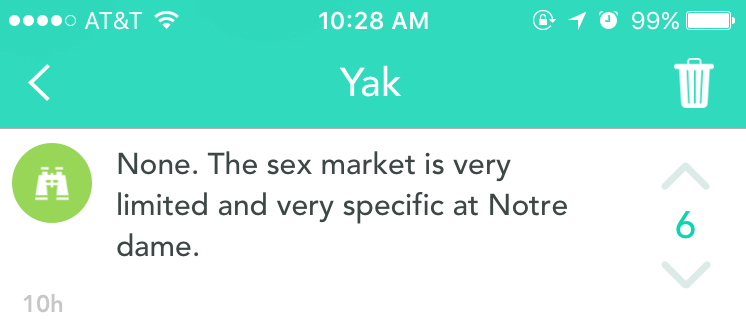 4. What would you tell incoming freshman about your school?
"It's usually a bit of culture shock probably being one of the top people at your school then being surrounded by all of the top people. You definitely might have a bit of an inferiority complex coming in. I think you just have to relax a little bit and be confident that you'll find your way and accept that you're not the best at everything right away." –Lizzie, sophomore
5. Just how "Catholic" is Notre Dame really?
"You can make it as Catholic as you want it to be. You can see Catholic ideals and identity in the different aspects of campus, but you can be as involved as you want." –Bridget Maroney, Chemistry, sophomore
Overall Experience
"I would say the biggest challenge is that everyone here is really smart, and you're probably coming from your high school being one of the smartest people in your class, and here everyone was the smartest person in their class. It can be difficult when you've never gotten anything less than A's before and feel like you're sometime not good enough to be here, but because you got in you should know that you are." –Shannon Kronenberger, finance, sophomore
"My favorite tradition at Notre Dame so far would probably the first football game and really just football season in general. It's great to see the school spirit and how everyone comes together in one place to support Notre Dame." –Lydia Costello, English, freshman
"Notre Dame's special because of the community that extends not only on campus, but across the entire world. Once you're a Domer, you're forever a part of this elite network of such impressive and inspiring people, who will always support you because you went to school here." –Jordan Ryan, political science, sophomore
"Going to Notre Dame has been a childhood dream of mine. I always loved ND, but the more I learned about, the more I realized how it truly was the best place for me to be. Notre Dame is a well-balanced school, and I liked the idea of the kind of lifestyle I would lead here and the kind of person I would be." –Grace McCormick, accounting, freshman
7 Things That Make ND Special:
1. The Golden Dome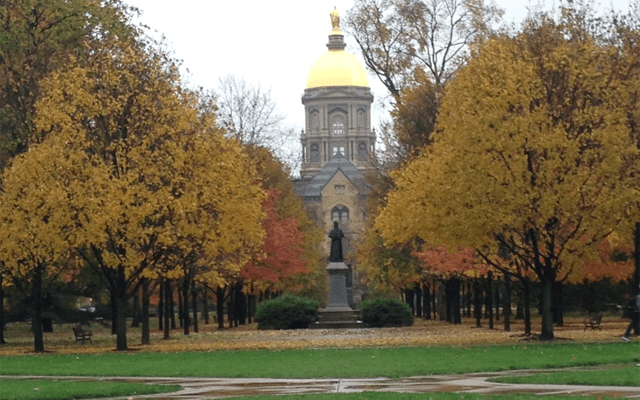 The most distinct landmark on campus, the dome sits atop the Main Building and features a 19-foot-tall, gilded statue of the Virgin Mary. You'll often hear students tossing around the phrase "home is where the dome is," or referring to themselves as "domers." It's both a landmark and a guiding light on campus.
2. Football Saturdays
Nothing compares to the rush that is a game day. Thousands of people descend on campus to take advantage of all ND has to offer. If you don't go to at least one football game during your time as a student, did you even go to Notre Dame? Even students who aren't into football come out to eat steak sandwiches on the quad while listening to bagpipe players, the ND Glee Club and The Band of the Fighting Irish.
3. The Band of the Fighting Irish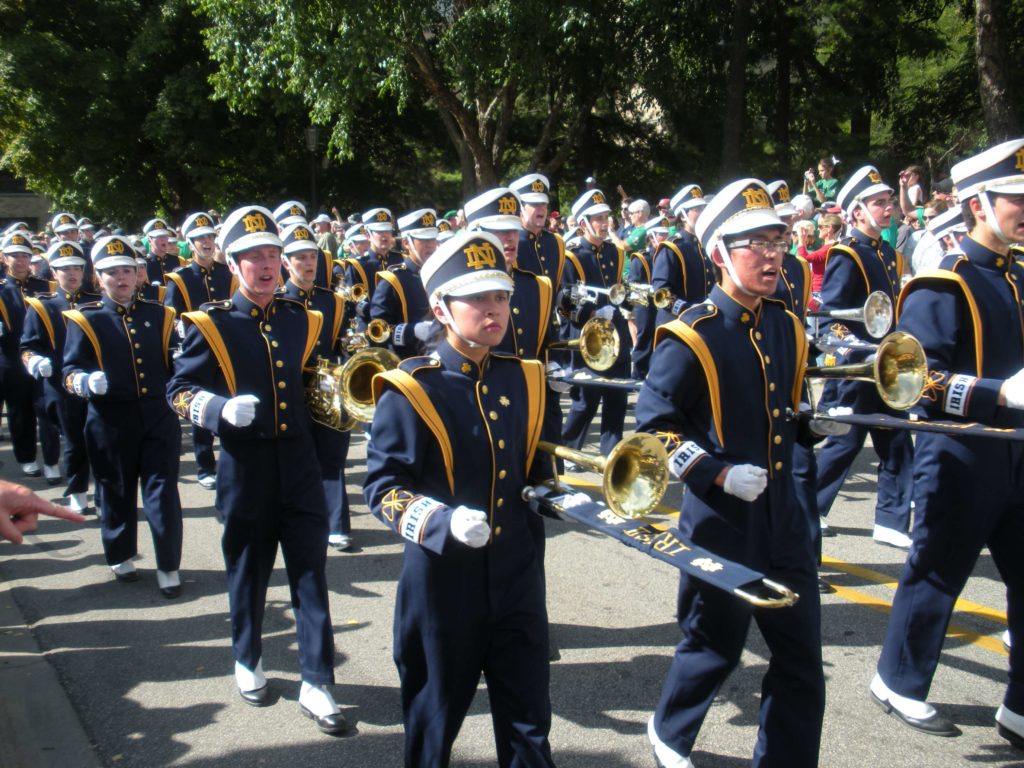 "Here come the Irish!" If there's a sporting event, convocation or really any university function, you can guarantee that the oldest band in the land will be there. Indiana state law prohibits anyone/thing from blocking the path of the band. The Band of the Fighting Irish means business.
4. Dorm Community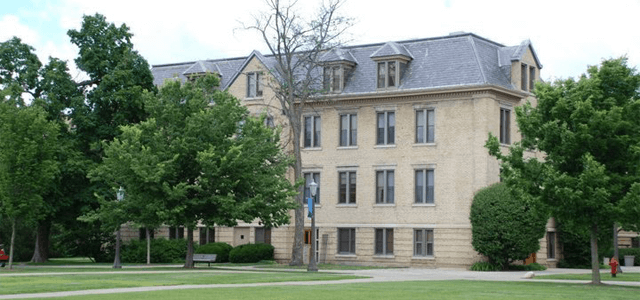 No Greek life means that each of the 29 single-sex residence halls has built up its own sense of community. Things like interhall sports teams and each dorm's signature event keep life interesting. Breen-Phillips Hall introduced a bowling team this year, and its members do their best to crush opposing dorms. Fisher Hall hosts the annual Fisher Regatta, an anything-goes-if-it-floats race across one of two lakes on campus. Dorms flaunt their pride and their dorm colors from atop soggy mattresses, inner tubes and even buckets held together with duct tape. Each weekend is filled with a different crazy event—and the dorm rivalries only make each hall try harder to outdo the other.
5. Quarter Dogs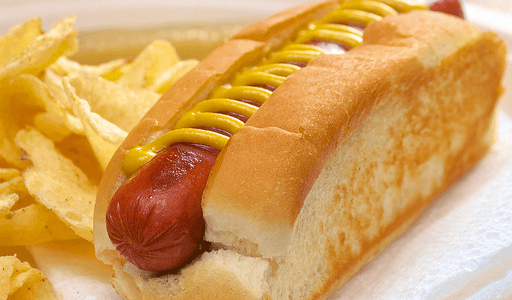 At midnight any day of the week, students flock to the Huddle Mart—the on-campus convenience store—to purchase a cheap late night snack. While the price of quarter dogs recently rose from 25 to 33 cents, the tradition and the name remain.
6. Campus-Wide Snowball Fight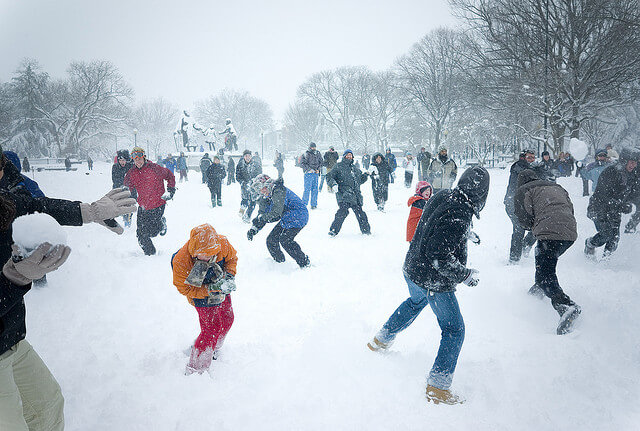 The first big snowfall of winter is a sign that the campus-wide snowball fight is going down at midnight. Students don their snow pants and engage in an epic battle of north versus south quad. No one is safe, and everyone is going to get pelted.
7. Nicknames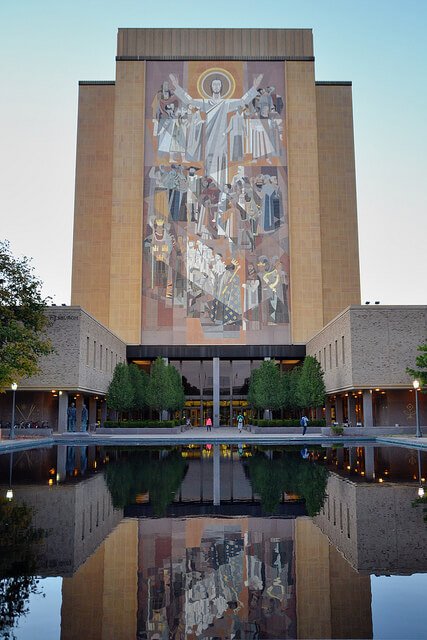 Between intense classes, standup shows, symphonies and the occasional trip to the sand dunes of Michigan, Domers have no time to waste words. And we like to say what we mean. As a result, everything on campus has a nickname. The buildings. The events. The statues. Lafortune Student Center becomes Lafun. The Coleman-Morse building is CoMo. And the statue names are all football-related, of course. The most famous of these is Touchdown Jesus aka the Word of Life Mural.
Top 3 Majors
1. Finance
2. Pre-med (combination of Pre-health and Pre-Professional)
3. Economics
Popular Student Organizations
Student Union Board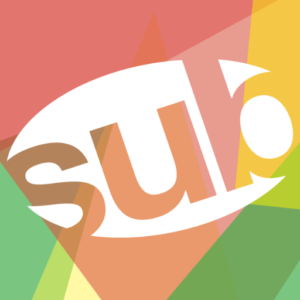 SUB puts on many of the events that happen on campus, including the Fall and Spring concerts, the week-long spring celebration of "Antostal" and movie screenings every weekend. Since South Bend isn't exactly a booming metropolis, SUB works hard to make sure everyone on campus has something to do. "The events we bring to campus enhance student life at Notre Dame by encouraging discussion, offering entertainment, providing a way to de-stress and most importantly, supplying a lot of free food." said Rebekah Rumschlag, SUB Director of Operations.
The Observer


As the daily student newspaper at Notre Dame, The Observer keeps students informed on the goings-on of campus as well as having a staff of "Viewpoint" writers to incite some debate now and then.
Circle K
ND kids love to volunteer and Notre Dame loves to give them opportunities to do so. "Circle K's three tenants are service, leadership and fellowship. The club is all about connecting to the community and developing relationships with fellow students, citizens in the community, Kiwanians, and so forth, while engaging in service and having fun," said President of Circle K Amy Wang. Circle K gives students the chance to engage in volunteer work throughout the South Bend community and puts on successful projects every year, like the award-winning Aidan Project that creates blankets for cancer patients and Turning Over a New Leaf where ND students volunteer to rake yards for our South Bend residents.
Getting In
The University of Notre Dame is a competitive school. With an acceptance rate ranging between 20 and 25 percent, most people don't get in, so it's definitely not for the high-school slacker. The application itself isn't any more difficult than other schools though. "As far as admissions go Notre Dame wasn't too stressful compared to other colleges, but I applied early action to Notre Dame so I got to find out earlier, and it wasn't binding so that was nice," freshman Delaney Lenaghan said.
Academics make up the most important portion of applications, with the average SAT and ACT scores of the last incoming class ranging between 1400-1530 and 32-34 respectively. Year after year, Notre Dame admits many varsity athletes and legacies as well. Since alum often ooze with Fighting Irish pride, it's not a surprise that their kids want to follow in their footsteps. Of course service experience, letters of recommendation and other achievements can enhance your application. You don't have to have all this to get in, you do need a pretty impeccable application to compete.
Stats
Location: South Bend, Indiana
Tuition & Fees: $47,929
Room and Board: $13,846
Estimated Total Cost: $64,775
Undergrads Enrolled: 8,448
Grads Enrolled: 3,676
Total Enrolled: 12,124
Acceptance percentage: 19.8%
Percent Admitted who Enroll: 56%
Percentage of Male Students: 52%
Percentage of Female Students: 48%
Percentage Receiving Financial Aid: 74%
Contributions from Dakota Connell-Ledwon