Syracuse University-Syracuse, NY
The Vibe: The rager you paid $60k to hit up
What it Feels Like to Go here:
If it ain't orange, it ain't right. Students at Syracuse University wear orange like a uniform on normal days and as a second skin on game day. And Syracuse University students hate their basketball rivals Duke and Georgetown as part of the admissions process. It's also recommended (not required) that you lose your expensive winter parka at DJs (the only bar freshmen can actually get into) at least twice in one semester. That doesn't reveal our carelessness; it reveals our ability to party hard even as the temperature drops faster than the beat. Syracuse takes the phrase "work hard, play hard" in all its seriousness. We make straight A's and take no L's.
Awesome Alumni
Syracuse University hit the lottery. Joe Biden, former vice president of the United States, recipient of the Presidential Medal of Freedom and protagonist of the dankest memes of 2016, graduated from Syracuse Law School in 1968. Another recipient of the Presidential Medal of Freedom, former U.S. Secretary of Health and Human Services and current president of the Clinton Foundation Donna Shall received her Ph.D. from the Maxwell School of Citizenship and Public Affairs at Syracuse. Moving on to the court, Ernie Davis, class of 1961, was the first African-American to win the Heisman Trophy, an annual award for the most outstanding player in college football. Another groundbreaking Orange alumna was Robin Toner, the nation's first woman to be the national political correspondent for the New York Times in 1976
Where to Hang
Syracuse Oranges hang anywhere indoors to avoid frost bite and New York's tundra climate. But if the sun happens to wake up from hibernation, Syracues students get back on the quad throwing Frisbees and sending puppy Snaps to their best friends. But when the quad gets too busy, students head to the designated street full of food and overpriced boots: Marshall Street. Marshall Street holds the standard student menu of Starbucks, Dunkin' Donuts, Chipotle and three pizzerias. Once the sun goes back into hiding, sloshed SU students showcase how loud they can be stumbling Marshall Street to DJs (the freshman bar) and Chuck's (soon to be closed down). But when students are back on the grind, Bird Library and Carnegie Library is the spot. But honestly, we're not sure if students at Bird are studying or just go there in their pajamas and Uggs to use the Snapchat geofilter "Club Bird."
Q&A
1. How much are students partying?
"A good amount. I'm a sophomore, so I'm a little sick of the three same bars that there are, but there's always a frat party somewhere," sophomore Hannah Seitz said.
2. What will you get in trouble for at your school?
"If you miss too much class, you are going to get into trouble. I guess that's true at many universities, but I'm on probation now because of not attending class. Always turn your shit in on time," freshman Brian Lee said.
3. How much sex are students having?
"I think a lot. There's a normal amount of sex between boyfriends and girlfriends, I think. But for some reason, sexual assault happens way too frequently and we don't talk about it as often as we should," freshman Jacqueline Meuser said.
4. What would you tell incoming freshman about your school?
"You can relive and discover who you are because SU really has a lot of opportunities and it's so diverse," sophomore Ruby Batbaatar said.
5. What is one thing everyone should try out at SU?
"Watch the sunset from the Quad. Syracuse is not very steep or shallow, so you can see the horizon and you can see the colors of the sun as they go down and you can see beautiful clouds too," freshman Meric Demirbas said.
Student Reviews
"I actually didn't enjoy it a lot my first year. I was in the process of transferring, but right then, I started getting out more, getting more involved, talking to people on my floor, and it completely changed my view of the place. You don't realize you're falling in love with Syracuse until it hits you one day."–Komal Sharma, economics and finance major, Class of 2018
"Being a minority, talking about immigration and how the Syracuse body sees minorities, it was challenging. People are not educated yet on some things and say things out of context. Generally, people stick to their own people."–Dulce Gallo, policy studies and political science major, Class of 2017
"I really enjoy being in the Citizenship and Civic Engagement program. It helped me explore myself and realize my passion for community service in a way that I hadn't realized before. Also, SU helped me find my bridesmaids. Now I'm just waiting for someone to kiss me on the Kissing Bench."–Vicky Chan, international relations and citizenship and civic engagement major, Class of 2019
"I feel like I have a different perspective now. Where I'm from, it's literally just Puerto Ricans, no one else. Coming to Syracuse, it's the first time I have been exposed to different cultures and it's fascinating. Being able to interact with international students has really impacted me and the way I understand my major."–Paola García Soto, international relations and economics major, Class of 2019
"SU has allowed me to explore who I am as person. Through its classes, organizations, and international community I have been exposed to different narratives that I would have never gotten going to a public university back home."–Bianca Castro, policy studies major, Class of 2019.
Top 3 Majors
1. Business, Management, Marketing
2. Social Sciences
3. Visual and Performing Arts
Top 3 Most Popular Student Organizations
1. University Union
University Union is the official programming board of Syracuse University. They host small and large scale concerts like Juice Jam in the fall and the day-long Block Party/Mayfest in the spring where they bring top artists like The Chainsmokers and Chance the Rapper. "Not only do you get to make a lot of friends, you get a lot of industry and professional experience for entertainment," senior Caitlyn Russell said. "We try to bring the best entertainment possible to campus to keep students involved in campus activities, so they don't get into activities off campus (that could be bad)." If ever there was a chance to just coincidentally run into the founder of a viral photo blog and get your photo taken, UU gives it. Thanks to UU, Brandon Stanton of the Humans of New York came to speak at SU.
2. University100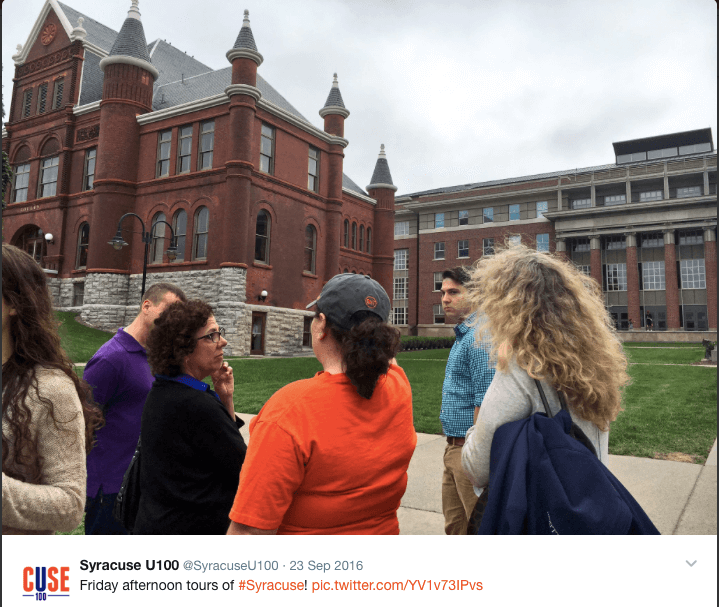 University100 builds relationships through networking and represent the Syracuse Orange. They look for courageous students who are committed to waking up at 8 a.m. for a campus tour and paint a radiant smile on their face as the wind smacks into your nose. "I think it's a great way for me to get outside my comfort zone, do things I haven't done before, while also give back to the university that's given me so many incredible opportunities," sophomore Kelsey Thompson said. "It's a really gratifying experience because I remember being in their exact position during my college search process," Thompson said. With U100, the Orange experience comes full circle.
3. Student Association
Student Association at Syracuse University represents undergraduate student leadership, initiative and a way to better the Syracuse campus with the bright ideas of students. "One of the most significant things about SA is all members are so passionate about the SA, University and Syracuse community, so we work together, which makes us a team, solves the issues faster and creates new things," freshman Ladin Bacakoglu said. SA makes the policies at SU that other students don't normally appreciate and overt things like buses for events (that we definitely appreciate). Can you imagine a world without buses to take you back and forth on this sprawling campus? Too painful.
Getting In
Stats
Location: Syracuse, upstate New York
Tuition & Fees: $43,440
Total Cost on Campus: $65,574
Undergrads Enrolled: 14,532
Grads Enrolled: 6000
Total Enrolled: 20,000 ~
Acceptance percentage: 53
Percent Admitted who Enroll: 22%
Enrollment: 14,000+ students representing more than 120 countries
Percentage of Male Students: 45
Percentage of Female Students: 55
Percentage Receiving Financial Aid: 73
Percentage Receiving Federal Grants: 25
Percentage Receiving Federal Loans: 56