Princeton University—Princeton, NJ
The Vibe
Traditional meets trendsetting
What it Feels Like to Go Here
Princeton definitely lives up to the East Coast, ivy-league-prep-school stereotype… but only to a point. While the old-school, gray stone architecture gives the campus a more traditional feel, Princeton is anything but a cliché. The university's unique campus culture and community focuses on mutual support (between students, staff and alumni), school spirit and—oh yeah—eating clubs. Princeton students place just as much importance in having fun as they do in academics—whether that means partying, attending shows by various student performance groups or showing off their school spirit through school traditions. Attending a school with such a long and vibrant history also gives them the sense that they're a part of something bigger, which contributes to Princeton's tight-knit campus community.
Awesome Alumni
Of course this Ivy League school boasts some pretty cool alumni. Notable ones include former U.S. president Woodrow Wilson (JFK attended Princeton for a few months, too, before he left because of a gastrointestinal illness), author of The Great Gatsby F. Scott Fitzgerald, actresses Brooke Shields and Ellie Kemper and the amazing, transcendent moon flower Michelle Obama. Going to a school with such talented and successful alumni might seem intimidating. But if Ted Cruz can get a degree from Princeton, so can you.
Where We Hang
Princeton social life takes place mainly on "The Street," a road adjacent to campus that houses the 10 eating clubs—essentially mansions that serve as upperclassmen dining and social clubs. If "The Street" scene isn't your thing, venture to one of the nearby movie theaters, attend performances and concerts by Princeton's dance and a cappella groups or check out Princeton's alcohol-free events on Thursday and Saturday nights. New York is another popular escape for Princeton students, especially on weekends or breaks. The city is great for meeting up with friends from other places or just getting off campus to explore, shop, visit museums or see a show. If you plan on hanging out around campus, check out the Frist Campus Center, one of the (many) cafes or libraries or attend one of the events at the campus art museum or theater.
Q&A
1. How much are students partying?
"Some juniors and seniors enjoy pub nights out in the town, but it doesn't compete at all with the social scene on 'The Street.' The biggest party nights are Thursday and Saturday. Despite the stereotype that Princeton students are all serious and bookish and can't have wild parties, people party just as hard as they work here, probably to blow off steam from their tougher academic pursuits," said sophomore Hannah S.
2. What will you get in trouble for at Princeton?
"Mostly things like violating the honor code on tests and papers. Occasionally, having alcohol available to minors. But for the most part people don't get into too much trouble," said freshman Erin Boateng.
3. How much sex are Princeton students having?
"Everyone's stresses tear them apart quite a bit, but stress also leads to a lot of sex to blow off steam, so Thursday and Saturday hookups are super common. Polyamorous sex-focused relationships are much more common than typical romantic relationships… There's a ton of experimentation and people are generally pretty open to new things. It surprised me at first, but makes sense with the broader campus culture. A lot of Princetonians are pretty wacky and liberal," said Princeton student John M.
4. What would you tell incoming freshman about your school?
"You're smart enough to be here. Be outgoing your freshman fall even if that's not usually you. College is great for exploring alcohol, but do it cautiously and safely. Upperclassmen want to be your friends. Every class you take is precious, and you should use this time to try things you'll never get to try again," said senior Colter Smith.
5. What's up with the eating clubs?
"Freshman and sophomores are part of the residential colleges and have a meal plan. The middle of sophomore year, they are able to decide between cooking for themselves, joining a co-op, a dining hall meal plan or joining an eating club. After that, your eating club becomes where you eat all your meals, but also becomes where you spend a lot of your time… Really, eating clubs are what you make them to be. You can go there just to eat and leave, or you can spend time with the people and make it a big part of your social life. It's up to you," said sophomore Sarah Mathew.
Student Reviews
"The Princeton campus and the surrounding little town are beautifully quaint. There are not too many exciting things going on in the town, but there are a lot of cool restaurants and shops, so there is always a venue for whatever it is you want to do. In terms of the Princeton experience, the academic workload is every bit as heavy as you can imagine. The talent in the student population still boggles my mind, even after almost two semesters here. Coursework is taken seriously, but that ultimately makes success that much more rewarding. Despite the hard work involved, Princeton is still a lot of fun. It's very easy to meet people through the tons of different groups on campus." — Yang Tu, operations research and financial engineering, Class of 2020
"Princeton University is filled with passionate students and professors. Almost everyone has big dreams and work ethics to match. Of course, courses can be challenging and balancing extracurricular with classes can be difficult, but students somehow make it work. I believe having great support systems, whether that be through friends, Residential College Advisers, Residential Graduate Students, Academic Advisers or other advisers, is the key to finding that balance." — Pranaya Anshu, Class of 2019
"My Princeton experience has been a lot of exposure to amazing people and awesome things, which is at the same time really humbling and incredibly exciting. It's a lot more of a hit to your ego than you expect; everyone who comes to Princeton has been the best at what they do their whole lives. Getting here, you are average for the first time, and it's a rude awakening. But at the same time the people you meet are so amazing. Your friends, your teammates, your classmates are all incredible at something, and being around them all the time makes you feel like you can be incredible too." — Theo Tamayo, history, Class of 2019
"Princeton has been a roller-coaster. That's probably the best way to describe it. It has quite the work-hard play-hard atmosphere. I don't think anyone quite expects the kind the challenges you find here or the expectations a lot of professors have of students. There's a sense of imposter syndrome, where most people don't think they belong or their admission was a mistake because everyone around them seems so much more amazing. But as people spend more time here they realize everyone is talented in different ways and everyone kind of finds their niche." — John M.
"People here are very driven and very talented. I have found it hard in many ways, mostly time management. The work is hard but made more difficult because there's a million things to do all the time. Classes are extremely well taught. There truly is an intellectual community here. Students and faculty alike are very engaged with the school and the subject matter. You really can't find a better place to learn and meet amazing people." — Henry Parkhurst, Class of 2020
Top 3 Majors
1. Public Policy Analysis
2. Economics
3. Computer Engineering
Top 3 Most Popular Student Organizations
1. Social Justice/Student Wellness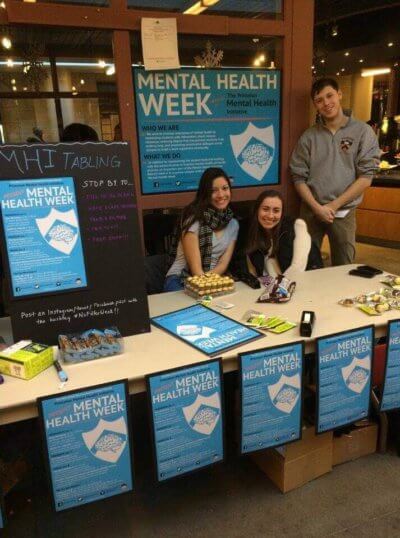 While student wellness clubs focus on increasing access to physical and mental health services for students, as well as reducing the stigma surrounding issues of mental health, social justice groups deal with a ridiculously wide range of social issues. "PPP's (Princeton Perspective Project) mission challenges the all-too-prevalent culture of 'effortless perfection,' which creates the illusion that others' paths to success and fulfillment are easy, uncomplicated, and free of failure; and MHIB (Mental Health Initiative Board) works to improve access to campus resources relating to student mental health, reduce stigma surrounding mental health issues, and spark dialogue," said senior Matt Blazejewski.
2. A Cappella and Dance
Princeton has a prominent performance community centered around their many a cappella and dance groups. While some groups have all-female or all-male casts, or include members of specific cultural identities, all work to create a single, dynamic campus culture. "Being a part of a dance group at Princeton means you have a community to both perform with and just have fun with during social events. Being a part of extracurriculars at Princeton is a part of the Princeton experience," said junior Shohini Rakhit, a member of South Asian dance company Naacho.
3. Student Government
The Undergraduate Student Government (USG) serves as part of the foundation of campus life and culture at Princeton University. USG assumes a ton of responsibilities, including working with administration to provide better services to students, organizing campus events to create a cohesive student community and giving voice to undergrads to ensure greater student representation. "[My experience in USG] has given me the opportunity to engage with students across all aspects of life around issues that are important to their communities and thus our campus as a whole, while also raising critical questions within our governing body, the students body, and with administrators," said Princeton junior Myesha Jemison. "We carry the responsibility of working on behalf of students and being conscious of how our actions … not only impact current students, but future generations of Princetonians as well."
Getting In
Princeton University doesn't have a preconceived notion of the "ideal" applicant. You don't need to shoot for a specific SAT score or a certain number of AP classes to get in. Instead, the university considers each potential candidate individually and holistically, based on a combination of their talents, personal qualities and background. They want people who are well-rounded. Admissions officers will focus more on things like your internship experience, community service activities and extracurriculars before they reduce you to your class ranking. Obviously, Princeton is still a highly competitive school, so your grades and test scores still matter. But it's more important that you demonstrate a strong interest in learning and a passion for other non-academic pursuits to impress Princeton admissions, which is achievable beyond just a killer GPA.
Stats
Location: Princeton, New Jersey
Tuition & Fees: $45,320
Total Cost on Campus: $63,690
Undergrads Enrolled: 5,400
Grads Enrolled: 2,781
Total Enrolled: 8,181
Acceptance percentage: 6.5%
Percent Admitted who Enroll: 68.3%
Percentage of Male Students: 52%
Percentage of Female Students: 48%
Percentage Receiving Financial Aid: 60%
Percentage Receiving Federal Grants: 95%
Percentage Receiving Federal Loans: 0%