The Vibe: The beautiful party school
If you're looking for aesthetic beauty and gargantuan parties, then Ohio University takes the cake. Located in the gorgeous town of Athens, Ohio, the Bobcats know how to greet a Bobkitten. Hill after hill fills this campus, and most of them are paved with nostalgic, fire-red clay bricks. Whether it's covered in snow or coated with leaves, the OU campus doesn't need a filter to make it look good.
Students at Ohio University are as chill as The Dude himself. We wear what we want, but if you feel like adorning a hunter green OU t-shirt and khaki pants, you wouldn't be the only one. We talk about issues that matter. We know how to make an outsider feel welcomed. We could even talk your ear off about our pristine Scripps College for hours. Come to our HallOUween block party, with out-of-mind costumes such as Marilyn Monroe or an Alice in Wonderland posse. Stop by The Front Room Coffeehouse for an open-mic night, or watch The Nuddhist Monks funk you up at a local bar. You won't be disappointed.
Bragging Rights
No. 2 in USA Today's Ten Best: College Town Weekend
No. 7 in SmarterTravels "America's 10 Most Haunted Cities"
Ranked in "The 100 Greatest College Traditions"
Ranked in College Magazine: CM's Top 10 Journalism Schools
No. 129 in U.S. News and World Report
Quirks of Ohio University
1. OU's roads have been covered in old red clay bricks since its opening over 200 years ago. Fired from the red clay underneath Nelsonville, Ohio, these bricks are a piece of Athens that will stand the test of time.

2. Take a tour of one of the most haunted places in America: Athens' Asylum for the Insane (The Ridges). This abandoned asylum held Civil War veterans and even a man who thought himself as the second coming of Christ. These desolate halls are haunted by patients that, when alive, may have been exposed to shock therapy or lobotomies.
3. HallOUween in Athens is something that can't be missed. Students take their costumes almost as seriously as their drinking. Keep on the lookout for a Slender Man, a Bob Ross or more Waldos than you can count. Along with that, live music and crowded streets keep the party going all night long.
4. Words don't do the OU campus in the fall justice. With trees coated in reds, yellows and oranges, you're always surrounded by that picture perfect moment.


5. Look no further than the E.W. Scripps School of Journalism for all of your communication experience. Ranked as one of the top journalism colleges in the U.S., Scripps has a tendency to teach its students the ins and outs of journalism in distinct and clever ways.

6. Alden Library is the place to be when it comes to crunch time. With a floor that is open 24/5, Alden has been known to house many sleeping students studying well into the night.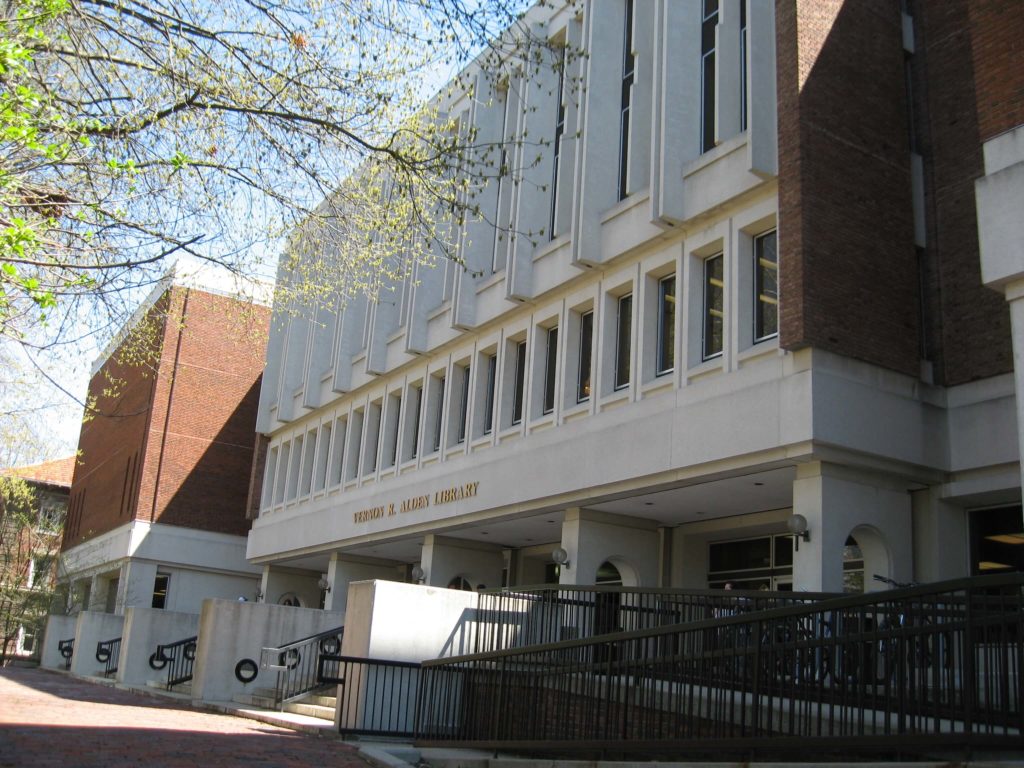 7. Palmer Fest is a spring semester festival in which students herd together on Palmer Street and partake in a weekend of belligerent fun. Beer bongs, beer pong and loud music; get ready for the craziest weekend of your college experience.
https://www.youtube.com/watch?v=RvcxmD9asMM
Getting In
Average SAT Score: 980 – 1180
Average ACT Score: 22 – 26
Average GPA: 3.4 (on a 4.0 scale)
Selectivity: 73% admitted
Application Deadline: February 1
What's Important: Application essays, class ranks, GPA, ACT and/or SAT scores, performance in high school and extracurricular activities
Ohio University is a semi-competitive school. However, don't take the application essay lightly; this is the time to let your colors shine. And when it comes down to it, OU looks for what you've done to make an impact in your community. So tell them about that time that you took a whole day to clean up your town's park. They want students that are willing to bleed green and wear their colors with pride.