Georgia Institute of Technology–Atlanta, GA
What It Feels Like to Go Here:
Interested in going to Georgia Institute of Technology? Do you strive to be the person who improves the lives of mankind through science and technology? Well, GT might have a spot for you–just don't expect your typical college experience. Built right in the middle of the bustling city of Atlanta and not far from the Georgia Aquarium, Coke Factory and CNN Headquarters, Georgia Tech isn't for the faint-hearted. Being a Yellow Jacket means undergoing difficult course work, running on little sleep and always keeping your eye on the end goal: your degree and career. Get ready to have your brain stretched to its farthest capacity by the most influential people the country has to offer.
Vibe
A lab of technical innovators
Awesome Alumni
Ever dreamed of becoming President of the United States? Well your dream can be reality in the heart of the 404. Former President Jimmy Carter spent some of his college time at Tech. And if your future career goals have to do more with sports than politics, worry not. Spending time playing sports for Georgia Tech might be the stepping stone you need to make it in the big leagues. This path certainly worked for the Miami Heat's Chris Bosh and the Cleveland Cavalier's Iman Shumpert. Famous interior designer Vern Yip also proves that Georgia Tech offers a great education to more than just business and engineer majors.
Where We Hang
Just because you go to one of the toughest schools in Georgia doesn't mean you have to stay cooped up in the library studying all weekend. Take your nose out of the physics books and head to the Clough Undergraduate Learning Commons Rooftop. While you spend time up there relaxing and soaking in the sun, take some Insta-worthy pics in the rose garden or venture out and see what all the Atlanta area has to offer. You can walk or ride your bike down the Belt Line or lounge around Piedmont Park. If you find yourself looking for a cute little coffeehouse to escape to the basic b-tches of Starbucks, try out Amelie's, a vibrant bakery right off of Marietta Street.
Q&A
1. How much are students partying?
"Wednesday, Thursday and Friday nights people go out if they don't have assignments due [or] tests. In the fall everybody goes out on Saturdays for all day tailgating," sophomore Lacy Martin said.
2. What will you get in trouble for at your school?
"One thing that was a big deal in my computer science classes was cheating [and] copying code. My professor said it matters because if you cheat, you won't be as good of a programmer as everyone else, and that'll in turn make Tech lose its credibility," sophomore Caitlyn Britt said.
3. How much sex are students having?
"There are a lot of hook ups, and it's pretty much the norm to hook up with someone when you go out," sophomore Emily Dunford said.
4. What would you tell incoming freshman about your school?
"Everyone says it's terrible and you won't have a social life if you come to Tech, but that is not true. Your experience at Tech is what you want it to be and what you allow it to be," sophomore Shirali Desai said.
5. What is something that many people don't know about Georgia Tech?
"A lot of people don't realize just how fun the school can be. They know that it is difficult academically, but they forget that campus life is incredibly fun too. Everyone loves to hang out and have a good time," sophomore Alyssa Sargon said.
Student Reviews
"The best way I've ever heard someone describe Georgia Tech is from Tim Peterson when he said 'Going to Georgia Tech is a lot like dancing with Beyoncé. Compared to her you may feel inadequate, and you have no clue what is going on…but then you step back and realize that you're dancing with Beyoncé…and not many people can say they've ever been there.'" — Caitlyn Britt, Computer Science major, Sophomore
"Georgia Tech definitely pushes me more than I ever have been–both academically and socially. Coming here, I've really had to go outside of my comfort zone and meet new people. The nice thing is that everyone is going through the same things and provides a common bond as well as support from your peers. I have never struggled so much, but I also have a great support group and know that once I graduate it will all be worth it." — Alyssa Sargon, Chemical and Biomolecular Engineering major, Sophomore
"Georgia Tech feels like a unique city within Atlanta. There are so many international students and people from all over the U.S. that you get a massive culture blend. You could spend months on campus and feel like you've traveled to different places." — Jackson Taylor, Literature, Media and Communications major, Senior
"The feeling of going to Tech is honestly pretty cool. I love the diverse amount of people I meet. From the professors who are too smart for their own good, but also have to cancel class for the week because they'll be presenting their newest research findings, to peers who are willing to help for endless amount of hours to make sure I understand." — Emily Dunford, Biomedical Engineering major, Sophomore
"I feel like no matter what part of campus I go to, something will always make me fall even more in love with campus. Sure, academics are tough, but academics are something we have been trained to face with all our lives." — Shirali Desai, Mechanical Engineering major, Sophomore
Top 3 Majors
1. Engineering
2. Business
3. Management
Popular Student Organizations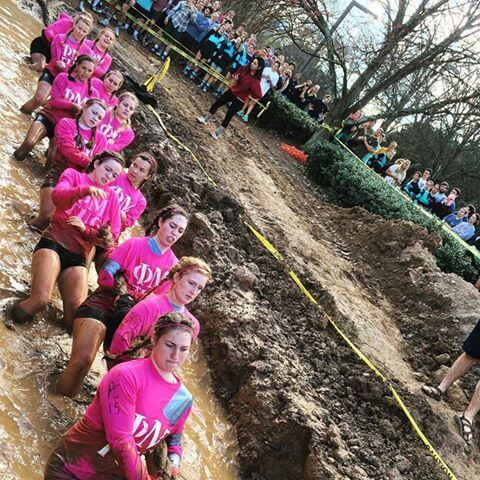 1. Just because people think of Georgia Tech as an academically-rigorous school doesn't make its Greek Life lifeless. Tech houses nine sorority chapters and 32 fraternity chapters. On top of that, students can find a home at any of the six fraternities and sororities of the Multicultural Greek Council or any of the eight sororities and fraternities in Tech's National PanHellenic Council. Students find their close network of friends to use as academic support as well as companions for various social events. "The Panhellenic community does dinner swaps every semester where you get to go eat at a different sorority [house] and hang out with other sorority women," Zeta Tau Alpha member Lacy Martin said. Walking past all the frat and sorority houses will make you feel like you entered into a whole new little town.
2. The Office of Minority Educational Services (OMED) at Georgia Tech pairs upperclassmen with freshman to help make the transition to college a lot smoother. "OMED's main purpose is to provide educational and enhancement of a minority student's experience at Tech, whether it be through mentorship, connections with co-ops and internships through some of our sponsors," junior biochemistry major Kuna Fortingo said. The transition to college scares many of us. You never know what college is really like until you can get to campus and experience it for yourself. OMED gives freshmen a mentor to turn to if they need advice on how to study for an impossible Calc test, a listening ear or even the inside scoop on the best times to hit up the dining hall.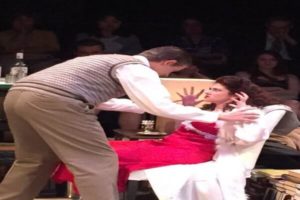 3. Interested in getting a taste of what it's like to be on stage? Join the Dramatech Theatre. "DramaTech performs musicals, plays, variety shows and improv shows for the Georgia Tech community,"President of Dramatech Christina Herd said. Students involved with this student-run organization experiment with the various roles in theatre. Another cool thing about DramaTech is that it isn't limited to Tech students only. The group is available to anyone in the area who has an interest in theatre.
Getting In
Tech takes the standard holistic admission process. Like many schools, Tech offers an Early Action deadline, a nonbinding application process that allows students to hear back from Georgia Tech at an earlier time, in October, and the Regular Decision deadline, which is January 1st. The admissions office notes that any student who wants to be considered for academic scholarships, such as the President's Scholarship and the Scheller Dean's Scholarship, must apply by the October deadline.
Stats
Location: Atlanta, Ga
Tuition & Fees: $27,420
Total Cost on Campus: $27,420
Undergrads Enrolled: 3,089
Grads Enrolled: 2,478
Total Enrolled: 5,567
Acceptance percentage: 32%
Percent Admitted who Enroll: 35%
Enrollment: 3,089
Percentage of Male Students: 64%
Percentage of Female Students: 36%
Percentage Receiving Financial Aid: N/A
Percentage Receiving Federal Grants (Pell Grants): N/A
Percentage Receiving Federal Loans: N/A