Bryn Mawr College—Bryn Mawr, PA
The Vibe
Academically Rigorous Hogwarts Driven by Sisterhood
What It Feels Like to Go Here
Walk past the beautiful Gothic architecture that exemplifies the powerful tradition of this esteemed women's college. Stop to chat with your friends lounging in hammocks on senior row in between classes. They feel stressed. You feel a little anxious about a paper due at midnight that you haven't started. You can't help it though, you have been busy with everything from a mock trial competition to a dance concert to a party at Bryn Mawr's brother school, Haverford College, this past weekend. But you laugh with your friends and you can feel the positive vibes they radiate. While academics at Bryn Mawr notoriously challenge its students, the tight-knight community of empowered women provides a sense of sisterhood unmatched by any other small liberal arts school.
Bryn Mawr proudly stands as one of only five of the original Seven Sisters, prestigious east coast women's colleges that remain women-only today. While single-sex education may turn off some students, the Tri-College Consortium with nearby co-ed Swarthmore and Haverford offers plenty of social, academic and extracurricular opportunities for Bryn Mawr students to get off their own campus and meet other students.
Awesome Alumni
Bryn Mawr alumna charm the world while they break barriers in all fields and facets of life. Of the more well-known include Katharine Hepburn, who graced the reputation of Bryn Mawr for many years to come with starring roles in classic movies of her time. Hepburn played leading roles in The Philadelphia Story, Guess Who's Coming to Dinner and The Lion in Winter. Jacqueline Mars, the daughter of Forrest Mars who founded Mars Candy Company, accompanies Hepburn as another high-society alumna. Other alumna includes Drew Gilpin Faust, the first female president of Harvard University. Gilpin holds the title of the first Harvard president who does not hold a degree from the institution. Ana Patricia Botìn became the chairwoman of the Spanish Santander Banking Group. Forbes rated her the 9th most powerful woman in the world in 2017.
Where We Hang
In good weather, students lounge on blankets on Merion Green or chat in between the cherry trees on senior row. Even the Whomping Willow couldn't destroy the peaceful setting. "Lying in the hammocks between the gorgeous cherry trees and reading is one of the most idyllic things in the world," junior Eliza Wagner said.
Additionally, while Bryn Mawr's Gothic architecture may make the atmosphere feel like quaint English countryside, Bryn Mawr does not lack off-campus options for fun. Downtown Bryn Mawr, just a short walk from campus, may not have a Honeyduke's Sweetshop or Shrieking Shack. However, who would want to visit Hogsmeade when they can frequent downtown Bryn Mawr favorites such as Snap Pizza, Green Engine Coffee and Sushi Land.
A train station within walking distance from campus makes short trips into Philadelphia possible. "I usually go into the city to find cafes to do work at, that way I don't feel so guilty about taking mini trips into the city. Some of my favorites are United by Blue and Menagerie Coffee, which are both located in Old City," senior Audrey Lin said. Downtown Philadelphia also offers countless concert, shopping and museum options for when students need a much-needed distraction from school.
Bryn Mawr students also just happen to lounge around one of 2018's most beautiful campuses.
Q&A
1. How much are students partying?
"Because of the Bi-Co, or Bi-College consortium, most of the parties happen at Haverford. However, two to three big parties happen on the Bryn Mawr campus each year. Other than that, groups of friends less than 20 people tend to gather together for small parties. Bryn Mawr itself is not what you would call a party school by any stretch of the imagination," said senior history major Sophia Silver.
2. What will get you in trouble at your school?
"Honestly there is not much. The two greatest things I would say are cheating and inclusivity. I say inclusivity as an umbrella term because there are so many changes being made to the social norms of gender and sexuality along with issues of race and ethnicity. The social issues tend to be handled by the students, though, while the faculty handles academic issues. When it comes to drinking and smoking, on the other hand, campus safety is not really going to do much because Bryn Mawr is a wet campus," said senior economics major Mary Elizabeth Cooper.
3. How much sex are students having? How is safe sex encouraged on campus?
"I'd say a lot. Almost all of the student body is engaged in some form of sexual activity, with some exceptions of course. Safe sexual practices are encouraged by the faculty members by providing free contraception or appointments to a gynecologist. Student groups and clubs on campus also encourage safe sex by throwing fun and educational events. These events can range to talks about STDs to discussions about sexual fantasies. Student groups also leave condoms in the bathroom," said Cooper.
4. What would you tell incoming freshmen about your school?
"Even though academics are hard, the school empowers and pushes its students to reach their full potential. They value the health of the students and encourage us to learn and not focus too much on grades," said sophomore growth and structure of cities and sociology major Jackie Fernandez.
5. What is the best thing about going to a women's college?
"I actually think that one of the best things about Bryn Mawr is its gym. I had never been in a gym or workout environment with primarily women, and it is a completely different experience. The whole place just sounds different. It is full of students and athletes supporting and cheering for one another. It is such a comfortable and productive place," said junior economics major Eliza Wagner.
Student Reviews
"Everyone is here because they are curious and want to learn, which inspires me to be a better student and better person. It's not just about the grades, but rather about thinking critically. The students here have such a great work ethic and the school usually has to remind us about self-care. But all that said, it's not all about academics. I've met some really good, wholesome people here. I can't really explain how amazing they are."–Audrey Lin, Computer Science and Linguistics Major, Class of 2018
"It feels like being in a bubble. Sometimes that bubble is nice and fun and on occasions a little tipsy, such as on May Day. At other times it is cold and hard and we all just want to leave because we all feel like we are going to cry. This is also known as finals season or winter or both. You come out of it not realizing how much you have learned, not only in the classroom but also through the social scene and applying for jobs and internships. It is a weird feeling that you never really shake and by the end you don't really want to." –Cooper
"Bryn Mawr is like Hogwarts, but you are working your butt off with wonderful friends to help you through it."–Silver
"The best part about Bryn Mawr is the traditions that connect all the students and alumni."–Fernandez
"My favorite part about Bryn Mawr is how it's nearly impossible to not feel like you have gained a thousand sisters. Through all of the traditions throughout freshman year you become so close with your friends. Because the school is so small, it is easy to get involved in whatever clubs you want."–Wagner
Top 3 Majors
1. Mathematics
2. Psychology
3. Sociology
Top 3 Popular Student Organizations
1. Crew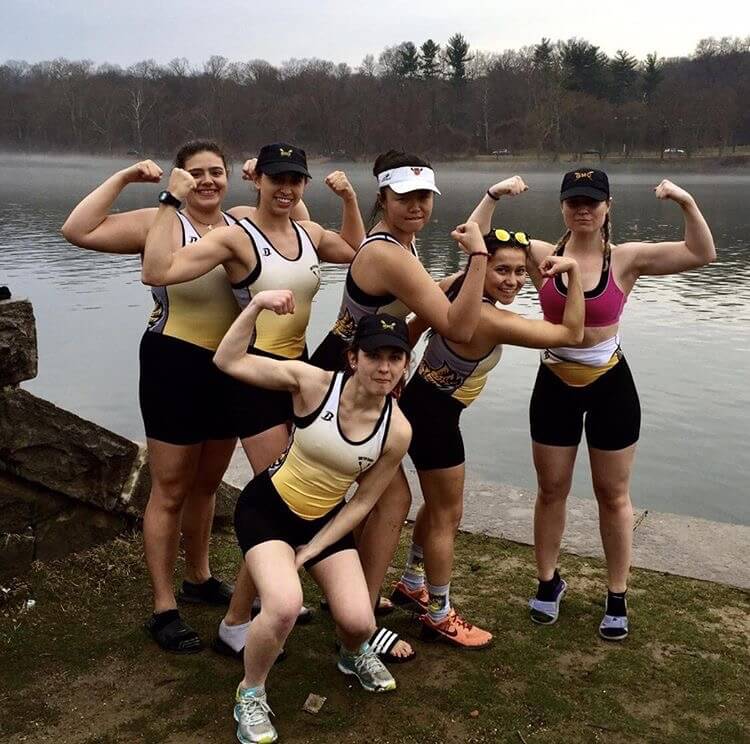 The Bryn Mawr Crew team, like all other school varsity athletics, is in the Division III NCAA Centennial Conference of elite small colleges. While the crew team does recruit, many current members walk onto the team with no prior rowing experience. "I was able to join the crew team as a novice and make it to varsity all within my first year," Fernandez said. Crew functions as a uniting sport to begin with, but specifically at Bryn Mawr, joining the rowing team creates a sisterly bond you can't find any where else. "The crew team is amazing. It's full of women who have a drive to do well for themselves and each other and work tirelessly to raise the standard for one another. I'm so lucky to be on the team," Wagner said. The team competes in small duals against other colleges within their conference such as Franklin & Marshall and Dickinson, as well as big regattas such as Dad Vails in Philadelphia.
2. Dance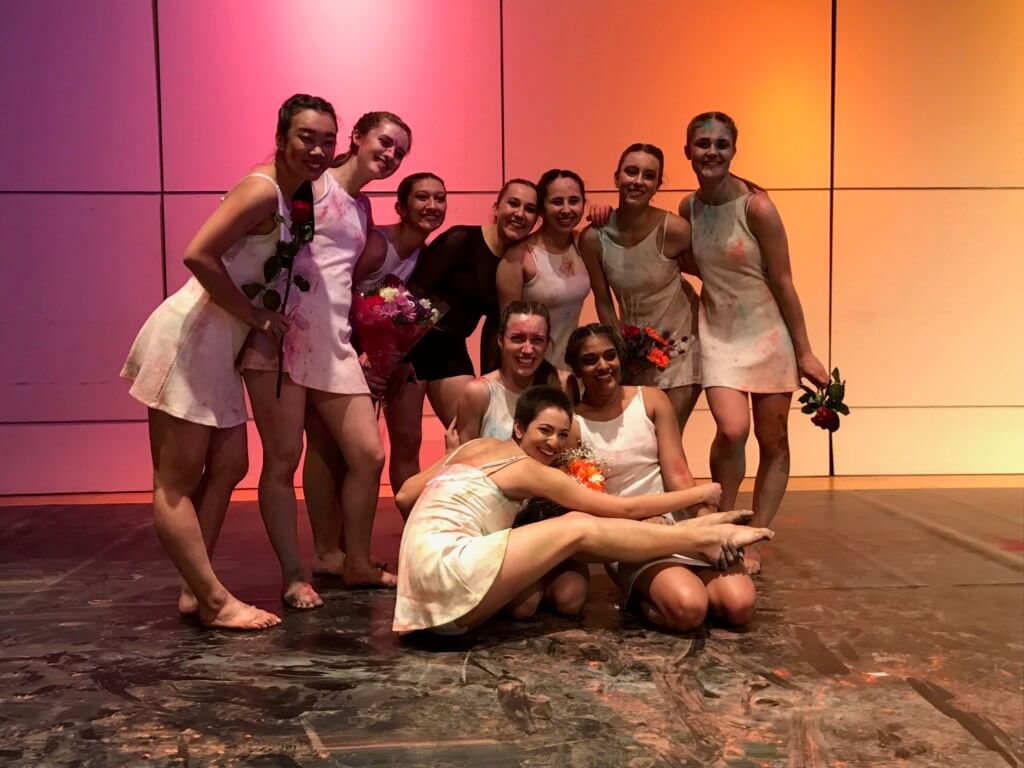 The Bryn Mawr dance faculty offers a variety of classes from ballet to Polynesian to swing—serving both the Bryn Mawr and Haverford communities. These styles are also represented in performance ensembles led by professional artists and choreographers from the Philadelphia area. "I've grown as an artist at Bryn Mawr as I've learned to imbue my dancing with my own experiences and I've been blessed with opportunities to create movement and define what dance means to me," Silver said. The student-run and choreographed dance group Tabitha joins with the various performance ensembles for the Spring and Fall dance concerts. You can make every day the Yule Ball if you so desire.
3. Chaverim A Capella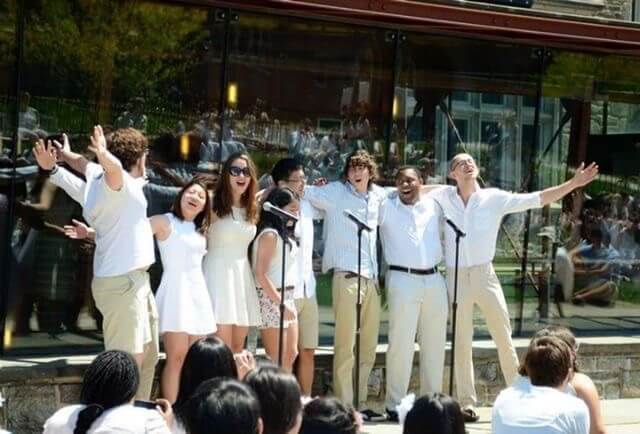 The only tri-college international a capella group comprised of students from Bryn Mawr, Haverford, and Swarthmore colleges. It works to foster a sense of both tri-college community but also an appreciation for music from other countries including traditional folk songs, rock and popular music and original compositions. They perform at all three colleges during Bryn Mawr's May Day celebration and Swarthmore's a Capella Jamboree. "Performing at Bryn Mawr's May Day is a favorite tradition for Chaverim members from all three colleges," senior Audrey Lin said. May Day celebrations mark the end of the academic year and offer a careefree, festive respite for students about to begin finals. Even if Chaverim doesn't strike your fancy, there are numerous other Haverford- Bryn Mawr Bi-Co a Capella groups as well as Bryn Mawr only groups.
Getting In
With a 38 percent acceptance rate and 91 percent of the Class of 2021 listed as part of the top two percent of their high school class, interviewing at Bryn Mawr shows your interest for the school and how you deserve a shot at admission. Admissions expects high tests scores as well. The Class of 2021 SAT scores averaged at a 690 for the reading section and a 725 for math. Luckily for more artistic Bryn Mawr hopefuls, their holistic application process allows room for supplements such as an arts portfolio. This option allows prospective students to demonstrate their non-academic strengths to admissions officers as well.
Stats
Location: Bryn Mawr, Pennsylvania
Tuition and Fees: $51,130
Total Cost on Campus: $67,630
Undergrads Enrolled: 1,381
Grads Enrolled: 328
Total Enrolled: 1,709
Acceptance percentage: 38 percent (2017)
Percent Admitted Who Enroll: 32 percent
Enrollment: 354 (2017)
Percentage of Male Students:0 percent
Percentage of Female Students:100 percent
Percentage Receiving Financial Aid: 67 percent
Percentage Receiving Federal Grants:14 percent
Percentage Receiving Federal Loans:38 percent