It is undeniable that the current state of our collective college experience revolves around all-day pajama life, scrolling through TikTok into the unending hours of the night and an extreme case of universal FOMO. However, the silver lining of quarantine life is the understanding that we will make the most of our time once set free. While you wait around in hope of an exciting and cinematic tomorrow, brush up on your history skills as I introduce you to the next big thing (that will turn six feet apart get-togethers into a distant memory). True American, a Candy Land and Jeopardy-inspired double-feature, is the best way to revive your social life and make up for any lost partying time with friends. This game is designed for both intimate hangouts and parties of full-blown proportions.
Go ahead, mentally calculate the names of the presidents' wives and grab a drink.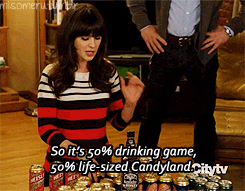 New Girl fans from all over have been anxious to try their luck at this fan-favorite game. "I've always been really interested in American history, so when I watched this game on the show I just had to teach my friends how to play," said Gabrielle Vultaggio, a junior at SUNY New Paltz. "Surprisingly enough, it was a definite crowd-pleaser." The rules of True American are fairly simple, and once they become second nature you'll forget all about those sticky beer pong memories for good.  
What you'll need: living room furniture, a couple of friends, an excessive amount of beer and one bottle of your choice of alcohol.
How it works: True American is just about as wacky and unique as the show that invented it, New Girl, so prepare for a whirlwind of wild rules. 
First and foremost: all players must split into teams and play rock, paper, scissors to determine who begins the game. 
Then, in true board game fashion, players must navigate through a series of "zones" (a.k.a. a plethora of chairs, tables, cushions, and pillows) in order to make it to the center of the room. 
There lies the "castle:" A line of beers extending in four directions from the bottle of liquor. Essentially, the beers are your pawns and the bottle is your king. In order to reach the king space, you must cross the zones of furniture and answer historical questions correctly. 
Once you answer, however, you must grab a pawn from the castle and drink as you move to the next space. Did I forget to mention the floor is lava?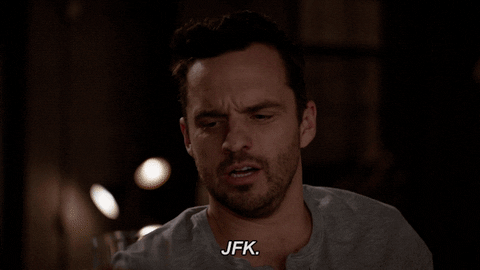 Ways to move: Besides acing history questions, there are a couple of other ways to make it through this Candy Land maze. 
One way involves counting, where all players count down from three, choose a number between one and five with their fingers, and hold it up. You move one spot for holding up a number that no one else chooses. 
The second way to reach the king involves completing famous quotes. One team member must recite a line from history, and whichever player finishes the quote simultaneously, jumps two spaces (ex: "There is nothing to fear but…", "FEAR ITSELF!"). "If you want to make this round even more challenging, allow bonus points for any players that can recite their quote to the tune of "'The Star-Spangled Banner,'" Vultaggio said.
Finally, move up three spots by winning the "Something in Common" round. A player announces two people, places, or things, and the winner replies by stating what the two have in common — ex: "Cherry trees and dollar bills?" "George Washington!"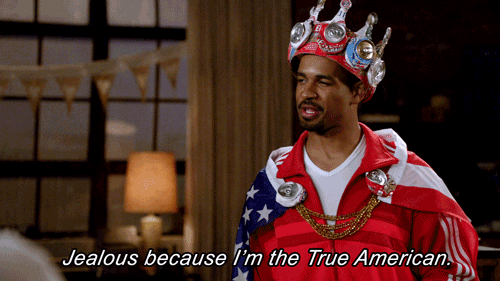 How to win: To become the ultimate True American, there must be no remaining pawns. The winner must then land on a space in the center zone, finish their beer and drink from the King in order to claim their triumphant title. Additionally, players become losers if they, 1) are caught without a pawn 2) are spotted with an empty beer or 3) have unfortunately stepped in molten lava. If you think you're ready to go, read up and get ready to embrace your inner Miley Cyrus for the definition of partying in the U.S.A.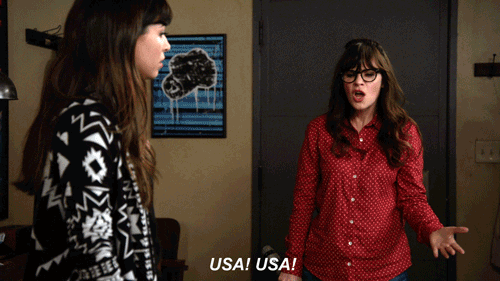 However, if the thought of unearthing your old history textbook makes you break out into a cold sweat, have no fear. True American is not exclusive to flash-card level knowledge of dead presidents: Spice it up any way you like. 
Encourage your friends to compile a list of Bachelor gossip, Kardashian memes, and Us Weekly exposés for the ultimate True Reality Show drinking game. Spending your quarantine curled up with a new true crime Netflix binge? Channel those late-night Tiger King conspiracy theories into a game where it won't be just the alcohol that makes your head spin. "What happens when True American meets Twilight?" said Stephanie Keane, a junior from St. John's University. "The teams will obviously split between Team Edward and Team Jacob, and the floor is the sun: You lose if you get caught as a sparkling vampire out in the open. The possibilities are endless." Even if your number one goal post-quarantine is to party without using any excess brainpower, pretending the floor is lava and hollering your favorite pop-culture one-liners is a sufficient enough game in itself. True Inebriation, maybe? There is no one way to play True American. Get inspired, prepare your furniture for a new adventure and drink responsibly, of course.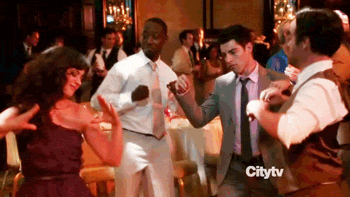 In these uncertain times, embracing creativity is essential to leading a happier and far less anxious lifestyle. So, while we stay inside and dream of a future full of strobe lights and crowded bars, let's get innovative. True American is only the beginning of new ways to reconnect with friends and let loose. With games like this under our belt, let's go back to college with a bang that will make even Fourth of July fireworks jealous. When freedom rings, we'll be ready to answer.