This weekend, I decided to finally check out Fluff, now known as The Fluff. A small, locally owned bakery in Athens, OH, it has been on my to-do list for years. With its revamped style and new liquor license I was intrigued, but because I didn't know the hours and my deplorable love of sleep always get the better of me, I didn't get to try any of their said-to-be delicious eateries. I was still hungry, though, and didn't want to trek back home to eat. I decided to revisit a handful of my favorite Athens-based restaurants.
After missing my pivotal Fluff experience over the weekend, I waddled through a parade of drunken, neon color-dressed peers to get Goodfella's pizza. They have two locations, and I chose the Union Street shop because even though it was smaller, it was away from High Fest and therefore a far more relaxing, agreeable sit.
Every time I go to Goodfella's I get the special. For $5, you get two fresh slices with your choice of toppings and a nice long cup of fountain pop to boot. It goes down great, drunk or not. Forewarning: it's about as greasy a pizza as you can get in Athens, but chances are you'll indulge in its melted goodness.
On another note, if you've lived in Athens and missed Peking Express, you haven't lived. Located under a FedEx in the middle of town, it's a quaint Chinese hole-in-the-wall where, for $4.99, you get a 7-by-5 inch white tray filled to the brim with rice and your choice of three toppings. You can't be fuller for cheaper if you tried at Ohio University, unless you get a really good price on spaghetti or you somehow scored the best meal plan ever. Should you choose to sit inside, you also get to watch wonderful Chinese variety shows and game series surrounded by walls covered in banal American catchphrases and Hello Kitty stickers.
That's just what I had this weekend. Truth is, you have so many quality options here. As the world's foremost burrito lovers outside of Mexico, Athens has at least three ventures to grab a roll of Mexican food. The most notable would be Big Mamma's. While it's hard to go wrong with a burrito, except in the cleanup department, every bite of a Big Mamma's burrito is better than the last. If you go on the right day in September you'll get yourself a nice free T-shirt with your order. Be on the lookout for that, and don't miss it for the past three years like my sorry ass has.
If you are in the mood to sit down to eat, grab your buddies and head to Union Street Diner. Open 24 hours, some may just see it as a sea of underage drinkers hoping people won't notice they're trashed when they stumble into a restaurant at 2 a.m. But they have stellar food, fine service and a nicely tuned atmosphere, which gives your friends the lovably low-key, coffee-infused ambience you want when you eat your fries and burger at 4 a.m.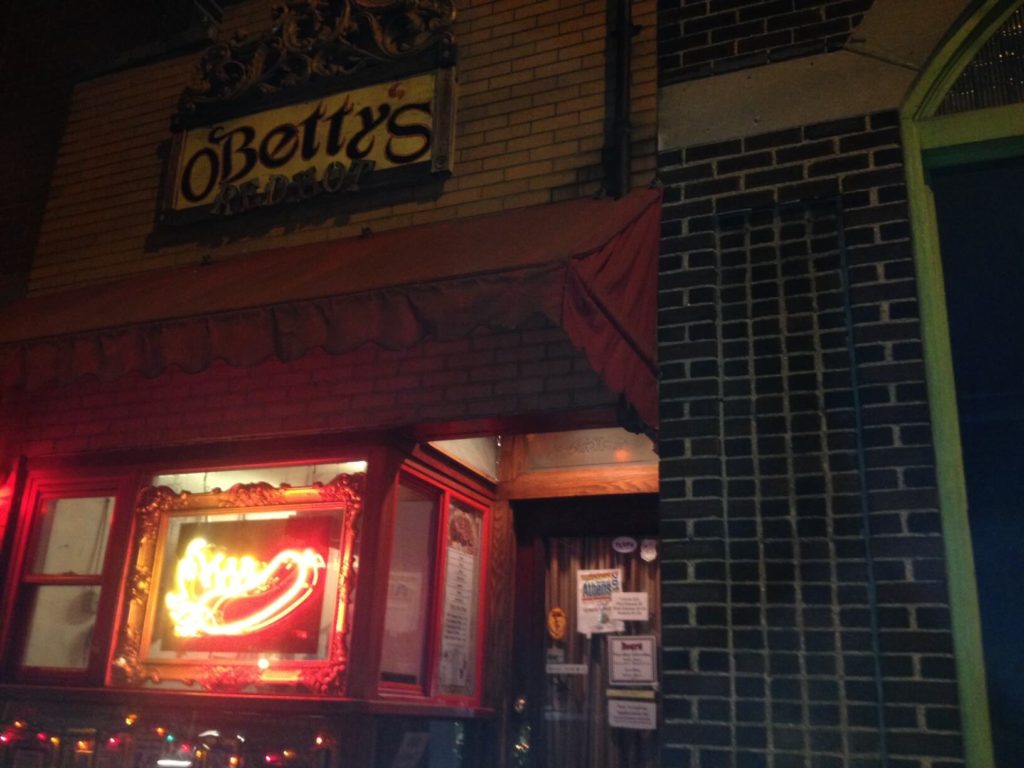 Maybe you like your hot dogs and fries to go. That's no problem because O'Betty's Red Hot, prided on their home-cooked meals, offer both sit-down options during the day and window-call service during the weekend night hours. Add some melted cheese on your fries with ketchup on the side to boot—particularly after a couple beers—and you'll see there's no better way to enjoy the Athens midnight sky than with O'Betty's fries.
This doesn't even mention China King, Hababbi's, Court Street Diner, or Salaam, all fantastic local places to eat. Or even Souvlaki's Mediterranean, Thai Paradise or Zoe's, places like Fluff that I have yet to visit. The point is: it's hard to go wrong when you want something to eat here. Tons of places are at your disposal, all offering a wide variety of choices. It's foodie heaven.
That said, however, if you want to go to a place here, don't hesitate like I did. For years, I wanted to check out the Rio Grande Mexican Restaurant. I heard from many about their tasty meals, nice local service and wonderful setting. Because its location and hours never fit my schedule, though, I never got to go. Now it's closed and I'll never say I went to Rio, considered one of the best eating venues in Athens.
While I doubt this is in danger when it comes to The Fluff—especially since they reopened— if you want to check out any local places in Athens, just go for it. Work around your schedule. You only get to visit these places during your time here, so skip the dining hall once in a while and check them out. Just make sure you know the hours before you come with an empty stomach.