Everyone learns that sharing is caring. But we can all agree on the one thing nobody wants to share: a room.
Since middle school, I had my own room and always had the ability to decorate it any way I wanted. After moving to college, I quickly discovered my boho vibes might not mesh well with my roommate's decor.  Even worse, I found myself confined to a teeny tiny dorm room with almost no space to decorate. Little did I know these challenges would lead to more problems for me in the future.
At first I thought I would settle for having a poorly decorated room. My only wall that I could decorate was made of command strip-resistant cement. Everything I tried to hang fell within a week. Eventually, as the papers stacked higher and higher on my desk, I no longer had time to decorate.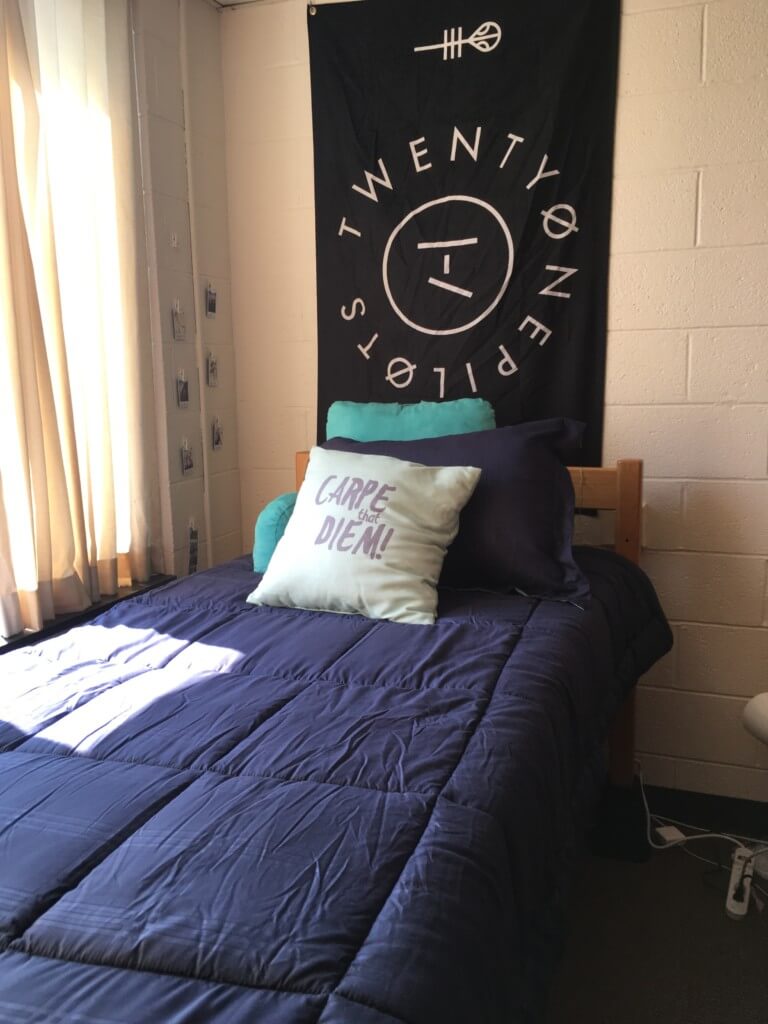 I decided to settle for my bland walls, but began to feel more and more bland myself. In my room back at home, I hung dozens of records on my walls. Each one reminded me of the musicians I loved, including Lana Del Rey, Bastille and Twenty One Pilots. They also reminded me to take a break from work and listen to music. Without these constant little reminders, I sunk deeper into my work and forgot to take breaks. Draining myself of all my energy, I began to forget who I was.
The following semester, I switched dorms. This time around, I had a much bigger space to decorate. I knew I had to do something different or I would fall into the same trap. I sent my records to my dorm and bought cheap trinkets to make my room feel like home. I covered my walls with anything I could. At first I feared I would turn my dorm into an eyesore, but I quickly realized it's almost impossible to overdo it when decorating a bland dorm room.
My walls ended up covered head to toe with records along with Polaroids pasted in every corner. I made a tea and books collection. I pinned quirky buttons into a cork board. My native California heart couldn't let me go without hanging an In-N-Out hat on my desk. I even cut a door handle out of a British flag to hang on my bathroom door. Within one weekend, I went from four bland walls to my own little paradise.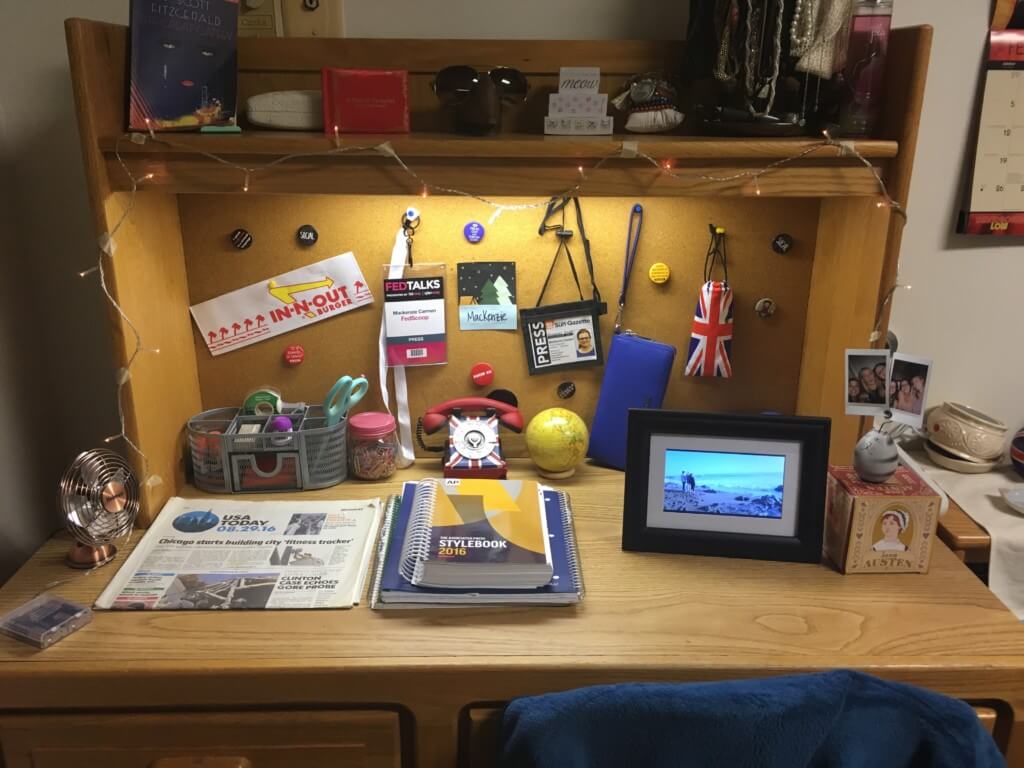 At first, the only difference I noticed was attributed to my cute decorations. As time went on, I began to notice that I felt much more upbeat. I started playing more music, taking more time for myself and even making better grades. I found out that something as simple as decorating your room can really improve your wellbeing and state of mind.
If you want to redecorate your dorm, you should keep a few things in mind. There's no one right or wrong way to decorate. However, getting an early start will help everyone. Before you move into your room, look up your dorm's dimensions. With this information, draw a quick sketch of how you envision your dorm's decor. Drawing out your ideas will not only help you plan, but it will save you money so you don't stuff up your room.
When I first went shopping for my dorm, I felt clueless about what I should purchase. My lack of organization left me with a completely disorganized and unappealing room. The blank walls stared back at me, and my crammed closet looked choked out with coats. My drawers were crammed, my bedding looked tattered and beaten down and worst of all, my roommate was putting her own personal belongings on my side of the room! I couldn't even handle my own disorganized half of the room, let alone a stranger's.
Once you've made a plan, don't spend a fortune to fill your space. Places like Etsy will provide you with one-of-a-kind decor for cheap prices. Another way to save money includes using items you already have. Many everyday items such as books can elevate your room. Further, personalized artwork only cost me twenty dollars, let me express myself and added color to my walls.
Finally, don't compromise your design to fit your roommate's dream. If you and your roommate have similar design aesthetics, then go for it. But don't change who you are. My old roommate wanted me to hang her tapestry on my wall, which compromised my preference to hang . I felt like I lived in her room and not my own. Stick to what you love and you'll have a stress free, happy semester. Before you know it, your little college dorm will begin to feel like home.
It definitely worked for me.