A trip to Greece means slowing down and delighting in the little things. The sunset in Santorini, the fresh feta in Athens, the stunning landscapes and olive groves of Crete, the white rocks and dark blue waves of Milos, and the siesta cappuccino in Sifnos. If you only have 10 days, you want don't want to feel bogged down by tourists and to-do lists. Stick with me as I uncover the 10 most indulgent and relaxing things to do if you are looking for a stripped down, authentic Greece experience.
With these top 10 things to do in Greece, you can unwind and experience Greek culture like a local.
1. Embrace your Inner Foodie in Athens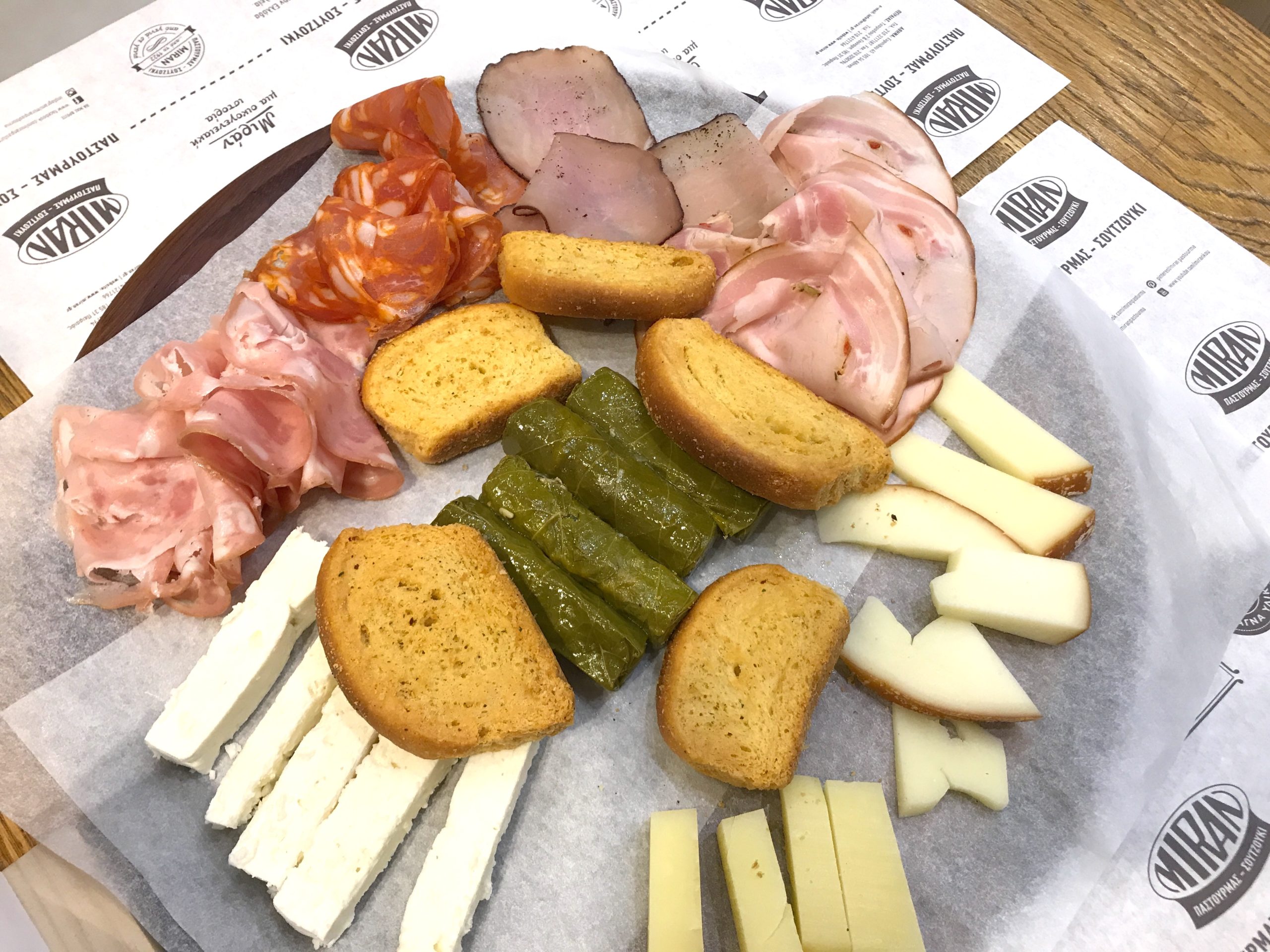 Don't jet off to the islands just yet. Athens is the perfect introduction to the Greek culture. Start off by treating your taste buds to a food tour of Athens. While you're experiencing fresh and local eats at restaurants like Bougatsa Thessaloniki, O Thanasis, Ta Karamanlidika Tou Fani, Yiasemi and Mokka, you're also stepping into the bustling fruit and meat markets, gaining a greater understanding of the Greek way of life. Yannis and Alex, our guides from Athens Insiders, opened our eyes to the history of it all. When you ask why the feta is so good, you'll learn it's because of the hillside landscape which allows for the best sheep grazing; it all comes full circle to the meat and cheese plate in front of you. If you haven't tasted bougatsa, tsipouro, lamb merguez kebab, and tzatziki, then I'm sorry to say, you're doing Greece wrong. Don't suffer the FOMO—get the food tour.
2. Bike to the Best Views of the Acropolis

You only have 10 days so how do you pack in everything without missing one of the most monumental ancient citadels and surrounding historical monuments? Travel by bike and get there quicker! Our tour guide Dimitris from Athens by Bike took us to breathtaking panoramic views of the Acropolis. Then we peddled off to Hadrian's Arch, the Ancient Greek Agora (the central marketplace and gathering for ancient Athenians), the Temple of Olympian Zeus and more. In other words, it's a super tour through the history of Athens that you simply couldn't accomplish on foot—at least not in three hours. Your other option is to go all in on the Acropolis. Step into the Theater of Dionysus where the first scene between two actors took place. And then head on up to the top to see the Parthenon and pristine Temple of Athena Nike. If you're only there at night, you can admire the Acropolis lit up from Mars Hill or the rooftop at A for Athens as you sip on creative cocktails.
3. Step into History at Knossos Palace, Crete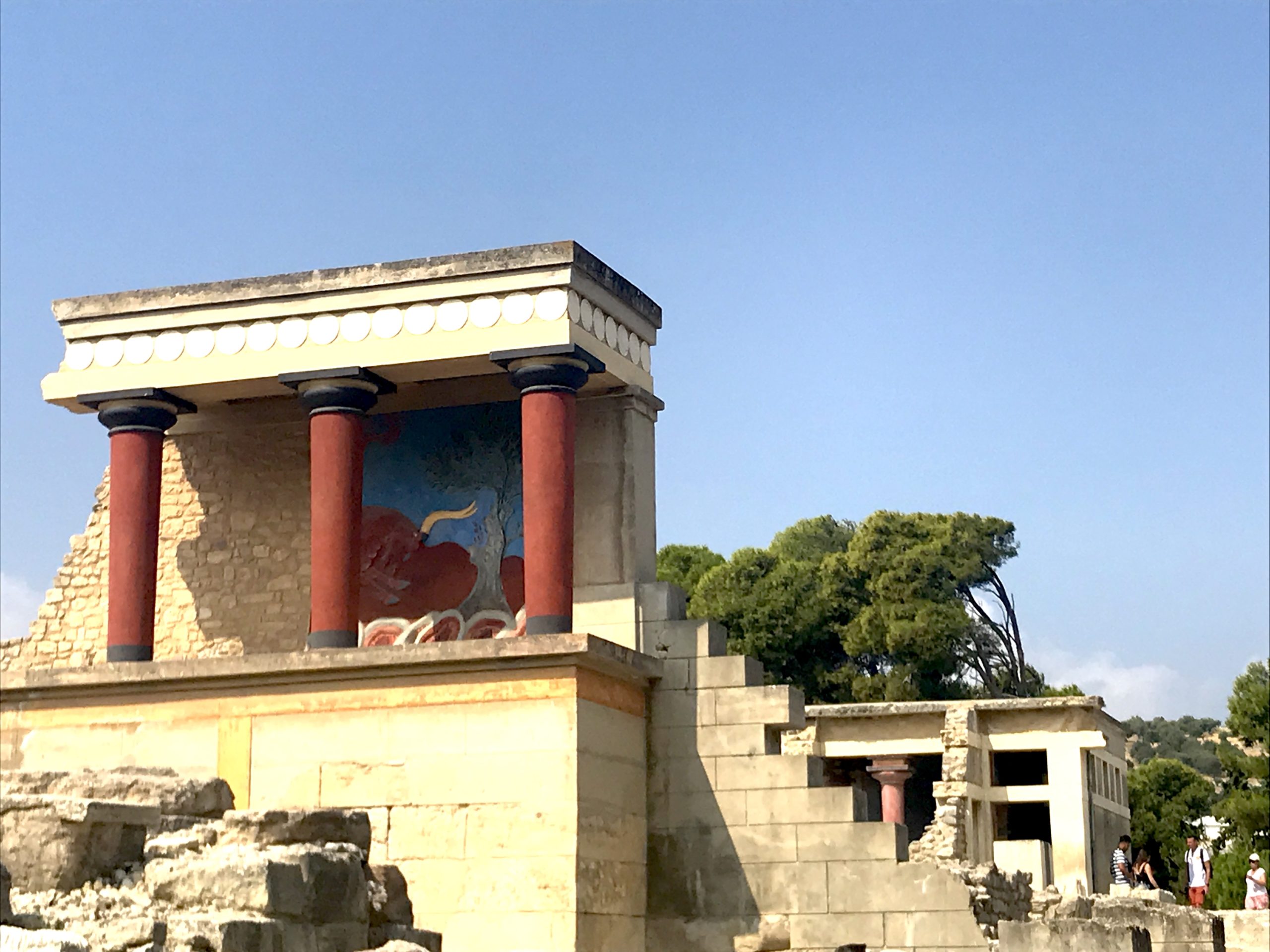 Catch a flight over to Crete (pronounced Kriti), the largest of the Greek islands,  for the next chapter of your Greece experience. Crete is where history meets your ideal island getaway. Start off in Heraklion and after satisfying your craving for sweet bougatsa at Phyllosophies, pay a visit to the palace of Knossos. This historical site dates back as early as the Neolithic period (8,000 BCE). If you thought the Acropolis was old, now you're stepping into what's called Europe's oldest city. The palace was the political center of Minoan civilization. They even discovered remains like stone axe heads and crafted figurines which are preserved in the museum. We took a tour through the excavated site with Greeking.me and the incredibly knowledgeable guide Eleni. She brought the ancient city to life as we learned about the Minoan's olive oil production, the royal quarters, the store rooms and the throne room. She also shared how Knossos is where the Greek mythology Minotaur story originated. Remember the half man, half bull who was kept in the Labyrinth by King Minos? After learning the history, you can better understand the Greek way of life, and Crete's roots in olive oil and wine.
4. Delight in the Wine Tour in Chania, Crete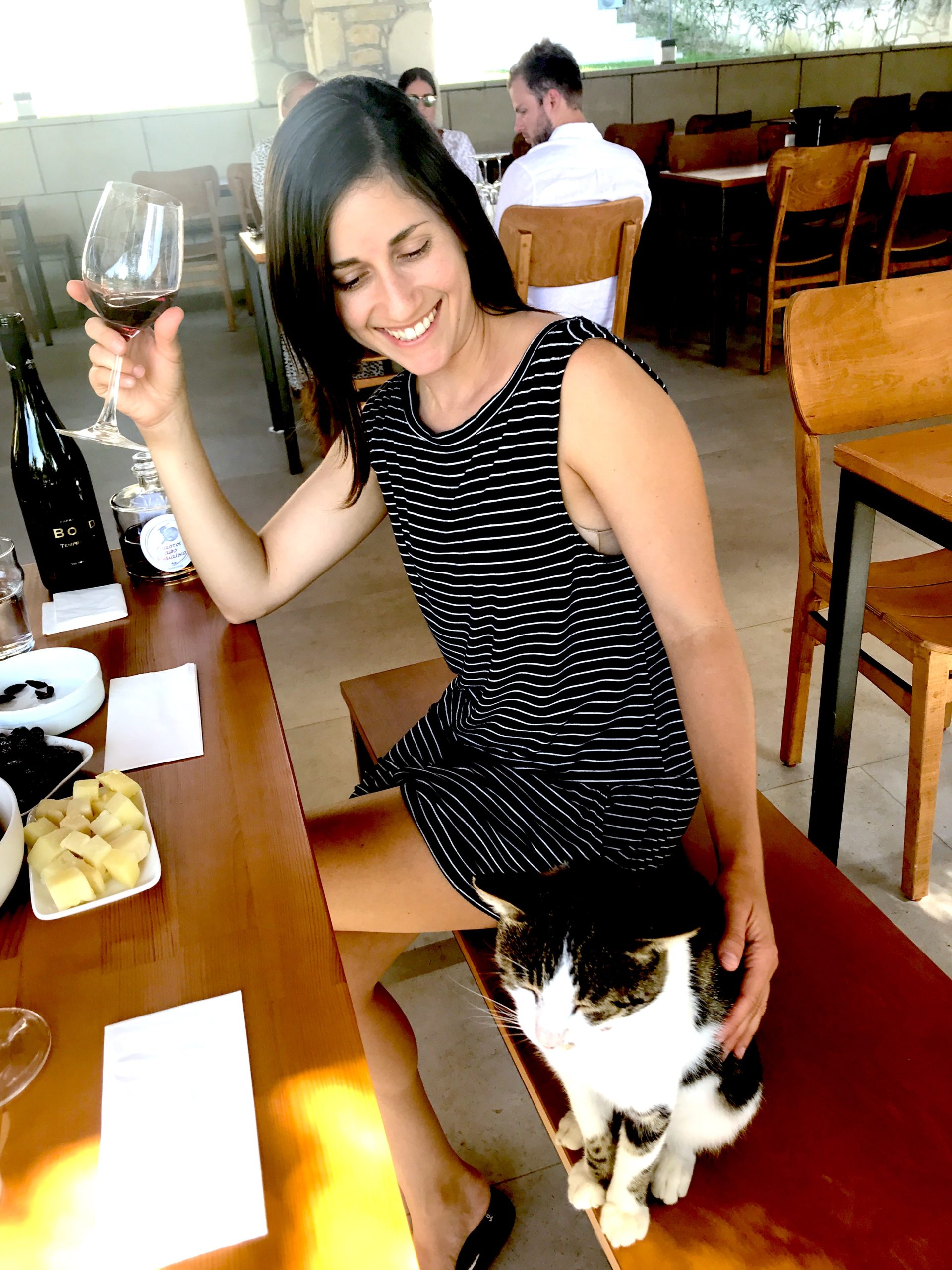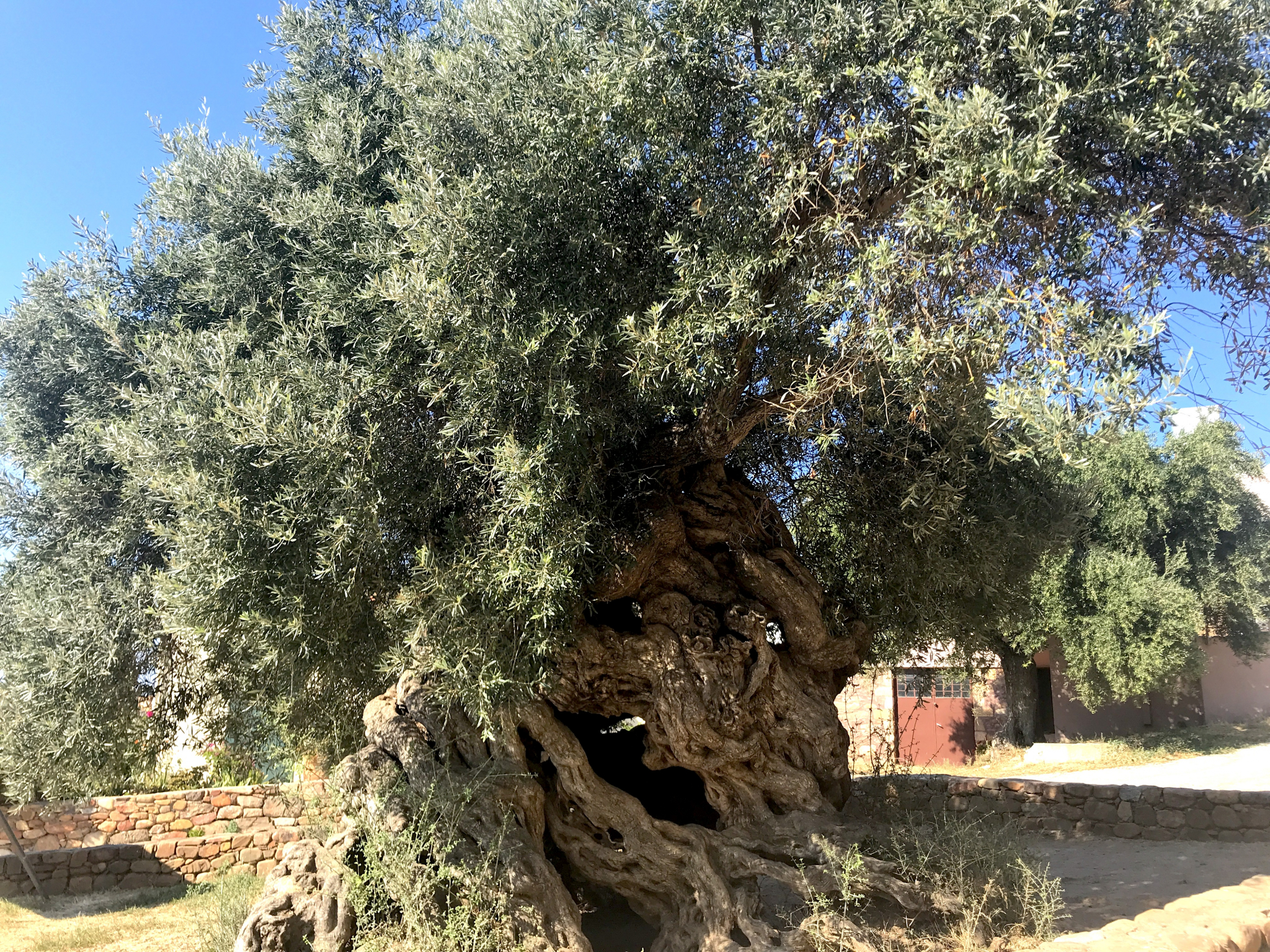 Get whisked away to the vineyards of Crete with Anna Maria and Vasili, owners of Chania Wine Tours. We took the half-day Wine Discovery tour which featured two beautiful boutique wineries, Karavitakis and Anoskeli. Anna's passion for wine goes beyond her knowledge as a Sommelier. It stems from her summers spent visiting her grandparents in Crete and her decade plus experience in the Greek wine industry. She's also brilliant at bringing wine down to earth. She breaks down how to uncover the elements of the wines that you love. Finally, you can feel more knowledgeable about the wine and understand how to actually identify those citrus or orchard notes. I learned that I like my wine medium body, low acid, dry and fruit forward. I've been drinking wine for years but it wasn't until I traveled to Crete and toured with Anna did I really get it. You're in for a relaxing afternoon of tastings of local grape varietals in the sunlit, gorgeous settings of these vineyards. Be sure to ask to see the oldest olive oil tree in the world while you're there.
5. Unwind and Soak in the Sun at Falassarna Beach, Crete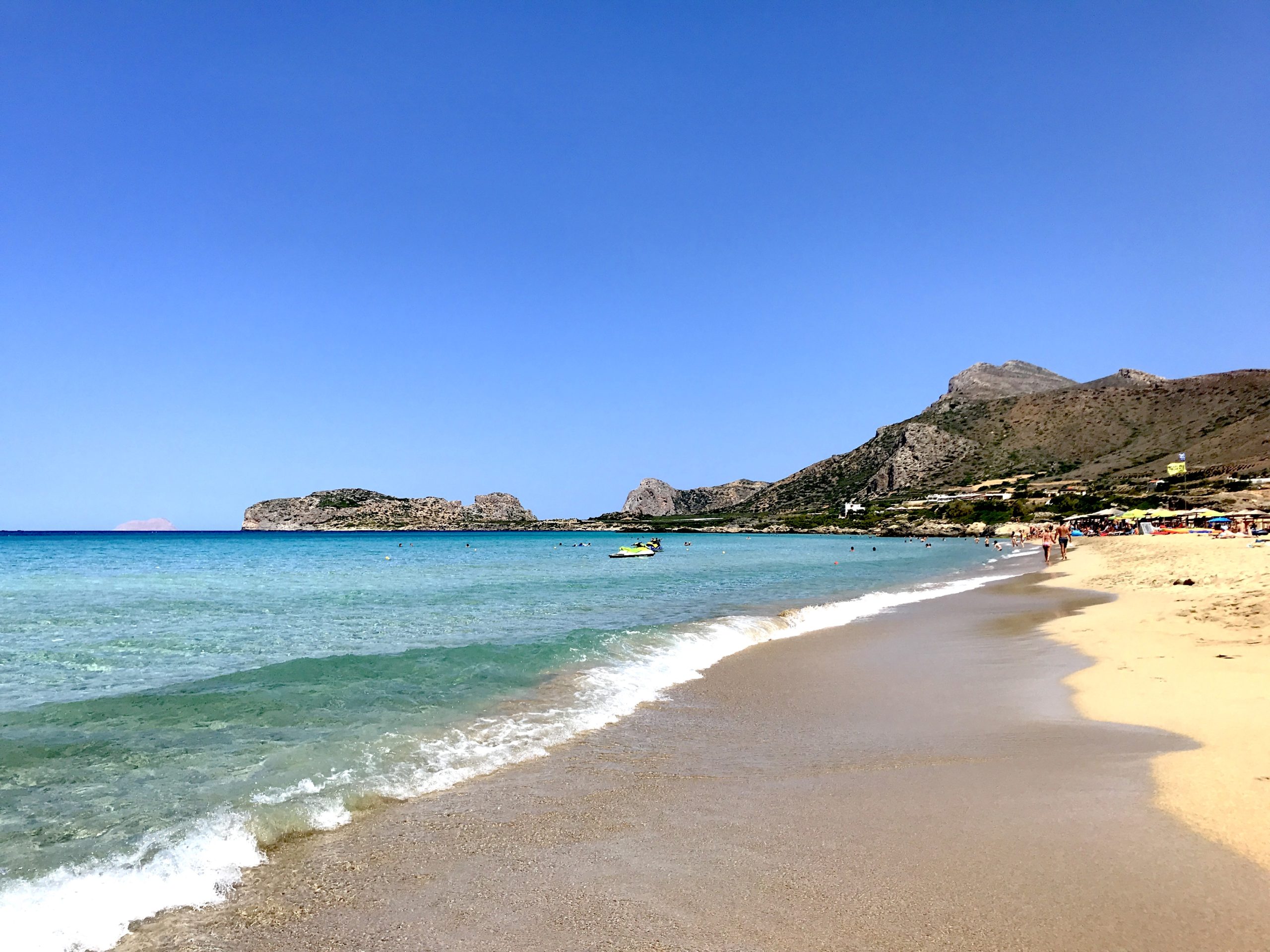 If you only have time for one beach, make it the crystal-clear waters of Falassarna. It's about an hour drive from Chania to reach this three mile stretch of immaculate, white sand on the West Coast of Crete. I know, I know, Elafonisi Beach has claimed the number one spot as best beach for its pink sand, but it's a much farther drive and it's often packed with tourists. Falassarna, however, feels much more civilized with reclining chaises and beachside service where you can order lunch from Playa Paraiso right from your ocean-front seat. And they're fast too! A fresh chicken gyro and a pina colada complete the picture for this relaxing getaway.
6. Sip on Cocktails and Catch the Sunset in Oia, Santorini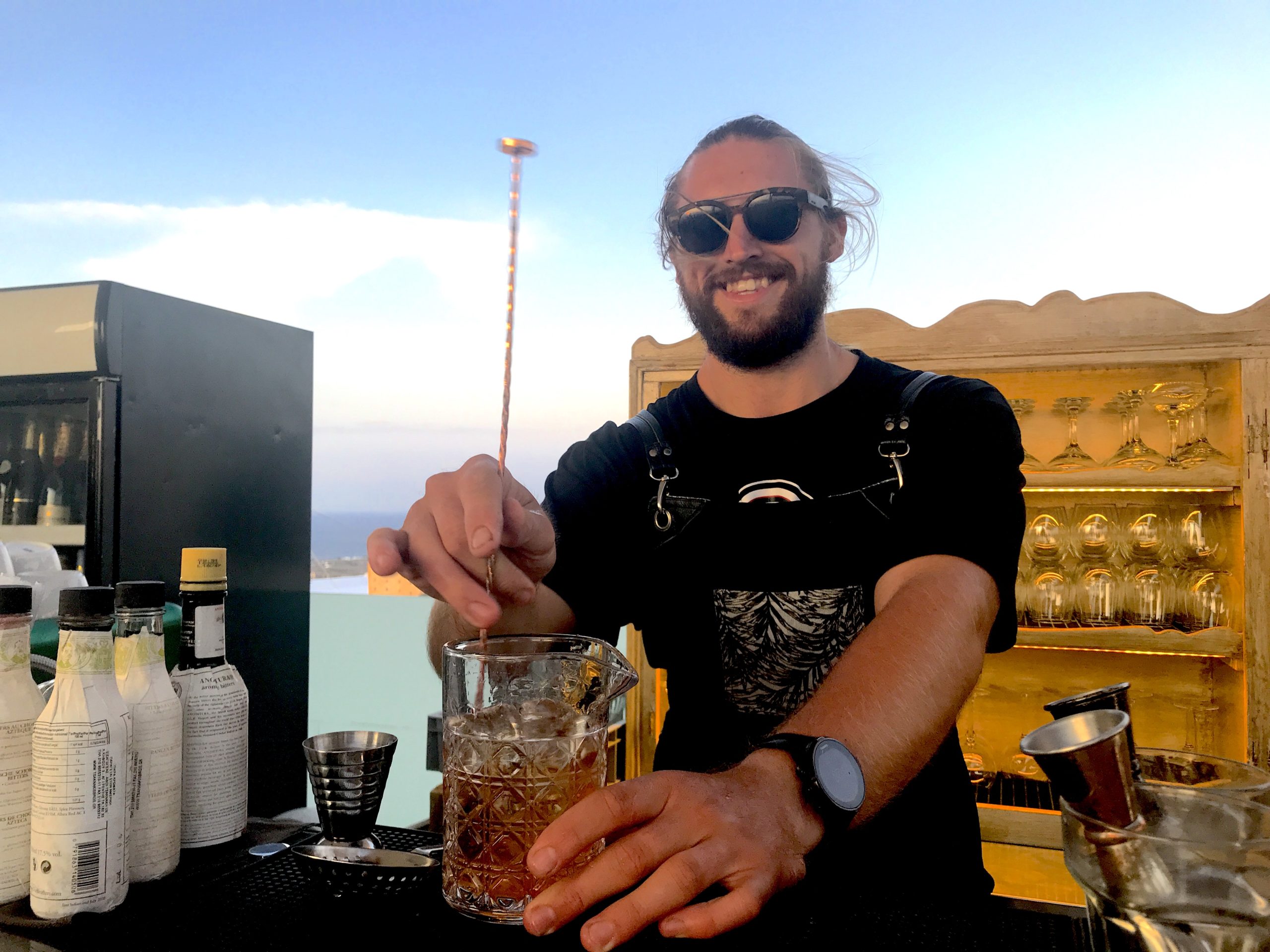 Santorini is known for its world-famous sunsets. Catch the ferry from Crete to Santorini and rent a car so you can travel to the highest point in Oia. Or hike along the Caldera if you dare. Be sure to get to city center early though because the secret is out on this can't-miss sunset. If you get there early enough, meander through the passageways of the central square with its traditional white washed cave houses, blue domed churches and views of the waters. Then settle in for the big show. We snagged two seats at the rooftop bar at Oia Gefsis where we met the charming bartender Marinos and new friends traveling on their honeymoon. We even had a rare cloudy night but the views were stunning nonetheless. Be sure to try one of their custom cocktails as you watch the sun melt into the Aegean Sea.
7. Indulge in Massages on Kamari Beach, Santorini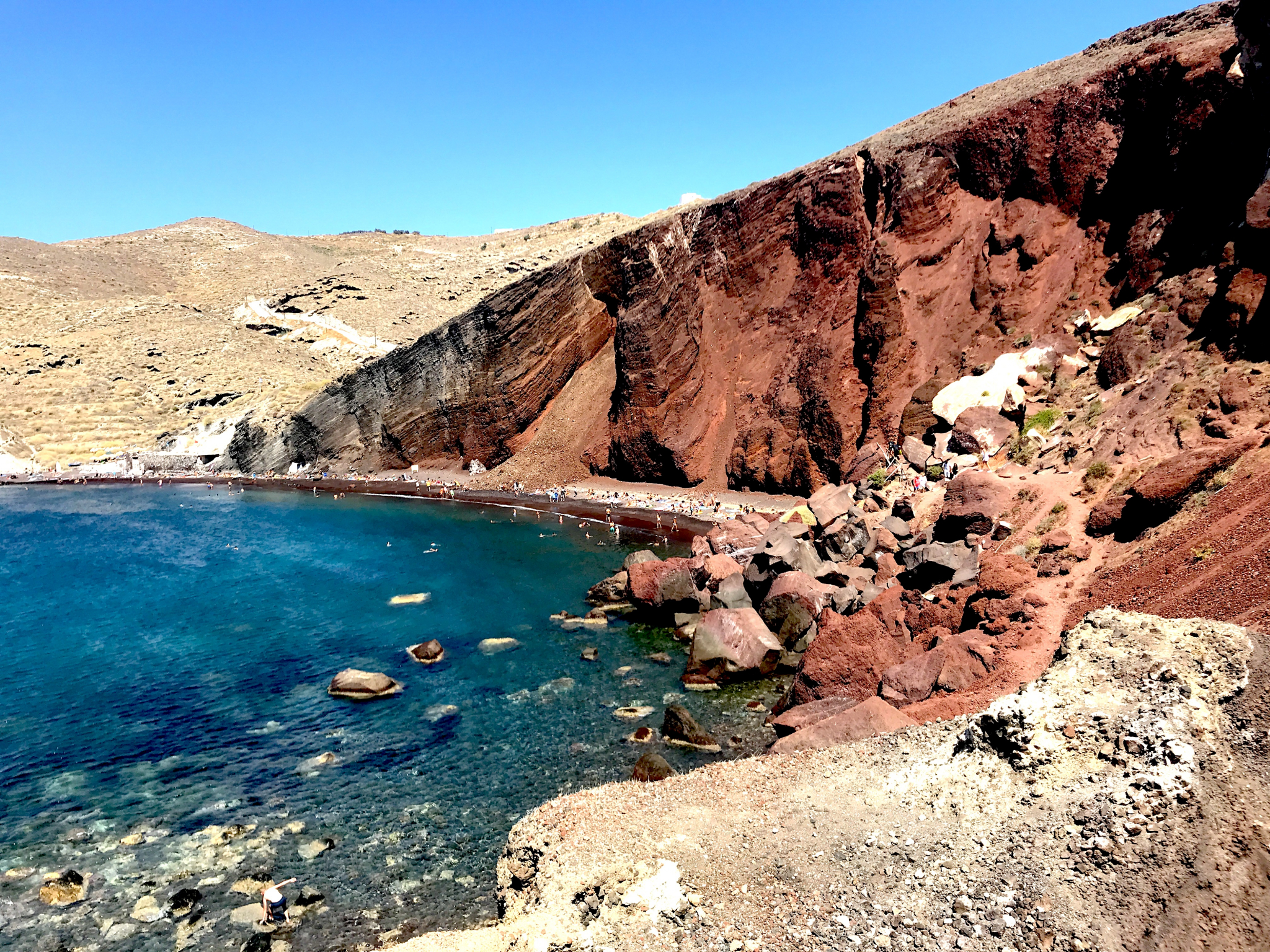 It's not easy settling on just one beach in Santorini. There's Red Beach where you'll walk down a cliffside path (bring your sneakers) for the unique beach beneath the massive red rock hills. This is a sight to see but when it comes to luxury beach experiences, head over to Pessari for its soft, sandy black beach and calm waters or Perivolos beach where you can indulge in the fantastic culinary feast—think lamb shanks and homemade pasta—at the beachside restaurant Forty One. Then lounge by the sea in their white cushioned chaises. Or head over to Kamari Beach where there's a professional masseuse by Mango restaurant (the friendliest staff and perfect spot for a beachside bite or drink). She has her massage bed stationed in the sand, with curtains around it for the ultimate vacation relaxation experience.
8. Sunbathe on the Sarakiniko Beach White Rocks, Milos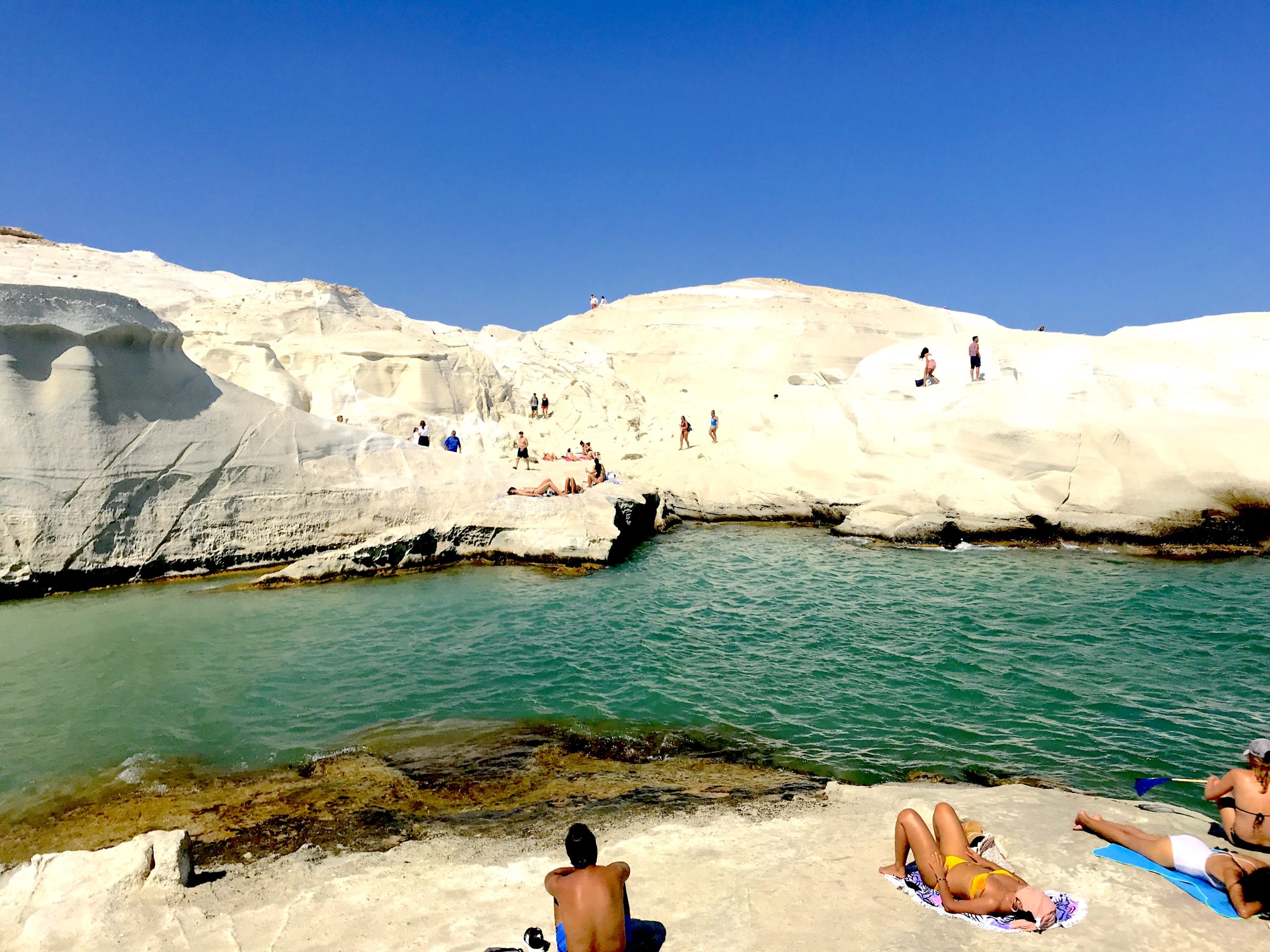 Escape the hype of Santorini and really sink into your peaceful vacation in Milos. Again, it was hard to choose just one beach, but the most incredible site to see was Sarakiniko Beach with its sprawling smooth white rock formations and cliffs against the blue sea. You'll reach a point at which the rocks create a calm swimming pool perfect for lounging and taking a dip. Before you go though, grab a freshly baked chocolate croissant at Mouratos since Sarakiniko is fairly isolated. For a more traditional beach experience, head over to Provatas Beach where you can eat a fresh authentic Greek lunch at Golden Milos Beach restaurant. Or head to Firiplaka for its calm, shallow warm waters where you can swim and relax all afternoon.
9. Stuff Your Face in Sifnos


Sifnos took us by surprise, literally. We accidentally ended up Sifnos when our ferry got stuck in a windstorm. Luckily we were able to book a fantastic stay at Kampos Home, just a short walk from the heart of the charming town. It turned out to be the highlight of the trip because of the feeling you get as you walk through the quiet town with its pristine white cave houses, cobblestone alleyways and beautiful hillside views. You feel like you've stepped into another world, where time stops and you can truly unwind. We also discovered that Sifnos is the foodie island, a nickname well deserved. We dined at Drimoni, a modern take on classic Greek dishes, which reveals the lit-up city at night from its floor to ceiling glass windows. Café Mosaic won us over with its short rib dish and warm atmosphere. Last but not least, treat yourself to dark chocolate drenched loukoumades at Yellow Bicycle. And while you're in the town, if it's during siesta, settle in with a cappuccino and homemade chocolate cake at Anthoussa patisserie.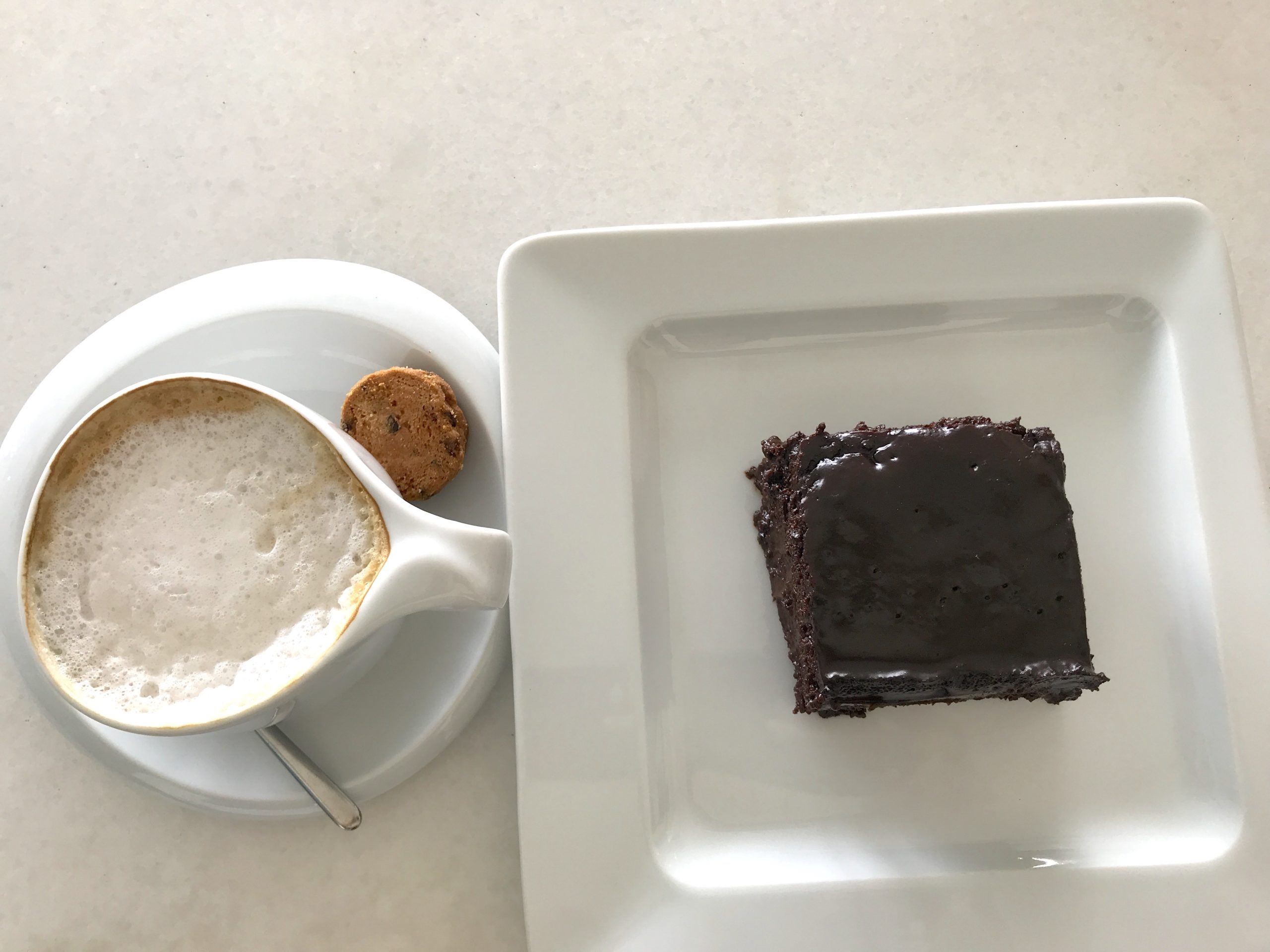 10. Siesta on Faros Beach, Sifnos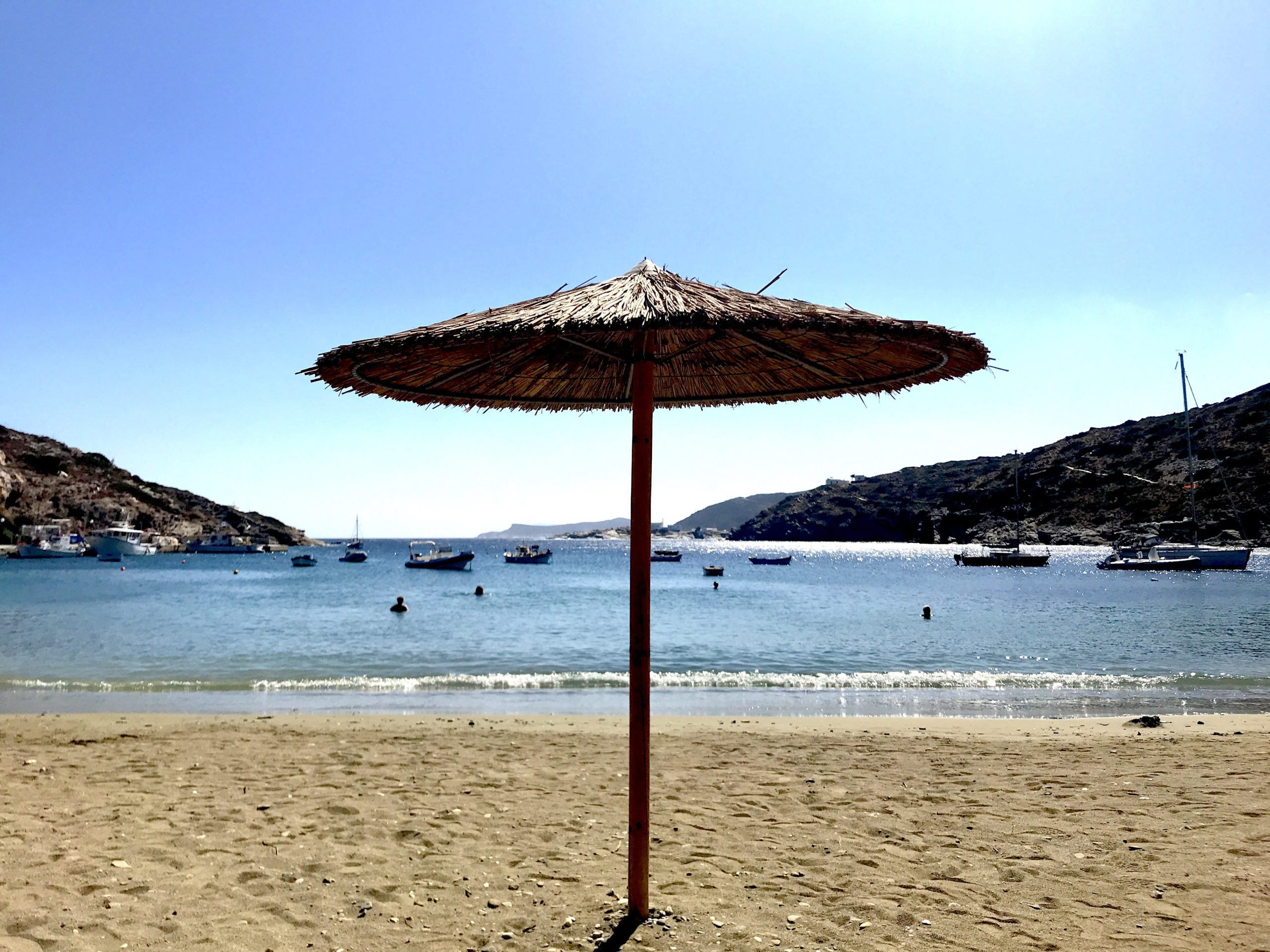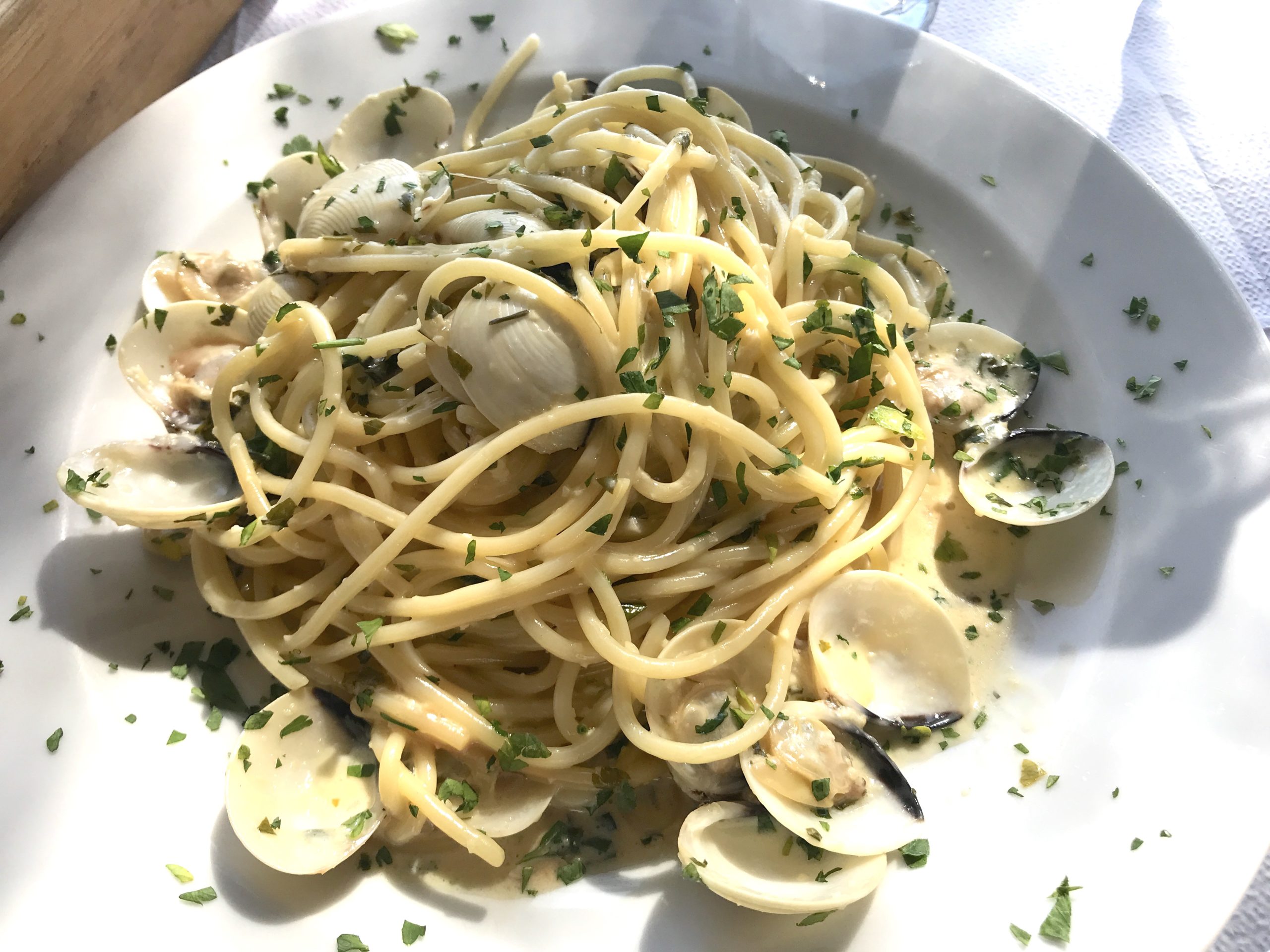 Bring your beach towel and relax by the sea at Faros Beach. If you're lucky you can find shade under one of the umbrellas or keep walking to where the large trees offer cover. Take a dip in the incredibly calm waters. Then grab fresh seafood dishes at the beachside restaurants with your feet in the sand. And by fresh, I mean you can see the squid catch of the day hanging right in front. The pasta with clams dish was so delicious I could have ordered two. You're on Sifnos time—which means you can soak in the beautiful sun and the calming sound of the water without a worry in the world.