Do you like the idea of skiing more than studying? Is winter your favorite season? It can feel like you've won the lottery if you pick a school with ample opportunities to mix work with play. As a snow fanatic that would rather sit on a chairlift than a desk all day, you can find some perfect schools near all the best mountains. The best schools for people who love skiing need to have great ski culture, ski programs, close proximity to the mountain, discount tickets and accessible transportation.  
R
ead
on for
the
top 10
colleges for students who
want to spend all
their
free time on the slopes. 
10. University of British Columbia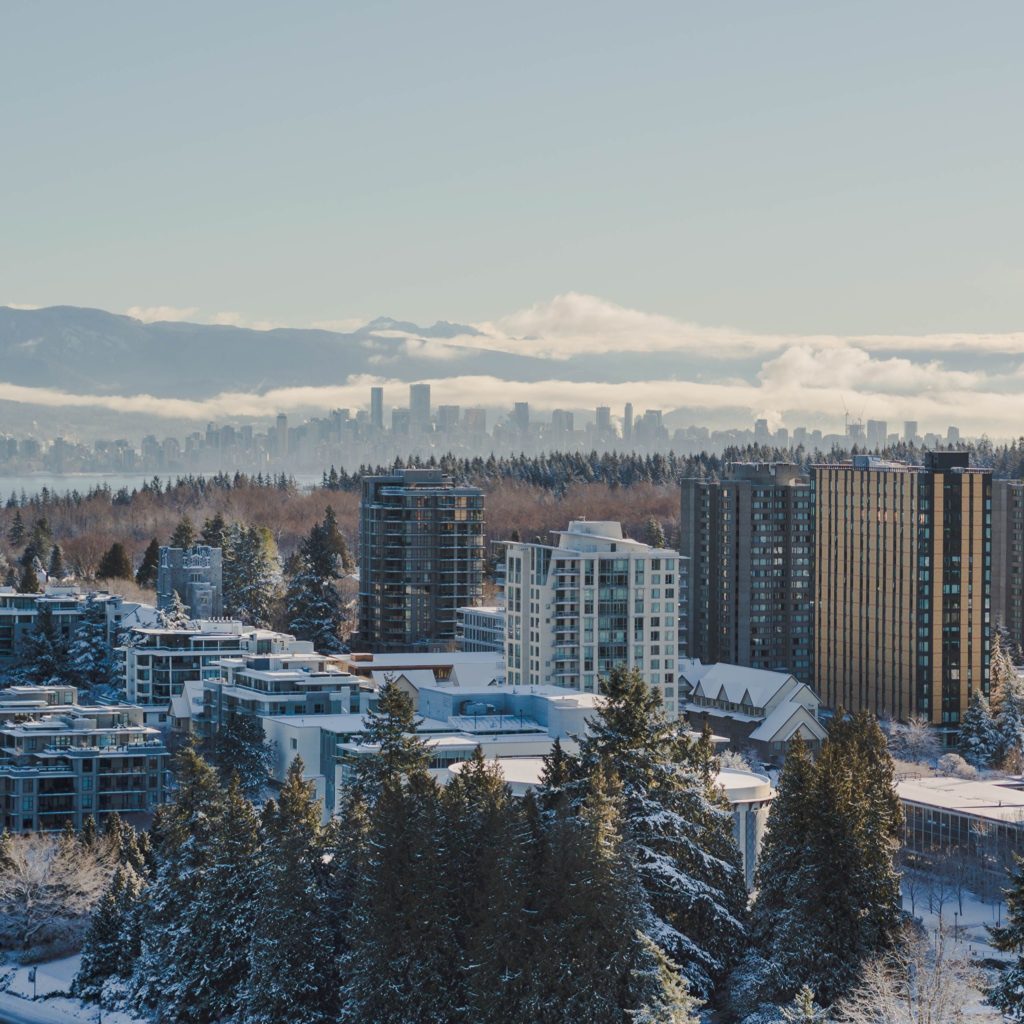 University of British Columbia, which you can find in the heart of Vancouver, is nestled around the North Shore mountains. The school offers specific training development team for skiers who want to nail the basics. The roundtrip bus costs $12 and offers night shredding at Grouse Resort, which takes an hour and a half via campus bus! Pro-tip: make friends with people who have cars and cut your driving time in half!  
Usually, the school partners with Whistler for student discounts on season passes. The prices for students stand at $600, which may seem like a lot, but day tickets cost $100. If you plan on making the trip up to the awarded "Best Ski Resort in the World" more than six days out of the season, the deal is worth it. Usually, UBC partners with the resort to get extra discounted tickets; however, this partnership won't take place this year due to COVID-19.  
"No matter where you are on campus or downtown Vancouver, you find yourself surrounded by huge snow–covered mountains to ski on. Find mountains that fall a two-hour drive away like Whistler with full glaciers to ski on, or even ski resorts within 15 minutes of the city, offering 24-hour ski days with a gorgeous view of the sunrise over the city of Vancouver," UBC senior Sophia Minter said.   
With the UBC Ski and Board club, you will most definitely find other die-hard shredders. Their Facebook page is also a great place to find equipment from fellow peers. To become a member, you only have to pay $20, and the club committee throws the best après both on and off the mountain. Not sure you want to commit to the ski club lifestyle but still want to shred? Don't worry, there's also a separate Facebook page to help students carpool to and from Whistler.  
9. Plymouth State
University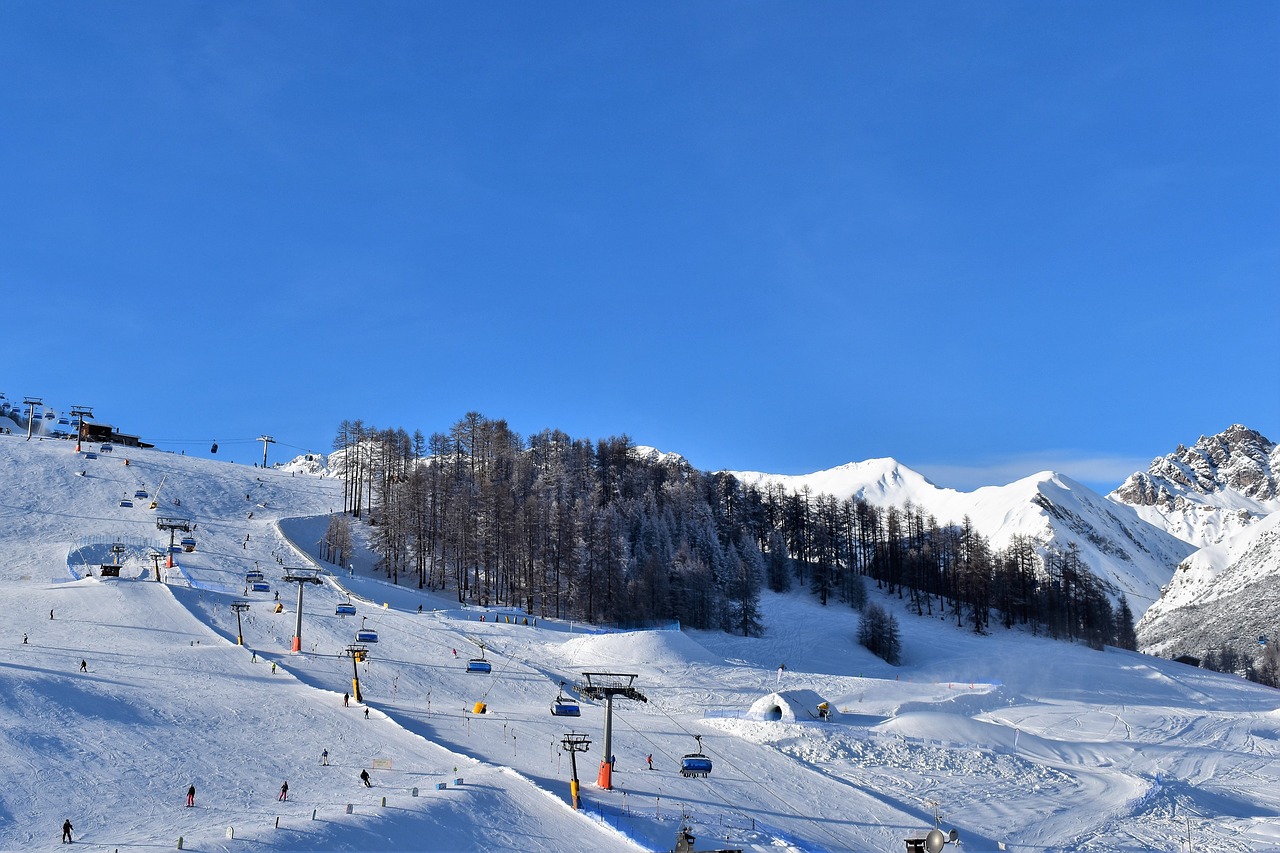 Plymouth State University in New Hampshire may offer the best ticket deals ever—the deal is so good, you'll wish you chose to be a Panther. Only 20 miles from Cannon Mountain and Loon Mountain, Plymouth State allows the students to vote on what resort they want to go to and get tickets for as low as $5 and only $15 for rentals. The resort options that students get to pick range from Cannon, Waterville Valley, Cranmore, Loon or Gunstock. Uh… Didn't I tell you this deal was insane? If you don't feel content with the mountains PSU contracts with, every other mountain in New Hampshire offers a college pass at only $300. Win-win-win.  
"Plymouth is a great ski school not only because of the proximity of so many mountains, but because the school itself is invested in the ski scene," Plymouth State senior Sally Goodwin said. "Lots of people also participate in an event held by the school every year [besides this year] called Rail Jam, where they set up some rails and boxes for students to show off tricks. Overall, 10/10 ski school. Skiing the Notch is no MRG but it's pretty damn good."  
Plymouth also offers opportunities to join a free–ski or snowboard club. During their Winter Carnival Week students are encouraged to get involved or come support their fellow peers. Another plus? Your proximity to Tuckerman's Ravine, a back– country mountain that most New England skiers will attempt to ski at some point. This un-resorted mountain keeps snow into April and sometimes early May. Plymouth State is the school to go to if you want to ski the East.  
8. O
regon
S
tate
U
niversity—
Cascades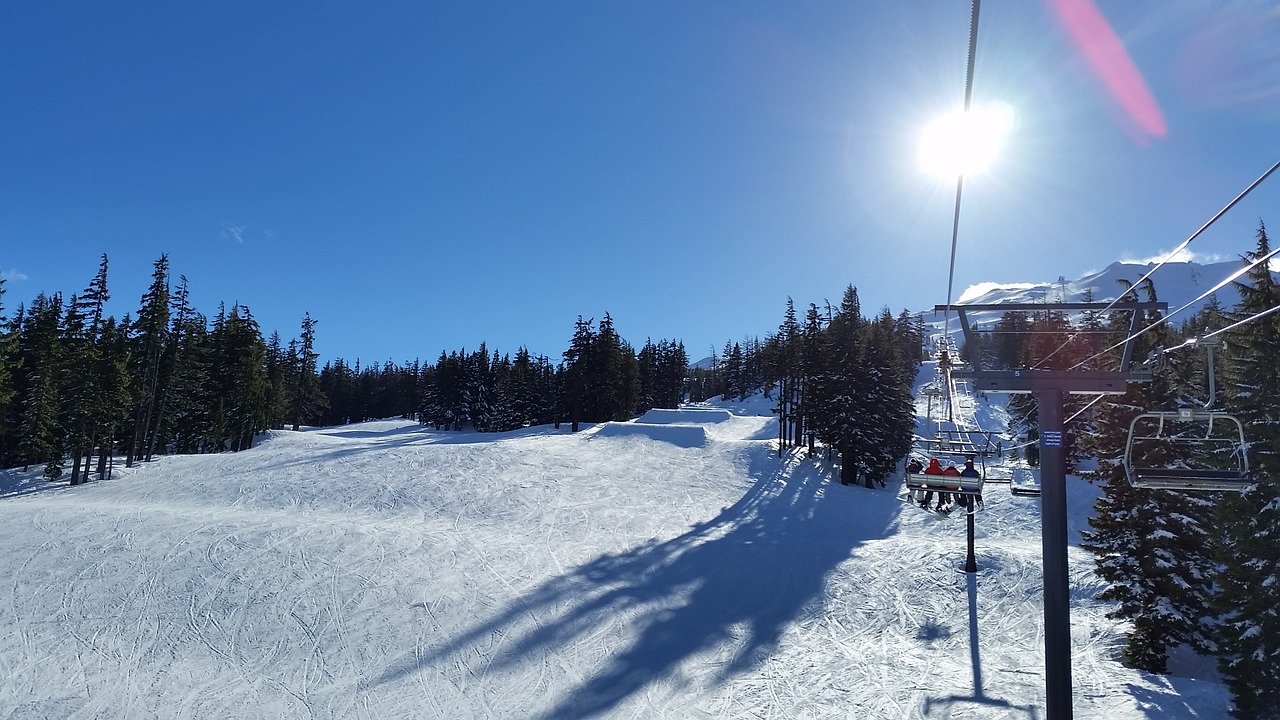 OSU Cascades in Bend Oregon is a speedy and beautiful 20 minute drive to the base of Mt. Bachelor. You can't get much closer to a ski mountain than that without being directly on top of it. Mt. Bachelor loves OSU students so much, that they continue to donate money to the campus and school for now over nine years. Mt. Bachelor even promotes ticket fundraising, and you can get day tickets as an OSU student for only $69. To show even more love to the university, Bachelor gives back one hundred percent of the proceeds to OSU. Buses run to and from campus constantly to the mountain so you can utilize the epic location of OSU.  
Considering the school's proximity to the mountain Mt. Bachelor and the Three Sisters Wilderness, many clubs focus on outdoor activities. The Hospitality Management program partners with Bachelor to create internships that take students inside the world of mountain resort management and operations. From mountain to campus, students learn valuable leadership, business and communications skills specific to resort careers.
7. Middlebury
College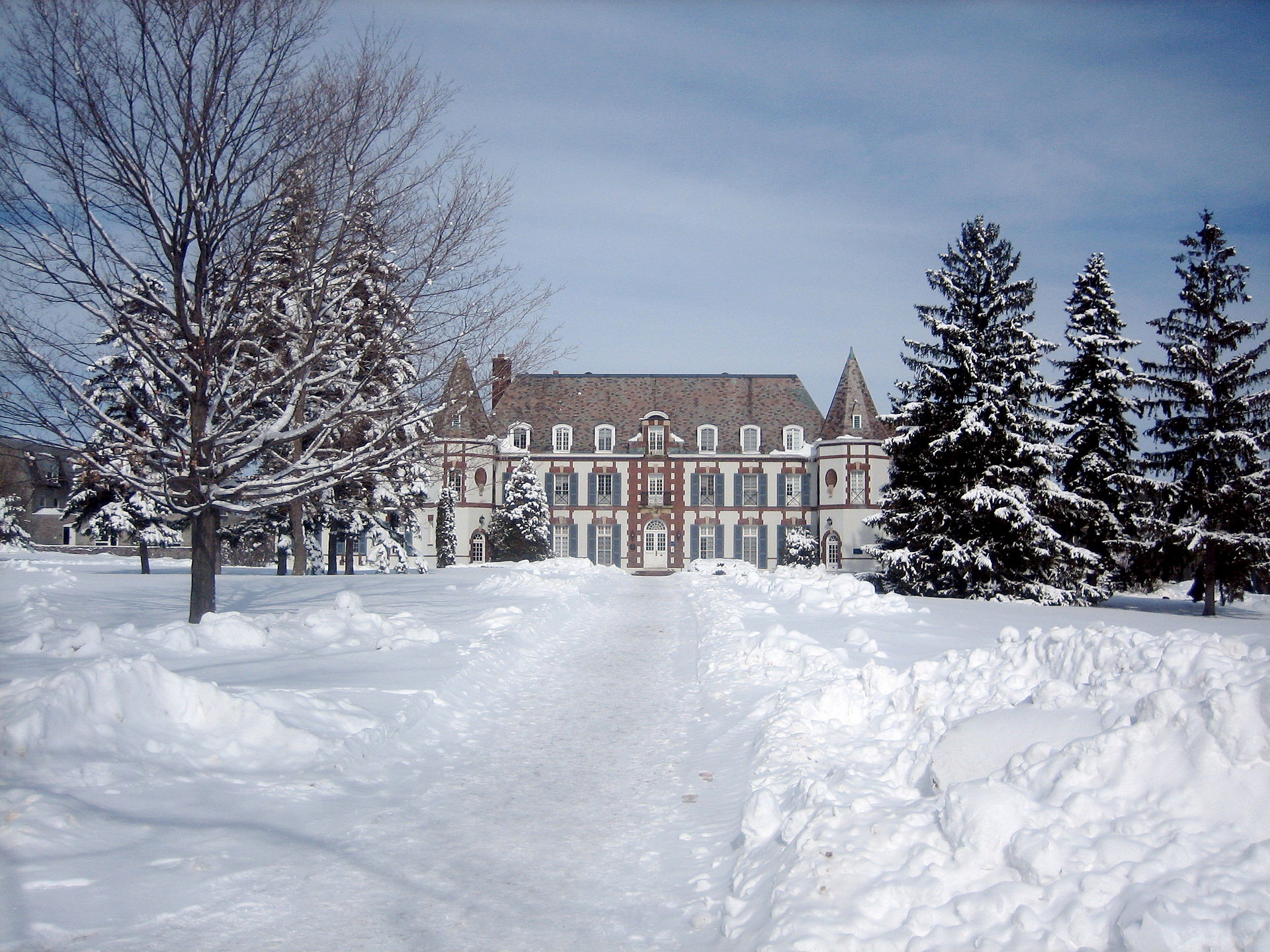 Ever heard of a school that loved skiing so much they built their own mountain? Meet Middlebury and Middlebury Snow Bowl. Nestled in the snowy and adorable town of Middlebury, Vermont, Middlebury College passes the ultimate ski-to-school test. The "Snow Bowl" located nearby provides continuous transportation available through the school throughout the winter season.  
"The Snow Bowl is absolutely rippin'. It has surprisingly gnarly, steep, challenging terrain on the backside, a few pretty large cliffs and such. Also, untracked pow sticks around for days after storms, resulting in some of the best tree skiing around," Middlebury College senior Toby Weed said. "There's also a big uphill culture and well-marked trails and such if you're into skiing; people go all the time." 
You can even take a class for credit to become an active Ski Patrol Responder and make some cash by patrolling during school vacations. Getting paid for class which is just skiing? That's not usually how it works, but no complaints here. Of course, find discounted tickets at only $40 a day—you even get this deal as an alumnus! 
With plenty of clubs and organizations that make the ski culture at Middlebury unique, you simply won't get bored. The Middlebury Ski Club, a non-profit organization, has helped young skiers learn to ski since 1956! Middlebury is all about giving back to the community by sharing mutual love for shredding the pow, at all ages.  
6. University of Vermont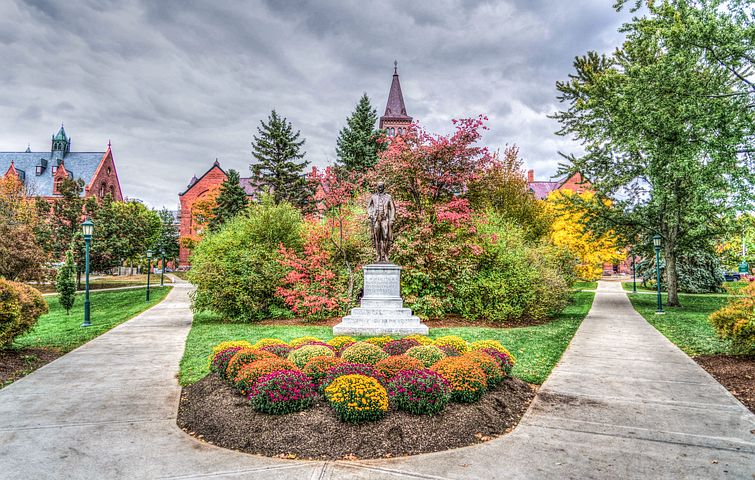 University of Vermont, located in the water-front college town of Burlington, remains one of the best east coast schools to go to if you love skiing. With Mad River Glen, Sugarbush and Bolton all under an hour away, UVM houses a lot of die-hard skiers. They may as well tell you to pack your skis and boots on the freshman year packing list with all the skiers who flock here.  
"UVM is a great school for skiers because it's under 45 minutes in any direction to a mountain. Also, excellent beer and cheese culture for après!" UVM alumnus Cornelia Clay said.    
On weekends, UVM runs buses to the resorts nearby for free. Although COVID makes the mountains operate on a limited basis, if you don't use your pass, you'll get a refund. UVM also offers Back Country Skiing and Avalanche Education classes through the school. Back Country Skiing will teach you the basics of what you need if you and your buddies want to shred the untouched pow, whereas Avalanche Education makes sure you don't get hurt or stuck in an avalanche while doing so.  
UVM's largest student-run ski and snowboard club on campus, Haus, currently holds an outstanding 1,800 members. They cater to all ability–ski and snow boarders and hold events at surrounding mountains. These range from the Valentine's Day couples ski and late night rail jams, where they hire DJs to get the vibes immaculate. Haus members feel very serious about their east coast skiing, and you can too!  
 5. 

Fort Lewis College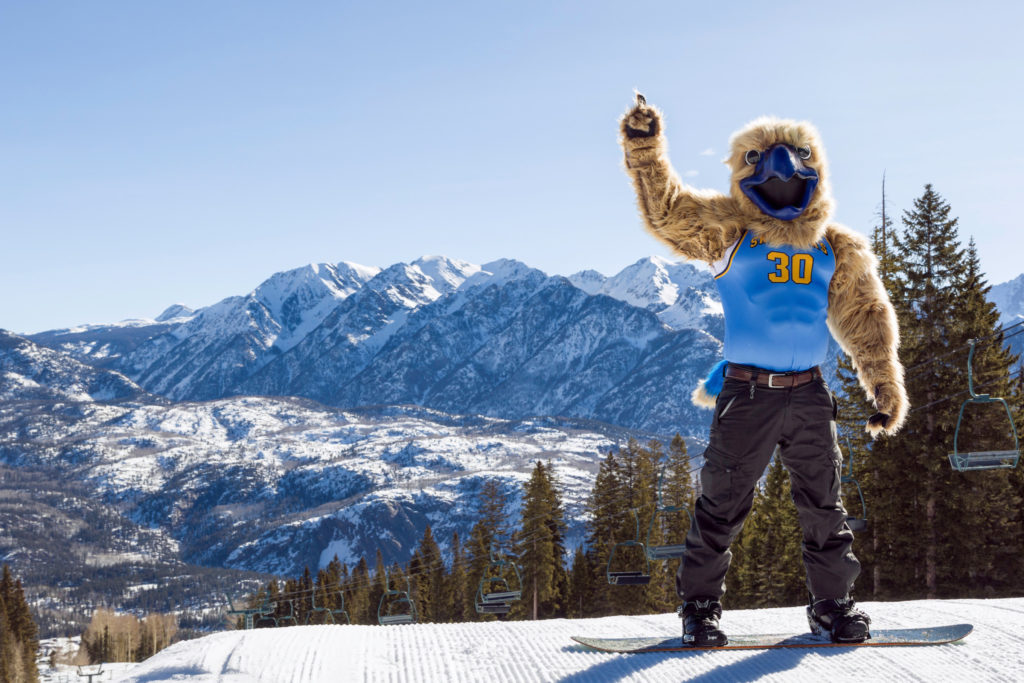 In Durango Colorado, freshmen students with a passion for the swooping slopes get treated like royalty when attending Fort Lewis College. That's right, these fresh lords and ladies get to take advantage of a free season pass to Purgatory Resort. It only takes 30 minutes to reach this alpine getaway, making for ample field trips offered by the college throughout the year. Never fear elder years, these trips stay open to all students at $49, (uh, that's 45% savings!) which allows them to enjoy the nearby mountain in all of its glory.  
The school even offers Ski Resort Internships! FLC's Ski Operations certificate consists of three online courses and one internship. It's open to any and all interested applicants, no prerequisites required. Already an undergrad at FLC? Don't' worry— you can add this certificate to your degree with no extra cost. 
The Big Mountain ski club bodes as one of the most popular clubs on campus with the opportunity to compete in the Freeride World Qualifier events. Sorry beginners, this club's only for experts, but with your discounted tickets or free passes you can polish up those skills to join after a year.  
4. Colorado Mountain College—
Steamboat Springs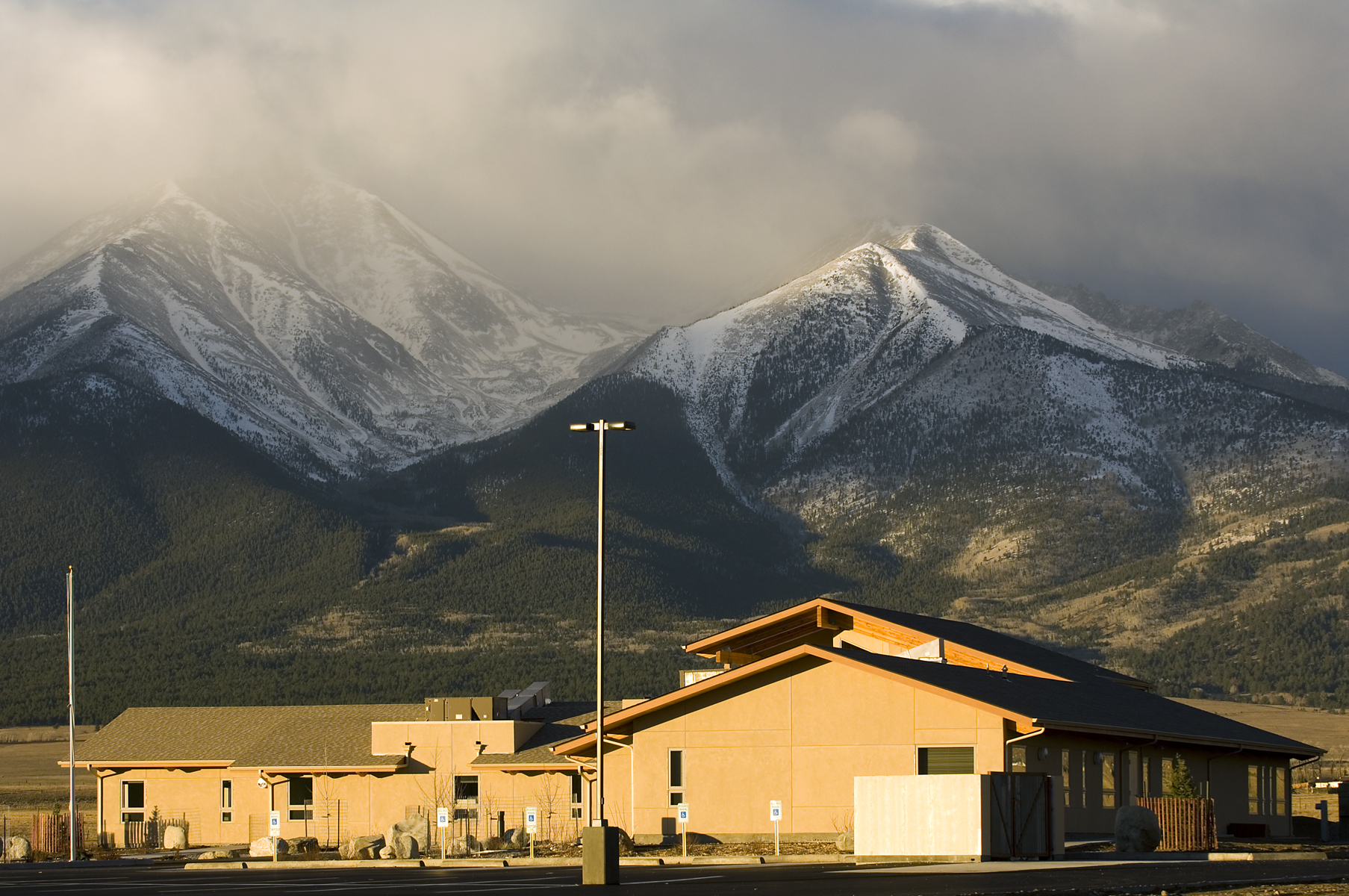 Colorado Mountain College, is built in the mountains, what else is there to say? When it comes to culture, location and opportunities both on and off the mountain, CMC has it all. Colorado Mountain College falls an hour away from Vail and Breckenridge, but only 12 minutes away from Steamboat Ski Resort.
As a CMC student, you get sweet discounts and shuttle transportation to and from the mountains. Not only that, but CMC requires students to take a Trail Guide training class, making sure you feel prepared and safe when exploring the mountains around you. 
That's why they call it Mountain College, right? This school exists for skiers. CMC offers 11 different majors and certificates related to skiing, ranging from Ski Area Operations to Snowsports Business. There's also an option to go to Japan for the Ski Area Operations certificate. CMC celebrates itself as the first in the entire ski/academic industry to start a Snowsports Business major option—pretty impressive, right? The students boast about the amazing and supportive relationships with both facility and peers alike while pursuing the Snowsports degree. 
3. Westminster College
Westminster College: widely known for its intimate class sizes and academics. However, it's also known for its killer location. Found in Salt Lake City, Utah, Westminster is situated about 30 minutes away from six well known resorts! Although the school doesn't offer transportation to said resorts, it's not hard to find friends to join a carpool.
These neighboring resorts offer tons of discounts for students. Not only that, but the school offers Outdoor Education and Leadership classes as both a major and minor. It's more than possible to become a successful full-time college student and a full-time ski bum.  
"During the time that I played Division II Lacrosse at Westminster, I regularly brought my ski gear into the locker room to change into directly after 7 a.m. practice and drove straight to Alta to get a few hours of skiing in before class," Westminster College senior Maddie Lowe said.  
With multiple opportunities to join a student–led club that provides trips through outdoor programs, you won't miss out on exploring some of the resorts nearby. The Ski and Snowboard Collective, a student-led group, provides free tuning, services, board waxes and minor repairs. Although COVID made the mountain limited for reservations, you're still able to shred just the same.  
 2. 

University of Utah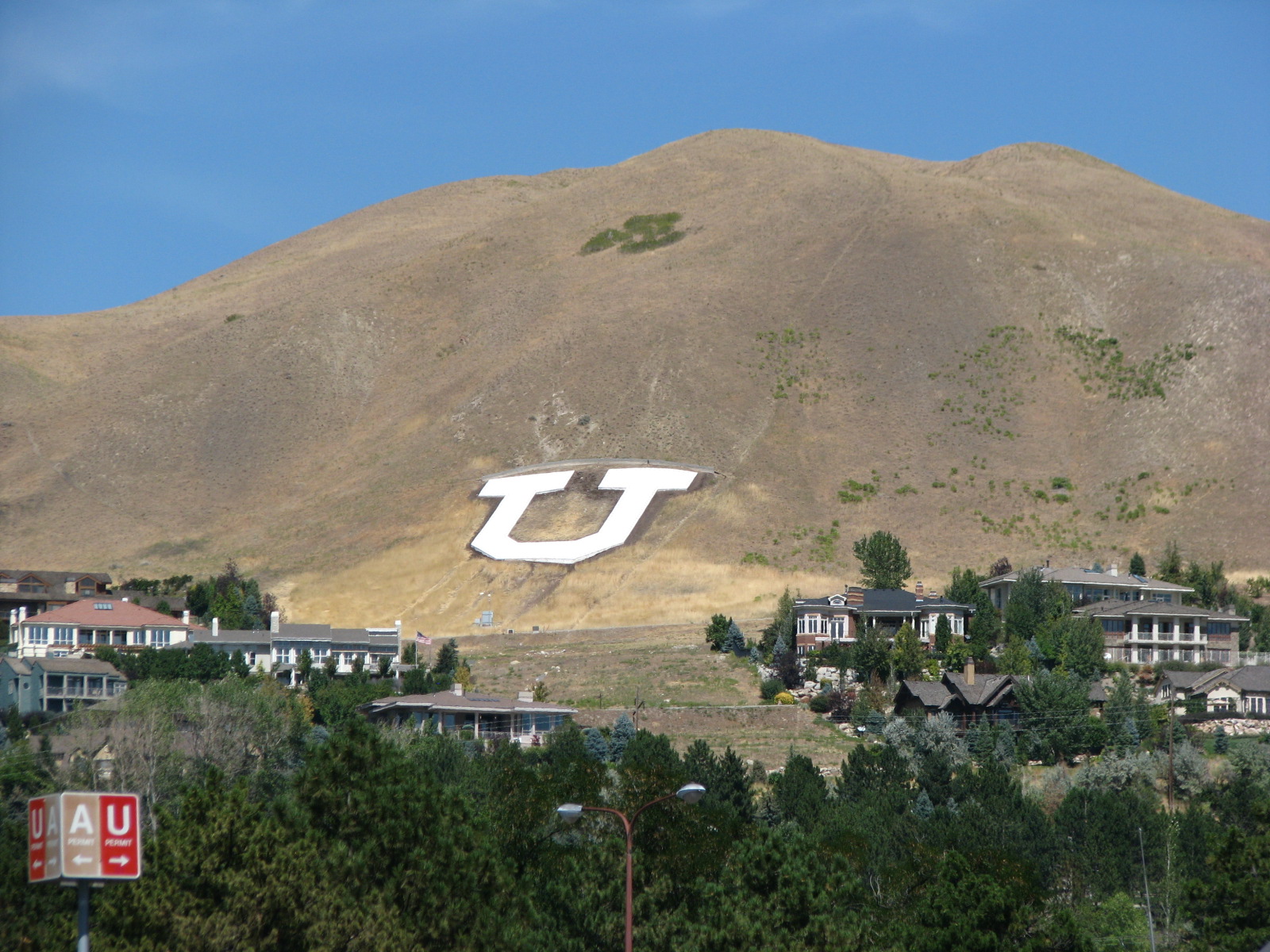 Choose University of Utah if you get sick of skiing only one mountain. Within a 30 to 40-minute drive away from multiple slopes, students shred slopes like Alta, Snowbird, Brighton, Deer Valley and Park City on the regular. Talk about options! Students even get discounts for rentals and passes at a number of these resorts as well.  
Utilize even more deals by joining the Freeskier Society or OneLove Ski & Snowboard Club; both offer discounts on rentals and equipment or apparel respectively. Beyond the discounts, both clubs hold movie night premieres of the latest ski movies throughout the year and plan trips to the nearby mountains. You won't be board (ha!) if you join either of these great clubs.
The university not only offers free transportation to the mountains, but multiple classes dedicated to outdoor and skiing education. It's like the school wants you to enjoy the beautiful mountains around you, or something? Classes offered at the University of Utah include Ski Mountaineering, Avalanche Safety, Backcountry Skiing and the coolest sounding one yet: Secrets of Greatest Snow on Earth. Is it too late to transfer? 
1. Montana State University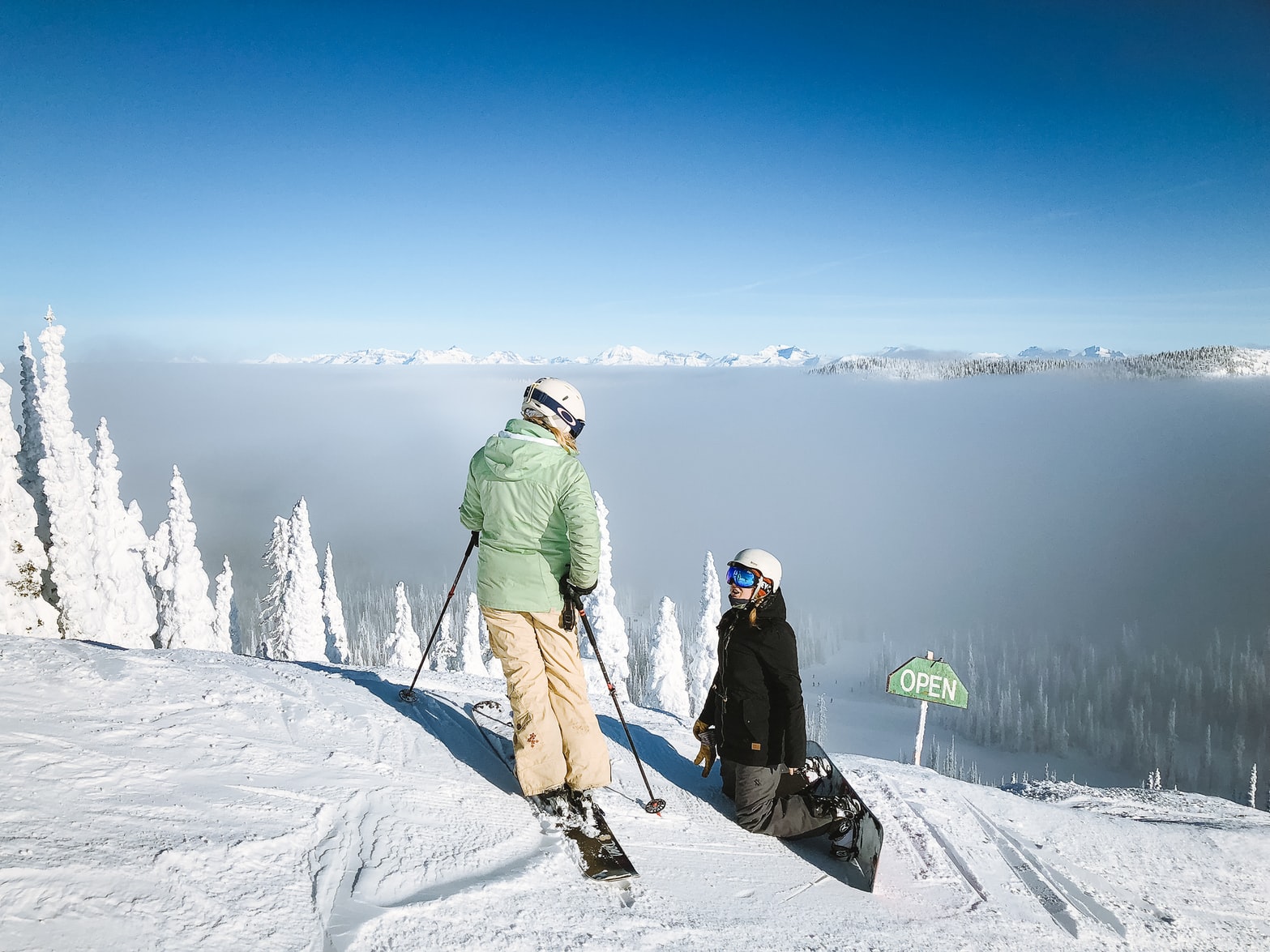 Going to MSU feels like living in a postcard. With the gorgeous Rocky Mountain range and Yellowstone National Park just a short drive away, all your friends are dying to visit you. Packed with students and skiers alike, newcomers flock to Bozeman, Montana for the unbelievable views of the surrounding mountains and the endless outdoor activities.  
With just a 30–minute drive to Bridger Bowl, MSU students attempt to "Ski the Cold Smoke" before or after they get out of class. Although they offer no discounts for students at the moment, they provide many payment options for bundling tickets. Not to mention, MSU's Outdoor Rec program offers free gear rentals and transportation to and from the mountain. 
"Though I love many things about attending Montana State, my favorite by far has been the opportunity to ski seven days of the week, seven plus months out of the year," MSU senior Julia Breker said. "A few highlights in my time here include: students constantly showing up in class in full ski gear ready to make the 20–minute drive to the mountain as soon as class is released, constantly running into classmates and friends in the lift lines and best of all—my professors 'powder day rule', where class is canceled if Bridger Bowl gets over a foot of snow."  
Can't get enough of skiing on your off days? You don't have to. MSU offers a major called the Snow Science Program, along with classes that teach avalanche safety! If you don't come to Montana State University as a ski bum, you'll probably leave as one.