Guys can be pretty tough to buy for on any occasion. Christmas and his birthday are tough but you can usually go with sexy clothing for guys. Valentine's Day though presents the greatest challenge. Which leaves you on a mission to find the sexiest lingerie among hundreds of lingerie types.
On Valentine's Day if you get a guy a teddy bear, flowers or chocolates, he might not be as thrilled. He'd much rather the teddy being the one you're wearing (like this one). When it comes to V-day, one sure-fire slam-dunk win is sexy lingerie on his favorite person (you!) paired with a fun night in the bedroom.
"Lets be real – guys like it. We watch the Victoria's Secret Fashion Show for a reason," said Anthony Mattioli, a junior at Virginia Tech University. "For Valentine's Day, if my girlfriend like made a dessert and then came out wearing lingerie, I'd be like, 'this isn't real life.'"
P.S. If you're looking for a gift that perfectly complements the sexiest lingerie, check out our hottest duvets that will definitely get you some action.

Looking for the sexiest lingerie?
Valentine's Day is the busiest time of year for Jezebel's Boutique, a lingerie boutique. "We get so many students coming in last minute," said store owner, Patty Stover. "A lot of them don't know what they're looking for, but we do our best to help them out."
Browsing through the sprawling aisles of lingerie types at Victoria's Secret can be intimidating, especially if this is an unfamiliar venture. Not to mention asking a perfect stranger to help you pick out sex clothes can feel uncomfortable. Straps, buckles and bows, tights, teddies and thigh-highs…the types of lingerie are limitless, and it can be overwhelming.
Find the lingerie that's right for you.
You might ask yourself, what lingerie types does he like? Would he think this was too much? Asking him could be awkward, or ruin the surprise. If you go for it and bring it up, he might provide a semi-honest, zero-help answer such as, "I don't know, like, red or something?" Great, thanks for nothing.
Of course, it's important to buy something you like and that you're comfortable wearing, but a little insight never hurts. So we went right to the source…we asked the guys.
We surveyed different guys from schools all over the country on their favorite sexiest lingerie selections for V-Day, and asked them to numerically order the selections of each category based on preference. Now shopping for the hottest lingerie can be easy, and the big day is fun for everybody.
Top 10Valentine's Day Sexiest Lingerie Picks by College Guys
1. Back In Black Lingerie
Black always has been and always will be the sexiest, classiest color – as well as the most flattering when it comes to lingerie. It doesn't matter what your style is, ask Audrey Hepburn or the stripper down at The Crazy Horse. Sixty-three percent of guys picked it first, with red coming in a distant second. Red is festive and all, but maybe mix the two for a good balance.
Fleur du Mal Women's Crochet Lace Balconette Bra: $128
Victoria's Secret Fishnet Lace Mesh Teddy: $41.99
In Bloom Lingerie: $24.00
2. Extras, Extras with your Lingerie
Heels. It's been said that a woman's fashion is only as good as her accessories. Take a standard lingerie set and transform it into something special for Valentine's Day. Guys number one pick: Stiletto heels.
"Heels are hot as f—k," Bobby Ceurvels, a senior from Westfield State University, said. "Heels add so much, girls don't even realize." So, what the hell – just keep 'em on.
The support they give also make your legs and butt look great, so its a win-win. Second place were thigh-high stockings, followed by fishnets. Tip: Thigh-high stockings can fall down during, um…"use," so matching garter belts with straps to hold them up are a sexy addition (placed right after fishnets) that also have utility.
Or, choose a pair with silicone tops that are designed to stay up on their own. More than half of guys agree that gloves are the worst accessory to include, and besides, you'll need the use your hands for other things anyway.
DREAM PAIRS ROCKSTAR Classic Stilettos: $24.99
Wotefusi High Thin Heels: $47.33
FINEJO Pumps: $28.99
3. Back to Basics
Simplistic. A good mantra to follow when it comes to lingerie types is one you may have already heard, "K.I.S.S.," or, "keep it simple, stupid." Men like it simple when it comes to sex and don't want a Gordian Knot of a sex outfit they have to fumble with like a rubix cube.
Almost 70 percent of guys said they like simple selections over detailed. Ceurvels said the number one mistake girls make is buying complicated outfits.
"It's not good when girls get too elaborate, or go way overboard." he said. "If there's a belt and frillies and stuff everywhere, which are great alone, but all in one outfit doesn't look good. It's just too much shit to take off."
Fleur du Mal Women's Longline Balconette Bra: $128
4. Sex Kitten
Seductive. You may feel a little silly, especially if you don't consider yourself a vixen or bedroom goddess of any kind, but a whopping 80 percent of guys said they prefer a "seductive" lingerie style – bounding ahead of alternative styles like sporty, virginal or retro.
(Disclaimer: "seductive" can be interpreted in numerous ways; it is important to note that leather material for lingerie came in dead last for over 60 percent of participants, and less than 5 percent selected animal print as their first color/pattern choice. So when "seducing" them, seduce them as a human, not a jungle cat, or leather-suited Catwoman.)
Victoria's Secret Women's Designer Collection Island Fantasy Corset: $34.97
Victoria's Secret Women's Lace Mesh Side Tie Teddy: $39.95
5. Less Is More
Bare. Not surprisingly, nearly 90 percent of guys reported that less coverage is always better. Simple rule: the hottest lingerie allows you to show some skin. Put the long nightgown and robe back on the rack. Although, maybe you use this kimono this to cover up first before your big reveal:
Avidlove Kimono: $12.59
Malizia offers a rule of thumb. "If you think your mom would point it out to you and say, 'Ooh, get that!' steer clear of it," Mattioli said. "Women, if you could imagine your mother wearing it, then don't get it. Unless you have a hot mom. But for the most part, don't get it."
Varsbaby Women's Push Up Bra Set: $17.99
6. Curveball
Victoria's Secret Bombshell Push-Up Bra: $39.99
Push-Ups Bras. Another shocker: guys like cleavage. Who knew? Push-up bras were favored by over half of survey participants, followed by padded, then plunge as some of the sexiest lingerie.
Conversely, strapless bras, despite their lack of lift and support, did fairly well in the polls, with a quarter of guys making it their first pick.
Maidenform Women's Ultimate Lace Push-Up Bra: $23.76
Victoria's Secret Women's Unlined Semi Demi Green After Dark Lace Rhinestones: $49.99
Victoria's Secret Women's Very Sexy Push up Bra Plum: $37.99
7. Panty Raid
Thongs. There's a (fabulously tacky, undeniably catchy) song written about them for a reason.
More than half of guys selected thongs as their first choice, followed by "tanga" panties (a cross between bikini and thongs, very similar, with little coverage.) Boy shorts came in third for almost 25 percent of guys, with crotchless and high-waisted underwear coming in last for 80 percent of participants.
Eberjey Women's Colette Thong: $30
Victoria's Secret Pink Strappy Lace Thong Panty Sagebrush: $17.99
8. Accent-uate
Victoria's Secret Very Sexy Cutout Garter Slip La Dolce Rose Lingerie: $49.99
Straps. Guys dig accents, but we're not talking the role-play kind this time. 45 percent of guys picked straps as their all-time favorite accents on lingerie. Bows came in a close second at 38 percent. Fringe, holes and zippers trailed behind; these can make an outfit look too complicated if they aren't used in moderation.
9. Material Girl
Lace. As was shown with the color black – nothing beats the classics. 60 percent of guys chose this as their first pick of sexiest lingerie material, and 30 percent listed it as their second choice.
Sheer and satin were tied for second so you can't really go wrong with either. Leather finished last across the board in surveys, and is what some participants called "too advanced."
Victoria's Secret Very Sexy Eyelash Lace Unlined Demi Bra: $49.00
Fleur du Mal Women's Rose Lace Demi Bra: $135
Victoria's Secret Fishnet Lace Mesh Teddy: $49.99
Victoria's Secret Embellished Chantilly Lace Merrywidow: $49.99
10. Ready, Sets, Go
Two-piece. As far as lingerie sets to buy, you know the color, the material, what to pair them with, and what to avoid. But it still remains what style guys have chosen to apply these rules to. The favorite for 50 percent was the two-piece, bra and panties combo. A similar choice came in second place with sexy lingerie skirts paired with a bra, corsets came in third.
Victoria's Secret DREAM ANGELS Lined Demi Bra Lingerie Set: $60.99
Pink Bralette Lingerie set: $16.93
Most importantly when choosing your lingerie types
With all of these statistics in mind, one piece of advice that always wins: pick lingerie types that suit you, that show your personality and that you feel fabulous wearing. Confidence and being genuine are the sexiest and most important lingerie rules.
It may be a new thing for you, but don't feel timid or weird about the outfit, Ceurvels said. "It's the same way girls feel about guys: confidence is sexy." he said. "If a girl can just walk up in a piece of lingerie, and not even care, that's so hot."
The same goes for being yourself. Dressing up in sexy costumes came in a very, very distant last place on all surveys – meaning guys think that being yourself is key. So whatever lingerie type you choose, make it you. After all, it's Valentine's Day, and if you're the one he choosing to spend it with, he already likes you just as you are.
Lacy or Racy? How to wear lingerie in public tastefully
Written by Jennifer Davis
Lingerie as clothing seems to be popping up everywhere. I see it sometimes on campus and out on the town, and it can be either tasteful or not so tasteful…
Regardless of the circumstance, I find myself just as drawn to this racy trend as the next girl. If done right, you'll look both demure and sexy, which is an odd combination, yes. But the ability to show some skin while still being covered up is the reason the trend earns these two contrasting adjectives. Two main looks come to mind when I think of this trend, one, the lacy top, and two, the bustier.
The lacy top
Wear with care and wear everywhere. I'm serious, you actually can! To wear a lace shirt during the day, you can wear a nude bra and show a little skin, or if you want to be on the more conservative side, wear a tank top underneath. Both will work during the day. Wear either a black, cream or white lace top, and pair with some jean shorts, a cute belt and sandals. When it gets cooler, a cute day time outfit would be a lacy top, jeggings, boots and an army green jacket, military or anorak style. For an evening out, don't wear a tank top at all. It's a little bold, but it looks great.
The Bustier
It's not just for the bedroom. I remember seeing Emma Watson wearing a bustier to a music festival this summer, and I thought, that's a little daring for the day. But you know what? It worked. This is a little more complicated to wear during the day than a lace top, but if you are feeling super fashion forward, make sure that everything else you're wearing is super casual, and not too tight or revealing. At night, you can either wear the bustier with a flowy skirt or a pair of jeans and heels.
So go forth and be saucy.
And sometimes, a tank or tee make you look just as good: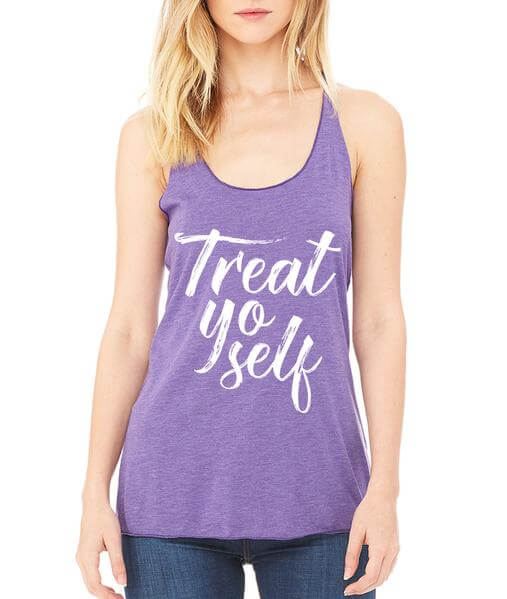 *Updated December 20, 2016 to include more selections of the sexiest lingerie and links to easily buy them on Amazon.
**Article updated December 20, 2016 by Jennifer Davis to include "Lacy or Racy?"