Wanderlust: This generation's preferred addiction. Once you've traveled, there's no stopping the craving. Sometimes, a yearly European adventure isn't financially possible. California is home to some of the best cities in the U.S. and San Diego sits high at the peak of that list. These top 10 experiences will make your visit the best day-cation ever in a city full of adventures waiting to happen.
1. Sunset Cliffs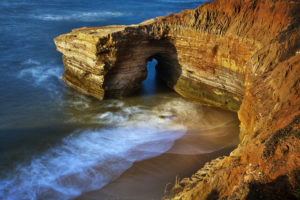 These famous cliffs are more than just aptly named. Every evening you'll see the cliffs bustling with couples and families as the sun sets. Not only is this a fantastic first date spot (hint hint gentlemen—Valentine's Day is coming up) but it's also a great way to spend an evening catching up with old friends or take a lazy day and spread out a towel, lie down among the rocks and read. Whether it's socializing or "me" time, this destination is only a few blocks away from Ocean Beach and a mouth-watering Acai Bowl from OB Smoothie.
2. Old Town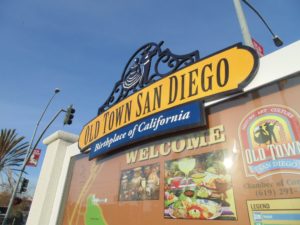 Every San Diegan you come across harbors a constant craving for Mexican food and an excitement for Taco Tuesdays. Old Town serves authentic San Diego cuisine and culture. Here you can find original buildings of Old San Diego such as the Wells Fargo Museum, Heritage Park Victorian Village and the haunted Whaley House. Without a doubt, the most festive Taco Tuesdays can be celebrated at the Café Coyote and Casa Guadalajara.
3. Hiking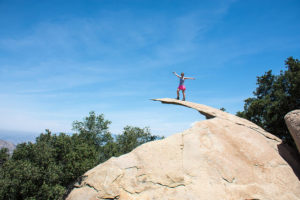 Lake Poway Park hosts one popular Instagram hot spot for active individuals: the hike up to Potato Chip Rock. The rock isn't actually shaped like a potato chip; rather its wafer thin cliff permits creative photographs by allowing patrons to "hang off" the cliff or "hang ten" in a surfing stance. There's also the Three Sisters Falls, a hike near Julian, a small mountain town an hour from San Diego. This hike is a little more difficult than the previous, but perfect for those who like a challenge. Finally, the phenomenal Los Peñasquitos Canyon Preserve is quite rigorous, but its beautiful wildlife, shady paths and waterfalls three miles into the hike make it worth the sweat and muscle aches you'll feel the next morning.
4. Balboa Park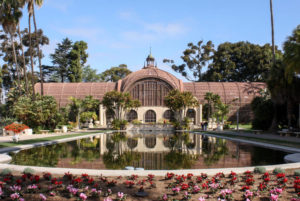 Museums, parks and theaters, oh my! Balboa Park is San Diego's very own outdoor amusement park. Its beautiful architecture and widespread displays of fine and modern art boost the quality of the experience. You can visit the popular Old Globe Theatre and see the next performance of popular plays. Balboa Park also contains a collection of Museums for the public's enjoyment, including the San Diego Air & Space Museum, San Diego Museum of Art and the Mingei International Museum. Nature lovers enjoy visiting the Botanical Building, which is home to more than 2,100 flowers and plants to keep you in awe.
5. Little Italy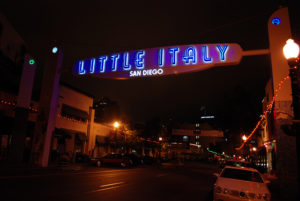 Buongiorno! This little piece of Italy is hidden between Hillcrest and Downtown and is definitely a quality dining spot. Italian restaurants and bakeries line the street with scents that leave your mouth watering. Those with a sweet tooth can surely fill a craving, whether you decide to munch on a Cannoli or a rich slice of chocolate cake. Each dessert is beautifully decorated with flower petals and gold flecks. Treating yourself to a nice dinner? Make your way to Davanti Enoteca and try the Focaccia bread with ricotta and honey comb—it's to die for.
6. Julian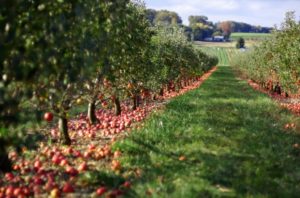 A day trip to Julian is the escape from everyday life that the doctor prescribed. This little town is popularly know as San Diego's first and only gold rush. It garners fame for its reputation as a hot spot for its abundance of Apple orchards. In the fall, southern California residents take the time to stop by to pick some apples and grab a piece of Julian's famous apple pie. Every August this small country town hosts its seasonal U-Pick Apple & Pear Orchards. Not only is it a cute Instagram photo-to-be, it's also a great bonding experience. Starting in September, you can take part in Julian's Apple Days Celebration and the Grape Stomp.
7. Downtown San Diego/Gaslamp District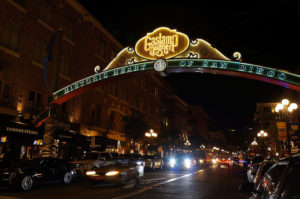 Downtown San Diego is known for its nightlife within the infamous Gaslamp District and caters to more than just the 21+ crowd. The Gaslamp District features high end dining, bars and famous nightclubs that host well-known DJs like Steve Aoki. Those who aren't able to hit the of-age popular clubs in the area, head to the fantastic restaurants such as La Puerta, Nobu and Dublin Square Pub. For chocolate fans (who isn't?), there's the ever-popular Ghirardelli Ice Cream & Chocolate Shop (you must try their gargantuan chocolate chip cookies) Chocolate Cremerie and Le Parfait Paris.
8. Coronado Island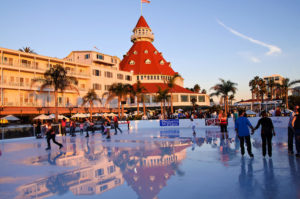 Coronado Island's quaint boutiques along Orange Avenue fill all your shopping desires. The Coronado Ferry landing shows a bit of beachside beauty with common art galleries, sweet shops and casual dining. Don't hesitate to rent a bike and take a ride around the island in the beautiful San Diego weather. Every November, Coronado hosts Skating by the Sea, an outdoor ice-skating rink overlooking Coronado Beach. What's better than skating on ice with the beach in view? You get the best of both worlds.
9. Beer Tastings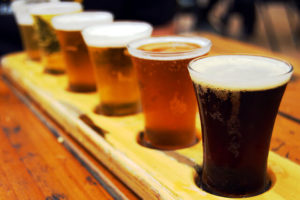 After a nine-to-five workweek, a pint of San Diego's local craft beers is a must. The very popular Stone Brewery has a beautifully structured Bistro and Gardens in Escondido, which is a bit of a drive but worth the experience. Customers sit by the man-made stream in the gardens during the day and enjoy a foamy pint. At sunset, fire pits turn on keeping the beautiful ambiance alive for dinnertime. For the 21+ crowd, Stone's menu offers a real beer float. A second option is Ballast Point, another local beer company. You'll constantly see San Diegans sticking to these two beer brands or taking the plunge into the local IPA lifestyle.
10. The Beach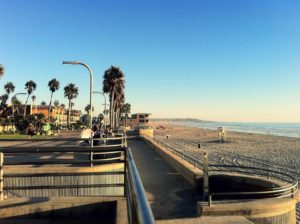 So-Cal's classic hot spot will always be the beautiful coastline. Locals love to sunbathe with a good book or admire the popular So-Cal eye-candy on every beach. Every adventure is a time to try something new, so why not give paddle boarding or kayaking a go at Mission Bay. Need a change in scenery? Make your way up to La Jolla beach and enjoy the extraordinary trails by the beach to explore some of the coastal caves. You might even see some seals in their natural habitat. There are many beaches to choose from, like the laidback Mission Beach or the fancier Coronado Beach.