Your roommate's latest Netflix binge might make it impossible to read in the comfort of your apartment or dorm. Whether you read A Tale of Two Cities or 50 Shades of Grey, you need to find a comfortable and distraction-free space to read. But in a campus frequently overrun by tourists and school children on field trips, students struggle to find their own nook to settle down in for a chapter or two. Try out these 10 places around the UW Seattle campus to can escape the grind and lose yourself in the story.
1. Drumheller Fountain
During the day, the fountain can get a bit too busy to do any serious reading, but my fellow commuters coming from the light rail station can make a stop here before class. Once the fountain turns on, you'll hear a lovely ambient sound of rushing water to help you focus and relax. Once it starts getting busy you can use this place to people-watch while reading The Humans by Matt Haig, a witty and observational book about an alien trying to blend into human society—a book every commuter can relate to when they're surrounded by people who live on campus. "Just watch out for the goose shit," sophomore Nick Cabrera said, scraping his shoe on the concrete.
2. Cafe Allegro
Maybe the last thing you need while trying to finish that 30-page reading assignment is the soothing sound of Drumheller Fountain lulling you back to sleep. Instead, you need a jolt from a delicious cup of the city's favorite beverage. But let's be honest, the coffee served in paper cups in places like By George and Orin's Place doesn't cut it when you want to cozy up to read. Café Allegro is a great alternative to the Starbucks on-the-go cup of joe and its bohemian-style brick interior makes it a fantastic place to read.
3. The Quad
Lean back on the trunk of a cherry blossom and read under its shade, periodically wiping off pink petals from the pages of your favorite Haruki Murakami novel. This great spot suits people who don't mind accidentally photo-bombing a tourist's vacation photos. You might have to wait until spring to enjoy the full, flowery potential of this reading spot, but even in the summer the Quad makes a great place to escape the Seattle sun while still taking in the fresh air.
4. Union Bay Natural Area
This place works perfectly for those of us who like to listen to audiobooks. That still counts as reading, right? Take a walk around the short loop with a good pair of headphones, enjoy a beautiful view of Lake Washington and do some birdwatching. You might get a chance to see blackbirds, herons or bald eagles as well as other wildlife like turtles. I recommend listening to In A Sunburned Country by Bill Bryson, a book about Australia that at times will make you glad you don't live in a place with such deadly, deadly nature.
5. North-side of the Husky Union Building
Every Husky knows that the HUB provides comfortable chairs and places to put your feet up and relax. You may even see your fellow commuters napping on the sofas there. But if you really want to curl up with the latest thriller, try the north side of the HUB because some students like to practice playing the piano on the second floor. This gives a soothing soundtrack to your reading. But beware: bring headphones in case anyone starts playing "Chopsticks."
6. Grieg Garden
You may have missed this well-hidden paradise on your way to the HUB, but journalism student Katie Anastas has known about it for years. Grieg Garden's lush green space will surround you with so many trees you will feel as if you're in the middle of a forest. "It's nice to have a place to disconnect from technology," Anastas said. Unfortunately, Anastas also said Seattle's poor weather limits when she can read here to early fall and late spring, when the sun comes out. "But having the limited amount of time makes me look forward to reading there," she said.
7. Kane 130 Balcony
This (oddly specific) spot is a favorite of public health major Jaymin Sohal, who often sits through dull lectures in this room. "When I'm bored out of my brains in lecture, I'll read instead," he said. "It's great because you are just so far away and the people up there don't care if you're off task." So whether you're in Kane or Guggenheim, sit in the back of the lecture hall next time your professor starts telling the same anecdote she told last week. Consider pulling up an e-book instead of Facebook.
8. McMahon Patio
The patio behind McMahon is the perfect place to read if you have to have a snack and a view while you read. With a spectacular view of Mt. Rainier to the south and Lake Washington to the east, the patio at McMahon offers plenty to look at while you stop to eat that thing you bought at The 8. It never gets as crowded as the HUB in the afternoons, but you might find Madeline Kernan here, a senior majoring in English and history. "I don't dorm here anymore but McMahon still feels like home," she said.
9. Allen Library, top floor
If you seek seclusion and privacy, pay a visit to the top floor in Allen Library. "[There's] not a lot of traffic, [its] very isolated and peaceful," said Melissa Galindo, a graduate student in the School of Social Work. But if you need to feel like you're sitting in a cloud while reading, steer clear of this spot. Galindo also mentioned the top floor doesn't offer enough comfy couches. Still, if you decide to read in this out-of-the-way spot you can rest easy, knowing that interruptions by friends or acquaintances won't happen here.
10. Silent Study Floor in Odegaard Undergraduate Library
If you prefer to take notes on everything you read and need absolute silence to concentrate, check out one of the tables on the third floor of Odegaard. The chairs might not feel as comfortable as the sofas in the HUB, but you read at the edge of your seat anyway, leaning over a notebook on the table with your book in one hand and a pen in the other. And don't worry, this floor lives up to its name. You won't hear the constant clicking of a League of Legends game in here.
For Literary Dorm Decor: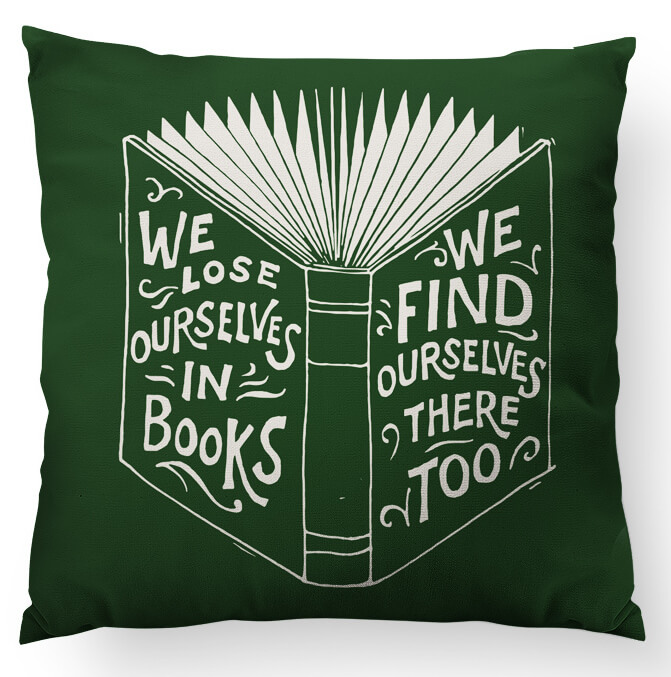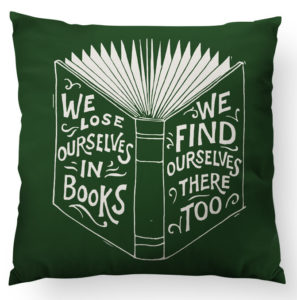 We Lose Ourselves in Books Throw Pillow: $32.99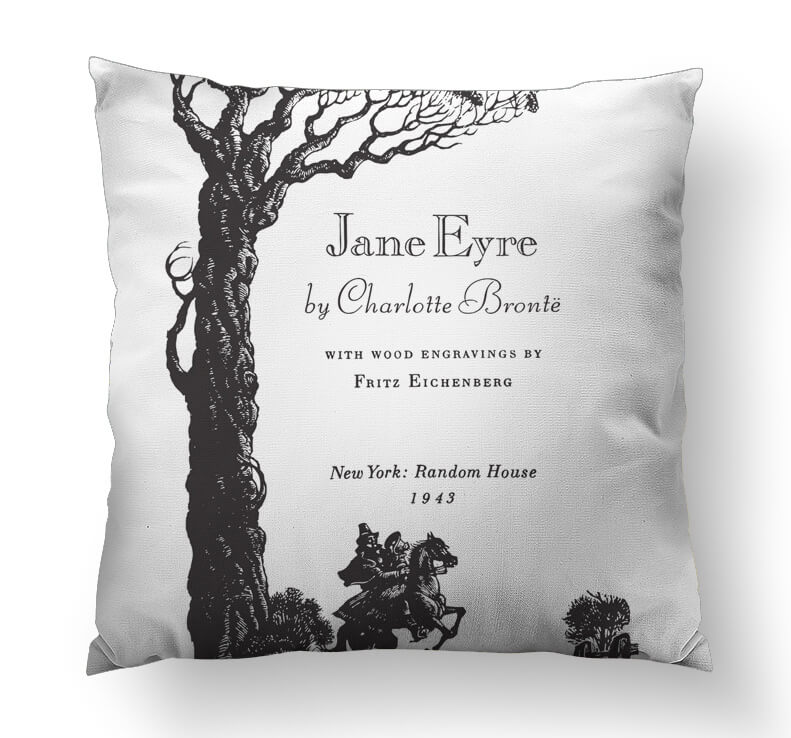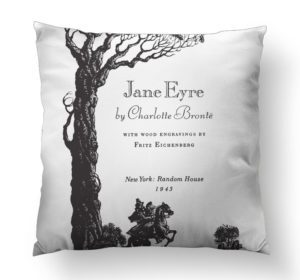 Jane Eyre Throw Pillow: $32.99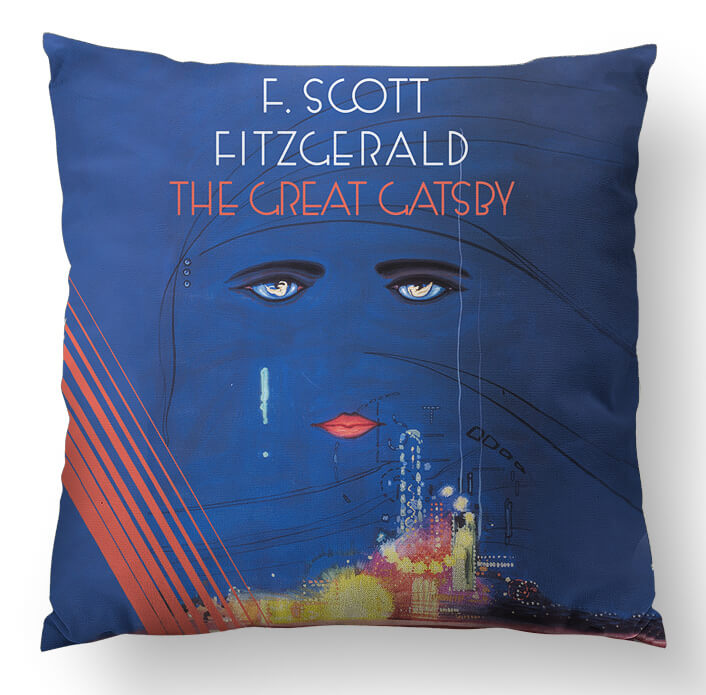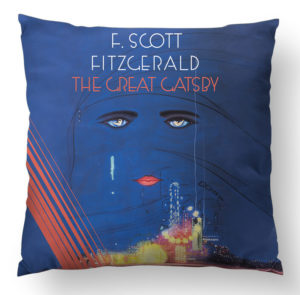 The Great Gatsby Throw Pillow: $32.99
Get the full literary dorm decor collection at AwesomeCollegeStuff.com.