It always seems like free time goes out the window as we get caught up in classes, part-time jobs and internships, but it's time to clear a spot in your schedule for making a difference. That's right; better break out your Batman suit because you're basically going to be saving the world. This semester, spend time tending your altruistic streak by volunteering at some of these non-profits located around the globe.
Many of us have been inspired by a TED talk, from Sir Ken Robinson's take on the education system to Chimamanda Ngozi's rousing speech on feminism. If you want to be a part of bringing these honest conversations to audiences across the world, volunteering with TED is the way to go. If you speak multiple languages, you can translate and subtitle TED talks to truly reach a global audience. You can even get a group of volunteers and bring TED to your community by organizing your own event. Whatever your skills are, TED can put them to good use.
Its website opens with the words "Volunteers change the world." And don't we all want to leave the world a better place than how we found it? This means more than just picking up the litter outside your apartment. Points of Light centers around its volunteers, providing anyone with open hearts and willing hands an opportunity to get involved. You can take action in your local area or travel. Points of Light connects volunteers with causes they're passionate about: civil rights, education, veterans, disaster preparedness and more.
Who wouldn't want to volunteer in a place that literally translates to "sunland"? This non-profit enhances the lives of people of all ages with disabilities, working alongside them so that they can contribute and participate as citizens of the community. The organization works with its volunteers to find exactly the right fit for them, whether its helping in art studios, with fitness equipment or anywhere in between.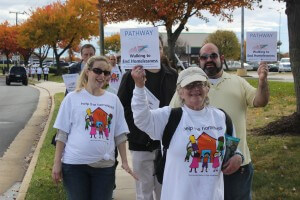 If you work better with adults than kids, volunteer with Pathway Homes. This non-profit provides housing to adults with serious mental illnesses for an unlimited amount of time. You don't have to have a specific set of skills or training to volunteer here; help is needed in areas including tutoring, administrative assistance, cooking and drawing with the residents.
Soles4Souls is committed to fighting poverty in a tangible way by collecting used shoes and clothes and donating them to those in need. The non-profit also has enterprising programs for creating jobs in poor communities. You can be a part of this truly worthwhile cause by hosting shoe drives in your own community, fundraising and even traveling with Soles4Souls. It hosts distribution trips in Haiti, Costa Rica, Tanzania and Honduras, among several other countries.
As college students, we understand the many stresses of higher education but also the reasons why it's ultimately so worth it. Volunteers with the iMentor program help guide high school students on the path to college, spending a few hours a month forming a mentoring relationship. Asking only about six hours a month, it's not a huge time commitment and can easily be fit into a busy schedule.
Unless you've been living under a rock, you've probably heard of the American Red Cross. The organization focuses on five primary areas of care: disaster relief, military family support, blood donations, health and safety services and international services. They pretty much cover the spectrum. But did you know that 90 percent of its workforce are volunteers? This semester, donate more than your blood. Whether it's helping out at that local blood drive, being an advocate through social media or even joining a disaster action team, you can make a difference. The American Red Cross is located throughout the country, so finding one close to your area shouldn't be too hard.
https://www.youtube.com/watch?v=LHWtBGm1zlA
This non-profit uses grassroots strategies to reach marginalized and underserved women around the world, giving them the tools to fight poverty and increase community sustainability. It currently has several programs set up in northern Uganda targeting literacy, agriculture, leadership development and other issues. To make these programs prosper and grow, they need volunteers. Business-related majors are especially handy, as Women's Global Empowerment Fund seeks to increase micro-finance knowledge and allow women to become more self-reliant and empowered.
https://www.youtube.com/watch?v=N3704cxJkok
Politics and pre-law majors, this one's for you. The Children's Law Center New York is a non-profit law firm giving children strong and effective advocacy in the court system. CLCNY has a team of directors, attorneys, social workers and paralegals that work tirelessly to represent the children who don't have a voice in the system–and you can be a part of the fight. The firm accepts interns and volunteers during both the academic year and the summer, with most volunteers being law, social work or paralegal students. Volunteers receive orientation, training and supervisory support, as well as practical experience in the field. It's like real-life Law and Order.
The Human Rights Campaign is a non-profit dedicated to fighting for lesbian, gay, bisexual and transgender rights. It works to create more LGBT-inclusive policies and to increase understanding and awareness, and it aims to empower international LGBT advocates and educate Americans about inequality in and out of the country. HRC volunteers can choose the area they feel most comfortable in, whether it's tackling policymaking by lobbying, or helping to organize and execute fundraising events.