Now that we only have two teams remaining amid the madness, we can reflect more on the greatest moments we have seen so far in this year's NCAA Tournament. Just like seemingly every year, it has had plenty of shockers, head-scratchers and amazing plays and performances. But it's not every year that two No. 15 seeds claim victory – thanks, Mizzou, for giving me a reason to give up after the first day of play.
10. VCU Wins Again
A year removed from their unbelievable run from the First Four to the Final Four, VCU didn't just make an appearance in this year's tournament. Matched up against a fellow mid-major team in Wichita St., a No. 5 seed, the Rams played with a "Shaka the World" mentality down the stretch to advance to the second round.
9. Creighton-Alabama Matchup
Although it was just a first-round matchup that ended up posing little trouble for top-seeded North Carolina, the game featuring the 8-9 seeds turned out to be as close as their proximity on Selection Sunday. Although Bama got a chance to beat the buzzer after Creighton missed two free throws, the shot was rejected, ending a thrilling game.
8. No. 4 Louisville Makes Final Four
Not many people thought that this could happen, including me. In the upper portion of the West region, the Cardinals had fearsome Michigan State and Draymond Green to deal with. Before they could even reach the Spartans, they were tasked with getting through possible upsets at every turn with Davidson, New Mexico and Florida. Their impressive run fell short, however, against No. 1-seeded Kentucky at the Final Four in New Orleans.
7. N.C. State Surge Continues
The Wolfpack came into the Tournament hot, winning their first two ACC Tournament games and nearly beating North Carolina in a 69-67 loss. That hot streak seemed to affect their performance in the brackets as well, upsetting both San Diego St. and Georgetown before falling by just three points to Final Four-bound Kansas.
6. Ohio Pushes to the Limit
Ohio attempted their best VCU impression this year, and nearly succeeded. The No. 13 seed turned Michigan's world upside down and beat a lesser-talented team in South Florida in the second round, before facing UNC. Although they lost they forced overtime with the Tar Heels, and without a 20-20 performance from the Heels' Tyler Zeller, who knows what Ohio could have done in the Elite Eight.
5. Quincy Acy's Jam
Dunk of the tournament thus far easily goes to Baylor's Acy. In the second half of the team's Sweet 16 bout with Xavier, Acy roared into the line and received an alley-oop inbounds pass that he thunderously slammed with one hand.
4. No. 15 Lehigh Shocks No. 2 Duke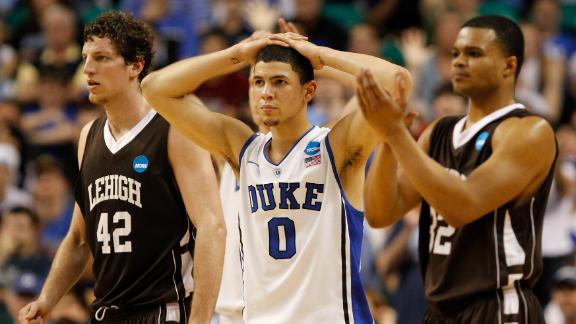 In the second of the No. 15 shockers on the same day, under-the-radar Lehigh toppled the Blue Devils plans in a 75-70 win. A few days later we saw Lehigh keep it close with Xavier, nearly notching a Sweet 16 berth, while Duke is still wondering who will start next season.
3. UNC-Asheville Gets Robbed
You can't have a whole NCAA Tournament without some questionable refereeing, and this game supplied that in droves. In a tournament that featured two No. 15 seeds win, we probably could have had the first No. 16 seed to ever win if not for a highly questionable lane violation and a blatantly incorrect possession call, costing UNC-Asheville at their chance at history.
2. Kansas Overcomes North Carolina
In perhaps the tournament's most signature game up to this point, Kansas eventually separated themselves from UNC in an 80-67 victory. Although the score might not show it, the fast pace and aggressive play displayed throughout the game by both teams had fans on the edge of their seats awaiting the winner, who might determine the national champion. In the end, the absence of Kendall Marshall hurt the Tar Heels considerably, and the Jayhawks' duo of Thomas Robinson and Tyshawn Taylor proved too much.
1. No. 15 Norfolk St. Beats No. 2 Missouri Unbelievable – besides being my pick for the national champion, Mizzou seemed to be a popular choice to go all the way by many people because of their solid guard play of Marcus Denmon and Phil Pressey. That all went down the toilet in one of the biggest upsets in tournament history, when Norfolk State, who had never even reached the tournament before, became the fourth No. 15 seed to do it.