People within the LGBTQ+ community have massive influence in many industries: music, art and social media. From beauty and lifestyle content to educational and LGBTQ+ content, social media continues to grow. Representation serves a huge purpose as individuals find themselves in pop culture. Iconic influencers like Tyler Oakley and Gigi Gorgeous paved the way for LGBTQ+ content and its community. While the world of content creation slowly becomes a viable career path, many around the world pursue it. With the abundance of uploaded content, many creators find it difficult to find enjoyable content.
Read on for our fav LGBTQ+ content creators that you need to check out and add to your feed ASAP.
One of YouTube's top creators, Tyler Oakley, began posting content a little over 13 years ago. Best known for his energetic and positive outlook on life, he paved the way for numerous other LGBTQ+ YouTubers known today such as Dutchy and Nick Toteda. Openly gay since the start of his career, Oakley continues to be a major activist for the LGBTQ+ community. He supports organizations such as The Trevor Project and was awarded a Visibility Award by the Human Rights Campaign in 2018. You can also watch some fun educational videos on his YouTube channel about pride history, activism and more. Oakley's series "Chosen Family: Stories of Queer Resilience" on his YouTube channel follows the stories of over a dozen LGBTQ+ individuals.
From educating the world to creating fun content, Oakley's influence as a creator just doesn't stop. "In a world that often tells queer kids to change who they are, being exactly you is a revolutionary act – but remember there's no rush. Take your time, do it at your own pace, and know that when you're ready to come out and live life as unapologetically you, there's an entire LGBTQ+ community ready to cheer you on and accept you for who you are," Oakley said. Life and relationship advice videos are common on his channel; "The ONLY Life Advice You Need" covers toxic friendships and tips on living a better life. His channel serves as a go-to for any type of advice. His videos range from humorous throwback and makeover videos to both educational and advice videos. Clearly, Oakley's content features the perfect combination of videos for any kind of viewer.
Taking the beauty world by storm, Jake Warden began posting makeup videos on his Instagram in 2017. His videos accumulated millions of views and he quickly rose to a million followers on the app. Warden fights toxic masculinity every day by featuring beautiful makeup looks and fairytale-like fashion videos on his platforms. He often creates fashion and beauty videos with Gia Gunn, a popular drag queen off RuPaul's Drag Race and Kevin Ninh, a fellow Instagram beauty star. More recently, Warden created lots of "Euphoria" inspired looks and for his feed. Warden and his long-time boyfriend, Mikey Nucci, have been together since early 2o16. Together, they've put out fun makeovers, challenges, mukbangs and vlogs, all on Warden's YouTube channel.
In addition to her featured roles in numerous films, Devore Ledridge is best known for her role as "Amelia Duckworth" in Disney's "Bizaardvark." Devore's character plays a DIY influencer with over one million subscribers on her channel called, "Perfect Perfection with Amelia." Her character got her start by creating her own lipsticks and clothes on social media and making a fortune off her (fictional) brand.
Since "Bizaardvark" came to an end, Ledridge switched over to TikTok and Instagram content where she came out as pansexual with the caption "Coming out day? Sounds Pan-tastic to me!! #yeaimqueerwhosasking." She uses her platform to serve as a role model for thousands of young girls and boys. Ledridge reminds her fanbase to have a positive outlook on life and continues to spread awareness on social issues such as climate change and racial discrimination.
At just 20 years old, Benjamin Ryan Melzer became the first transgender man to grace the cover of European Men's Health magazine, setting him up to be the next big thing in the modeling industry. Since then, Melzer received a nomination for Vize GQ Gentleman, released two fitness books and signed into a partnership with Under Armour. In addition to all this success, he still has a presence on social media, getting the attention from well-known companies like Apple, Mercedes and Air Up.
When Melzer isn't working on his campaigns and fitness content, he's spending time with his wife, Elisabeth Hofbauer, who he just recently got married to. Wedding content, as well as professional photos and videos of their adorable relationship, are posted across both their social media platforms. An adorable power couple and a fitness KING, what more can you want?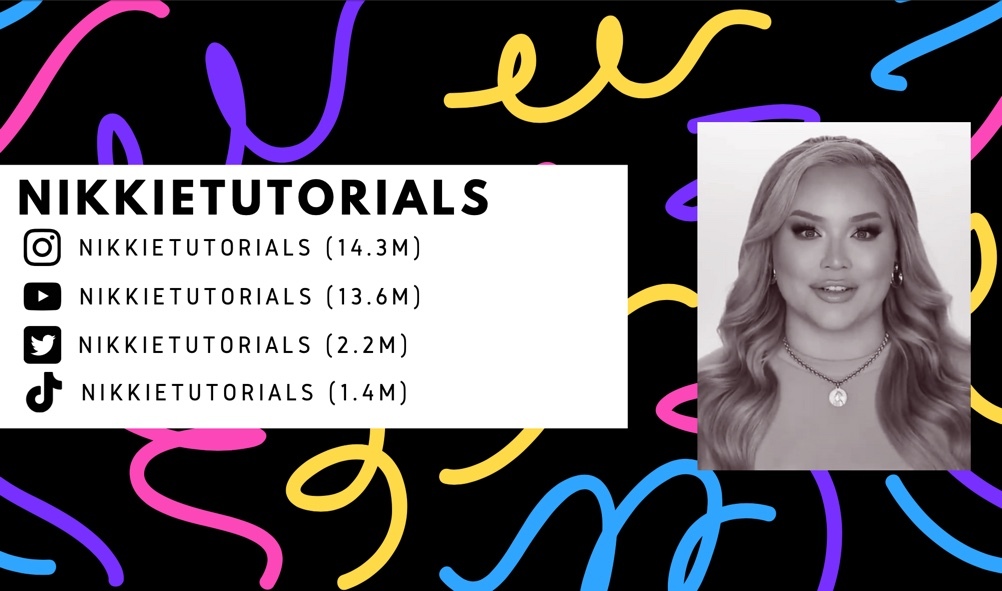 YouTube beauty guru Nikki de Jager, best known as NikkieTutorials, is no stranger to the social media game. De Jager began posting beauty tutorial videos on YouTube in October 2008 and did not come out as transgender until January 2020. While many individuals in the community are able to come out on their own terms, Jager didn't have the same experience. "When I was younger, I was born in the wrong body, which means that I am transgender," said de Jager in her coming out video titled "I'm Coming Out." Later into the video, she shares that someone (or numerous people) had been threatening to out her as transgender. "I have been blackmailed by people that wanted to leak my story to the press and at first, it was frightening. It was frightening to know that there are people out there that are so evil that they can't respect someone's true identity," de Jager continued to explain.
Coming out should be done on a person's own terms. While she didn't have the experience to do so, she took matters into her own hands and handled it like a bad-ss. For 12 years and counting, Jager has made content that focuses on beauty and artistry with her lovable personality added as a bonus. Although Jager collaborated on a palette with well-known makeup brand Too Faced earlier in her career, she teamed up with Beauty Bay for the ultimate eyeshadow palette. The palette consists of two sides: a colorful side and a more wearable neutral side. Both halves showcase her personality — the bright and the dark. Jager is also known for her frequent highlight collaboration products with Ofra Cosmetics. She continues to break boundaries with cutting edge products and incredible makeup looks.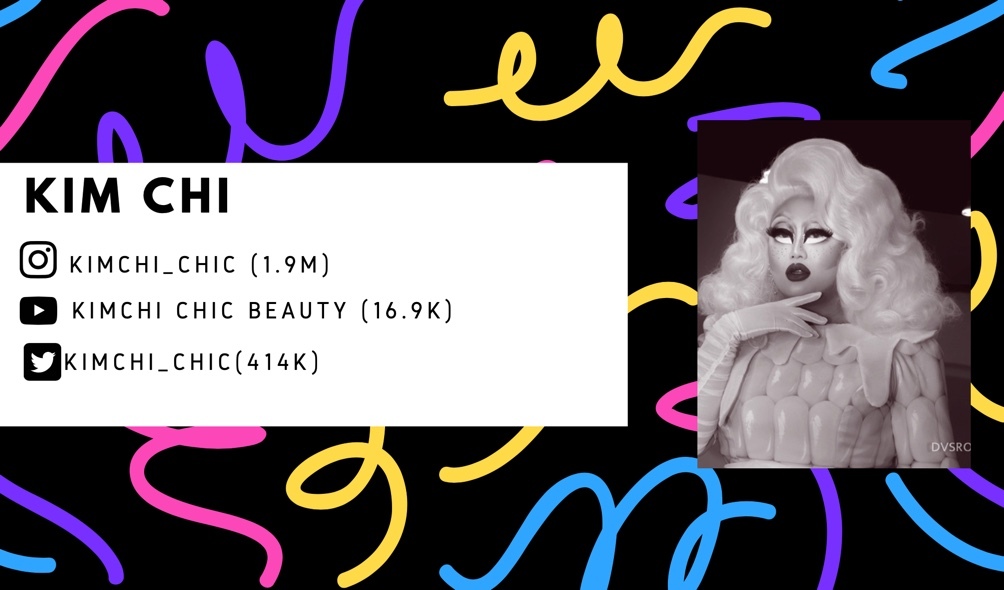 Sang-Young Shin, best known by her stage name "KimChi," is a drag queen, makeup artist and one of the runners-up on Season 8 of RuPaul's Drag Race. Chi was the first Korean American contestant on the show, as well as the first Korean American drag queen to appear on American national television.
Chi found her passion for makeup (and drag) on Halloween night when she was scouted and booked for a show. "I realized drag was the medium where I could mold my love and knowledge of art, painting, fashion, and photography into one vessel," wrote Chi on her website's biographical page. Since that night, she's loved the beauty of drag!
Following her appearance on RuPaul's Drag Race, Chi has launched her own beauty brand named "KimChi Chic Beauty." Through this brand, Chi proudly partners with The Trevor Project, donating 2 percent of all sales directly to the non-profit. Affordable eyeshadow palettes, concealers, powders, lip products and more can all be found on her website.
While most know her as Avery Cyrus, her full name is actually Avery Blanchard. Her choice of username stems from her time as a lifelong fan of Miley Cyrus. The social media star quickly rose to fame on the platform TikTok. Cyrus came out as bisexual early into her career, and is known for posting lip-syncing, lifestyle and DIY videos with her girlfriend, fellow TikTok star Soph Mosca. In addition, she occasionally posts vlogs on her YouTube channel titled "Avery Cyrus."
Cyrus continues to be a positive influence on her followers while having a positive outlook on life herself. "Don't try and be somebody you're not. Let your quirks and weirdness shine because they are what make you special," Cyrus said. You can see her taking her own advice during her day-to-day life on all her platforms.
Cyrus' audience engagement only continues to grow. On TikTok alone, she has over 95 million people liking her videos; almost every video reaches between 1 million to 15 million views. Her two most recent videos creating and riding a candy skateboard has accumulated 25.9 million views and 5.9 million likes. After binge-watching Cyrus' videos, we can confidently say that her positive and bubbly personality has made us fans!
You may have seen his name on tv, a newspaper or on your social media feed. Maybe you even heard his song with Ariana Grande on the radio. That being said, Troye Sivan is NOT new to the mainstream media. Though his career began on YouTube, Sivan's passion for music existed long before he became mainstream. Before he signed with record label Capitol Music, he uploaded lifestyle videos, covers and original music onto his YouTube channel. He also put out two different coming out videos, the first one dating back to August 2013. The second coming out video aimed to start an open conversation about all things revolving the LGBTQ+ community.
Sivan continues to use LGBTQ+ representation in many of his music videos and songs. Both albums "Blue Neighbourhood" and "Bloom" follow his personal journey to find his LGBTQ+ identity. In "Blue Neighbourhood," a twelve-minute Gay-romance video trilogy is up on his channel, following the journey of two young boys growing up to love one another while living under the roof of homophobic relatives. The trilogy consists of "WILD," "FOOLS" and "TALK ME DOWN."
During the current pandemic, Sivan put out an EP titled "In A Dream." Though he cannot tour for the coming months, he continues to interact with his fanbase across social media. He frequently puts out content, including a music video for his songs "Rager teenager" and "Easy," out now on YouTube. "Easy" is available in 10 different languages as well. Inspiring and accessible, Sivan is the full package.
Author, YouTuber, writer, wrestler, singer, soldier… the list goes on. Dylan Geick rose to fame after publicly coming out across his social media accounts during his junior year of high school. His decision to come out spread like wildfire, quickly growing his social media presence. As Geick told his followers in his YouTube video titled "My Coming Out Story and Advice," "come out when you're ready and come out when you're safe." While he's busy juggling all of his many talents, he continues to be a voice for the LGBTQ+ community.
Though his platform isn't specifically LGBTQ+ oriented, he's vocal about LGBTQ+ matters and issues, reminding his queer fanbase that his platform is a safe space for all. He talks about his past loves and losses in his poetry book titled "Early Works: A Collection of Poetry." According to the New York Times, Geick "is working on his first novel, a horror Western set in Mexican Texas that takes place in the 1800s." While the novel's genre is quite different from his past publications and work, believe us when we say you should keep an eye out for it.
Adam Eli's mantra states, "you mess with one queer; you mess with us all." When Eli isn't creating content, they work on Voices4, an action activist group committed to progressing global queer liberation. They also wrote a book, part of a Pocket Change Collective, titled The New Queer Conscience. The collective consists of a series of small books from today's leading activists. The Pocket Change Collective gives readers a space to think, connect, and be themselves.
Eli's installment serves as the ultimate guide queer people can use to navigate the world around them. "What I want people to take from my book and all of my work is that being queer means you are never alone," Eli said. "Being queer means, you are a part of something greater than yourself. That comes with great beauty and joy but also responsibility." Eli offers a direct introduction to queer responsibility in his publication. They bring up many meaningful conversations that people often ignore in their activism, such as the anti-Semitism and homophobia taking place outside the United States. For example, readers can find a few references from the Talmud, the book of Jewish law, within the book.
Like Eli, many of the influencers and content creators change the world in many ways. They continue to bring awareness to LGBTQ+ issues while influencing and educating their fanbase, along with others who may not be as educated on the community and what they stand for. Their content and publications bring happiness to people all around the world and encourage them to have a positive outlook on life.