If you think Indiana University's campus only offers you corn and "the Crossroads of America," I'd like to personally inform you that you're wrong. Although they get their steps in wandering across the expansive campus, students always find a view (or 10) that inspires them to snap a pic for Instagram before class. No filter needed.
Of course, this list only partially covers all of the Instagram-worthy spots at this 2018 most beautiful campus.
10. Showalter Fountain
For any IU student, taking an impromptu dip in Showalter is a rite of passage. "I was walking back from an end-of-the-year banquet with some friends," said IU junior Omeed Malek. "We were all dressed up but also soaking wet because of the rain so we figured it wouldn't hurt to take a picture in the fountain given the unique opportunity of already being dressed in sopping wet semi-formal clothes." We hear campus tour guides explaining this ritual to prospective Hoosiers, though I can't confirm whether they include the myth that Venus will come alive when a virgin graduates from IU.
9. Red Clocks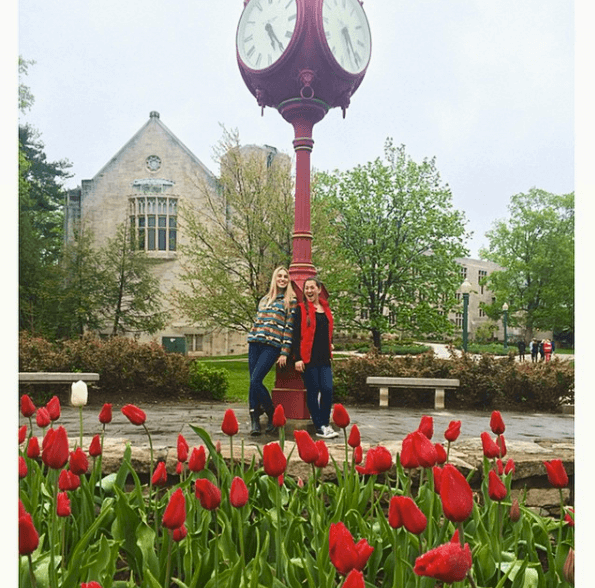 The clocks chime throughout campus, playing classic IU songs. Brother Jed, the infamous campus evangelist is often spotted here damning all passersby to hell (a tradition beginning in the 1970s). But on a good, Jed-free day it provides the perfect backdrop for your Instagram. "My friend from out of town was visiting and I was giving her a tour of campus and the area by the tulips stood out because they were so pretty and the colors of IU," IU sophomore Greer Brown said. "IU's campus is so pretty and cannot be beat, so whenever I have friends from out of town I get so excited to show off our pretty buildings and especially the flowers!"
8. Collins
https://www.instagram.com/p/_DCN0mwT9R/?taken-by=jayedrex
Recent IU graduate Jared Robinson first lived at Collins in 2012 for a summer program. An Indiana native, Robinson felt reluctant to attend the big state school down the road. "The comfortable atmosphere and beauty of the campus really got to me," Robinson said. "We'd been gone less than 20 minutes before I admitted to my mom I didn't want to be anywhere else." Walking through Collins you might not be surprised if you came across a Quidditch match or stained glass windows featuring gnomes (yes, those actually exist). This quirky residence hall earned its Hogwarts nickname and the love of its residents.
7. McKinney Fountain
https://www.instagram.com/p/BFEboq8yRLi/?taken-by=drewc45
McKinney Fountain sprawls across the front of the Simon Music Hall, greeting visitors to the Jacobs School of Music, a draw for students across the nation. "What really made me choose to come to IU is the Jacobs School of Music," IU sophomore Drew Comer said. "It's one of the preeminent music schools in the country and the faculty, students and resources available are first-class." The spouts of water and glowing sunset create a perfect picture opportunity before any concert.
6. Memorial Hall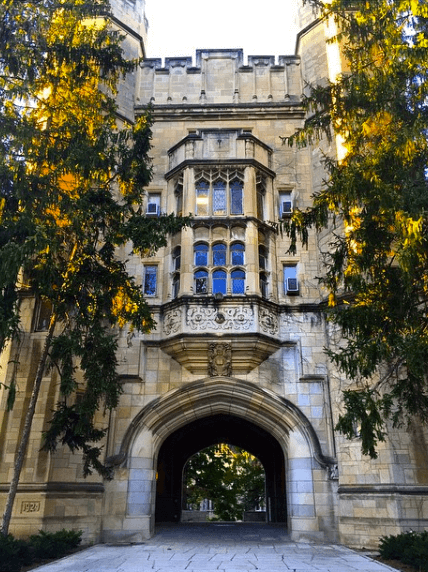 Sir Walter Scott's words, "Evil spirits cannot enter an inhabited house unless invited" are engraved into the castle-like walls of Memorial Hall in the old section of campus. "When walking through this area, one seems to travel back in time, getting an almost nostalgic-type feel," IU senior Jessica Ivetich said. "It's a wonderful place to just go and think." The building's basement now holds a sewing studio for all the fashion design courses at IU. "I've spent countless hours in the sewing studio, even pulling an all-nighter to finish making a trench coat for my final project," Ivetich said. Open your VSCO cam app on one of IU's ivy and misty mornings, this limestone fortress will definitely make your followers swoon.
5. Jordan Hall Greenhouse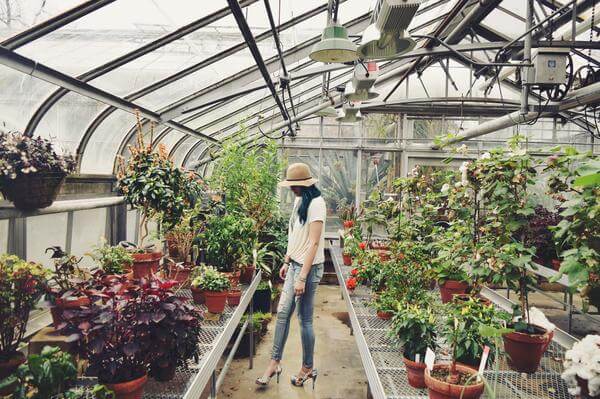 Just down Third Street from Memorial Hall stands what appears to be Professor Sprout's greenhouse with eternally steamed-up windows. "I really love the cacti room," IU alumna Holly James said. "I heard a rumor from someone that the giant cacti in the middle of the room was actually taken from the set of Breaking Away. I'm not sure that it's true, but I think it's a neat idea. Especially since the greenhouse was built on top of an old limestone quarry!" True or not, the greenhouse stays at a balmy 75 degrees all year round, so next February while sliding your way to class on the icy sidewalks stop by to thaw out and maybe feed a Venus flytrap.
4. Light Totem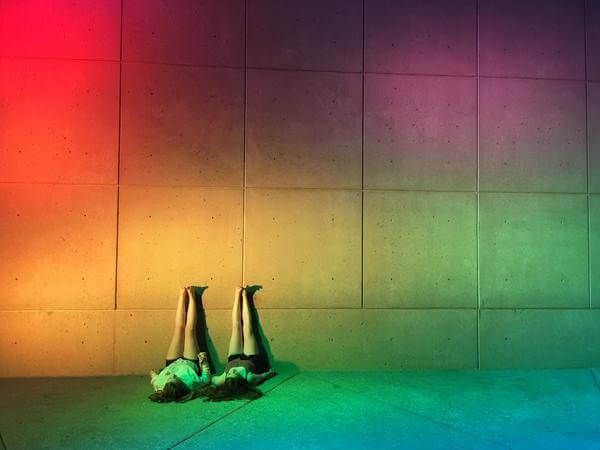 Professor of Lighting Design Rob Shakespeare created the Light Totem that now illuminates the IU Art Museum. This now permanent display entices students to the wall like moths to a flame. "We saw a freshman orientation group taking pictures by the wall and decided to do it too," incoming IU freshman Robin Gann said. "It was full of life and so beautiful. There were so many different colors all melting together, it created a spectacular sight."
3. Indiana Memorial Union
https://www.instagram.com/p/BFuexCkt-7N/?taken-by=julia.anna.bell
At the center of campus life, the union's overwhelming layout confuses students well into their college years. Its many nooks to curl up in make it a second home for students, despite being the second largest student union in the country. "I like grabbing a coffee and then going to sit in the seating area outside," IU junior Julia Bell said. "It's also so nice to sit inside and study during the winter with the fireplaces." Whether you lounge in Dunn Meadow or just look at it through frosted window panes, you can see an snap Instagram goals any day.
2. Memorial Stadium
Students and alumni gather together throughout the fall at Memorial Stadium in hopes that the games will be as good as the tailgates. "On game days I feel excitement and pride for my school," third year member and IU junior Antonia Lobocki said. "When we run on for pregame, all the practice we did the week before pays off, and despite the outcome of the game, the band always knows how to have fun." Pro tip: The loudest fans are usually found in the north end zone stands among the Marching Hundred.
1. Sample Gates
https://www.instagram.com/p/BIBZQS7BD-R/?taken-by=izzyyyhill
The Sample Gates stand as maybe the most iconic sign that you're entering Hoosier Nation. In the fall, they welcome freshmen and high school seniors touring campus. In the spring, they become the backdrop for thousands of cap and gown portraits for the graduating class. "It kind of gave me butterflies when I first saw them and walked through them," IU junior Isabella Hill said. "It's like you're not only walking onto this beautiful campus with flowers everywhere and stunning architecture, but you're starting a new chapter in your life with vast opportunities. Everyone knows the gates, even if you don't go to the school."