Great college towns offer much more than blackout Friday nights. They provide perfect settings for game days, gorgeous (and walkable) natural scenery, awesome art cultures and traditions you won't find anywhere else. When a college acts as a beacon of light for a town, call it poetic. When town and college embrace one another, call it harmony. These college towns wear such characteristics in spades.
2. CHAMPAIGN-URBANA, ILLINOIS
Don't call Champaign-Urbana another ho-hum Midwestern town. Its rural environment is the Oreo cookie to the town's defined and cultural urban, creamy middle. That gross metaphor translates into the old cliché: You get the best of both worlds in one place. "There are many festivals that take place and you could potentially run into Jason Segel at one of them," said University of Illinois senior Emma Pasquinelli. "On Green Street we have so many different food places that anything you crave is just a short walk away." The town lays claim to talented bands such as REO Speedwagon, and features incredible theatre at the historic Virginia Theatre. The University of Illinois acts as the kingpin that brings all these elements together. And just as important, Nick Offerman aka Ron Swanson's illustrious acting career began here.
Student to Townie Ratio: 1:5
Locals' Favorite Restaurant: Farren's Pub and Eatery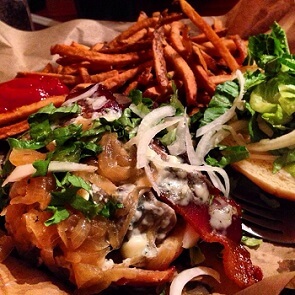 Must-Experience Annual Festivity: Taste of Champaign-Urbana
Learn about off-campus housing here.